Abstract
Precision oncology based on specific molecular alterations requires precise and reliable detection of therapeutic targets in order to initiate the optimal treatment. In many European countries—including Germany—assays employed for this purpose are highly diverse and not prescribed by authorities, making inter-laboratory comparison difficult. To ensure reproducible molecular diagnostic results across many laboratories and different assays, ring trials are essential and a well-established tool. Here, we describe the design and results of the ring trial for the detection of therapeutically relevant PIK3CA hotspot mutations in HR+/HER2-breast cancer tissue and liquid biopsy (LB). For PIK3CA mutation detection in tissue samples, 43 of the 54 participants (80%) provided results compliant with the reference values. Participants using NGS-based assays showed higher success rate (82%) than those employing Sanger sequencing (57%). LB testing was performed with two reference materials differing in the length of the mutated DNA fragments. Most participants used NGS-based or commercial real-time PCR assays (70%). The 167 bp fragments led to a successful PIK3CA mutation detection by only 31% of participants whereas longer fragments of 490 bp were detectable even by non-optimal assays (83%). In conclusion, the first ring trial for PIK3CA mutation detection in Germany showed that PIK3CA mutation analysis is broadly established for tissue samples and that NGS-based tests seem to be more suitable than Sanger sequencing. PIK3CA mutation detection in LB should be carried out with assays specifically designed for this purpose in order to avoid false-negative results.
References
Smith RA et al (2018) Cancer screening in the United States, 2018: a review of current American Cancer Society guidelines and current issues in cancer screening. CA Cancer J Clin 68(4):297–316

Rosenbaum JN, Weisman P (2017) The evolving role of companion diagnostics for breast cancer in an era of next-generation omics. Am J Pathol 187(10):2185–2198

Howlader N et al (2014) US incidence of breast cancer subtypes defined by joint hormone receptor and HER2 status. J Natl Cancer Inst 106(5):dju055

Setiawan VW et al (2009) Breast cancer risk factors defined by estrogen and progesterone receptor status: the multiethnic cohort study. Am J Epidemiol 169(10):1251–1259

Jhaveri K et al (2021) The evolution of cyclin dependent kinase inhibitors in the treatment of cancer. Expert Rev Anticancer Ther

Goncalves MD, Hopkins BD, Cantley LC (2018) Phosphatidylinositol 3-kinase, growth disorders, and cancer. N Engl J Med 379(21):2052–2062

Cancer Genome Atlas N (2012) Comprehensive molecular portraits of human breast tumours. Nature 490(7418):61–70

Janku F (2017) Phosphoinositide 3-kinase (PI3K) pathway inhibitors in solid tumors: from laboratory to patients. Cancer Treat Rev 59:93–101

Gymnopoulos M, Elsliger MA, Vogt PK (2007) Rare cancer-specific mutations in PIK3CA show gain of function. Proc Natl Acad Sci U S A 104(13):5569–5574

Bader AG et al (2005) Oncogenic PI3K deregulates transcription and translation. Nat Rev Cancer 5(12):921–929

Gao J et al (2013) Integrative analysis of complex cancer genomics and clinical profiles using the cBioPortal. Sci Signal 6(269):l1

Cerami E et al (2012) The cBio cancer genomics portal: an open platform for exploring multidimensional cancer genomics data. Cancer Discov 2(5):401–404

Andre F et al (2019) Alpelisib for PIK3CA-mutated, hormone receptor-positive advanced breast cancer. N Engl J Med 380(20):1929–1940

Fassunke J et al (2017) EGFR T790M mutation testing of non-small cell lung cancer tissue and blood samples artificially spiked with circulating cell-free tumor DNA: results of a round robin trial. Virchows Arch 471(4):509–520

Jurmeister P et al (2021) Status quo of ALK testing in lung cancer: results of an EQA scheme based on in-situ hybridization, immunohistochemistry, and RNA/DNA sequencing. Virchows Arch 479(2):247–255

Martinez-Saez O et al (2020) Frequency and spectrum of PIK3CA somatic mutations in breast cancer. Breast Cancer Res 22(1):45

QIAGEN, Dringende sicherheitsinformation, in therascreen® PIK3CA RGQ PCR Kit, REF 873111. 2020, QIAGEN. p. 4.
Funding
Open Access funding enabled and organized by Projekt DEAL. This study was financially supported by Novartis Pharma GmbH, Roonstr. 25, 90429 Nürnberg.
Ethics declarations
Ethics approval and consent to participate
The samples were collected with informed consent and under approved local ethical protocols from each patient.
Competing interests
CV received speaker fees from AstraZeneca and Roche. SMB received advisory board honoraria and/or speaker fees from AstraZeneca, Roche, Novartis, GSK, MSD, Targos, Molecular Health, Merck, QuIP GmbH, and advisory board honoraria, speaker fees, and non-financial support from Janssen and BMS. JF received a speakers fee from Bristol Myers Squibb. SWR received speaker fees from Invitae and AstraZeneca. AH has received honoraria for lectures or consulting/advisory boards for Abbvie, AstraZeneca, BioNTech, BMS, Boehringer Ingelheim, Cepheid, Diaceutics, Illumina, Ipsen, Janssen, Lilly, MSD, NanoString, Novartis, Qiagen, QUIP GmbH, Roche, 3DHistotech. RE has received honoraria from Roche, Eisai, Pfizer, and Novartis and travel grants from BioNTech. The institution of A.H. and R.E. conducts research for AstraZeneca, Roche (CRO: palleos healthcare GmbH), Janssen-Cilag, Zytomed Systems, NanoString Technologies, Veracyte, Biocartis, Novartis, Cepheid, and BioNTech. WW has attended Advisory Boards and served as speaker for Roche, MSD, BMS, AstraZeneca, Pfizer, Merck, Lilly, Boehringer, Novartis, Takeda, Bayer, Amgen, Astellas, Eisai, Johnson&Johnson, Janssen, Illumina, Siemens, Agilent, ADC, GSK, and Molecular Health. WW receives research funding from Roche, MSD, BMS, and AstraZeneca. NP Speaker Fee and Traveling support: AstraZeneca, Illumina, Thermo Fisher Scientific, Roche, Novartis & BMS; Advisory Boards: Bayer, Lilly, Novartis, Roche. AJ received honoraria as well as travel and accommodation reimbursement for participants in advisory boards of Amgen, AstraZeneca, Biocartis, QuIP GmbH, and Novartis for activities as a speaker for Amgen, AstraZeneca, Bayer Pharmaceuticals, Biocartis, BMS, Boehringer Ingelheim, Merck KgA, Lilly, MSD, Novartis, Qiagen, Roche Pharma, Takeda, and Thermo Fisher. IH, AL, MB, LD, RS, LB, WD, MD, DH, and MH: none declared.
Additional information
Publisher's note
Springer Nature remains neutral with regard to jurisdictional claims in published maps and institutional affiliations.
Supplementary Information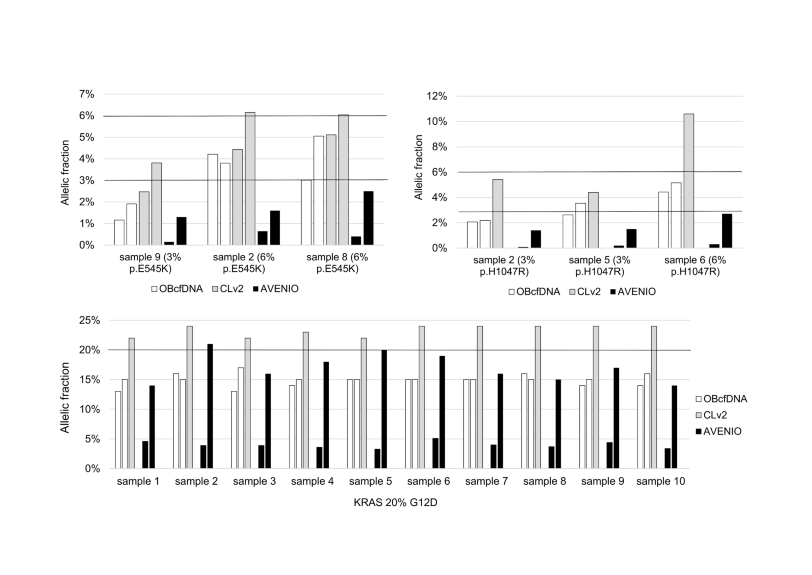 Rights and permissions
Open Access This article is licensed under a Creative Commons Attribution 4.0 International License, which permits use, sharing, adaptation, distribution and reproduction in any medium or format, as long as you give appropriate credit to the original author(s) and the source, provide a link to the Creative Commons licence, and indicate if changes were made. The images or other third party material in this article are included in the article's Creative Commons licence, unless indicated otherwise in a credit line to the material. If material is not included in the article's Creative Commons licence and your intended use is not permitted by statutory regulation or exceeds the permitted use, you will need to obtain permission directly from the copyright holder. To view a copy of this licence, visit http://creativecommons.org/licenses/by/4.0/.
About this article
Cite this article
Vollbrecht, C., Hoffmann, I., Lehmann, A. et al. Proficiency testing of PIK3CA mutations in HR+/HER2-breast cancer on liquid biopsy and tissue. Virchows Arch (2022). https://doi.org/10.1007/s00428-022-03445-x
Received:

Revised:

Accepted:

Published:

DOI: https://doi.org/10.1007/s00428-022-03445-x
Keywords
PIK3CA

Breast cancer

Liquid biopsy

Proficiency testing

Alpelisib