Abstract
The maximal lactate steady state (MLSS) is the highest blood lactate concentration (BLC) that can be identified as maintaining a steady-state during a prolonged submaximal constant workload. Comparative interpretation of published data about MLSS is complicated by the fact that different methods of testing have been utilized. Thus, three methods, corresponding to the time course of changes in BLC incurred during either 30 min (MLSS I) or 20 min (MLSS II and III) of constant submaximal workload exercise, were compared in 26 male subjects [mean (SD) age 24.6 (5.6) years, height 181.6 (4.9) cm, body mass 74.4 (5.2) kg]. MLSS I [5.1 (1.3) mmol·l-1], II [4.9 (1.3) mmol·l-1], and III [4.3 (1.3) mmol·l-1] were different (P<0.01). The workload corresponding to MLSS III [244.8 (44.0) W] was lower (P<0.01) than that at MLSS I [254.0 (40.8) W] and II [251.9 (40.4) W]. No difference could be confirmed between the workloads established for MLSS I and MLSS II. The differences between MLSS I, MLSS II, and MLSS III and corresponding workloads reflect insufficient contribution to lactate kinetics by testing procedures that depend strongly upon the time course of changes in BLC during the initial 20–25 min of constant-workload exercise. Based on the present findings, constant-load tests lasting at least 30 min and a BLC increase of no more than 1.0 mmol·l-1 after the 10th testing minute appear to be the most reasonable with respect to valid testing results.
This is a preview of subscription content, log in to check access.
Access options
Buy single article
Instant access to the full article PDF.
US$ 39.95
Price includes VAT for USA
Subscribe to journal
Immediate online access to all issues from 2019. Subscription will auto renew annually.
US$ 199
This is the net price. Taxes to be calculated in checkout.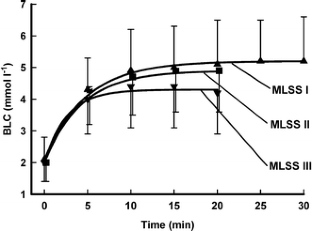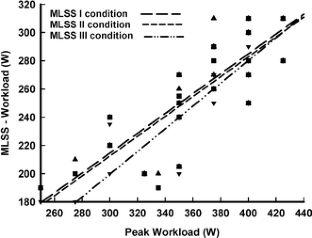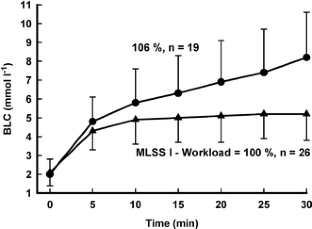 References
Aunola S, Rusko H (1992) Does anaerobic threshold correlate with maximal lactate steady-state? J Sports Sci 10:309–323

Beneke R (1995) Anaerobic threshold, individual anaerobic threshold, and maximal lactate steady-state in rowing. Med Sci Sports Exerc 27:863–867

Beneke R, von Duvillard SP (1996) Determination of maximal lactate steady-state response in selected sports events. Med Sci Sports Exerc 28:241–246

Beneke R, Boldt F, Richter TH, Kress A, Leithäuser R, Behn C (1994) Laktatmessung in der Sportmedizin—drei Geräte im Vergleich. Dtsch Z Sportmed 45:60–69

Beneke R, Schwarz V, Leithäuser R, Hütler M, von Duvillard SP (1996) Maximal lactate steady-state in children. Ped Exerc Sci 8:328–336

Billat V, Dalmay F, Antonini MT, Chassain AP (1994) A method for determining the maximal steady state of blood lactate concentration from two levels of submaximal exercise. Eur J Appl Physiol 69:196–202

Dost FH (1968) Grundlagen der Pharmakokinetik. Georg Thieme Verlag, Stuttgart, pp 29–62

Haverty M, Kenney WL, Hodgson JL (1988) Lactate and gas exchange responses to incremental and steady state running. Br J Sports Med 22:51–54

Heck H (1990) Laktat in der Leistungsdiagnostik. Wissenschaftliche Schriftenreihe des deutschen Sportbundes. Verlag Karl Hofmann, Schorndorf

Heck H, Mader A, Hess G, Mücke S, Müller R, Hollmann W (1985) Justification of the 4-mmol/l lactate threshold. Int J Sports Med 6:117–130

Heck H, von Rosen I, Rosskopf P (1994) Dynamik des Blutlaktats bei konstanter Fahrrad- und Drehkurbelarbeit. In: Liesen H, Weiß M, Baum M (eds) Regulations- und Repairmechanismen. Dt Ärzte-Verlag, Köln, pp 187–190

Mader A, Heck H (1986) A theory of the metabolic origin of "anaerobic threshold". Int J Sports Med 7[Suppl 1]:45–65

Mocellin R, Heusgen M, Korsten-Reck U (1990) Maximal steady-state blood lactate levels in 11-year-old-boys. Eur J Pediatr 149:771–773

Stockhausen W, Huber G, Maier JB, Tinsel J, Keul J (1995) Ein einzeitiges Verfahren zur Bestimmung des maximalen Laktat-Steady-State auf dem Fahrradergometer. Dtsch Z Sportmed 46:291–302

Urhausen A, Coen B, Weiler B, Kindermann W (1993) Individual anaerobic threshold and maximum lactate steady-state. Int J Sports Med 14:134–139

Williams JR, Armstrong N (1991) Relationship of maximal lactate steady-state to performance at fixed blood lactate reference values in children. Ped Exerc Sci 3:333–341
Acknowledgements
The author gratefully extends his gratitude to Mrs. R. M. Leithäuser for her careful review of this manuscript and stimulating discussion. Thanks are also extended to all subjects who participated in this study.
About this article
Cite this article
Beneke, R. Methodological aspects of maximal lactate steady state—implications for performance testing. Eur J Appl Physiol 89, 95–99 (2003). https://doi.org/10.1007/s00421-002-0783-1
Accepted:

Published:

Issue Date:
Keywords
Exercise metabolism

Kinetics

Examination