Abstract
Purpose
Though numerous studies investigating ambient ozone (O3) effects on human health were published, such a study for Central Europe is still lacking. We have investigated the association between ozone (O3) levels and hospital admissions and mortality due to cardiovascular and respiratory diseases for Prague inhabitants for summer months (April–September) over the 5-year period 2002–2006. Our hypothesis was that ambient O3 levels in Prague resulted in adverse health outcomes and were associated with increased mortality and hospital admissions.
Methods
The effect of O3 on mortality and hospital admissions was investigated using the negative binomial regression after controlling for the influence of meteorological factors (air temperature and relative humidity) and calendar effects (seasonal patterns, long-term trends and day of week).
Results
We found a statistically significant association between O3 levels and daily mortality from respiratory diseases. Relative risk of 1.080 (95% CI: 1.031–1.132) was observed for mortality from respiratory diseases per 10 μg m−3 increase in 1-day lagged daily mean O3 concentration. No statistically significant association was detected between O3 concentrations and daily mortality from all causes, daily mortality from cardiovascular diseases and hospital admissions for respiratory and cardiovascular diseases. The O3 effects differed in men and women, nevertheless, the results were ambiguous with respect to used lag and O3 metrics. No significant confounding effects of PM10 on the investigated association were observed.
Conclusions
O3 exposure in Prague, though lower as compared to many other cities in Europe, is high enough to cause adverse health effects.
Access options
Buy single article
Instant access to the full article PDF.
US$ 39.95
Tax calculation will be finalised during checkout.
Subscribe to journal
Immediate online access to all issues from 2019. Subscription will auto renew annually.
US$ 119
Tax calculation will be finalised during checkout.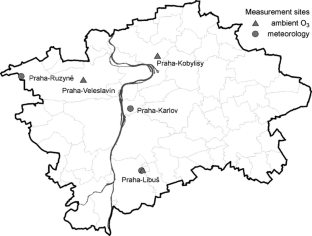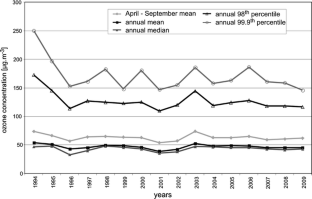 References
Anderson HR (2009) Air pollution and mortality: a history. Atmos Environ 43:142–152

Anderson H, Atkinson R, Peacock J, Marston L, Konstantinou K (2004) Meta—analysis of time—series sudies and panel studies of particulate matter (PM) and ozone (O3). Report of a WHO task group. http://www.euro.who.int. Accessed 30 Jan 2011

Anenberg SC, Horowitz LW, Tong DO, West J (2010) An estimate of the global burden of anthropogenic ozone and fine particulate matter on premature human mortality using atmospheric modeling. Environ Health Perspect 118:189–195

Bell M, McDermott A, Zeger S, Samet J, Dominici F (2004) Ozone and short-term mortality in 95 US urban communities, 1987–2000. JAMA—J Am Med Assoc 292:2372–2378

Bell ML, Dominici F, Samet JM (2005) A meta-analysis of time-series studies of ozone and mortality with comparison to the national morbidity, mortality and air pollution study. Epidemiology 16:436–445

Braniš M (2009) Air quality of Prague: traffic as a main pollution source. Environ Monit Assess 156:377–390

Braniš M, Vyškovská J, Malý M, Hovorka J (2010) Association of size-resolved number concentrations of particulate matter with cardiovascular and respiratory hospital admissions and mortality in Prague, Czech Republic. Inhal Toxicol 156:377–390

Bree L, Mara M, Scheindelen HJ, Fischer PH, Loos S, Buringh E, Rombout PJA (1995) Dose-effect models for ozone exposure: tool for quantitative risk estimation. Toxicol Lett 82(83):317–321

CHMI (2007) Air pollution in the Czech Republic in 2006. CHMI, Prague

Clougherty J (2010) A growing role for gender analysis in air pollution epidemiology. Environ Health Perspect 118:167–176

de Almeida SP, Casimiro E, Calheiros J (2011) Short-term association between exposure to ozone and mortality in Oporto, Portugal. Environ Res 111:406–410

Delfino RJ, Murphy-Moulton AM, Becklake MR (1998) Emergency room visits for respiratory illnesses among elderly in montreal: association with low level ozone exposure. Environ Res A 76:67–77

EC (2008) Directive 2008/50/EC of the European parliament and of the council of 21 May 2008 on ambient air quality and cleaner air for Europe. OJEC L 152

EEA (2009) Spatial assessment of PM10 and ozone concentrations in Europe, 2005. Technical report. EEA, Copenhagen

Fiala J, Cernikovsky L, de Leeuw F, Kurfurst P (2003) Air pollution by ozone in Europe in summer 2003. Topic report. EEA, Copenhagen

Filleul L, Cassadou S, Médina S, Fabres P, Lefranc A, Eilstein D, La Tertre A, Pascal L, Chardon B, Blanchard M, Declerq Ch, Jusot JF, Prouvost H, Ledrans M (2006) The relation between temperature, ozone, and mortality in nine French cities during the heat wave of 2003. Environ Health Persp 9:1344–1347

Fischer PH, Brunekreef B, Lebret E (2004) Air pollution related deaths during the 2003 heat wave in the Netherlands. Atmos Environ 38:1083–1085

Goldberg MS, Burnett RT, Yale JF, Valois MF, Brook JR (2006) Association between ambient air pollution and daily mortality among persons with diabetes and cardiovascular disease. Environ Res 100:255–267

Gryparis A, Forsberg B, Katsouyanni K, Analitis A, Toulom G et al (2004) Acute effects of ozone on mortality from the "air pollution and health: a European approach" project. Am J Resp Crit Care 170:1080–1087

Hazucha MJ, Lefohn AS (2007) Nonlinearity in human health response to ozone: experimental laboratory considerations. Atmos Environ 41:4559–4570

Hilbe JM (2007) Negative binomial regression. Cambridge University Press, Cambridge

Hůnová I, Livorová H, Ostatnická J (2003) Potential ambient ozone impact on ecosystems in the Czech Republic as indicated by exposure index AOT40. Ecol Indic 3:35–47

Hůnová I, Šantroch J, Ostatnická J (2004) Ambient air quality and deposition trends at rural stations in the Czech Republic during 1993–2001. Atmos Environ 38:887–898

Jelínková J, Braniš M (2001) Mortality during winter smog episodes 1982, 1985, 1987 and 1993 in the Czech Republic. Int Arch Occ Env Hea 74:565–573

Jerrett M, Burnett RT, Pope CA III, Ito K, Thurston G et al (2009) Long-term ozone exposure and mortality. New Engl J Med 360:1085–1095

Katsouyanni K (2003) Ambient air pollution and health. Br Med Bull 68:143–156

Lin S, Bell EM, Liu W, Walker RJ, Kim NK, Hwang S (2008) Ambient ozone concentration and hospital admission due to childhood respiratory diseases in New York State, 1991–2001. Environ Res 108:42–47

Lippmann M (2003) Surface ozone (human health). In: Holton JR, Curry JA, Pyle JA (eds) Encyclopedia of Atmospheric Sciences, vol 4. Academic Press, Elsevier Science, Ltd., London, pp 1655–1663

Menzel DB (1994) The toxicity of air pollution in experimental animals and humans: the role of oxidative stress. Toxicol Lett 72:269–277

Miller FJ (1995) Uptake and fate of ozone in respiratory tract. Toxicol Lett 82(83):277–285

Neidell M, Kinney PL (2010) Estimates of the association between ozone and asthma hospitalizations that account for behavioural responses to air quality information. Environ Sci Policy 13:97–103

O'Neill MS, Loomis D, Borja-Aburto VH (2004) Ozone, area social conditions, and mortality in Mexico City. Environ Res 94:234–242

Parodi S, Vercelli M, Garrone E, Fontana V, Izzotti A (2005) Ozone air pollution and daily mortality in Genoa, Italy between 1993 and 1996. Public Health 119:844–850

Peters A, Skorkovsky J, Kotesovec F, Brynda J, Wichmann HE, Heinrich J (2000) Associations between mortality and air pollution in Central Europe. Environ Health Persp 108:283–287

Ren C, Williams GM, Mengersen K, Morawska L, Tong S (2008) Does temperature modify short—term effects of ozone on total mortality in 60 large eastern US communities?—An assessment using the NMMAPS data. Environ Int 34:451–458

Ren C, Melly S, Schwartz J (2010) Modifiers of short-term effects of ozone on mortality in eastern Massaachusetts—a case-crossover analysis at individual level. Environ Health 9:3–10

Revich B, Shaposhnikov D (2010) The effects of particulate and ozone pollution on mortality in Moscow, Russia. Air Qual Atmos Health 3:117–123

Sartor F, Demuth C, Snacken R, Walckiers D (1997) Mortality in elderly and ambient ozone concentration during the hot summer, 1994, in Belgium. Environ Res 72:109–117

Schwartz J (2005) How sensitive is the association between ozone and daily deaths to control for temperature? Am J Respir Crit Care Med 171:628–631

Seinfeld JH, Pandis SN (2006) Atmospheric chemistry and physics. From air pollution to climate change. Wiley, New York

Smith RL, Xu B, Switzer P (2009) Reassessing the relationship between ozone and short-term mortality in the US urban communities. Inhal Toxicol 21(suppl. 2):37–61

Stafoggia M, Forastiere F, Faustini A, Biggeri A, Bisanti L et al (2010) Susceptibility factors to ozone-related mortality. Am J Res Critical Care Med 182:376–384

Stanners D, Bourdeau P (1995) Europe's environment: the debris assessment. EEA, Copenhgen

Stedman JR (2004) The predicted number of air pollution related deaths in the UK during the August 2003 heatwave. Atmos Environ 38:1087–1090

Thurston GD, Ito K (2001) Epidemiological studies of acute ozone exposures and mortality. J Expo Anal Env Epid 11:286–294

WHO (2005) Air quality guidelines. Global update 2005. Particulate matter, ozone, nitrogen dioxide and sulfur dioxide. Denmark, Copenhagen

Yang Z, Ballinger SW (2005) Environmental contributions to cardiovascular disease: particulates and ozone. Drug Discov Today Dis Mech 2:71–75

Zanobetti A, Schwartz J (2008) Mortality displacement in the association of ozone with mortality. Am J Respir Crit Care Med 177:184–189

Zhang Y, Huang W, London SJ, Song G, Chen G, Jiang L, Zhao N, Chen B, Kan H (2006) Ozone and daily mortality in Shanghai, China. Research 114:1227–1232
Acknowledgments
This study was funded partly by the Ministry of Education, Youth and Sports of the Czech Republic under the NPVII research programme, Grant No. 2B08077 (Project INAIR) and supported partly by the Academy of Sciences of the Czech Republic, project No. M100300904. The data on air pollution and meteorology were kindly provided by the Czech Hydrometeorological Institute. We thank to our colleague, Linton Corbet, who revised the English for style and commented the final version of the manuscript. The authors highly appreciate detailed comments of three anonymous reviewers on an earlier draft of this manuscript.
Conflict of interest
The authors declare that they have no conflict of interest.
About this article
Cite this article
Hůnová, I., Malý, M., Řezáčová, J. et al. Association between ambient ozone and health outcomes in Prague. Int Arch Occup Environ Health 86, 89–97 (2013). https://doi.org/10.1007/s00420-012-0751-y
Received:

Accepted:

Published:

Issue Date:
Keywords
Ambient ozone

Cardiovascular diseases

Hospital admissions

Mortality

Respiratory diseases