Diagnosis and management of Neuro-Behçet's disease: international consensus recommendations
Abstract
Neuro-Behçet's disease (NBD) is one of the more serious manifestations of Behçet's disease (BD), which is a relapsing inflammatory multisystem disease with an interesting epidemiology. Though NBD is relatively uncommon, being potentially treatable, neurologists need to consider it in the differential diagnosis of inflammatory, infective, or demyelinating CNS disorders. Evidence-based information on key issues of NBD diagnosis and management is scarce, and planning for such studies is challenging. We therefore initiated this project to develop expert consensus recommendations that might be helpful to neurologists and other clinicians, created through an extensive literature review and wide consultations with an international advisory panel, followed by a Delphi exercise. We agreed on consensus criteria for the diagnosis of NBD with two levels of certainty in addition to recommendations on when to consider NBD in a neurological patient, and on the use of various paraclinical tests. The management recommendations included treatment of the parenchymal NBD and cerebral venous thrombosis, the use of disease modifying therapies, prognostic factors, outcome measures, and headache in BD. Future studies are needed to validate the proposed criteria and provide evidence-based treatments.
Keywords
Neuro-Behçet's disease 
Behçet's disease 
Delphi method 
Consensus 
Diagnosis 
Management 
Introduction
Hulusi Behçet, a Turkish dermatologist, described the triad of recurrent oral and genital ulcers with uveitis in 1937 [1]; the disease is commonly referred to as Behçet's disease (BD) and is recognized as a multisystem inflammatory disorder of unknown aetiology [2]. Interestingly, BD is more prevalent along the ancient Silk Road, including countries in the Far East, the Middle East, and the Mediterranean basin [3]. It has been reported, however, from most countries across the globe [4]. Neuro-BD (NBD) refers to the neurological manifestations of the disease.
The various systemic features of BD and its commonly accepted diagnostic criteria, in addition to the description of the various epidemiological and clinical features of NBD have been described in previous publications [3, 4, 5].
In recent years, paraclinical diagnostic tests and an increasing range of immunomodulatory treatments are available for NBD patients. Practice guidelines are needed to improve the diagnostic process, improve quality of care, encourage sensible use of resources, and ensure a balanced consideration of potentially harmful medications. Because NBD is relatively uncommon, studies providing high-quality evidence are very limited. Published studies include mainly personal experiences or single-centre approaches.
Our aim was to reach expert consensus recommendations on the key issues of the diagnosis and management of NBD. As BD is a systemic disease, we felt that wide consultation with an international, multidisciplinary panel was essential to identify the key issues (scope of the recommendations) before reaching consensus through a Delphi exercise amongst a group with a majority of neurologists with special interest in BD.
The Delphi method has been widely used in healthcare and especially in developing clinical practice guidelines where rigorous data are lacking. It includes repeated rounds of communications and voting amongst a panel of experts. The outcome represents the collective opinion of the panel [6, 7].
In this article, we aim to address the key issues in diagnosis and management of NBD. We will present a brief summary of the relevant background literature on each topic of interest, followed by the list of agreed consensus recommendations.
Methods
Panel selection
The project was initiated by invitations to a wide range of experts with academic and clinical experience in the field of BD across the globe, who were mostly members of the International Society for Behçet's Disease. Fifty-two experts from 22 countries accepted the invitation, including a voluntary patients' group representative. They included 22 neurologists, 11 internists, and 19 other specialists, including 13 rheumatologists, two ophthalmologists, one dermatologist, one immunologist and one paediatrician. The panel was structured into three groups: a project organising committee (POC), a Neuro-Behçet's advisory group and a Neuro-Behçet's consensus group. The POC consisted of four members, AA-A, the convenor of the project, SK, the researcher and bibliographer, AS, an academic clinical epidemiologist, and GAD, an experienced neuro-Behçet's expert. The advisory group consisted of all 52 panel members who participated till the second round of the Delphi process. The consensus group consisted of 12 members (majority neurologists: seven) chosen from the advisory group based on their active contribution in the consensus process, specialty, and publications records. They continued the further steps of the Delphi exercise and are the authors of this paper. The project methodology was discussed, amended, and agreed upon by all participating members before starting the consensus process.
Search strategy and selection criteria
Literature was searched on Cochrane, Medline, and Embase databases using the key search terms "Behçet *", "Neuro Behçet *", and "triple-symptom complex" for entries from 1948 until April 2011. Titles and abstracts of published articles were reviewed. The search was limited to human studies only, published in the English language. The articles addressing diagnosis or treatment were reviewed, which could be case reports, case series, observations, comparison studies, interventional studies, or reviews. These were supplemented by reference lists from the authors' own collections. Full texts of relevant articles were reviewed and the final reference list was generated on the basis of relevance to the scope of this consensus. The search was updated every 3 months until April 2013. Draft recommendations were generated with their level of evidence; levels I–IV were used to grade the articles [8].
The Delphi consensus process
We used a four-round Delphi consensus process through email communications. In the first round, we defined the scope of the project and established the need for the diagnostic criteria for NBD and achieved agreement on the disease terminology. The scope consisted of the key issues in the diagnosis and management of NBD that were accepted to be covered in this consensus. This was defined after an extensive literature search, and a list was sent out to the advisory group and amended after the feedback. This round also explored the views on the conflicting disease terminology and voting was done to establish majority's view and agreement.
The second and third rounds included sending out draft recommendations derived following the systematic literature review. These were amended following comments from the advisory group and consensus group, respectively. Participants were also sent a background literature review by the researcher/bibliographer. This was an objective summary of the literature review without any opinion or bias from the POC. In the fourth round, the consensus group voted on the third draft version of the recommendations using the 9-point Likert scale with response categories ranging from "strongly disagree" (1) to "strongly agree" (9). Members were asked to express their level of agreement on each recommendation. The final version of each recommendation was accepted as consensus recommendation only if ≥75 % of the consensus group members gave an acceptable agreement score, defined as scores ≥7. Figure 
1
depicts our overall project methodology.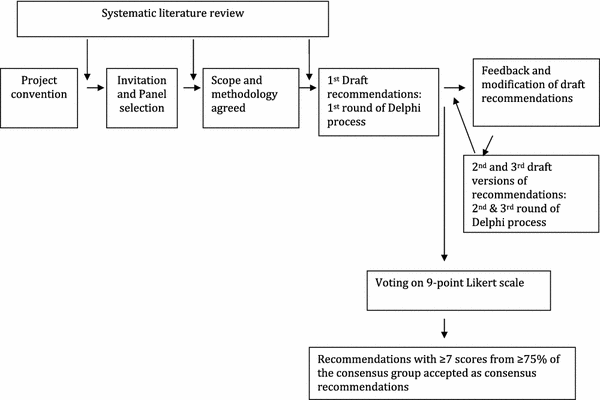 Results
The advisory group agreed on the scope of the project to cover the diagnosis, investigations, and management issues, as shown in Table 
1
.
Table 1
Project scope: key issues addressed in the consensus recommendations
Diagnosis
 1. Diagnostic criteria for NBD addressing the certainty of the diagnosis
 2. Classification of NBD
 3. Differentiating NBD from mimics
Role of investigations
 1. Serum inflammatory markers (ESR, CRP and inflammatory cytokines)
 2. Neuroimaging
 3. CSF parameters
 4. IL-6 in serum and CSF
 5. Pathergy test
 6. HLA B51
 7. Neuro-physiological tests—VEP, NCS/EMG
 8. Nervous tissue biopsy
Management
 1. The role of the followings in the treatment of parenchymal NBD
  (a) Steroids
  (b) Disease modifying therapies (DMT)
  (c) Biological agents
  (d) Cyclosporin
 2. The role of the following in the treatment of cerebral venous thrombosis
  (a) Steroids
  (b) Anticoagulation
  (c) DMT
 3. Prognostic factors
Others
 1. Headache in BD
 2. Asymptomatic (silent) NBD
 3. Outcome measures
A literature search showed that there were no studies with level I or II in any of the items researched within the scope of this consensus. The best available evidence was in the form of studies within level III or IV (Fig. 
2
). There are a few randomized, controlled trials investigating treatment options in BD [
9
,
10
] and two meta-analyses, but none on NBD [
11
,
12
]. Figure 
2
shows the summary of the literature review and evidence used in the project to draw draft recommendations.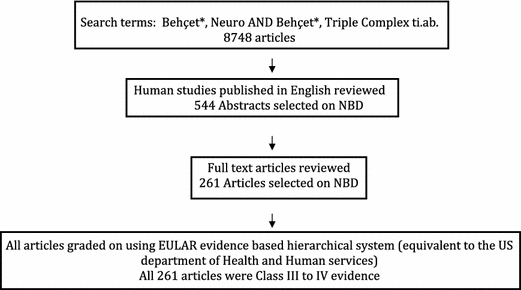 The disease terminology was voted and agreed upon as 'neuro-Behçet's disease', as two-thirds of the advisory group members preferred to use this term to describe the neurological manifestations of BD (66 % voted for neuro-Behçet's disease, 22 % for neuro-Behçet syndrome, and 12 % for either/other).
A diagnostic criteria for NBD and 16 recommendations covering important diagnostic and management aspects in NBD were voted through and approved as consensus recommendations. The supporting voting score summary is given in Table 
2
.
Table 2
Voting score summary
| Recommendation | Score range | Mode | Median |
| --- | --- | --- | --- |
| Recommendation: ICR diagnostic criteria for NBD | 7–9 | 8 | 8 |
| Recommendation 1: classification of NBD: 1a | 5–9 | 9 | 9 |
|  Onset presentation of NBD subtypes: 1b | 7–9 | Bimodal 8 and 9 | 8 |
|  Course of subtypes: 1c | 7–9 | 9 | 9 |
| Recommendation 2: when to consider NBD: 2a | 7–9 | 9 | 9 |
|  How to differentiate: 2b | 4–9 | Bimodal 8 and 9 | 8 |
| Recommendation 3: role of inflammatory markers | 8–9 | 9 | 9 |
| Recommendation 4: role of neuroimaging | 5–9 | 9 | 9 |
| Recommendation 5: role of CSF: 5a | 8–9 | 9 | 9 |
|  Expected findings in CSF: 5b | 6–9 | 9 | 9 |
| Recommendation 6: role of IL-6 cytokine | 5–9 | 9 | 8 |
| Recommendation 7: role of pathergy test | 6–9 | 9 | 8 |
| Recommendation 8: role of HLA-B51 | 5–9 | 9 | 9 |
| Recommendation 9: role of neurophysiology | 6–9 | 9 | 9 |
| Recommendation 10: role of nervous tissue biopsy | 6–9 | 9 | 9 |
| Recommendation 11: management of parenchymal NBD: 11a | 8–9 | 9 | 9 |
|  Role of steroids in parenchymal NBD: 11b | 6–9 | Bimodal 8 and 9 | 8 |
|  Role of disease modification treatment: 11c | 4–9 | 9 | 9 |
|  Type of disease modification treatment: 11d | 4–9 | 9 | 8 |
|  Role of biological agents: 11e | 4–9 | 9 | 9 |
|  Role of cyclosporin: 11f | 4–9 | 9 | 9 |
| Recommendation 12: Management of CVT: role of steroids: 12a | 7–9 | 9 | 9 |
|  Role of anticoagulation: 12b | 7–9 | Bimodal 7 and 9 | 8 |
|  Role of disease modification treatment: 12c | 7–9 | 9 | 9 |
| Recommendation 13: prognostic factors 13a | 6–9 | 9 | 9 |
|  Poor prognostic factors and treatment: 13b | 7–9 | 9 | 9 |
| Recommendation 14: headache in BD: 14a | 5–9 | 9 | 8 |
|  Headache at the time of flare ups: 14b | 7–9 | Bimodal 8 and 9 | 8 |
|  When to investigate: 14c | 8–9 | 9 | 9 |
| Recommendation 15: asymptomatic (Silent) NBD | 7–9 | 9 | 9 |
| Recommendation 16: outcome measures 16a | 7–9 | 9 | 8 |
|  Validation of outcome measure: 16b | 5–9 | 9 | 9 |
The following section covers the consensus recommendation with a brief summary of the relevant literature review divided into the following subsections:
Diagnostic criteria for NBD

Clinical aspects

Role of investigations in diagnosis of NBD

Management of NBD

Miscellaneous
Comments and conclusions
We present recommendations for the key issues in the diagnosis and management of NBD, which are intended for the use of practicing clinicians.
Recommendations are a way to support effective clinical practice. While uncertainties, especially in dealing with uncommon conditions, are likely to persist, recommendations can aid clinicians in determining the best options for a particular patient.
The strengths of our consensus recommendations include an extensive literature review and the use of the best available evidence, wide-scale consultations with international experts, involvement of a patient group representative, emphasis on issues that are of particular interest to clinical practice, and setting a high level for accepting a consensus recommendation.
The limitations include lack of high-grade, evidence-based data on all of the issues covered by this consensus, and reliance on level III and IV evidences and experts' opinions to reach the consensus. There are inherent limitations to the consensus process and the Delphi method.
The proposed diagnostic criteria for NBD include two levels of certainty, but with strict requirements including objective neurological signs to reduce false positive diagnosis and improve accuracy. It only uses investigations, which have well-established supportive roles in the diagnosis. Its use is facilitated by the clear explanations for the terms used. We would like to emphasise that it is a clinical and not pathological criteria. It would require some neurological expertise to characterise the neurological syndromes. It might not help in the diagnosis of difficult and controversial neurological presentations of NBD and caution needs to be practiced, as its accuracy, sensitivity and specificity are unknown while validation is needed.
The use of anticoagulants in Behçet's venous thrombosis and CVT is an important topic that needs priority in future research. International cooperation is needed to establish future studies on the best treatment options for NBD patients. These recommendations need to be updated in the future, pending further evidence.
Notes
Acknowledgments
We acknowledge Professor Clive Hawkins, Dr. Simon Ellis and Dr. Brendan Davies, consultant neurologists at the University Hospital North Staffordshire, for their feedback on the diagnostic criteria of NBD.
Conflicts of interest
All authors declare that they have no conflicts of interest.
Copyright information
© The Author(s) 2013
Open AccessThis article is distributed under the terms of the Creative Commons Attribution License which permits any use, distribution, and reproduction in any medium, provided the original author(s) and the source are credited.