Abstract
Open-mouth breathing during sleep is a risk factor for obstructive sleep apnea (OSA) and is associated with increased disease severity and upper airway collapsibility. The aim of this study was to investigate the effect of open-mouth breathing on the upper airway space in patients with OSA using three-dimensional multi-detector computed tomography (3-D MDCT). The study design included a case–control study with planned data collection. The study was performed at a tertiary medical center. 3-D MDCT analysis was conducted on 52 patients with OSA under two experimental conditions: mouth closed and mouth open. Under these conditions, we measured the minimal cross-sectional area of the retropalatal and retroglossal regions (mXSA-RP, mXSA-RG), as well as the upper airway length (UAL), defined as the vertical dimension from hard palate to hyoid. We also computed the volume of the upper airway space by 3-D reconstruction of both conditions. When the mouth was open, mXSA-RP and mXSA-RG significantly decreased and the UAL significantly increased, irrespective of the severity of OSA. However, between the closed- and open-mouth states, there was no significant change in upper airway volume at any severity of OSA. Results suggest that the more elongated and narrow upper airway during open-mouth breathing may aggravate the collapsibility of the upper airway and, thus, negatively affect OSA severity.
Access options
Buy single article
Instant access to the full article PDF.
USD 39.95
Price includes VAT (USA)
Tax calculation will be finalised during checkout.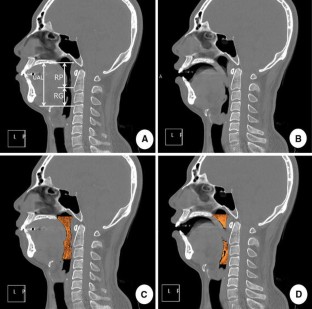 References
1.

Kim J, In K, You S, Kang K, Shim J, Lee S, Lee J, Park C, Shin C (2004) Prevalence of sleep-disordered breathing in middle-aged Korean men and women. Am J Respir Crit Care Med 170:1108–1113

2.

Stradling JR, Crosby JH (1991) Predictors and prevalence of obstructive sleep apnoea and snoring in 1,001 middle aged men. Thorax 46:85–90

3.

Young T, Palta M, Dempsey J, Skatrud J, Weber S, Badr S (1993) The occurrence of sleep-disordered breathing among middle-aged adults. N Engl J Med 328:1230–1235

4.

Julia-Serda G, Perez-Penate G, Saavedra-Santana P, Ponce-Gonzalez M, Valencia-Gallardo JM, Rodriguez-Delgado R, Cabrera-Navarro P (2006) Usefulness of cephalometry in sparing polysomnography of patients with suspected obstructive sleep apnea. Sleep Breath 10:181–187

5.

Donnelly LF, Strife JL, Myer CM 3rd (2001) Is sedation safe during dynamic sleep fluoroscopy of children with obstructive sleep apnea? AJR Am J Roentgenol 177:1031–1034

6.

Smith TH, Baska RE, Francisco CB, McCray GM, Kunz S (1978) Sleep apnea syndrome: diagnosis of upper airway obstruction by fluoroscopy. J Pediatr 93:891–892

7.

Barkdull GC, Kohl CA, Patel M, Davidson TM (2008) Computed tomography imaging of patients with obstructive sleep apnea. Laryngoscope 118:1486–1492

8.

Chen NH, Li KK, Li SY, Wong CR, Chuang ML, Hwang CC, Wu YK (2002) Airway assessment by volumetric computed tomography in snorers and subjects with obstructive sleep apnea in a far-east Asian population (Chinese). Laryngoscope 112:721–726

9.

Fitzpatrick MF, Driver HS, Chatha N, Voduc N, Girard AM (2003) Partitioning of inhaled ventilation between the nasal and oral routes during sleep in normal subjects. J Appl Physiol 94:883–890

10.

Fitzpatrick MF, McLean H, Urton AM, Tan A, O'Donnell D, Driver HS (2003) Effect of nasal or oral breathing route on upper airway resistance during sleep. Eur Respir J 22:827–832

11.

Leiberman A, Ohki M, Forte V, Fraschetti J, Cole P (1990) Nose/mouth distribution of respiratory airflow in 'mouth breathing' children. Acta Otolaryngol 109:454–460

12.

Young T, Finn L, Kim H (1997) Nasal obstruction as a risk factor for sleep-disordered breathing. The University of Wisconsin Sleep and Respiratory Research Group. J Allergy Clin Immunol 99:S757–S762

13.

Young T, Finn L, Palta M (2001) Chronic nasal congestion at night is a risk factor for snoring in a population-based cohort study. Arch Intern Med 161:1514–1519

14.

Lee SH, Choi JH, Shin C, Lee HM, Kwon SY (2007) How does open-mouth breathing influence upper airway anatomy? Laryngoscope 117:1102–1106

15.

Iber C, Ancoli-Israel S, Chesson A, Quan S (2007) The AASM manual for the scoring of sleep and associated events: rules, terminology and technical specifications. American Academy of Sleep Medicine, Darien

16.

Malhotra A, Huang Y, Fogel RB, Pillar G, Edwards JK, Kikinis R, Loring SH, White DP (2002) The male predisposition to pharyngeal collapse: importance of airway length. Am J Respir Crit Care Med 166:1388–1395

17.

Rosow DE, Stewart MG (2010) Is nasal surgery an effective treatment for obstructive sleep apnea? Laryngoscope 120:1496–1497

18.

Zwillich CW, Pickett C, Hanson FN, Weil JV (1981) Disturbed sleep and prolonged apnea during nasal obstruction in normal men. Am Rev Respir Dis 124:158–160

19.

Wasicko MJ, Leiter JC, Erlichman JS, Strobel RJ, Bartlett D Jr (1991) Nasal and pharyngeal resistance after topical mucosal vasoconstriction in normal humans. Am Rev Respir Dis 144:1048–1052

20.

White DP, Cadieux RJ, Lombard RM, Bixler EO, Kales A, Zwillich CW (1985) The effects of nasal anesthesia on breathing during sleep. Am Rev Respir Dis 132:972–975

21.

Ohki M, Usui N, Kanazawa H, Hara I, Kawano K (1996) Relationship between oral breathing and nasal obstruction in patients with obstructive sleep apnea. Acta Otolaryngol Suppl 523:228–230

22.

McLean HA, Urton AM, Driver HS, Tan AK, Day AG, Munt PW, Fitzpatrick MF (2005) Effect of treating severe nasal obstruction on the severity of obstructive sleep apnoea. Eur Respir J 25:521–527

23.

Meurice JC, Marc I, Carrier G, Series F (1996) Effects of mouth opening on upper airway collapsibility in normal sleeping subjects. Am J Respir Crit Care Med 153:255–259

24.

Ayuse T, Inazawa T, Kurata S, Okayasu I, Sakamoto E, Oi K, Schneider H, Schwartz AR (2004) Mouth-opening increases upper-airway collapsibility without changing resistance during midazolam sedation. J Dent Res 83:718–722

25.

Hollowell DE, Suratt PM (1991) Mandible position and activation of submental and masseter muscles during sleep. J Appl Physiol 71:2267–2273

26.

Schwab RJ (1998) Upper airway imaging. Clin Chest Med 19:33–54

27.

Bachar G, Feinmesser R, Shpitzer T, Yaniv E, Nageris B, Eidelman L (2008) Laryngeal and hypopharyngeal obstruction in sleep disordered breathing patients, evaluated by sleep endoscopy. Eur Arch Otorhinolaryngol 265:1397–1402

28.

Lee CH, Mo JH, Seo BS, Kim DY, Yoon IY, Kim JW (2010) Mouth opening during sleep may be a critical predictor of surgical outcome after uvulopalatopharyngoplasty for obstructive sleep apnea. J Clin Sleep Med 6:157–162

29.

Marais J (1998) The value of sedation nasendoscopy: a comparison between snoring and non-snoring patients. Clin Otolaryngol Allied Sci 23:74–76
Acknowledgments
This study was supported by a grant from the Korea Healthcare Technology R&D Project, Ministry for Health, Welfare & Family Affairs, Republic of Korea (A090084), and the authors are grateful to Angela Oh (North Hollywood) for syntax and structure work.
Conflict of interest
The authors have no conflict of interest to declare.
About this article
Cite this article
Kim, E.J., Choi, J.H., Kim, K.W. et al. The impacts of open-mouth breathing on upper airway space in obstructive sleep apnea: 3-D MDCT analysis. Eur Arch Otorhinolaryngol 268, 533–539 (2011). https://doi.org/10.1007/s00405-010-1397-6
Received:

Accepted:

Published:

Issue Date:
Keywords
Computed tomography

Mouth breathing

Obstructive sleep apnea

Three-dimensional imaging