Abstract
Objective
To evaluate the long-term pediatric neuropsychiatric morbidity of children born to obese patients.
Study design
A population-based cohort analysis was performed comparing all deliveries of obese (maternal pre-pregnancy body mass index of 30 kg/m2 or more) and non-obese patients between 1991 and 2014 at a single tertiary medical center. Hospitalizations of the offspring up to the age of 18 years involving neuropsychiatric morbidities were evaluated according to a pre-defined set of ICD-9 codes, including autistic, eating, sleeping and movement disorders, cerebral palsy, developmental disorders, and more. A Kaplan–Meier survival curve was used to compare cumulative hospitalization rate in exposed and unexposed offspring. A Cox regression model was used to control for confounders.
Results
During the study period, 242,342 deliveries met the inclusion criteria. Of them, 3290 were children of obese mothers. Hospitalizations involving neuropsychiatric morbidities were higher in children born to obese mothers compared with those born to non-obese mothers (3.95% vs. 3.10%, p < 0.01). Specifically, offspring of obese mothers had higher rates of autism spectrum disorders and psychiatric disorders. The Kaplan–Meier survival curve demonstrated a significantly higher cumulative incidence of neuropsychiatric-related hospitalizations in the obese group (Fig. 1, log rank p < 0.05). Using a cox proportional hazard model, controlling for maternal age, preterm labor, maternal diabetes, hypertensive disorders of pregnancy, and birthweight, maternal obesity was found to be independently associated with long-term neuropsychiatric morbidity of the offspring (adjusted HR 1.24, 95% CI 1.04–1.47, p < 0.05).
Conclusion
Maternal obesity is an independent risk factor for long-term neuropsychiatric morbidity of the offspring.
Access options
Buy single article
Instant access to the full article PDF.
US$ 39.95
Tax calculation will be finalised during checkout.
Subscribe to journal
Immediate online access to all issues from 2019. Subscription will auto renew annually.
US$ 119
Tax calculation will be finalised during checkout.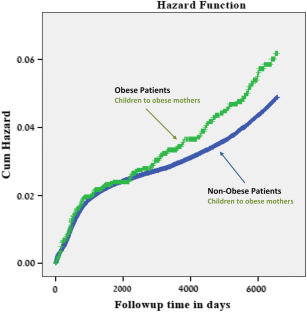 References
1.

Willis K, Lieberman N, Sheiner E (2015) Pregnancy and neonatal outcome after bariatric surgery. Best Pract Res Clin Obstet Gynaecol 29(1):133–144

2.

Mission JF, Marshall NE, Caughey AB (2015) Pregnancy risks associated with obesity. Obstet Gynecol Clin North Am 42(2):335–353

3.

Burstein E, Levy A, Mazor M, Wiznitzer A, Sheiner E (2008) Pregnancy outcome among obese women: a prospective study. Am J Perinatol 25(9):561–566

4.

Sheiner E, Levy A, Menes TS, Silverberg D, Katz M, Mazor M (2004) Maternal obesity as an independent risk factor for caesarean delivery. Paediatr Perinat Epidemiol 18(3):196–201

5.

Gilead R, Yaniv Salem S, Sergienko R, Sheiner E (2012) Maternal, "isolated" obesity and obstetric complications. J Matern Fetal Neonatal Med 25(12):2579–2582

6.

Yaniv-Salem S, Shoham-Vardi I, Kessous R, Pariente G, Sergienko R, Sheiner E (2016) Obesity in pregnancy: what's next? Long-term cardiovascular morbidity in a follow-up period of more than a decade. J Matern Fetal Neonatal Med 29(4):619–623

7.

Sasson I, Beharier O, Sergienko R, Szaingurten-Solodkin I, Kessous R, Belfair NJ et al (2016) Obesity during pregnancy and long-term risk for ophthalmic morbidity—a population-based study with a follow-up of more than a decade. J Matern Fetal Neonatal Med 29(18):2924–2928

8.

Kessous R, Davidson E, Meirovitz M, Sergienko R, Sheiner E (2017) Prepregnancy obesity: a risk factor for future development of ovarian and breast cancer. Eur J Cancer Prev 26(2):151–155

9.

Marchi J, Berg M, Dencker A, Olander E, Begley C (2015) Risks associated with obesity in pregnancy, for the mother and baby: a systematic review of reviews. Obes Rev 16(8):621–638

10.

Ovesen P, Rasmussen S, Kesmodel U (2011) Effect of prepregnancy maternal overweight and obesity on pregnancy outcome. Obstet Gynecol 118(2 Pt 1):305–312

11.

Kleitman V, Feldman R, Walfisch A, Toledano R, Sheiner E (2016) Recurrent shoulder dystocia: is it predictable? Arch Gynecol Obstet 294(6):1161–1166

12.

Okby R, Sheiner E (2012) Risk factors for neonatal brachial plexus paralysis. Arch Gynecol Obstet 286(2):333–336

13.

Doherty DA, Magann EF, Francis J, Morrison JC, Newnham JP (2006) Pre-pregnancy body mass index and pregnancy outcomes. Int J Gynaecol Obstet 95(3):242–247

14.

Mitanchez D, Chavatte-Palmer P (2018) Review shows that maternal obesity induces serious adverse neonatal effects and is associated with childhood obesity in their offspring. Acta Paediatr 107(7):1156–1165

15.

Galliano D, Bellver J (2013) Female obesity: short- and long-term consequences on the offspring. Gynecol Endocrinol 29(7):626–631

16.

Contu L, Hawkes C (2017) A review of the impact of maternal obesity on the cognitive function and mental health of the offspring. Int J Mol Sci 18(5):1093

17.

Edlow AG (2017) Maternal obesity and neurodevelopmental and psychiatric disorders in offspring. Prenat Diagn 37(1):95

18.

Sanchez CE, Barry C, Sabhlok A, Russell K, Majors A, Kollins SH et al (2018) Maternal pre-pregnancy obesity and child neurodevelopmental outcomes: a meta-analysis. Obes Rev 19(4):464

19.

Wang Y, Tang S, Xu S, Weng S, Liu Z (2016) Maternal body mass index and risk of autism spectrum disorders in offspring: a meta-analysis. Sci Rep 6:34248

20.

Krakowiak P, Walker CK, Bremer AA, Baker AS, Ozonoff S, Hansen RL et al (2012) Maternal metabolic conditions and risk for autism and other neurodevelopmental disorders. Pediatrics 129(5):e1121

21.

Getz KD, Anderka MT, Werler MM, Jick SS (2016) Maternal pre-pregnancy body mass index and autism spectrum disorder among offspring: a population-based case–control study. Paediatr Perinat Epidemiol 30(5):479–487

22.

Andersen CH, Thomsen PH, Nohr EA, Lemcke S (2018) Maternal body mass index before pregnancy as a risk factor for ADHD and autism in children. Eur Child Adolesc Psychiatry 27(2):139–148

23.

Khandaker GM, Dibben CRM, Jones PB (2012) Does maternal body mass index during pregnancy influence risk of schizophrenia in the adult offspring? Obes Rev 13(6):518

24.

Kong LH, Norstedt G, Schalling M, Gissler M, Lavebratt C (2018) The risk of offspring psychiatric disorders in the setting of maternal obesity and diabetes. Pediatrics. https://doi.org/10.1542/peds.2018-0776

25.

Schaefer CA, Brown AS, Wyatt RJ, Kline J, Begg MD, Bresnahan MA et al (2000) Maternal prepregnant body mass and risk of schizophrenia in adult offspring. Schizophr Bull 26(2):275–286

26.

Robinson M, Zubrick SR, Pennell CE, Van Lieshout RJ, Jacoby P, Beilin LJ et al (2013) Pre-pregnancy maternal overweight and obesity increase the risk for affective disorders in offspring. J Dev Orig Health Dis 4(1):42–48

27.

Sullivan EL, Riper KM, Lockard R, Valleau JC (2015) Maternal high-fat diet programming of the neuroendocrine system and behavior. Horm Behav 76:153–161

28.

Perng W, Gillman MW, Mantzoros CS, Oken E (2014) A prospective study of maternal prenatal weight and offspring cardiometabolic health in midchildhood. Ann Epidemiol 24(11):800.e1

29.

Ashwood P, Kwong C, Hansen R, Hertz-Picciotto I, Croen L, Krakowiak P et al (2008) Brief report: plasma leptin levels are elevated in autism: association with early onset phenotype? J Autism Dev Disord 38(1):169–175

30.

van der Burg JW, Sen S, Chomitz V, Seidell J, Leviton A, Dammann O (2016) The role of systemic inflammation linking maternal BMI to neurodevelopment in children. Pediatr Res 79(1):3–12

31.

Li YM, Ou JJ, Liu L, Zhang D, Zhao JP, Tang SY (2016) Association between maternal obesity and autism spectrum disorder in offspring: a meta-analysis. J Autism Dev Disord 46(1):95–102

32.

Connolly N, Anixt J, Manning P, Ping-I Lin D, Marsolo KA, Bowers K (2016) Maternal metabolic risk factors for autism spectrum disorder—an analysis of electronic medical records and linked birth data. Autism Res 9(8):829

33.

Maher G, O'Keeffe G, Kearney P, Kenny LC, Dinan T, Mattsson M et al (2018) Association of hypertensive disorders of pregnancy with risk of neurodevelopmental disorders in offspring a systematic review and meta-analysis. JAMA Psychiatry 75(8):809–819

34.

Sheiner E, Shoham-Vardi I, Weitzman D, Gohar J, Carmi R (1998) Decisions regarding pregnancy termination among Bedouin couples referred to third level ultrasound clinic. Eur J Obstet Gynecol Reprod Biol 76(2):141–146

35.

Abu-Ghanem S, Sheiner E, Sherf M, Wiznitzer A, Sergienko R, Shoham-Vardi I (2012) Lack of prenatal care in a traditional community: trends and perinatal outcomes. Arch Gynecol Obstet 285(5):1237–1242
Acknowledgements
This study was conducted as part of the requirements for graduation from the Medical School of the Faculty of Health Sciences, Ben-Gurion University of the Negev, Israel.
Funding
This research did not receive any specific grant from funding agencies in the public, commercial, or not-for-profit sectors.
Ethics declarations
Conflict of interest
The authors declare that they have no conflict of interests.
Informed consent
This is a retrospective study. No informed consent was needed.
Additional information
Publisher's Note
Springer Nature remains neutral with regard to jurisdictional claims in published maps and institutional affiliations.
Electronic supplementary material
Below is the link to the electronic supplementary material.
About this article
Cite this article
Neuhaus, Z.F., Gutvirtz, G., Pariente, G. et al. Maternal obesity and long-term neuropsychiatric morbidity of the offspring. Arch Gynecol Obstet 301, 143–149 (2020). https://doi.org/10.1007/s00404-020-05432-6
Received:

Accepted:

Published:

Issue Date:
Keywords
Follow-up

Obesity

Long term

Neurological disease

Pediatric hospitalization

Pregnancy