Abstract
This review provides assessments of the efficacy and safety of oral forms of phytotherapy in psoriasis management and discusses the pharmacological actions of the plants that have been frequently used in clinical trials. It employed the methods described in the Cochrane Handbook. Ten randomized controlled trials that compared a plant-based intervention with placebo or a pharmacotherapy in the treatment of psoriasis vulgaris and used Psoriasis Area Severity Index (PASI) as an outcome measure were included. Superiority to placebo was found in two out of three studies. In six out of seven studies, the effect of the phytotherapy was reported as comparable to the pharmacotherapy in the short term when assessed as PASI 50. The safety of the phytotherapies was discussed. The most commonly used plants were Oldenlandia diffusa, Rehmannia glutinosa and Salvia miltiorrhiza. Experimental studies on extracts and compounds derived from these plants have reported anti-inflammatory, anti-proliferative and other actions of relevance to psoriasis management. These properties may account for the apparent actions of some of the phytotherapies used in these clinical studies. These plants and their active constituents appear to warrant further research attention in the search for future medications for psoriasis.
Access options
Buy single article
Instant access to the full article PDF.
USD 39.95
Price includes VAT (USA)
Tax calculation will be finalised during checkout.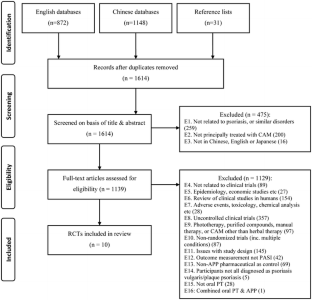 Abbreviations
α-SMA:

α-Smooth muscle actin

AEs:

Adverse events

AP-1:

Activating protein-1

APP:

Anti-psoriatic pharmacotherapy

Bax:

Bcl-2-associated X protein

Bcl-2 family proteins:

B cell lymphoma 2 family of apoptosis regulator proteins

BUN:

Blood urea nitrogen

CAT:

Catalase

CD:

Circular dichroism

CE:

Cornified envelope

CD4+ T cells:

T-cell surface glycoprotein CD4

CHK:

Cultured human keratinocytes

CI:

Confidence interval

COX-2:

Cyclooxygenase-2

CYP:

Cytochrome P450

DLQI:

Dermatology Life Quality Index

ERK/RSK2:

Extracellular signal-regulated protein/ribosomal S6 kinase 2 kinase

FLI:

Fos-like immunoreactive neurons

GSH-Px:

Glutathione peroxidase

GSK 3β:

Glycogen synthase kinase 3 beta

HaCaT:

Immortalized human keratinocytes cells

HeLa cells:

A cell from a sample taken from a woman called Henrietta Lacks and was named using the two initials of her first (He) and last (La) names

ICAM-1:

Intercellular adhesion molecule 1

IFN:

Interferon

IgE:

Immunoglobulin E

IκB:

IkappaB kinase

IKK:

IκBα kinase

IL:

Interleukin

iNOS:

Inducible nitric oxide synthase

JNK:

c-Jun N-terminal kinase

MCP-1:

Monocyte chemotactic protein-1

mRNA:

Messenger RNA

MD:

Mean difference

NO:

Nitric oxide

NS:

Not stated

MCP:

Monocyte chemotactic protein

NF-κB:

Nuclear factor kappa-light-chain-enhancer of activated B cells

NIK:

NF-κB-inducing kinase

PARP:

Poly(ADP-ribose) polymerase

PASI:

Psoriasis Area Severity Index

PDI:

Psoriasis Disability Index

PGA:

Physician's Global Assessment

PGE2 :

Prostaglandin E2

PPAR:

Peroxisome proliferator-activated receptor

PT:

Phytotherapy

R-HepG2:

Human hepatoma cell line

RAGE:

Receptor for advanced glycation end products

RevMan:

Review Manager Software

RCT:

Randomized controlled trial

ROS:

Reactive oxygen species

RR:

Relative risk

THP1:

Human monocytic cell line

TNF-α:

Tumour necrosis factor-alpha

WBC:

White blood cell
References
1.

Ashafa AO, Orekoya LO, Yakubu MT (2012) Toxicity profile of ethanolic extract of Azadirachta indica stem bark in male Wistar rats. Asian Pac J Trop Biomed 2(10):811–817

2.

Baek GH, Jang YS, Jeong SI, Cha J, Joo M, Shin SW, Ha KT, Jeong HS (2012) Rehmannia glutinosa suppresses inflammatory responses elicited by advanced glycation end products. Inflammation 35(4):1232–1241

3.

Baron SE, Goodwin RG, Nicolau N, Blackford S, Goulden V (2005) Use of complementary medicine among outpatients with dermatologic conditions within Yorkshire and South Wales, United Kingdom. J Am Acad Dermatol 52(4):589–594

4.

Boehncke S, Fichtlscherer S, Salgo R, Garbaraviciene J, Beschmann H, Diehl S, Hardt K, Thaci D, Boehncke WH (2011) Systemic therapy of plaque-type psoriasis ameliorates endothelial cell function: results of a prospective longitudinal pilot trial. Arch Dermatol Res 303(6):381–388

5.

Boehncke WH, Boehncke S, Tobin AM, Kirby B (2011) The 'psoriatic march': a concept of how severe psoriasis may drive cardiovascular comorbidity. Exp Dermatol 20(4):303–307

6.

Boeke SJ, Boersma MG, Alink GM, van Loon JJ, van Huis A, Dicke M, Rietjens IM (2004) Safety evaluation of neem (Azadirachta indica) derived pesticides. J Ethnopharmacol 94(1):25–41

7.

Brahmachari G (2004) Neem: an omnipotent plant: a retrospection. ChemBioChem 5(4):408–421

8.

Canter PH, Lee HS, Ernst E (2006) A systematic review of randomised clinical trials of Tripterygium wilfordii for rheumatoid arthritis. Phytomedicine 13(5):371–377

9.

Carlin CS, Feldman SR, Krueger JG, Menter A, Krueger GG (2004) A 50% reduction in the Psoriasis Area and Severity Index (PASI 50) is a clinically significant endpoint in the assessment of psoriasis. J Am Acad Dermatol 50(6):859–866

10.

Cragg GM, Newman DJ, Snader KM (1997) Natural products in drug discovery and development. J Nat Prod 60:52–60

11.

Deng S, May BH, Zhang AL, Lu C, Xue CC (2013) Topical herbal formulae in the management of psoriasis: systematic review with meta-analysis of clinical studies and investigation of the pharmacological actions of the main herbs. Phytother Res. doi:10.1002/ptr.5028

12.

Deng S, May BH, Zhang AL, Lu C, Xue CC (2013) Topical herbal medicine combined with pharmacotherapy for psoriasis: a systematic review and meta-analysis. Arch Dermatol Res 305(3):179–189

13.

Deng YX, Cao M, Shi DX, Yin ZQ, Jia RY, Xu J, Wang C, Lv C, Liang XX, He CL, Yang ZR, Zhao J (2013) Toxicological evaluation of neem (Azadirachta indica) oil: acute and subacute toxicity. Environ Toxicol Pharmacol 35(2):240–246

14.

Dermatological Sub-committee of the Military TCM Association (2009) Consensus on the diagnosis and treatment of psoriasis vulgaris in integrated Chinese—Western medicine (2009 version). Chin J Integr Med Dermatol Venerol 8(5):328

15.

Fan M, Song X, Wang W, Cai Y, Sun L, JIang L (2005) Lanchuan Qingre decoction for psoriasis. Zhongguo Zhong Xi Yi Jie He Za Zhi 25(4):375–376

16.

Feng X, Xu L (2008) Traditional Chinese medicine plus acitretin for psoriasis: a meta-analysis on randomized controlled trials. J Tianjin Med Univ 14(4):487–491

17.

Fuhrmann T, Smith N, Tausk F (2010) Use of complementary and alternative medicine among adults with skin disease: updated results from a national survey. J Am Acad Dermatol 63(6):1000–1005

18.

Garcia C, Leon LG, Pungitore CR, Rios-Luci C, Daranas AH, Montero JC, Pandiella A, Tonn CE, Martin VS, Padron JM (2010) Enhancement of antiproliferative activity by molecular simplification of catalpol. Bioorg Med Chem 18(7):2515–2523

19.

Gu G, Barone I, Gelsomino L, Giordano C, Bonofiglio D, Statti G, Menichini F, Catalano S, Ando S (2012) Oldenlandia diffusa extracts exert antiproliferative and apoptotic effects on human breast cancer cells through ERalpha/Sp1-mediated p53 activation. J Cell Physiol 227(10):3363–3372

20.

Harmand PO, Duval R, Delage C, Simon A (2005) Ursolic acid induces apoptosis through mitochondrial intrinsic pathway and caspase-3 activation in M4Beu melanoma cells. Int J Cancer 114(1):1–11

21.

Higgins JPT, Altman DG, Sterne JAC (2012) Chapter 8: Assessing risk of bias in included studies. In: Cochrane Handbook for Systematic Reviews of Interventions. The Cochrane Collaboration. Available via Handbook online. http://www.cochrane-handbook.org. Accessed 10 Oct 2012

22.

Ho SG, Yeung CK, Chan HH (2009) Methotrexate versus traditional Chinese medicine in psoriasis: a randomized, placebo-controlled trial to determine efficacy, safety and quality of life. Clin Exp Dermatol. doi:10.1111/j.1365-2230.2009.03693.x

23.

Jang J, Seo E, Han C, Chae H, Kim S, Lee J, Wang J (2008) Four cases of toxic liver injury associated with Dictamnus dasycarpus. Korean J Hepatol 14(2):206–212

24.

Jang SI, Kim HJ, Kim YJ, Jeong SI, You YO (2006) Tanshinone IIA inhibits LPS-induced NF-kappaB activation in RAW 264.7 cells: possible involvement of the NIK-IKK, ERK1/2, p38 and JNK pathways. Eur J Pharmacol 542(1–3):1–7

25.

Jensen P (1990) Use of alternative medicine by patients with atopic dermatitis and psoriasis. Acta Derm Venereol 70(5):421–424

26.

Kane J, Kane S, Jain S (1995) Hepatitis induced by traditional Chinese herbs; possible toxic components. Gut 36:146–147

27.

Kang SY, Yoon SY, Roh DH, Jeon MJ, Seo HS, Uh DK, Kwon YB, Kim HW, Han HJ, Lee HJ, Lee JH (2008) The anti-arthritic effect of ursolic acid on zymosan-induced acute inflammation and adjuvant-induced chronic arthritis models. J Pharm Pharmacol 60(10):1347–1354

28.

Kaur G, Sarwar Alam M, Athar M (2004) Nimbidin suppresses functions of macrophages and neutrophils: relevance to its antiinflammatory mechanisms. Phytother Res 18(5):419–424

29.

Khan PK, Awasthy KS (2003) Cytogenetic toxicity of neem. Food Chem Toxicol 41(10):1325–1328

30.

Kim H, Lee E, Lee S, Shin T, Kim Y, Kim J (1998) Effect of Rehmannia glutinosa on immediate type allergic reaction. Int J Immunopharmacol 20(4–5):231–240

31.

Kim SJ, Chung WS, Kim SS, Ko SG, Um JY (2011) Antiinflammatory effect of Oldenlandia diffusa and its constituent, hentriacontane, through suppression of caspase-1 activation in mouse peritoneal macrophages. Phytother Res 25(10):1537–1546

32.

Kircik LH, Del Rosso JQ (2009) Anti-TNF agents for the treatment of psoriasis. J Drugs Dermatol 8(6):546–559

33.

Kocak M, Bozdogan O, Erkek E, Atasoy P, Birol A (2003) Examination of Bcl-2, Bcl-X and bax protein expression in psoriasis. Int J Dermatol 42(10):789–793

34.

Kowalczyk MC, Walaszek Z, Kowalczyk P, Kinjo T, Hanausek M, Slaga TJ (2009) Differential effects of several phytochemicals and their derivatives on murine keratinocytes in vitro and in vivo: implications for skin cancer prevention. Carcinogenesis 30(6):1008–1015

35.

Lamel SA, Myer KA, Younes N, Zhou JA, Maibach H, Maibach HI (2012) Placebo response in relation to clinical trial design: a systematic review and meta-analysis of randomized controlled trials for determining biologic efficacy in psoriasis treatment. Arch Dermatol Res 304(9):707–717

36.

Lee CS, Li K (2009) A review of acitretin for the treatment of psoriasis. Expert Opin Drug Saf 8(6):769–779

37.

Lee HK, Nam GW, Kim SH, Lee SH (2006) Phytocomponents of triterpenoids, oleanolic acid and ursolic acid, regulated differently the processing of epidermal keratinocytes via PPAR-alpha pathway. Exp Dermatol 15(1):66–73

38.

Li CG, Sheng SJ, Pang EC, May B, Xue CC (2009) HPLC profiles and biomarker contents of Australian-grown Salvia miltiorrhiza f. alba roots. Chem Biodivers 6(7):1077–1086

39.

Li FL, Xu R, Zeng QC, Li X, Chen J, Wang YF, Fan B, Geng L, Li B (2012) Tanshinone IIA inhibits growth of keratinocytes through cell cycle arrest and apoptosis: underlying treatment mechanism of psoriasis. eCAM. doi:10.1155/2012/927658

40.

Li M, Zhang L, Cai RL, Gao Y, Qi Y (2012) Lipid-soluble extracts from Salvia miltiorrhiza inhibit production of LPS-induced inflammatory mediators via NF-kappaB modulation in RAW 264.7 cells and perform antiinflammatory effects in vivo. Phytother Res 26(8):1195–1204

41.

Li N, Li YQ, Li HY, Guo W, Bai YP (2012) Efficacy of externally applied Chinese herbal drugs in treating psoriasis: a systematic review. Chin J Integr Med 18(3):222–229

42.

Lim SW, Hong SP, Jeong SW, Kim B, Bak H, Ryoo HC, Lee SH, Ahn SK (2007) Simultaneous effect of ursolic acid and oleanolic acid on epidermal permeability barrier function and epidermal keratinocyte differentiation via peroxisome proliferator-activated receptor-alpha. J Dermatol 34(9):625–634

43.

Liu CL, Cheng L, Ko CH, Wong CW, Cheng WH, Cheung DW, Leung PC, Fung KP, Bik-San Lau C (2012) Bioassay-guided isolation of anti-inflammatory components from the root of Rehmannia glutinosa and its underlying mechanism via inhibition of iNOS pathway. J Ethnopharmacol 143(3):867–875

44.

Liu L, Jia J, Zeng G, Zhao Y, Qi X, He C, Guo W, Fan D, Han G, Li Z (2013) Studies on immunoregulatory and anti-tumor activities of a polysaccharide from Salvia miltiorrhiza Bunge. Carbohydr Polym 92(1):479–483

45.

Ma H, Fan Q, Yu J, Xin J, Zhang C (2013) Novel microemulsion of tanshinone IIA, isolated from Salvia miltiorrhiza Bunge, exerts anticancer activity through inducing apoptosis in hepatoma cells. Am J Chin Med 41(1):197–210

46.

Ma W, Qu Y, Pan H, Jiang S (2010) Efficacy of 52 cases on psoriasis formula for blood-heat type psoriasis vulgaris. New J Tradit Chin Med 42(11):68–70

47.

Manikandan P, Letchoumy PV, Gopalakrishnan M, Nagini S (2008) Evaluation of Azadirachta indica leaf fractions for in vitro antioxidant potential and in vivo modulation of biomarkers of chemoprevention in the hamster buccal pouch carcinogenesis model. Food Chem Toxicol 46(7):2332–2343

48.

May BH, Zhang AL, Zhou W, Lu CJ, Deng S, Xue CC (2012) Oral herbal medicines for psoriasis: a review of clinical studies. Chin J Integr Med 18(3):172–178

49.

Mbah AU, Udeinya IJ, Shu EN, Chijioke CP, Nubila T, Udeinya F, Muobuike A, Mmuobieri A, Obioma MS (2007) Fractionated neem leaf extract is safe and increases CD4+ cell levels in HIV/AIDS patients. Am J Ther 14(4):369–374

50.

McRae C, Agarwal K, Mutimer D, Bassendine M (2002) Hepatitis associated with Chinese herbs. Eur J Gastroenterol Hepatol 14(5):559–562

51.

Menter A, Griffiths CEM (2007) Current and future management of psoriasis. Lancet 370:272–284

52.

Nast A, Boehncke WH, Mrowietz U, Ockenfels HM, Philipp S, Reich K, Rosenbach T, Sammain A, Schlaeger M, Sebastian M, Sterry W, Streit V, Augustin M, Erdmann R, Klaus J, Koza J, Muller S, Orzechowski HD, Rosumeck S, Schmid-Ott G, Weberschock T, Rzany B (2012) German S3-guidelines on the treatment of psoriasis vulgaris (short version). Arch Dermatol Res 304(2):87–113

53.

Newman DJ, Cragg GM, Snader KM (2003) Natural products as sources of new drugs over the period 1981–2002. J Nat Prod 66(7):1022–1037

54.

Owolabi LL, Gbotolorun SC, Akpantah AO, Ekong MO, Eluwa MA, Ekanem TB (2008) Effect of methanolic extract of Neem leaf (Azadirachta indica) on ovarian histology and hormonal milleu. Niger Q J Hosp Med 18(4):194–197

55.

Paik SW, Rhee JC, Kim JJ, Koh KC, Lee HY, Rhee PL, Lee JH, Lee JK, Oh YR, Chi YJ (1998) Drug induced liver disease caused by ingestion of Dictamnus dasycarpus. Korean J Gastroenterol 31:251–257

56.

Pandey SS, Jha AK, Kaur V (1994) Aqueous extract of neem leaves in treatment of Psoriasis vulgaris. Indian J Dermatol Venereol Leprol 60(2):63–67

57.

Parajuli DR, Park EJ, Che XH, Jiang WY, Kim YC, Sohn DH, Lee SH (2013) PF2401-SF, standardized fraction of Salvia miltiorrhiza, induces apoptosis of activated hepatic stellate cells in vitro and in vivo. Molecules 18(2):2122–2134

58.

Patwardhan B (2005) Ethnopharmacology and drug discovery. J Ethnopharmacol 100(1–2):50–52

59.

Paul R, Prasad M, Sah NK (2011) Anticancer biology of Azadirachta indica L. (neem): a mini review. Cancer Biol Ther 12(6):467–476

60.

Pollier J, Goossens A (2012) Oleanolic acid. Phytochemistry 77:10–15

61.

Priyadarsini RV, Manikandan P, Kumar GH, Nagini S (2009) The neem limonoids azadirachtin and nimbolide inhibit hamster cheek pouch carcinogenesis by modulating xenobiotic-metabolizing enzymes, DNA damage, antioxidants, invasion and angiogenesis. Free Radic Res 43(5):492–504

62.

Pungitore CR, Ayub MJ, Garcia M, Borkowski EJ, Sosa ME, Ciuffo G, Giordano OS, Tonn CE (2004) Iridoids as allelochemicals and DNA polymerase inhibitors. J Nat Prod 67(3):357–361

63.

Pungitore CR, Leon LG, Garcia C, Martin VS, Tonn CE, Padron JM (2007) Novel antiproliferative analogs of the Taq DNA polymerase inhibitor catalpol. Bioorg Med Chem Lett 17(5):1332–1335

64.

Qiu S, Tan S, Sun Z, Zhang J, Yuan J, Liu P (2005) Huoxue Sanyu Xiaoyin Tang for psoriasis vulgaris. Zhong Yao Cai 28(5):442–444

65.

Reutemann P, Ehrlich A (2008) Neem oil: an herbal therapy for alopecia causes dermatitis. Dermatitis 19(3):E12–E15

66.

Reuter J, Wölfle U, Weckesser S, Schempp C (2010) Which plant for which skin disease? Part 1: atopic dermatitis, psoriasis, acne, condyloma and herpes simplex. JDDG 8:788–796

67.

Robinson A, Kardos M, Kimball AB (2012) Physician Global Assessment (PGA) and Psoriasis Area and Severity Index (PASI): why do both? A systematic analysis of randomized controlled trials of biologic agents for moderate to severe plaque psoriasis. J Am Acad Dermatol 66(3):369–375

68.

Schϋnemann HJ, Oxman AD, Higgins JP, Vist GE, Glasziou P, Guyatt GH (2012) Chapter 11: Presenting results and 'Summary of findings' tables. In: Cochrane handbook for systematic reviews of interventions. Available. http://www.cochrane-handbook.org. Accessed 12 Oct 2012

69.

Shiao MS, Chiu JJ, Chang BW, Wang J, Jen WP, Wu YJ, Chen YL (2008) In search of antioxidants and anti-atherosclerotic agents from herbal medicines. BioFactors 34(2):147–157

70.

Smith N, Shin DB, Brauer JA, Mao J, Gelfand JM (2009) Use of complementary and alternative medicine among adults with skin disease: results from a national survey. J Am Acad Dermatol 60(3):419–425

71.

Smith N, Weymann A, Tausk FA, Gelfand JM (2009) Complementary and alternative medicine for psoriasis: a qualitative review of the clinical trial literature. J Am Acad Dermatol 61(5):841–856

72.

Srivastava MK, Raizada RB (2007) Lack of toxic effect of technical azadirachtin during postnatal development of rats. Food Chem Toxicol 45(3):465–471

73.

Steele T, Rogers CJ, Jacob SE (2007) Herbal remedies for psoriasis: what are our patients taking? Dermatol Nurs 19(5): 448–450, 457–463

74.

Sterne JA, Egger M, Moher D (2012) Chapter 10: Addressing reporting biases. In: Cochrane handbook for systematic reviews of interventions. The Cochrane Collaboration. Available via Handbook online. http://www.cochrane-handbook.org. Accessed 12 Oct 2012

75.

Subapriya R, Bhuvaneswari V, Ramesh V, Nagini S (2005) Ethanolic leaf extract of neem (Azadirachta indica) inhibits buccal pouch carcinogenesis in hamsters. Cell Biochem Funct 23(4):229–238

76.

Sucher NJ (2013) The application of Chinese medicine to novel drug discovery. Expert Opin Drug Discov 8(1):21–34

77.

Sultana N, Ata A (2008) Oleanolic acid and related derivatives as medicinally important compounds. J Enzym Inhib Med Chem 23(6):739–756

78.

Sultana N (2011) Clinically useful anticancer, antitumor, and antiwrinkle agent, ursolic acid and related derivatives as medicinally important natural product. J Enzym Inhib Med Chem 26(5):616–642

79.

Tan L, Deng J (2008) Development of chemical compounds and pharmacological activitated constituents on Oldenlandia diffusa. Nei Mongol J Tradit Chin Med 27(4):42–45

80.

Traub M, Marshall K (2007) Psoriasis—pathophysiology, conventional, and alternative approaches to treatment. Altern Med Rev 12(4):319–330

81.

Tse TW (2003) Use of common Chinese herbs in the treatment of psoriasis. Clin Exp Dermatol 28(5):469–475

82.

Wagner H (2011) Synergy research: approaching a new generation of phytopharmaceuticals. Fitoterapia 82(1):34–37

83.

Wang Q, Hu M (2010) Pharmacological effects and side effects of triptolide. China Pharm 19(19):85–86

84.

Wang X, Morris-Natschke SL, Lee KH (2007) New developments in the chemistry and biology of the bioactive constituents of Tanshen. Med Res Rev 27(1):133–148

85.

Wojciak-Kosior M, Paduch R, Matysik-Wozniak A, Niedziela P, Donica H (2011) The effect of ursolic and oleanolic acids on human skin fibroblast cells. Folia Histochem Cytobiol 49(4):664–669

86.

Wu Y, Zhou Q, Xu Q, Shui R, Fan W, He F, Ma S (2003) Qinre Jiedu Tang for blood-heat type elderly psoriasis. Geriatr Health Care 9(4):240–242

87.

Xie S, Yi X, Yang L, Li Y (2009) Clinical observation of 41 cases of psoriasis vulgaris with Kang Yin No. 1 decoction. Hebei J Tradit Chin Med 31(2):173–175

88.

Xu F, Zhai Y, Min Z, Lu Z (eds) (2002). Surgery of Traditional Chinese Medicine. Psoriasis. Publishing House of Shanghai University of Traditional Chinese Medicine, Shanghai

89.

Yamamoto T, Nishioka K (2003) Alteration of the expression of Bcl-2, Bcl-x, Bax, Fas, and Fas ligand in the involved skin of psoriasis vulgaris following topical anthralin therapy. Skin Pharmacol Appl Skin Physiol 16(1):50–58

90.

Yang L, Liu X, Lu Z, Yuet-Wa Chan J, Zhou L, Fung KP, Wu P, Wu S (2010) Ursolic acid induces doxorubicin-resistant HepG2 cell death via the release of apoptosis-inducing factor. Cancer Lett 298(1):128–138

91.

Zeng Y, Jia Z, Zhang R (2006) The chemical constituent Rehmannia glutinosa and its pharmacological research advance. Chin Tradit Pat Med 28(4):609–611

92.

Zhang F, Tian R, Ma S, Wang X, Yu M, Shi Z (1999) Treatment of active psoriasis vulgaris with Tripterygium wilfordii—double blind controlled trial. J Clin Dermatol 28(1):32–33

93.

Zhang H, Sun J, Liu T, Liu X, Feng L, Sun H (2008) Compound Zeqi granule for the progressive psoriasis vulgaris and its effect on serum TNF-α and IL-8. Chin J Dermatol Venereol 128(5):281–282

94.

Zhang M, Zhang YZ, Wang S (2007) The effect of acitretin on moderate to severe plaque psoriasis. J Clin Dermatol 36(9):592–593

95.

Zhang Y, Jiang P, Ye M, Kim SH, Jiang C, Lu J (2012) Tanshinones: sources, pharmacokinetics and anti-cancer activities. Int J Mol Sci 13(10):13621–13666

96.

Zheng XY (2002) Clinical research guidelines for new Chinese herbal drugs (Trials). China Medical Science Press, Beijing

97.

Zhou L, Zuo Z, Chow MS (2005) Danshen: an overview of its chemistry, pharmacology, pharmacokinetics, and clinical use. J Clin Pharmacol 45(12):1345–1359

98.

Zhu L (2012) The progress of the chemical composition and the anti-tumor activity in the Hedyotis tiffin Wild. Chem Ind Times 26(10):37–41
Related articles recently published in Archives of Dermatological Research (selected by the journal's editorial staff)
99.

Balato A, Schiattarella M, Lembo S, Mattii M, Prevete N, Balato N, Ayala F (2013) Interleukin-1 family members are enhanced in psoriasis and suppressed by vitamin D and retinoic acid. Arch Dermatol Res 305:255–262

100.

Feuerhahn J, Blome C, Radtke M, Augustin M (2012) Validation of the patient benefit index for the assessment of patient-relevant benefit in the treatment of psoriasis. Arch Dermatol Res 304:433–441

101.

Hoss E, Austin HR, Batie SF, Jurutka PW, Haussler MR, Whitfield GK (2013) Control of late cornified envelope genes relevant to psoriasis risk: upregulation by 1,25-dihydroxyvitamin D and plant-derived delphinidin. Arch Dermatol Res. doi:10.1007/s00403-013-1390-1

102.

Nast A, Mrowietz U, Kragballe K, de Jong EM, Puig L, Reich K, Warren RB, Werner R, Kopkow C, Schmitt J (2013) Barriers to the prescription of systemic therapies for moderate-to-severe psoriasis—a multinational cross-sectional study. Arch Dermatol Res. doi:10.1007/s00403-013-1372-3
Acknowledgments
We acknowledge funding support provided by Guangdong Provincial Academy of Chinese Medical Sciences, China, Department of Innovation, Industry, Science and Research, Australian Government for the Australian Postgraduate Award (APA), the International Science and Technology Cooperation Program of China; and The Financial Industry Technology Research and Development Program of Guangdong Province, China that made this research possible.
Conflict of interest
The authors declare that they have no conflict of interest. This article is not under submission to another journal. All authors have contributed to the paper.
Additional information
S. Deng and B. H. May made equal contributions to the study.
Electronic supplementary material
Below is the link to the electronic supplementary material.
About this article
Cite this article
Deng, S., May, B.H., Zhang, A.L. et al. Phytotherapy in the management of psoriasis: a review of the efficacy and safety of oral interventions and the pharmacological actions of the main plants. Arch Dermatol Res 306, 211–229 (2014). https://doi.org/10.1007/s00403-013-1428-4
Received:

Revised:

Accepted:

Published:

Issue Date:
Keywords
Psoriasis

Phytotherapy

Herbal medicine

Review

Safety

Adverse events

Anti-inflammatory

Anti-proliferative

Oldenlandia diffusa
Rehmannia glutinosa
Salvia miltiorrhiza