Abstract
Background
There is no clear consensus on when patients with surgically treated right ankle fractures can return to car driving, or how best to assess their fitness to drive. Through a rigorous driving assessment program consisting of both off-road and on-road tests, we aim to determine if these patients are able to pass a standard driving test, even before weight bearing has been initiated.
Methods
A prospective grant-funded (Supported by AOTrauma Asia Pacific Ref: AOTAP12-17) clinical study was conducted. Patients aged 25–65 years who underwent surgery for right ankle fractures and held a valid motorcar driving license were recruited in a single institution from 2013 to 2015. The surgeon and a specialist occupational therapist assessed the patients at 2, 6 and 12 weeks post-surgery. A Short Musculoskeletal Functional Assessment (SMFA) Questionnaire was administered and the brake reaction time was measured using a driving simulator. Patients who met the minimal criteria were then subjected to a full on-road driving test in a real-world environment with a driving instructor. A follow-up telephone questionnaire was administered at least 6 months after return to driving to determine if patients had returned to driving safely.
Results
A total of 23 patients (8 females, 15 males) were recruited. The mean age was 42.8 (± 12.9) years. There was a significant improvement in the SMFA (p < 0.05) and braking time (p < 0.05) at 6 and 12 weeks post-surgery. Nearly all (91%) patients passed the on-road driving test at 6 weeks, before their fractures had healed or weight bearing was initiated. The questionnaire administered at least 6 months after return to driving revealed that all patients had returned to regular driving safely.
Conclusion
We conclude that patients with isolated, surgically treated right ankle fractures can successfully pass a standard driving test at 6 weeks post-surgery, even before weight bearing has been initiated. We also showed that the ability to drive correlates with improvements in the SMFA scores and braking times.
Level of evidence
II.
Access options
Buy single article
Instant access to the full article PDF.
USD 39.95
Price excludes VAT (USA)
Tax calculation will be finalised during checkout.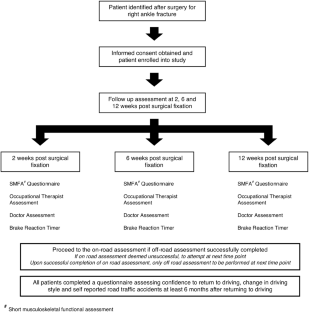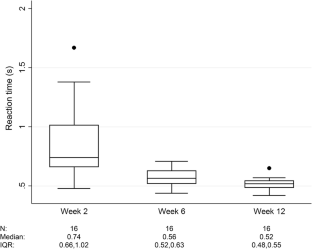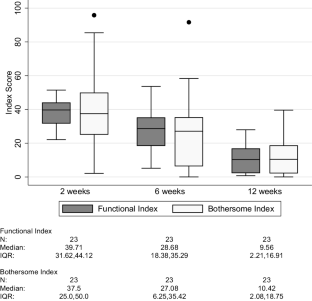 References
Chen V, Chacko AT, Costello FV, Desrosiers N, Appleton P, Rodriguez EK (2008) Driving after musculoskeletal injury. Addressing patient and surgeon concerns in an urban orthopaedic practice. J Bone Jt Surg Am 90(12):2791–2797

Rees JL, Sharp RJ (2002) Safety to drive after common limb fractures. Injury 33(1):51–54

Department for Transport (2016) Assessing fitness to drive—a guide for medical professionals. UK. http://www.gov.uk/dvla/fitnesstodrive. Accessed 18 Sept 2018

Land Transport Division (2009) Medical aspects of fitness to drive—a guide for medical practitioners. New Zealand. https://www.nzta.govt.nz/assets/resources/medical-aspects/Medical-aspects-of-fitness-to-drive-A-guide-or-health-practitioners.pdf. Accessed 18 Sept 2018

Singapore Medical Association (2011) Medical guidelines on fitness to drive

Dalury DF, Tucker KK, Kelley TC (2011) When can I drive? Brake response times after contemporary total knee arthroplasty. Clin Orthop Relat Res 469(1):82–86

Liebensteiner MC, Braito M, Giesinger JM, Fuchs A, Putzer D, Schuh R, Haid C, Kaufmann G (2016) Driving ability after right-sided ankle arthroscopy—a prospective study. Injury 47(3):762–765

Hau R, Csongvay S, Bartlett J (2000) Driving reaction time after right knee arthroscopy. Knee Surg Sports Traumatol Arthrosc 8:89–92

Egol KA, Sheikhazadeh A, Mogatederi S, Barnett A, Koval KJ (2003) Lower-extremity function for driving an automobile after operative treatment of ankle fracture. J Bone Jt Surg Am 85(7):1185–1189

Egol KA, Sheikhazadeh A, Koval KJ (2008) Braking function after complex lower extremity trauma. J Trauma 65(6):1435–1438

Swiontkowski MF, Engelberg R, Martin DP, Agel J (1999) Short musculoskeletal function assessment questionnaire: validity, reliability, and responsiveness. J Bone Surg Am 81:1245–1260

Donnell E (2009) Speed concepts: Informational Guide, Report FHWA-SA-10-001, Federal Highway Administration, Washington, DC. https://safety.fhwa.dot.gov/speedmgt/ref_mats/fhwasa10001/. Accessed 18 Sept 2018

Limpert R (1999) Motor vehicle accident reconstruction and cause analysis, 5th edn. Lexis, Charlottesville, pp 429–438

Elkin-Frankston S, Lebowitz BK, Kapust LR, Hollis AM, O'Connor MG (2007) The use of the Color Trails Test in the assessment of driver competence: preliminary report of a culture-fair instrument. Arch Clin Neuropsychol 22(5):631–635

Wechsler D (1997) WAIS-III administration and scoring manual. Psychological Corporation, San Antonio

Ferris FL III, Kassoff A, Bresnick GH (1982) New visual acuity charts for clinical research. Am J Ophthalmol 94:91–96

Humbryd CJ, Sugarman J. Ethical, Considerations (2016) Related to impaired driving after orthopaedic injuries. J Bone Jt Surg Am 98(14):e60

Haverkamp D, Rossen NN, Maas AJ, Olsman JG (2005) Resuming driving after a fracture of the lower extremity: a survey among Dutch (orthopaedic) surgeons. Injury 36(11):1365–1370

Yousri T, Jackson M (2015) Ankle fractures: when can I drive, doctor? A simulation study. Injury 46(2):399–404
Acknowledgements
We would like to acknowledge the statistical support from Ms Sun Bing from TTSH CRIO.
Ethics declarations
Conflict of interest
The author(s) declare(s) that there is no conflict of interest.
Ethical approval
This study was approved by our institutional review and ethics board.
About this article
Cite this article
Ho, S.W.L., Yam, M., Chan, M.L. et al. Return to car driving is safe 6 weeks after operative treatment of right ankle fractures. Arch Orthop Trauma Surg 138, 1691–1697 (2018). https://doi.org/10.1007/s00402-018-3037-3
Received:

Published:

Issue Date:

DOI: https://doi.org/10.1007/s00402-018-3037-3
Keywords
Car driving

Ankle fractures

SMFA Score

Braking reaction time