Abstract
In recent years, we have used a variety of tau immunological markers combined with the dye thiazin red (TR), an accurate marker to differentiate the fibrillar from the nonfibrillar state of both amyloid-β and tau in Alzheimer's disease (AD). In this study, we used TR as a potential diagnostic marker of AD in frozen-thawed (F-T) brain tissue and imprint cytology. Control experiments included the use of Thioflavin-S staining, fixed tissue, and some double-labeled material with TR and selected tau markers, including AT100, MC1, Alz-50, TG-3, Tau-C3, and S396. Our results indicate that TR retains its strong affinity for both tangles and plaques in unfixed F-T tissue and imprint cytology. This information provides a potential use of TR as an accurate diagnostic tool for the rapid postmortem diagnosis of AD neuropathology. This study shows the advantages of TR on cytology mainly because tools for the fast postmortem diagnosis of AD are practically nonexistent. In addition, we observed Tau-C3 immunoreactivity in extracellular tangles, suggesting that the Tau-C3 epitope is characteristically stable. Moreover, this study demonstrates that chemical fixation is not necessarily required for tau immunoreactivity on histological sections.
This is a preview of subscription content,
to check access.
Access this article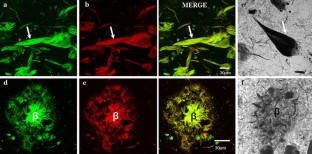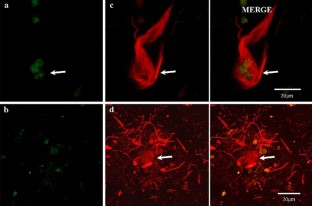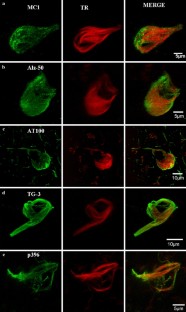 Similar content being viewed by others
References
Jellinger KA, Bancher C (1997) Proposals for re-evaluation of current autopsy criteria for the diagnosis of Alzheimer's disease. Neurobiol Aging 18:S55–S65

Dada MA, Ansari NA (1997) Post-mortem cytology: a reappraisal of a little used technique. Cytopathology 8:417–420

McLean CA, Harney MC, Gonzales MF (1994) Cytological demonstration of features of Alzheimer's disease using brain smear technique. Diagn Cytopathol 10:320–325

Uchihara T (2007) Silver diagnosis in neuropathology: principles, practice and revised interpretation. Acta Neuropathol 113:483–499

Allsop D, Haga SI, Haga C, Ikeda SI, Mann DM, Ishii T (1989) Early senile plaques in Down's syndrome brains show a close relationship with cell bodies of neurons. Neuropathol Appl Neurobiol 15:531–542

He Y, Duyckaerts C, Delaere P, Piette F, Hauw JJ (1993) Alzheimer's lesions labelled by anti-ubiquitin antibodies: comparison with other staining techniques. A study of 15 cases with graded intellectual status in ageing and Alzheimer's disease. Neuropathol Appl Neurobiol 19:364–371

Braak Alafuzoff I, Arzberger T et al (2006) Staging of Alzheimer disease-associated neurofibrillary pathology using paraffin sections and immunocytochemistry. Acta Neuropathol 112:389–404

Duyckaerts C, Delaere P, Hauw JJ, Abbamondi-Pinto AL, Sorbi S, Allen I, Brion JP, Flament-Durand J, Duchen L, Kauss J (1990) Rating of the lesions in senile dementia of the Alzheimer type: concordance between laboratories. A European multicenter study under the auspices of EURAGE. J Neurol Sci 97:295–323

Mirra SS, Heyman A, McKeel D, Sumi SM, Crain BJ, Brownlee LM, Vogel FS, Hughes JP, van Belle G, Berg L (1991) The Consortium to establish a registry for Alzheimer's disease (CERAD). Part II. Standardization of the neuropathologic assessment of Alzheimer's disease. Neurology 41:479–486

Suen KC, Wood WS, Syed AA, Quenville NF, Clement PB (1978) Role of imprint cytology in intraoperative diagnosis: value and limitations. J Clin Pathol 31:328–337

Garcia-Sierra F, Hauw JJ, Duyckaerts C, Wischik CM, Luna-Munoz J, Mena R (2000) The extent of neurofibrillary pathology in perforant pathway neurons is the key determinant of dementia in the very old. Acta Neuropathol 100:29–35

Luna-Munoz J, Garcia-Sierra F, Falcon V, Menendez I, Chavez-Macias L, Mena R (2005) Regional conformational change involving phosphorylation of tau protein at the Thr231, precedes the structural change detected by Alz–50 antibody in Alzheimer's disease. J Alzheimers Dis 8:29–41

Mena R, Edwards P, Perez-Olvera O, Wischik CM (1995) Monitoring pathological assembly of tau and beta-amyloid proteins in Alzheimer's disease. Acta Neuropathol 89:50–56

Mena R, Edwards PC, Harrington CR, Mukaetova-Ladinska EB, Wischik CM (1996) Staging the pathological assembly of truncated tau protein into paired helical filaments in Alzheimer's disease. Acta Neuropathol 91:633–641

McKhann G, Drachman D, Folstein M, Katzman R, Price D, Stadlan EM (1984) Clinical diagnosis of Alzheimer's disease: report of the NINCDS-ADRDA Work Group under the auspices of Department of Health and Human Services Task Force on Alzheimer's Disease. Neurology 34:939–944

Resch JF, Scott GL, Wischikc CM (1991) Design and synthesis of a potential affinity/cleaving reagent for beta-pleated sheet protein structures. Bioorg Med Chem Lett 1:519–522

Basurto-Islas G, Luna-Munoz J, Guillozet-Bongaarts AL, Binder LI, Mena R, Garcia-Sierra F (2008) Accumulation of aspartic acid421- and glutamic acid391-cleaved tau in neurofibrillary tangles correlates with progression in Alzheimer disease. J Neuropathol Exp Neurol 67:470–483

Galvan M, David JP, Delacourte A, Luna J, Mena R (2001) Sequence of neurofibrillary changes in aging and Alzheimer's disease: A confocal study with phospho-tau antibody, AD2. J Alzheimers Dis 3:417–425

Garcia-Sierra F, Ghoshal N, Quinn B, Berry RW, Binder LI (2003) Conformational changes and truncation of tau protein during tangle evolution in Alzheimer's disease. J Alzheimers Dis 5:65–77

Guillozet-Bongaarts AL, Garcia-Sierra F, Reynolds MR, Horowitz PM, Fu Y, Wang T, Cahill ME, Bigio EH, Berry RW, Binder LI (2005) Tau truncation during neurofibrillary tangle evolution in Alzheimer's disease. Neurobiol Aging 26:1015–1022

Mondragon-Rodriguez S, Basurto-Islas G, Santa-Maria I, Mena R, Binder LI, Avila J, Smith MA, Perry G, Garcia-Sierra F (2008) Cleavage and conformational changes of tau protein follow phosphorylation during Alzheimer's disease. Int J Exp Pathol 89:81–90

Sun A, Nguyen XV, Bing G (2002) Comparative analysis of an improved thioflavin-s stain, Gallyas silver stain, and immunohistochemistry for neurofibrillary tangle demonstration on the same sections. J Histochem Cytochem 50:463–472

Uchihara T, Nakamura A, Yamazaki M, Mori O (2001) Evolution from pretangle neurons to neurofibrillary tangles monitored by thiazin red combined with Gallyas method and double immunofluorescence. Acta Neuropathol 101:535–539

Uchihara T, Shibuya K, Nakamura A, Yagishita S (2005) Silver stains distinguish tau-positive structures in corticobasal degeneration/progressive supranuclear palsy and in Alzheimer's disease–comparison between Gallyas and Campbell-Switzer methods. Acta Neuropathol 109:299–305

Luna-Munoz J, Chavez-Macias L, Garcia-Sierra F, Mena R (2007) Earliest stages of tau conformational changes are related to the appearance of a sequence of specific phospho-dependent tau epitopes in Alzheimer's disease. J Alzheimers Dis 12:365–375

Styren SD, Hamilton RL, Styren GC, Klunk WE (2000) X-34, a fluorescent derivative of Congo red: a novel histochemical stain for Alzheimer's disease pathology. J Histochem Cytochem 48:1223–1232

Binder LI, Guillozet-Bongaarts AL, Garcia-Sierra F, Berry RW (2005) Tau, tangles, and Alzheimer's disease. Biochim Biophys Acta 1739:216–223

Carmel G, Mager EM, Binder LI, Kuret J (1996) The structural basis of monoclonal antibody Alz50's selectivity for Alzheimer's disease pathology. J Biol Chem 271:32789–32795

Jicha GA, Bowser R, Kazam IG, Davies P (1997) Alz–50 and MC-1, a new monoclonal antibody raised to paired helical filaments, recognize conformational epitopes on recombinant tau. J Neurosci Res 48:128–132

Wolozin B, Davie P (1987) Alzheimer-related neuronal protein A68: specificity and distribution. Ann Neurol 22:521–526

Jicha GA, Lane E, Vincent I, Otvos L, Hoffmann R Jr, Davies P (1997) A conformation- and phosphorylation-dependent antibody recognizing the paired helical filaments of Alzheimer's disease. J Neurochem 69:2087–2095

Zheng-Fischhofer Q, Biernat J, Mandelkow EM, Illenberger S, Godemann R, Mandelkow E (1998) Sequential phosphorylation of Tau by glycogen synthase kinase-3beta and protein kinase A at Thr212 and Ser214 generates the Alzheimer-specific epitope of antibody AT100 and requires a paired-helical-filament-like conformation. Eur J Biochem 252:542–552

Gamblin TC, Chen F, Zambrano A, Abraha A, Lagalwar S, Guillozet AL, Lu M, Fu Y, Garcia-Sierra F, LaPointe N, Miller R, Berry RW, Binder LI, Cryns VL (2003) Caspase cleavage of tau: linking amyloid and neurofibrillary tangles in Alzheimer's disease. Proc Natl Acad Sci U S A 100:10032–10037

Liu F, Iqbal K, Grundke-Iqbal I, Gong CX (2002) Involvement of aberrant glycosylation in phosphorylation of tau by cdk5 and GSK-3beta. FEBS Lett 530:209–214

Liu F, Zaidi T, Iqbal K, Grundke-Iqbal I, Merkle RK, Gong CX (2002) Role of glycosylation in hyperphosphorylation of tau in Alzheimer's disease. FEBS Lett 512:101–106
Acknowledgments
Authors want to express their gratitude to Dr. P. Davies (Albert Einstein College of Medicine, Bronx, NY, USA) for the generous gift of mAbs TG-3, Alz-50 and MC1. Dr. L. Binder is kindly acknowledged for the donation of mAb Tau-C3. also Mr. José L. Fernández for the handling of the human brain tissue, and Ms. Maricarmen De Lorenz for her secretarial assistance. This work was financially supported by CONACyT grant, No. 47630 (to R.M.). Thanks to Dr. Ellis Glazier for editing the English-language text.
Additional information
Jose Luna-Muñoz and Janneth Peralta-Ramirez contributed equally to this work.
About this article
Cite this article
Luna-Muñoz, J., Peralta-Ramirez, J., Chávez-Macías, L. et al. Thiazin red as a neuropathological tool for the rapid diagnosis of Alzheimer's disease in tissue imprints. Acta Neuropathol 116, 507–515 (2008). https://doi.org/10.1007/s00401-008-0431-x
Received:

Revised:

Accepted:

Published:

Issue Date:

DOI: https://doi.org/10.1007/s00401-008-0431-x
Keywords