Zusammenfassung
Die in den letzten Jahren gestiegene Anzahl an Katheterablationen von Vorhofflimmern bedeutet eine potenzielle Zunahme der Strahlenbelastung für die Patienten und das medizinische Personal. Erfreulicherweise steht diesem Trend u. a. die Weiterentwicklung nichtfluoroskopischer Methoden zur Kathetervisualisierung, verbunden mit der konsequenten Reduzierung der Durchleuchtungszeit pro Prozedur, entgegen. Da Röntgenstrahlung jedoch auch im Niedrigdosisbereich ernstzunehmende Schäden verursachen kann, sind im Sinne des ALARA-Prinzips ("as low as reasonably achievable") alle möglichen Maßnahmen zu ergreifen, um die Strahlendosis weiter zu reduzieren. Eine signifikante Rolle spielen hier Dosisreduktionsprotokolle mit Niedrigdosiseinstellungen. Diese beinhalten u. a. die Optimierung der Parameter Bildrate pro Sekunde, Pulsdauer, Detektoreingangsdosis und Strahlenaufhärtung. Dieser Review-Artikel fasst den aktuellen Stand der Technik der nichtfluoroskopischen Katheterdarstellung und der Dosisreduktionsprogramme bei der Katheterablation von Vorhofflimmern zusammen.
Abstract
The rising number of catheter ablations of atrial fibrillation increases radiation exposure for both patients and surgeons. Fortunately, this trend is counteracted by the development of measures to reduce total fluoroscopy time using non-fluoroscopic catheter visualization. Since even low-dose radiation can cause serious injury, all options to reduce radiation burden must be utilized (ALARA, "as low as reasonably achievable"). Dose reduction protocols with low-dose settings, which include reduced framerates, pulse duration, detector entrance dose and increased beam hardening, play a decisive role in this regard. This review provides a state-of-the-art summary of non-fluoroscopic catheter visualization and dose reduction protocols for catheter ablation of atrial fibrillation.
This is a preview of subscription content, log in to check access.
Access options
Buy single article
Instant unlimited access to the full article PDF.
US$ 39.95
Price includes VAT for USA
Subscribe to journal
Immediate online access to all issues from 2019. Subscription will auto renew annually.
US$ 99
This is the net price. Taxes to be calculated in checkout.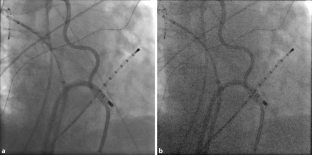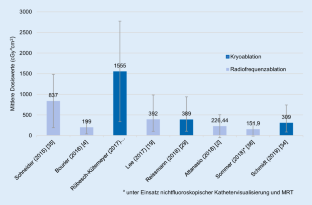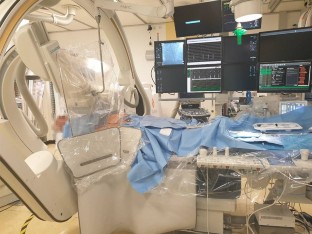 Literatur
1.

Aagaard P, Natale A, Di Biase L (2015) Robotic navigation for catheter ablation: benefits and challenges. Expert Rev Med Devices 12:457–469

2.

Attanasio P, Schreiber T, Pieske B et al (2018) Pushing the limits: establishing an ultra-low framerate and antiscatter grid-less radiation protocol for left atrial ablations. Europace 20:604–607

3.

Di Biase L, Horton R, Trivedi C et al (2014) Abstract 16237: zero fluoroscopy ablation of atrial fibrillation: a safety and feasibility study. Circulation 130:A16237–A16237

4.

Bourier F, Reents T, Ammar-Busch S et al (2016) Evaluation of a new very low dose imaging protocol: feasibility and impact on X‑ray dose levels in electrophysiology procedures. Europace 18:1406–1410

5.

Bulava A, Hanis J, Eisenberger M (2015) Catheter ablation of atrial fibrillation using zero-fluoroscopy technique: a randomized trial. Pacing Clin Electrophysiol 38:797–806

6.

Cha M‑J, Jo SJ, Cho Y et al (2016) Patient characteristics and the incidence of radiation-induced dermatitis following radiofrequency catheter ablation. Korean Circ J 46:646–653

7.

De Buck S, La Gerche A, Ector J et al (2012) Asymmetric collimation can significantly reduce patient radiation dose during pulmonary vein isolation. Europace 14:437–444

8.

Deutsche Herzstiftung (2018) Frankfurt am Main. 30. Deutscher Herzbericht 2018

9.

Estner HL, Deisenhofer I, Luik A et al (2006) Electrical isolation of pulmonary veins in patients with atrial fibrillation: reduction of fluoroscopy exposure and procedure duration by the use of a non-fluoroscopic navigation system (NavX). Europace 8:583–587

10.

Estner HL, Grazia Bongiorni M, Chen J et al (2015) Use of fluoroscopy in clinical electrophysiology in europe: results of the European heart rhythm association survey. Europace 17:1149–1152

11.

Ferguson JD (2014) Very low fluoroscopy ablation for atrial fibrillation can be fast and safe. Circulation 7:777–778

12.

Germano JJ, Day G, Gregorious D et al (2005) A novel radiation protection drape reduces radiation exposure during fluoroscopy guided electrophysiology procedures. J Invasive Cardiol 17:469–472

13.

Haegeli LM, Stutz L, Mohsen M et al (2019) Feasibility of zero or near zero fluoroscopy during catheter ablation procedures. Cardiol J 26:226–232

14.

Heidbuchel H, Wittkampf FH, Vano E et al (2014) Practical ways to reduce radiation dose for patients and staff during device implantations and electrophysiological procedures. Europace 16:946–964

15.

Hirshfeld JW Jr., Balter S, Brinker JA et al (2004) ACCF/AHA/HRS/SCAI clinical competence statement on physician knowledge to optimize patient safety and image quality in fluoroscopically guided invasive cardiovascular procedures. A report of the American College of Cardiology Foundation/American Heart Association/American College of Physicians Task Force on Clinical Competence and Training. J Am Coll Cardiol 44:2259–2282

16.

Jacob S, Donadille L, Maccia C et al (2012) Eye lens radiation exposure to interventional cardiologists: a retrospective assessment of cumulative doses. Radiat Prot Dosimetry 153:282–293

17.

König AM, Etzel R, Thomas RP et al (2019) Persönliche Strahlenschutzmittel und Dosimetrie des medizinischen Personals in der interventionellen Radiologie: Aktueller Status und neue Entwicklungen. RöFo 191:512–521

18.

Koukorava C, Farah J, Struelens L et al (2014) Efficiency of radiation protection equipment in interventional radiology: a systematic Monte Carlo study of eye lens and whole body doses. J Radiol Prot 34:509–528

19.

Kühne M, Knecht S, Mühl A et al (2016) Fluoroscopy-free pulmonary vein isolation in patients with atrial fibrillation and a patent foramen ovale using solely an electroanatomic mapping system. PLoS ONE 11:e148059–e148059

20.

Lee JH, Kim J, Kim M et al (2017) Extremely low-frame-rate digital fluoroscopy in catheter ablation of atrial fibrillation: a comparison of 2 versus 4 frame rate. Medicine 96:e7200

21.

Mahesh M (2001) Fluoroscopy: patient radiation exposure issues. Radiographics 21:1033–1045

22.

Marini M, Martin M, Ravanelli D et al (2019) Extensive use of 3D nonfluoroscopic mapping systems for reducing radiation exposure during catheter ablation procedures: an analysis of 10 years of activity. Biomed Res Int 2019:4217076

23.

O'brien B, Balmforth DC, Hunter RJ et al (2017) Fluoroscopy-free AF ablation using transesophageal echocardiography and electroanatomical mapping technology. J Interv Card Electrophysiol 50:235–244

24.

Picano E, Piccaluga E, Padovani R et al (2014) Risks related to fluoroscopy radiation associated with electrophysiology procedures. J Atr Fibrillation 7:77–81

25.

Picano E, Vano E (2011) The radiation issue in cardiology: the time for action is now. Cardiovasc Ultrasound 9:35–35

26.

Picano E, Vañó E, Rehani MM et al (2014) The appropriate and justified use of medical radiation in cardiovascular imaging: a position document of the ESC associations of cardiovascular imaging, percutaneous cardiovascular interventions and electrophysiology. Eur Heart J 35:665–672

27.

Platz Batista da Silva N, Becker C (2015) Streustrahlenraster – (k)ein kurzer Überblick. Radiopraxis 8:197–210

28.

Reddy VY, Morales G, Ahmed H et al (2010) Catheter ablation of atrial fibrillation without the use of fluoroscopy. Heart Rhythm 7:1644–1653

29.

Reissmann B, Maurer T, Wohlmuth P et al (2018) Significant reduction of radiation exposure in cryoballoon-based pulmonary vein isolation. Europace 20:608–613

30.

Roguin A, Goldstein J, Bar O et al (2013) Brain and neck tumors among physicians performing interventional procedures. Am J Cardiol 111:1368–1372

31.

Rubesch-Kutemeyer V, Molatta S, Vogt J et al (2017) Reduction of radiation exposure in cryoballoon ablation procedures: a single-centre study applying intracardiac echocardiography and other radioprotective measures. Europace 19:947–953

32.

Sauer R, Müller RG (2006) Strahlenschutz, 3. Aufl. Radiologie. Urban & Fischer, München, S 387–397

33.

Savage C, Seale TM IV, Shaw CJ et al (2013) Evaluation of a suspended personal radiation protection system vs. conventional apron and shields in clinical Interventional procedures. Open J Radiol 03:143–151

34.

Schmidt M, Tesche C, Hapfelmeier A et al (2019) Significant radiation dose reduction using a novel angiography platform in patients undergoing cryoballoon pulmonary vein isolation. J Thorac Imaging. https://doi.org/10.1097/RTI.0000000000000441

35.

Schneider R, Lauschke J, Schneider C et al (2015) Reduction of radiation exposure during ablation of atrial fibrillation. Herz 40:883–891

36.

Skripochnik E, Loh SA (2017) Fluoroscopy time is not accurate as a surrogate for radiation exposure. Vascular 25:466–471

37.

Smith IR, Stafford WJ, Hayes JR et al (2016) Radiation risk reduction in cardiac electrophysiology through use of a gridless imaging technique. Europace 18:121–130

38.

Sommer P, Bertagnolli L, Kircher S et al (2018) Safety profile of near-zero fluoroscopy atrial fibrillation ablation with non-fluoroscopic catheter visualization: experience from 1000 consecutive procedures. Europace 20(12):1952–1958. https://doi.org/10.1093/europace/eux378

39.

Stewart FA, Akleyev AV, Hauer-Jensen M et al (2012) ICRP publication 118: ICRP statement on tissue reactions and early and late effects of radiation in normal tissues and organs—threshold doses for tissue reactions in a radiation protection context. Ann ICRP. https://doi.org/10.1016/j.icrp.2012.02.001
Ethics declarations
Interessenkonflikt
T. Schreiber, N. Kähler, V. Tscholl, P. Nagel, U. Landmesser, M. Huemer und P. Attanasio geben an, dass kein Interessenkonflikt besteht.
Für diesen Beitrag wurden von den Autoren keine Studien an Menschen oder Tieren durchgeführt. Für die aufgeführten Studien gelten die jeweils dort angegebenen ethischen Richtlinien. Für Bildmaterial oder anderweitige Angaben innerhalb des Manuskripts, über die Patienten zu identifizieren sind, liegt von ihnen und/oder ihren gesetzlichen Vertretern eine schriftliche Einwilligung vor.
About this article
Cite this article
Schreiber, T., Kähler, N., Tscholl, V. et al. Update zum Strahlenschutz bei der Katheterablation von Vorhofflimmern. Herzschr Elektrophys (2019) doi:10.1007/s00399-019-00660-z
Received:

Accepted:

Published:
Schlüsselwörter
Herzrhythmusstörung

Pulmonalvenenisolation

Fluoroskopie

Strahlenschäden

Dosisreduktion
Keywords
Cardiac arrhythmia

Pulmonary vein isolation

Fluoroscopy

Radiation damages

Dose reduction