Abstract
Soluplus® is a graft copolymer, with PEG and vinylcaprolactam/vinyl acetate side chains, recently available as excipient used to promote fast drug release in pharmaceutical dosage forms and as solubility enhancer. Despite this copolymer is reported to be able to act as a thickening additive and even as gelling agent as a function of temperature, there is a lack of information about the physical–chemical properties of its water dispersions. Thus, the aim of this paper is to investigate the influence of Soluplus® concentration and experimental temperature on the modification of the rheological properties of Soluplus® water dispersions. The results clearly indicated the influence of both the studied parameters and of their interactions on the Soluplus® thickening ability. Although some systems appear gel by human perception at 37 °C, the mechanical spectra demonstrated the lack of the formation of a tridimensional network structure. Overall, in all the analyzed temperatures and concentrations, the systems always behave as a "rheological" dilute or semidilute polymer solution.
This is a preview of subscription content, log in to check access.
Access options
Buy single article
Instant access to the full article PDF.
US$ 39.95
Price includes VAT for USA
Subscribe to journal
Immediate online access to all issues from 2019. Subscription will auto renew annually.
US$ 199
This is the net price. Taxes to be calculated in checkout.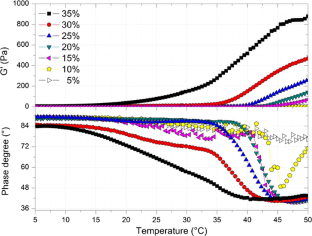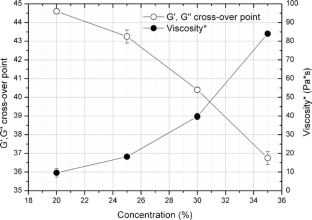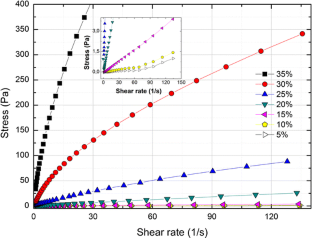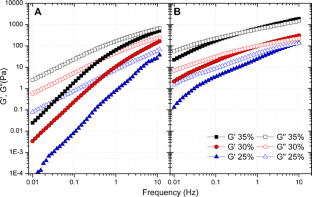 References
1.

BASF (2010) Soluplus—technical information. The BASF Chemical Company-Pharma Ingredients & Services, Limburgerhof

2.

Kolter K, Karl M, Gryczke A (2012) Hot-melt extrusion with BASF Pharma polymers extrusion compendium 2nd revised and enlarged edition

3.

Nagy ZK, Balogh A, Vajna B, Farkas A, Patyi G, Kramarics A, Marosi G (2012) Comparison of electrospun and extruded soluplus®-based solid dosage forms of improved dissolution. J Pharm Sci 101(1):322–332

4.

Caron V, Hu Y, Tajber L, Erxleben A, Corrigan OI, McArdle P, Healy AM (2013) Amorphous solid dispersions of Sulfonamide/Soluplus® and sulfonamide/PVP prepared by ball milling. AAPS PharmSciTech 14(1):464–474

5.

Dierickx L, Saerens L, Almeida A, De Beer T, Remon JP, Vervaet C (2012) Co-extrusion as manufacturing technique for fixed-dose combination mini-matrices. Eur J Pharm Biopharm 81(3):683–689

6.

Linn M, Collnot EM, Djuric D, Hempel K, Fabian E, Kolter K, Lehr CM (2012) Soluplus® as an effective absorption enhancer of poorly soluble drugs in vitro and in vivo. Eur J Pharm Sci 45(3):336–343

7.

Terife G, Wang P, Faridi N, Gogos CG (2012) Hot melt mixing and foaming of soluplus® and indomethacin. Polym Eng Sci 52(8):1629–1639

8.

Thakral NK, Ray AR, Bar-Shalom D, Eriksson AH, Majumdar DK (2012) Soluplus-solubilized citrated camptothecin—a potential drug delivery strategy in colon cancer. AAPS PharmSciTech 13(1):59–66

9.

Taupitz T, Dressman JB, Buchanan CM, Klein S (2012) Cyclodextrin–water soluble polymer ternary complexes enhance the solubility and dissolution behaviour of poorly soluble drugs. Case example: Itraconazole. European Journal of Pharmaceutics and Biopharmaceutics

10.

Hardung H, Djuric D, Ali S (2010) Combining HME & solubilization: Soluplus®—the solid solution. Drug Deliv Technol 10(3):20–27

11.

Hughey JR, Keen JM, Miller DA, Kolter K, Langley N, McGinity JW (2013) The use of inorganic salts to improve the dissolution characteristics of tablets containing Soluplus®-based solid dispersions. Eur J Pharm Sci 48(4):758–766

12.

Shamma RN, Basha M (2013) Soluplus®: A novel polymeric solubilizer for optimization of Carvedilol solid dispersions: Formulation design and effect of method of preparation. Powder Technology

13.

BASF (2011) Solubility Enhancement with BASF Pharma Polymers-Solubilizer Compendium

14.

Bonacucina G, Spina M, Misici-Falzi M, Cespi M, Pucciarelli S, Angeletti M, Palmieri GF (2007) Effect of hydroxypropyl β-cyclodextrin on the self-assembling and thermogelation properties of Poloxamer 407. Eur J Pharm Sci 32(2):115–122. doi:10.1016/j.ejps.2007.06.004

15.

Bonacucina G, Cespi M, Mencarelli G, Giorgioni G, Palmieri GF (2011) Thermosensitive self-assembling block copolymers as drug delivery systems. Polymers 3(2):779–811

16.

Bonacucina G, Cespi M, Misici-Falzi M, Palmieri GF (2009) Colloidal soft matter as drug delivery system. J Pharm Sci 98(1):1–42

17.

Bonacucina G, Palmieri GF (2006) Acrylic polymers as thickening agents for tetraglycol cosolvent. J Pharm Sci 95(4):726–736

18.

Clark A, Ross-Murphy S (1987) Structural and mechanical properties of biopolymer gels. In: Biopolymers, vol 83. Advances in polymer science. Springer: Berlin. pp 57–192. doi:10.1007/BFb0023332

19.

Ikeda S, Nishinari K (2001) "Weak gel"-type rheological properties of aqueous dispersions of nonaggregated κ-carrageenan helices. J Agric Food Chem 49(9):4436–4441

20.

Chenite A, Buschmann M, Wang D, Chaput C, Kandani N (2001) Rheological characterisation of thermogelling chitosan/glycerol-phosphate solutions. Carbohydr Polym 46(1):39–47

21.

Ross-Murphy SB (1995) Rheological characterization of gels. J Texture Stud 26:391–400

22.

Bonacucina G, Martelli S, Palmieri GF (2004) Rheological, mucoadhesive and release properties of carbopol gels in hydrophilic cosolvents. Int J Pharm 282(1–2):115–130

23.

Bonacucina G, Cespi M, Misici-Falzi M, Palmieri GF (2006) Rheological, adhesive and release characterisation of semisolid carbopol/tetraglycol systems. Int J Pharm 307(2):129–140

24.

Cespi M, Bonacucina G, Casettari L, Palmieri GF (2013) Rheological and thermo-mechanical properties of Sepifilm-Sepisperse water dispersions and films. Thermochim Acta 557:7–12

25.

Kobayashi S, Tsujihata S, Hibi N, Tsukamoto Y (2002) Preparation and rheological characterization of carboxymethyl konjac glucomannan. Food Hydrocoll 16(4):289–294
Acknowledgments
The authors wish to thanks BASF (Lampertheim, Germany) for the generous donation of Soluplus®.
About this article
Cite this article
Cespi, M., Casettari, L., Palmieri, G.F. et al. Rheological characterization of polyvinyl caprolactam–polyvinyl acetate–polyethylene glycol graft copolymer (Soluplus®) water dispersions. Colloid Polym Sci 292, 235–241 (2014). https://doi.org/10.1007/s00396-013-3077-8
Received:

Revised:

Accepted:

Published:

Issue Date:
Keywords
Soluplus®

Rheology

Viscoelasticity

Viscosity

Gel