Abstract
Sympathetic neural remodeling, which involves the inflammatory response, plays an important role in ventricular arrhythmias (VAs) after myocardial infarction (MI). Adrenergic receptors on macrophages potentially modulate the inflammatory response. We hypothesized that the increased level of catecholamines activates macrophages and regulates sympathetic neural remodeling after MI. We treated MI mice with either clodronate or metoprolol for 5 days following coronary artery ligation. Mice without treatment after MI and sham-operation mice served as the positive control and negative control, respectively. The norepinephrine levels in plasma and the peri-infarct myocardium increased by almost two-fold in the MI mice compared with the sham-operation mice. Both in vivo and ex vivo electrophysiology examinations showed that the vulnerability to VAs induced by MI was alleviated by macrophage depletion with clodronate and β1-adrenergic blockade with metoprolol, which was in line with circulating and peri-infarct norepinephrine levels, sympathetic reinnervation, and the expression of nerve growth factor (NGF) 7 days after surgery. To further verify the interaction between catecholamines and macrophages, we preconditioned lipopolysaccharide-stimulated RAW 264.7 cells using epinephrine or epinephrine with selective adrenergic antagonists. The expression and release of inflammatory factors including NGF were enhanced by epinephrine. This effect was inhibited by metoprolol but not by other subtype antagonists. Our data suggested that the increased level of catecholamines, traditionally known as positive inotropes secreted from sympathetic nerve endings, might regulate cardiac sympathetic neural remodeling through β1-adrenergic receptors on macrophages, subsequently inducing VAs after MI.
This is a preview of subscription content, log in to check access.
Access options
Buy single article
Instant access to the full article PDF.
US$ 39.95
Price includes VAT for USA
Subscribe to journal
Immediate online access to all issues from 2019. Subscription will auto renew annually.
US$ 199
This is the net price. Taxes to be calculated in checkout.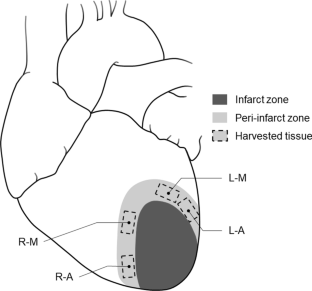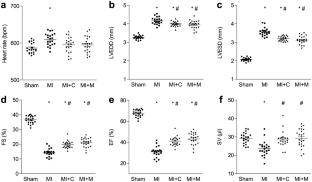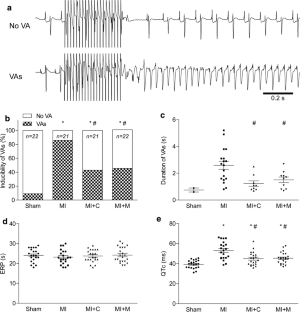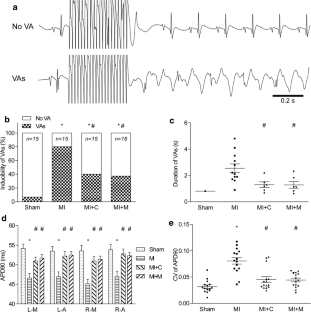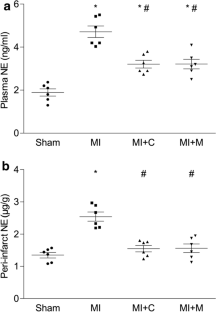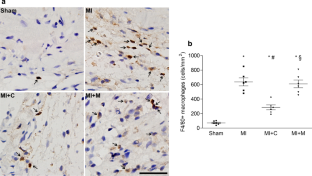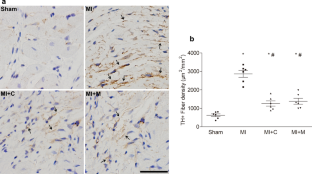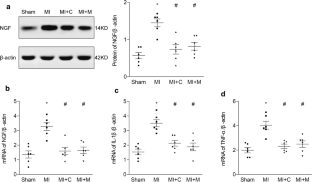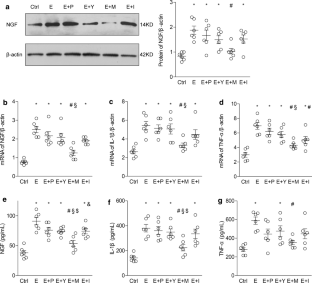 Acknowledgments
We thank Dr. Xiangshi Li for his technical support on immunohistochemical analysis.
Funding
This work was supported by the National Natural Science Foundation of China (81500281, 81601664), Sichuan Science and Technology Program (2019YJ0577), the Science and Technology Project of the Health Planning Committee of Sichuan (19PJ126), and the Science and Technology Project of Sichuan Overseas Students (2019-58).
Ethics declarations
Conflict of interest
None declared.
Ethical approval
This study was approved by the West China Second University Hospital and Sichuan Provincial People's Hospital, China.
About this article
Cite this article
Lyu, J., Wang, M., Kang, X. et al. Macrophage-mediated regulation of catecholamines in sympathetic neural remodeling after myocardial infarction. Basic Res Cardiol 115, 56 (2020). https://doi.org/10.1007/s00395-020-0813-3
Received:

Accepted:

Published:
Keywords
Myocardial infarction

Arrhythmia

Sympathetic nerve

Catecholamine

Macrophage