Abstract
Background
So far the extent of regional variation of heart failure (HF) prevalence in Germany is unknown.
Methods
Using a full sample of nationwide claims data covering ambulatory care of approximately 87% of the German population, this study aimed to (i) examine regional differences of HF prevalence on the level of 402 German administrative districts and (ii) investigate factors associated with HF prevalence. This study included all statutory health-insured patients aged ≥ 40 years in 2017, comprising about 40 million individuals. Age- and sex-standardized HF prevalence was estimated on the district level. Two-level logistic regression analysis was employed to study the influence of the district-related factors degree of urbanisation and regional socio-economic status on HF diagnosis, adjusted for the individual's age and sex.
Results
HF prevalence in 2017 was 6.0%. Standardized prevalence on the district level varied by a factor of 4.3 (range 2.8–11.9%). Regional socio-economic status and degree of urbanisation were independently associated with HF prevalence. The prevalence increased with decreasing degree of urbanisation. The adjusted risk of suffering from HF was 40% higher in 'rural areas with a low population density' as compared to 'big urban municipalities' (odds ratio 1.40, 99% CI 1.24–1.59).
Conclusion
Strong regional variations in HF prevalence may inform future public health policies regarding targeted resource planning and prevention strategies. High prevalence in areas with low population density adds to the challenge of ensuring universal access to health services in rural German regions.
This is a preview of subscription content, log in to check access.
Access options
Buy single article
Instant access to the full article PDF.
US$ 39.95
Price includes VAT for USA
Subscribe to journal
Immediate online access to all issues from 2019. Subscription will auto renew annually.
US$ 199
This is the net price. Taxes to be calculated in checkout.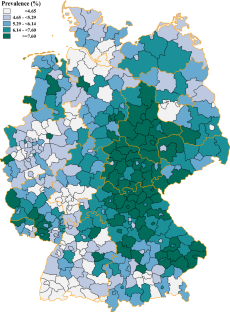 References
1.

Stork S, Handrock R, Jacob J et al (2017) Epidemiology of heart failure in Germany: a retrospective database study. Clin Res Cardiol 106:913–922. https://doi.org/10.1007/s00392-017-1137-7

2.

Ohlmeier C, Mikolajczyk R, Frick J et al (2015) Incidence, prevalence and 1-year all-cause mortality of heart failure in Germany: a study based on electronic healthcare data of more than six million persons. Clin Res Cardiol 104:688–696. https://doi.org/10.1007/s00392-015-0841-4

3.

Ziaeian B, Fonarow GC (2016) Epidemiology and aetiology of heart failure. Nat Rev Cardiol 13:368–378. https://doi.org/10.1038/nrcardio.2016.25

4.

Riedel O, Ohlmeier C, Enders D et al (2018) The contribution of comorbidities to mortality in hospitalized patients with heart failure. Clin Res Cardiol 107:487–497. https://doi.org/10.1007/s00392-018-1210-x

5.

Llorens P, Javaloyes P, Martin-Sanchez FJ et al (2018) Time trends in characteristics, clinical course, and outcomes of 13,791 patients with acute heart failure. Clin Res Cardiol 107:897–913. https://doi.org/10.1007/s00392-018-1261-z

6.

Stork S, Handrock R, Jacob J et al (2017) Treatment of chronic heart failure in Germany: a retrospective database study. Clin Res Cardiol 106:923–932. https://doi.org/10.1007/s00392-017-1138-6

7.

Kaspar M, Fette G, Guder G et al (2018) Underestimated prevalence of heart failure in hospital inpatients: a comparison of ICD codes and discharge letter information. Clin Res Cardiol 107:778–787. https://doi.org/10.1007/s00392-018-1245-z

8.

Deutsche Herzstiftung (2017) Deutscher Herzbericht 2017. Sektorübergreifende Versorgungsanalyse zur Kardiologie, Herzchirurgie und Kinderherzmedizin in Deutschland. Frankfurt am Main. ISBN: 978-3-9817032-7-6

9.

Conrad N, Judge A, Tran J et al (2018) Temporal trends and patterns in heart failure incidence: a population-based study of 4 million individuals. Lancet Lond Engl 391:572–580. https://doi.org/10.1016/S0140-6736(17)32520-5

10.

Sun LY, Tu JV, Sherrard H et al (2018) Sex-specific trends in incidence and mortality for urban and rural ambulatory heart failure patients in Eastern Ontario from 1994 to 2013. J Cardiol Fail. https://doi.org/10.1016/j.cardfail.2018.07.465

11.

Hoebel J, Kroll LE, Fiebig J et al (2018) Socioeconomic inequalities in total and site-specific cancer incidence in germany: a population-based registry study. Front Oncol 8:402. https://doi.org/10.3389/fonc.2018.00402

12.

Larsen K, Merlo J (2005) Appropriate assessment of neighborhood effects on individual health: integrating random and fixed effects in multilevel logistic regression. Am J Epidemiol 161:81–88. https://doi.org/10.1093/aje/kwi017

13.

Havranek EP, Mujahid MS, Barr DA et al (2015) Social determinants of risk and outcomes for cardiovascular disease: a scientific statement from the American Heart Association. Circulation 132:873–898. https://doi.org/10.1161/CIR.0000000000000228

14.

Kauhl B, Schweikart J, Krafft T et al (2016) Do the risk factors for type 2 diabetes mellitus vary by location? A spatial analysis of health insurance claims in Northeastern Germany using kernel density estimation and geographically weighted regression. Int J Health Geogr 15:38. https://doi.org/10.1186/s12942-016-0068-2

15.

Kauhl B, Maier W, Schweikart J et al (2018) Exploring the small-scale spatial distribution of hypertension and its association to area deprivation based on health insurance claims in Northeastern Germany. BMC Public Health 18:121. https://doi.org/10.1186/s12889-017-5017-x

16.

Ahmad FS, Ning H, Rich JD et al (2016) Hypertension, obesity, diabetes, and heart failure-free survival: the cardiovascular disease lifetime risk pooling project. JACC Heart Fail 4:911–919. https://doi.org/10.1016/j.jchf.2016.08.001

17.

Verheij RA, van de Mheen HD, de Bakker DH et al (1998) Urban-rural variations in health in The Netherlands: does selective migration play a part? J Epidemiol Commun Health 52:487–493

18.

Steinhaeuser J, Otto P, Goetz K et al (2014) Rural area in a European country from a health care point of view: an adoption of the Rural Ranking Scale. BMC Health Serv Res 14:147. https://doi.org/10.1186/1472-6963-14-147
Acknowledgements
The authors would like to thank the 17 regional Associations of Statutory Health Insurance Physicians in Germany for provision of data and their support in interpreting the results of our analyses.
Ethics declarations
Conflict of interest
JH, MKA, AS and JB declare that they have no conflict of interest. SS receives funding from the German Federal Ministry of Education and Research (01EO1004 and 01EO1504).
Ethical approval
In Germany the use of claims data for scientific research is regulated by the Code of Social Law (SGB X). An ethical approval and informed consent are not required as this study used routinely collected anonymized data.
Data sharing statement
The datasets analysed during the current study are not publicly available due to data protection regulations by the German Social Security Code (Sozialgesetzbuch (SGB) V).
About this article
Cite this article
Holstiege, J., Akmatov, M.K., Störk, S. et al. Higher prevalence of heart failure in rural regions: a population-based study covering 87% of German inhabitants. Clin Res Cardiol 108, 1102–1106 (2019). https://doi.org/10.1007/s00392-019-01444-8
Received:

Accepted:

Published:

Issue Date:
Keywords
Adults

Claims data

Germany

Heart failure

Prevalence