Abstract
Background
Patients of all ages can develop nail disorders, such as onychocryptosis, which are recurrent and painful conditions.
Objective
The aim of the study was to compare the quality of life in a group of aged patients with recurrent and painful ingrown toenails before and after chemical nail surgery to treat onychocryptosis.
Material and methods
The study design utilized a presurgery and a postsurgery questionnaire and examined prospective serial cases. The participants were drawn from an outpatient podiatric clinic from 1 January 2015 to 29 August 2016. The final sample of patients (>65 years old) underwent nail surgery with chemical matricectomy using phenol. In addition to the chemical nail surgical procedure, the patients completed the Manchester-Oxford Foot Questionnaire (MOXFQ) and the Borg CR-10 scale category ratio (CR) within 4 weeks prior to surgery. The patients completed both questionnaires again through mailing 3 months postsurgery.
Results
Lower MOXFQ scores were noted after surgery, demonstrating an improvement in quality of life after chemical nail surgery. Men and women exhibited similar results (p > 0.05), with the exception of the Borg CR-10 scale where women reported more residual pain compared with men, with scores of 1.26 ± 1.65 and 0.09 ± 0.20, respectively (p = 0.011).
Conclusion
After a chemical nail surgery procedure, the quality of life improved in aged patients with recurrent and painful ingrown toenails.
Zusammenfassung
Hintergrund
Bei Patienten aller Altersgruppen können sich Nagelerkrankungen entwickeln, wie z. B. eingewachsene Zehennägel (Onychocryptosis), die rezidivierend und schmerzhaft sein können.
Ziel
Ziel der Studie war es, die Lebensqualität in einer Gruppe älterer Patienten mit rezidivierenden und schmerzhaften eingewachsenen Zehennägeln vor und nach chemischer Nageloperation als Behandlung einer Onychocryptosis zu vergleichen.
Material und Methoden
Das Studiendesign umfasste einen Fragebogen jeweils vor und nach der Operation und untersuchte eine prospektive Fallserie. Die Teilnehmer wurden zwischen 1. Januar 2015 und 29. August 2016 von einer ambulanten Klinik für Podiatrie rekrutiert. Die letzte Probandengruppe (>65 Jahre) unterzog sich einer Nageloperation mit chemischer Matrixektomie unter Anwendung von Phenol. Zusätzlich zur chemischen Nageloperation füllten die Patienten den Manchester-Oxford Foot Questionnaire (MOXFQ) sowie die Borg-CR-10-Skala (Kategorie-Ratio [CR]) innerhalb der 4 Wochen vor Operation aus. Die Patienten füllten beide Fragebögen erneut 3 Monate postoperativ per Post aus.
Ergebnisse
Nach der Operation wurden niedrigere MOXFQ-Scores festgestellt, was zeigt, dass es zu einer Verbesserung der Lebensqualität nach chemischer Nageloperation kam. Männer und Frauen zeigten ähnliche Ergebnisse (p > 0,05) mit Ausnahme der Borg-CR-10-Skala, in welcher Frauen über mehr verbleibende Schmerzen berichteten als Männer, mit Score-Werten von 1,26 ± 1,65 bzw. 0,09 ± 0,20 (p = 0,011).
Schlussfolgerung
Nach einer chemischen Nageloperation verbesserte sich die Lebensqualität älterer Patienten mit rezidivierenden und schmerzhaften eingewachsenen Zehennägeln
This is a preview of subscription content, log in to check access.
Access options
Buy single article
Instant access to the full article PDF.
US$ 39.95
Price includes VAT for USA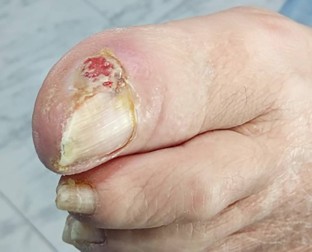 References
1.

Cohen PR, Scher RK (1992) Geriatric nail disorders: diagnosis and treatment. J Am Acad Dermatol 26(4):521–531

2.

Cohen P, Scher R (1997) Nails: therapy, diagnosis, and surgery, 2nd edn. WB Saunders, Philadelphia, pp 127–150

3.

Singh G, Haneef NS, Uday A (2005) Nail changes and disorders among the elderly. Indian J Dermatol Venereol Leprol 71(6):386–392

4.

Reyzelman AM, Trombello KA, Vayser DJ, Armstrong DG, Harkless LB (2000) Are antibiotics necessary in the treatment of locally infected ingrown toenails? Arch Fam Med 9(9):930–932

5.

Eekhof JA, Van Wijk B, Knuistingh Neven A, van der Wouden JC (2012) Interventions for ingrowing toenails. In: Eekhof JA, editor. Cochrane Database of Systematic Reviews Chichester, UK: John Wiley & Sons. http://doi.wiley.com/10.1002/14651858.CD001541.pub3. Accessed 18 Jan 2018

6.

Dunn JE, Link CL, Felson DT, Crincoli MG, Keysor JJ, McKinlay JB (2004) Prevalence of foot and ankle conditions in a multiethnic community sample of older adults. Am J Epidemiol 159(5):491–498

7.

William J, Timothy B, Dirk E (2011) Andrews' diseases of the skin, 11th edn. Saunders, Philadelphia, p 968

8.

DeLauro NM, DeLauro TM (2004) Onychocryptosis. Clin Podiatr Med Surg 21:617–630

9.

Shivarathre DG, Howard N, Krishna S, Cowan C, Platt SR (2014) Psychological factors and personality traits associated with patients in chronic foot and ankle pain. Foot Ankle Int 35(11):1103–1107

10.

Garrow AP, Papageorgiou AC, Silman AJ, Thomas E, Jayson MI, Macfarlane GJ (2000) Development and validation of a questionnaire to assess disabling foot pain. Pain 85(1–2):107–113

11.

Eekhof JA, Van Wijk B, Knuistingh NA, van der Wouden JC (2012) Interventions for ingrowing toenails. In: Eekhof JA, editor. Cochrane Database of Systematic Reviews [Internet]. Chichester, UK: John Wiley & Sons, p. CD001541. http://www.ncbi.nlm.nih.gov/pubmed/22513901. Accessed 18 Jan 2018

12.

Becerro De Bengoa Vallejo R, Losa Iglesias ME, Alou Cervera L, Sevillano Fernández D, Prieto Prieto J (2010) Total nail ablation for onychodystrophy with optimized gauze-phenol application. J Eur Acad Dermatol Venereol 24(8):936–942

13.

Baran R (2011) The nail in the elderly. Clin Dermatol 29(1):54–60

14.

Dawson J, Doll H, Coffey J, Jenkinson C, Oxford and Birmingham Foot and Ankle Clinical Research Group (2007) Responsiveness and minimally important change for the Manchester-Oxford foot questionnaire (MOXFQ) compared with AOFAS and SF-36 assessments following surgery for hallux valgus. Osteoarthr Cartil 15:918–931

15.

Martínez-Nova A, Sánchez-Rodríguez R, Alonso-Peña D (2007) A new onychocryptosis classification and treatment plan. J Am Podiatr Med Assoc 97(5):389–393

16.

Garcés JBG, Winson I, Goldhahn S, Castro MD, Swords MP, Grujic L et al (2016) Reliability, validity and responsiveness of the Spanish Manchester-Oxford Foot Questionnaire (MOXFQ) in patients with foot or ankle surgery. Foot Ankle Surg 22(1):59–70

17.

Borg G (1990) Psychophysical scaling with applications in physical work and the perception of exertion. Scand J Work Environ Health 16(Suppl 1):55–58

18.

Richter M, Geerling J, Frink M, Knobloch K, Krettek C (2006) A new foot and ankle outcome score: questionnaire based, subjective, visual-analogue-scale, validated and computerized. Foot Ankle Surg 12(1):191–199

19.

Menz HB, Tiedemann A, Kwan MMS, Plumb K, Lord SR (2006) Foot pain in community-dwelling older people: an evaluation of the Manchester Foot Pain and Disability Index. Rheumatology 45(7):863–867

20.

Hunt KJ, Hurwit D (2013) Use of patient-reported outcome measures in foot and ankle research. J Bone Joint Surg Am 95(16):e118(1-9)

21.

Schrier JCM, Palmen LN, Verheyen CCPM, Jansen J, Koëter S (2015) Patient-reported outcome measures in hallux valgus surgery. A review of literature. Foot Ankle Surg 21(1):11–15

22.

Spruce MC, Bowling FL, Metcalfe SA (2011) A longitudinal study of hallux valgus surgical outcomes using a validated patient centred outcome measure. Foot (Edinb) 21(3):133–137

23.

Fillingim RB, King CD, Ribeiro-Dasilva MC, Rahim-Williams B, Riley JL (2009) Sex, gender, and pain: a review of recent clinical and experimental findings. J Pain 10(5):447–485

24.

Ruau D, Liu LY, Clark JD, Angst MS, Butte AJ (2012) Sex differences in reported pain across 11,000 patients captured in electronic medical records. J Pain 13:228–234
Funding
The authors received no funding for this study.
Ethics declarations
Conflict of interest
R. Becerro de Bengoa Vallejo, D. López López, P. Palomo López, A. Soriano Medrano, Á. Morales Ponce and M.E. Losa Iglesias declare that they have no competing interests.
All procedures performed in studies involving human participants were in accordance with the ethical standards of the institutional and/or national research committee and with the 1975 Helsinki declaration and its later amendments or comparable ethical standards. Informed consent was obtained from all individual participants included in the study.
Caption Electronic Supplementary Material
About this article
Cite this article
Becerro de Bengoa Vallejo, R., López López, D., Palomo López, P. et al. Quality of life improvement in aged patients after toenail surgery. Z Gerontol Geriat 52, 789–794 (2019). https://doi.org/10.1007/s00391-019-01504-8
Received:

Revised:

Accepted:

Published:

Issue Date:
Keywords
Questionnaire

Nail diseases

Pain

Surgical procedures

Podiatry
Schlüsselwörter
Fragebogen

Nagelerkrankungen

Schmerzen

Operationsverfahren

Podiatrie