Abstract
Purpose
To compare the results of laser hemorrhoidoplasty (LHP), excisional hemorrhoidectomy (EH), and sutured mucopexy (MP).
Methods
A randomized, parallel-group, double-blinded, single-center prospective study.
Patients
Symptomatic 2nd- or 3rd-degree hemorrhoids patients.
Interventions
Computer randomization sequence, patient blinding, operating surgeon blinding, and surgeon-evaluator blinding. LHP was performed using a 1470 nm diode laser. Up to 250 J of energy delivered per 1 hemorrhoid. The procedure was performed circumferentially. MP ligations were placed in the area of visible hemorrhoidal tissue. Standard EH was performed up to the level of the hemorrhoidal pedicle. Follow-up at 1 and 6 weeks and 1 year.
Outcome measures
Recurrence of symptoms requiring treatment, intensity, and duration of pain after the operation, patients' quality of life, fecal incontinence, and patients' evaluation of treatment.
Results
A total of 121 patients. Groups were even preoperatively. LHP took 15 min (SD 5.6), MP took 16 min (SD 5.58), and EH took 29 min (SD 10.3). Recurrence requiring treatment rate was 0% after EH, 10% after LHP, and 22% after MP, p = 0.004. LHP and MP were less painful than EH, p < 0.001. Patients after LHP returned to regular activity after 15 days, after MP after 22 days, and after EH after 30 days, p < 0.001. SF-36 scores were better after EH. Symptoms of fecal incontinence improved in all the groups. Patients evaluate LHP better than EH and MP.
Limitations
Single-center study.
Conclusions
Laser hemorrhoidoplasty is a safe, minimally invasive option for hemorrhoids, more effective than MP and less effective than EH. Patients evaluate this technique better than the other two.
References
Simillis C, Thoukididou SN, Slesser AAP, Rasheed S, Tan E, Tekkis PP (2015) Systematic review and network meta-analysis comparing clinical outcomes and effectiveness of surgical treatments for haemorrhoids. BJS 102:1603–1618

Watson AJ, Cook J, Hudson J, Kilonzo M, Wood J, Bruhn H, Brown S, Buckley B, Curran F, Jayne D, Loudon M, Rajagopal R, McDonald A, Norrie J (2017) A pragmatic multicentre randomised controlled trial comparing stapled haemorrhoidopexy with traditional excisional surgery for haemorrhoidal disease: the eTHoS study. Health Technol Assess 21(70):1–224

Brown S, Tiernan J, Biggs K, Hind D, Shephard N, Bradburn M, Wailoo A, Alshreef A, Swaby L, Watson A, Radley S, Jones O, Skaife P, Agarwal A, Giordano P, Lamah M, Cartmell M, Davies J, Faiz O, Nugent K, Clarke A, MacDonald A, Conaghan P, Ziprin P, Makhija R (2016) The HubBLe trial: haemorrhoidal artery ligation (HAL) versus rubber band ligation (RBL) for symptomatic second- and third-degree haemorrhoids: a multicentre randomised controlled trial and health-economic evaluation. Health Technol Assess 20(88):1–150

Plapler H, Hage R, Duarte J, Lopes N, Masson I, Cazarini C, Fukuda T (2009 Oct) A new method for hemorrhoid surgery: intrahemorrhoidal diode laser, does it work? Photomed Laser Surg 27(5):819–823. https://doi.org/10.1089/pho.2008.2368

Karahaliloglu A (2010) Laser hemorrhoidoplasty- a new surgical procedure for the treatment of advanced hemorrhoidal illness. Coloproctology 32:116–123

Danys D, Mazrimas P, Grisin E, Zaks N, Mikalauskas S, Narmontas D et al (2017) Early and one-year results of laser hemorrhoidoplasty for symptomatic hemorrhoids. DisColonRectum 60(6):E241–E241

Weyand G, Theis CS, Fofana AN, Rüdiger F, Gehrke T (2017) Laserhemorrhoidoplasty with 1470 nm diode laser in the treatment of second to fourth degree hemorrhoidal disease - a cohort study with 497 patients. Zentralbl Chir. https://doi.org/10.1055/s-0043-120449

Schuurman JP, Borel Rinkes IH, Go PM (2012) Hemorrhoidal artery ligation procedure with or without Doppler transducer in grade II and III hemorrhoidal disease: a blinded randomized clinical trial. Ann Surg 255(5):840–845

Aigner F, Kronberger I, Oberwalder M, Loizides A, Ulmer H, Gruber L, Pratschke J, Peer S, Gruber H (2016) Doppler-guided haemorrhoidal artery ligation with suture mucopexy compared with suture mucopexy alone for the treatment of grade III haemorrhoids: a prospective randomized controlled trial. Color Dis 18(7):710–716

Gupta PJ, Kalaskar S, Taori S, Heda PS (2011) Doppler-guided hemorrhoidal artery ligation does not offer any advantage over suture ligation of grade 3 symptomatic hemorrhoids. Tech Coloproctol 15(4):439–444

Jorge JM, Wexner SD (1993) Etiology and management of fecal incontinence. Dis Colon Rectum 36:77–97

Rockwood TH, Church JM, Fleshman JW (2000) Fecal incontinence quality of life scale: quality of life instrument for patients with fecal incontinence. Dis Colon Rectum 43:9–17

Pucher PH, Qurashi M, Howell AM, Faiz O, Ziprin P, Darzi A, Sodergren MH (2015) Development and validation of a symptom-based severity score for haemorrhoidal disease: the Sodergren score. Color Dis 17(7):612–618. https://doi.org/10.1111/codi.12903

Rørvik HD, Styr K, Ilum L, McKinstry GL, Dragesund T, Campos AH, Brandstrup B, Olaison G (2019) Hemorrhoidal Disease Symptom Score and Short Health ScaleHD: new tools to evaluate symptoms and health-related quality of life in hemorrhoidal disease. Dis Colon Rectum 62(3):333–342. https://doi.org/10.1097/DCR.0000000000001234
Acknowledgments
Biolitec © company (Germany) and Mr. Endrik Groehoff provided laser equipment for laser hemorrhoidoplasty procedures without pay. The company had no input or influence in the study design, data collection, analysis, or conclusions.
Ethics declarations
Conflict of interest
The authors declare that they have no conflict of interest.
Study support and financial relationship
The study was initiated and run by Faculty of Medicine, Vilnius University, Vilnius, Lithuania, and is a part of a Ph.D. research project of Dr. Donatas Danys.
Additional information
Publisher's note
Springer Nature remains neutral with regard to jurisdictional claims in published maps and institutional affiliations.
Appendix
Appendix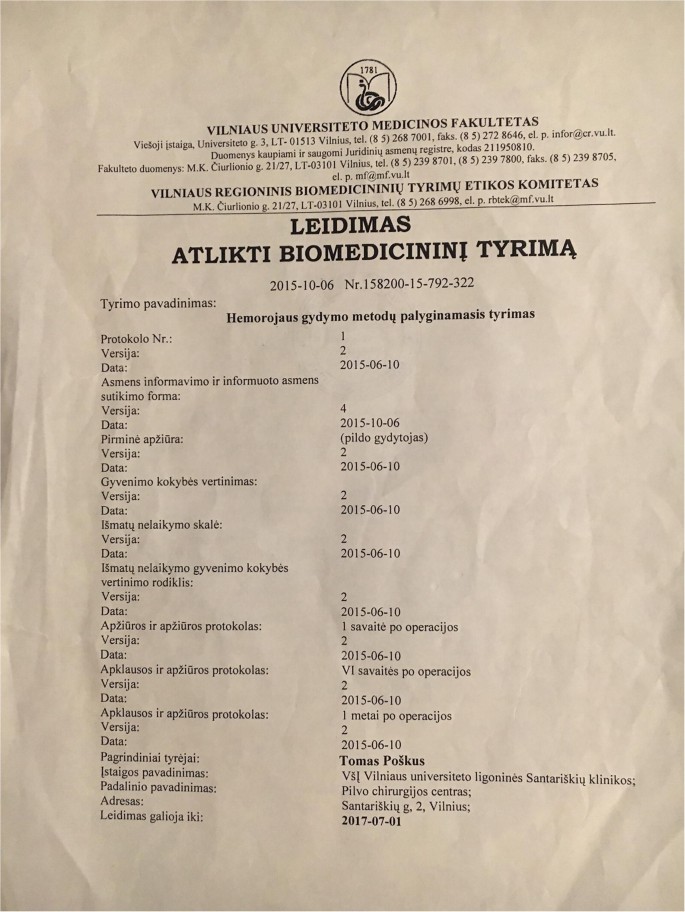 Rights and permissions
Open Access This article is licensed under a Creative Commons Attribution 4.0 International License, which permits use, sharing, adaptation, distribution and reproduction in any medium or format, as long as you give appropriate credit to the original author(s) and the source, provide a link to the Creative Commons licence, and indicate if changes were made. The images or other third party material in this article are included in the article's Creative Commons licence, unless indicated otherwise in a credit line to the material. If material is not included in the article's Creative Commons licence and your intended use is not permitted by statutory regulation or exceeds the permitted use, you will need to obtain permission directly from the copyright holder. To view a copy of this licence, visit http://creativecommons.org/licenses/by/4.0/.
About this article
Cite this article
Poskus, T., Danys, D., Makunaite, G. et al. Results of the double-blind randomized controlled trial comparing laser hemorrhoidoplasty with sutured mucopexy and excisional hemorrhoidectomy. Int J Colorectal Dis 35, 481–490 (2020). https://doi.org/10.1007/s00384-019-03460-6
Accepted:

Published:

Issue Date:

DOI: https://doi.org/10.1007/s00384-019-03460-6
Keywords