Abstract
Purpose
The goal of this study was to determine the feasibility of identifying the anal dimple (AD) on routine prenatal ultrasound. Using the presence, absence, appearance, and location of the anal dimple as an indirect sign for possible underlying anorectal malformations (ARM), we hypothesize that evaluation of the anal dimple as part of the fetal anatomic survey may increase the sensitivity in detecting less severe ARMs.
Methods
In a prospective longitudinal observational study, pregnant women who underwent prenatal ultrasound (US) at the Colorado Fetal Care Center between January 2019 and 2020 were enrolled. The variables recorded included gestational age, singleton versus multiple pregnancy, gender of the fetus, visualization of the AD, and reason for non-visualization of the AD.
Results
A total of 900 ultrasounds were performed, evaluating 1044 fetuses, in 372 different pregnant women. Gestational ages ranged from 16 to 38 weeks. The AD was visualized in 612 fetuses (58.6%) and not seen in 432 (41.4%). The two most common reasons for non-visualization were extremes in gestational age (n = 155; 36%) and fetal position (n = 152; 35.3%). The optimal gestational age range for AD visualization was 28–33 weeks + 6 days, with 78.1% visualization rate.
Conclusion
Visualization of the anal dimple by ultrasound is feasible and may aid in the detection of less severe ARMs, ultimately impacting pregnancy management and family counseling. The optimal timing for anal dimple visualization is late second and third trimester.
Access options
Buy single article
Instant access to the full article PDF.
US$ 39.95
Tax calculation will be finalised during checkout.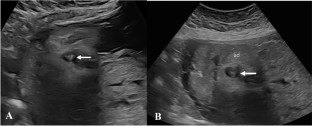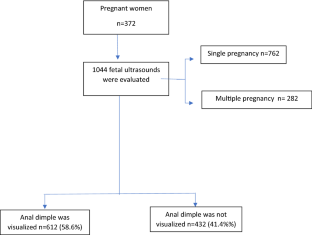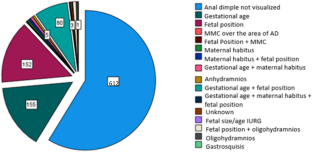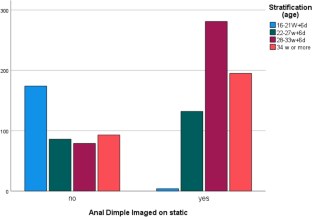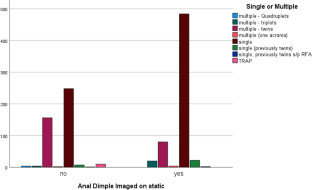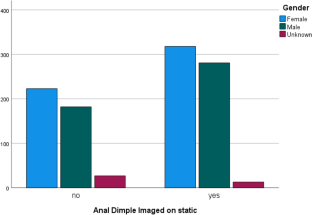 References
1.

Bischoff A, Levitt MA, Yen Lim F et al (2010) Prenatal diagnosis of cloacal malformations. Pediatr Surg Int 11:1071–1075

2.

Bischoff A, Calvo-Garcia MA, Baregamian N et al (2012) Prenatal counseling for cloaca and cloacal exstrophy—challenges faced by pediatric surgeons. Pediatr Surg Int 28:781–788

3.

Lee MY, Won HS, Shim JY et al (2016) Determination of type in a fetal imperforate anus. J Ultrasound Med 35:1285–1291

4.

Vijayaraghavan SB, Prema AS, Suganyadevi P (2011) Sonographic depiction of the fetal anus and its utility in the diagnosis of anorectal malformations. J Ultrasound Med 30:37–45

5.

Moon MH, Cho JY, Kim JH et al (2010) In-utero development of the fetal anal sphincter. Ultrasound Obstet Gynecol 35:556–559

6.

Harris HD, Nyberg DA, Mack LA et al (1987) Anorectal atresia: prenatal sonographic diagnosis. AJR 149:395–400

7.

Brantberg A, Blaas HGK, Haugen SE et al (2006) Imperforate anus: a relatively common anomaly rarely diagnosed prenatally. Ultrasound Obstet Gynecol 28:904–910

8.

Salomon LJ, Alfirevic Z, Bilardo CM et al (2013) ISUOG practice guidelines: performance of first trimester fetal ultrasound scan. Ultrasound Obstet Gynecol 41:102–113

9.

Salomon LJ, Alfirevic Z, Berghella V et al (2011) Practice guidelines for performance of the routine mid-trimester fetal ultrasound scan. Ultrasound Obstet Gynecol 37:116–126

10.

Salomon LJ, Alfirevic Z, Da Silva CF et al (2019) ISUOG Practice Guidelines: ultrasound assessment of fetal biometry and growth. Ultrasound Obstet Gynecol 53:715–723

11.

Elchalal U, Yanai N, Valky DV et al (2010) Application of 3-dimensional ultrasonography to imaging the fetal anal canal. J Ultrasound Med 29:1195–1201

12.

Arakawa T, Hwang SE, Kim JH et al (2016) Fetal growth of the anal sinus and sphincters, especially in relation to anal anomalies. Int J Colorectal Dis 31:493–502

13.

Alamo L, Meyrat BJ, Meuwly JY et al (2013) Anorectal malformations: finding the pathway out of the labyrinth. Radiographics 33:491–512

14.

Fiedler AG, Ginsberg NA (2015) Early prenatal diagnosis of isolated anal atresia via ultrasound and fetal MRI. Austin J Obstet Gynecol 2:1039
Acknowledgements
The authors would like to thank sonographers, Rachel Hauptman RDMS, Elizabeth Weisenborn BC-WHNP, RDMS, and Karen Paulson RNC, RDMS, for their contribution in acquiring the data.
Additional information
Publisher's Note
Springer Nature remains neutral with regard to jurisdictional claims in published maps and institutional affiliations.
About this article
Cite this article
Bischoff, A., Guimaraes, C.V.A., Mirsky, D.M. et al. Visualization of the fetal anus by prenatal ultrasound for the diagnosis of anorectal malformations: is it feasible?. Pediatr Surg Int 37, 425–430 (2021). https://doi.org/10.1007/s00383-020-04840-8
Accepted:

Published:

Issue Date:
Keywords
Anorectal malformation

Prenatal ultrasound

Prenatal diagnosis

Fetal anus

Anal dimple