Abstract
The type of pigment synthesized in mammalian hair, yellow–red pheomelanin or black–brown eumelanin, depends on the interaction between Agouti protein and the Melanocortin 1 receptor. Although the genetics of pigmentation is broadly conserved across most mammalian species, pigment type-switching in domestic dogs is unusual because a yellow–tan coat with variable amounts of dark hair is thought to be caused by an allele of the Agouti locus referred to as fawn or sable (ay). In a large survey covering thirty seven breeds, we identified an Agouti allele with two missense alterations, A82S and R83H, which was present (heterozygous or homozygous) in 41 dogs (22 breeds) with a fawn or sable coat, but was absent from 16 dogs (8 breeds) with a black-and-tan or tricolor phenotype. In an additional 33 dogs (14 breeds) with a eumelanic coat, 8 (German Shepherd Dogs, Groenendaels, Schipperkes, or Shetland Sheepdogs) were homozygous for a previously reported mutation, non-agouti R96C; the remainder are likely to have carried dominant black, which is independent of and epistatic to Agouti. This work resolves some of the complexity in dog coat color genetics and provides diagnostic opportunities and practical guidelines for breeders.
This is a preview of subscription content, log in to check access.
Access options
Buy single article
Instant access to the full article PDF.
US$ 39.95
Price includes VAT for USA
Subscribe to journal
Immediate online access to all issues from 2019. Subscription will auto renew annually.
US$ 99
This is the net price. Taxes to be calculated in checkout.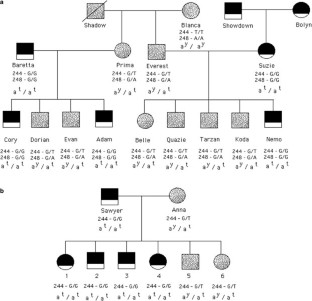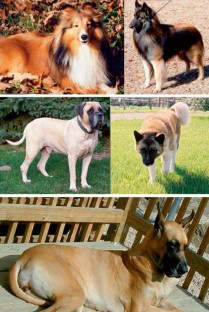 References
GS Barsh (1996) ArticleTitleThe genetics of pigmentation: from fancy genes to complex traits Trends Genet 2 299–305

G Barsh T Gunn L He S Schlossman J Duke–Cohan (2000) ArticleTitleBiochemical and genetic studies of pigment-type switching Pigment Cell Res 13 IssueIDSuppl 8 48–53 Occurrence Handle11041357

SJ Bultman EJ Michaud RP Woychik (1992) ArticleTitleMolecular characterization of the mouse agouti locus Cell 71 1195–1204 Occurrence Handle1:CAS:528:DyaK3sXlslGjsLo%3D Occurrence Handle1473152

EA Carver (1984) ArticleTitleCoat color genetics of the German Shepherd Dog Herd 75 247–252

Y Chen DM Duhl GS Barsh (1996) ArticleTitleOpposite orientations of an inverted duplication and allelic variation at the mouse agouti locus Genetics 144 265–277 Occurrence Handle1:CAS:528:DyaK28XlvFegsLo%3D Occurrence Handle8878692

DM Duhl ME Stevens H Vrieling PJ Saxon MW Miller et al. (1994) ArticleTitlePleiotropic effects of the mouse lethal yellow (Ay) mutation explained by deletion of a maternally expressed gene and the simultaneous production of agouti fusion RNAs Development 120 1695–1708 Occurrence Handle1:CAS:528:DyaK2MXitF2mtw%3D%3D Occurrence Handle8050375

RE Everts J Rothuizen BA Oost Particlevan (2000) ArticleTitleIdentification of a premature stop codon in the melanocyte-stimulating hormone receptor gene (MC1R) in Labrador and Golden retrievers with yellow coat colour Anim Genet 31 194–199 Occurrence Handle1:CAS:528:DC%2BD3cXkvFOgtL8%3D Occurrence Handle10895310

TM Gunn T Inui K Kitada S Ito K Wakamatsu et al. (2001) ArticleTitleMolecular and phenotypic analysis of Attractin mutant mice Genetics 158 1683–1695 Occurrence Handle1:CAS:528:DC%2BD3MXmvFKgsbw%3D Occurrence Handle11514456

L He TM Gunn DM Bouley XY Lu SJ Watson et al. (2001) ArticleTitleA biochemical function for attractin in agouti-induced pigmentation and obesity Nat Genet 27 40–47 Occurrence Handle1:CAS:528:DC%2BD3MXis1yksA%3D%3D Occurrence Handle11137996

L He AG Eldridge PK Jackson TM Gunn GS Barsh (2003a) ArticleTitleAccessory proteins for melanocortin signaling: attractin and mahogunin Ann NY Acad Sci 994 288–298 Occurrence Handle1:CAS:528:DC%2BD3sXmtVCktLY%3D

L He XY Lu AF Jolly AG Eldridge SJ Watson et al. (2003b) ArticleTitleSpongiform degeneration in mahoganoid mutant mice Science 299 710–712 Occurrence Handle1:CAS:528:DC%2BD3sXntFWiug%3D%3D

JA Kerns M Olivier G Lust GS Barsh (2003) ArticleTitleExclusion of melanocortin-1 receptor (Mc1r) and agouti as candidates for dominant black in dogs J Hered 94 75–79 Occurrence Handle1:CAS:528:DC%2BD3sXktVWhu7k%3D Occurrence Handle12692166

JA Kerns J Newton TG Berryere EM Rubin J-F Cheng et al. (2004) ArticleTitleCharacterization of the dog Agouti gene and identification of a nonagouti mutation in German Shepherd Dogs Mamm Genome 15 798–808 Occurrence Handle1:CAS:528:DC%2BD2cXpt1GlurY%3D Occurrence Handle15520882

H Klungland DI Vage (2003) ArticleTitlePigmentary switches in domestic animal species Ann NY Acad Sci 994 331–338 Occurrence Handle1:CAS:528:DC%2BD3sXmtVCktb0%3D Occurrence Handle12851333

ML Lamoreux DB Galbraith (1986) ArticleTitleDK/Lm: a strain of laboratory mouse with an unusual expression of the lethal yellow (Ay) phenotype Genet Res 48 35–40 Occurrence Handle1:STN:280:BiiD2MritlQ%3D Occurrence Handle3781244

CC Little (1957) The inheritance of coat color in dogs Comstock Ithaca, N.Y.

DS Lu D Willard IR Patel S Kadwell L Overton et al. (1994) ArticleTitleAgouti protein is an antagonist of the melanocyte-stimulating-hormone receptor Nature 371 799–802 Occurrence Handle1:CAS:528:DyaK2cXmvFeiu7o%3D Occurrence Handle7935841

EJ Michaud SJ Bultman ML Klebig MJ Vugt Particlevan LJ Stubbs et al. (1994) ArticleTitleA molecular model for the genetic and phenotypic characteristics of the mouse lethal yellow (Ay) mutation Proc Natl Acad Sci USA 91 2562–2566 Occurrence Handle1:CAS:528:DyaK2cXjt1Skt7g%3D Occurrence Handle8146154

MW Miller DMJ Duhl H Vrieling SP Cordes MM Ollmann et al. (1993) ArticleTitleCloning of the mouse agouti gene predicts a secreted protein ubiquitously expressed in mice carrying the Lethal-Yellow mutation Genes Dev 7 454–467 Occurrence Handle1:CAS:528:DyaK3sXit1Oiu7c%3D Occurrence Handle8449404

RJ Miltenberger RL Mynatt BD Bruce WO Wilkison RP Woychik et al. (1999) ArticleTitleAn agouti mutation lacking the basic domain induces yellow pigmentation but not obesity in transgenic mice Proc Natl Acad Sci USA 96 8579–8584 Occurrence Handle1:CAS:528:DyaK1MXkslOktrc%3D Occurrence Handle10411918

JM Newton AL Wilkie L He SA Jordan DL Metallinos et al. (2000) ArticleTitleMelanocortin 1 receptor variation in the domestic dog Mamm Genome 11 24–30 Occurrence Handle1:CAS:528:DC%2BD3cXos12hsw%3D%3D Occurrence Handle10602988

MM Ollmann ML Lamoreux BD Wilson GS Barsh (1998) ArticleTitleInteraction of Agouti protein with the melanocortin 1 receptor in vitro and in vivo Genes Dev 12 316–330 Occurrence Handle1:CAS:528:DyaK1cXhtVOitL0%3D Occurrence Handle9450927

HG Parker LV Kirn NB Sutter S Carlson TD Lorentzen et al. (2004) ArticleTitleGenetic structure of the purebred domestic dog Science 304 1160–1164 Occurrence Handle10.1126/science.1097406 Occurrence Handle1:CAS:528:DC%2BD2cXktVyit7Y%3D Occurrence Handle15155949

LK Phan F Lin CA LeDuc WK Chung RL Leibel (2002) ArticleTitleThe mouse mahoganoid coat color mutation disrupts a novel C3HC4 RING domain protein J Clin Invest 110 1449–1459 Occurrence Handle1:CAS:528:DC%2BD38XovFOnu7Y%3D Occurrence Handle12438443

LS Robbins JH Nadeau KR Johnson MA Kelly L Rosellirehfuss et al. (1993) ArticleTitlePigmentation phenotypes of variant extension locus alleles result from point mutations that alter MSH receptor function Cell 72 827–834 Occurrence Handle1:CAS:528:DyaK3sXit1Ohsr4%3D Occurrence Handle8458079

SM Schmutz TG Berryere NM Ellinwood JA Kerns GS Barsh (2003) ArticleTitleMC1R studies in dogs with melanistic mask or brindle patterns J Hered 94 69–73 Occurrence Handle1:CAS:528:DC%2BD3sXktVWhu7g%3D Occurrence Handle12692165

AG Searle (1968) Comparative Genetics of Coat Color in Mammals Academic Press New York, N.Y.

J Suto K Sekikawa (2003) ArticleTitleGenetic determinants of sable and umbrous coat color phenotypes in mice Pigment Cell Res 16 388–396 Occurrence Handle1:CAS:528:DC%2BD3sXntV2ltL0%3D Occurrence Handle12859623

H Vrieling DM Duhl SE Millar KA Miller GS Barsh (1994) ArticleTitleDifferences in dorsal and ventral pigmentation result from regional expression of the mouse agouti gene Proc Natl Acad Sci USA 91 5667–5671 Occurrence Handle1:CAS:528:DyaK2cXksFCms7w%3D Occurrence Handle8202545

MB Willis (1976) The German Shepherd Dog: it history, development, and genetics K. & R. Books Leicester

MB Willis (1989) Genetics of the dog Howell New York, N.Y.
Acknowledgments
We thank the Natural Science and Engineering Research Council for funding. We are grateful to Ingeborg Roewer for careful and patient sequencing. We especially thank Libbye Miller and Lee Jiles, Marla Belzowski and Jackie Barikhan, C.A. Sharp, J. P. Yousha, Sue Ann Bowling, and the many dog owners who helped us obtain DNA samples. We thank Solomon Carriere for coyote and wolf skin samples.
About this article
Cite this article
Berryere, T.G., Kerns, J.A., Barsh, G.S. et al. Association of an Agouti allele with fawn or sable coat color in domestic dogs. Mamm Genome 16, 262–272 (2005). https://doi.org/10.1007/s00335-004-2445-6
Received:

Accepted:

Issue Date:
Keywords
Coat Color

Black Hair

Doberman Pinscher

Agouti Protein

Coat Color Phenotype