Abstract
Mitogen-activated protein kinases (MAPKs or MPKs) are one of the most important and conserved signaling molecules in plants. MPKs can directly modulate gene expression by the phosphorylation of transcription factors. However, only a few target substrates of MPKs have been isolated. Here, we identified a C2H2-type zinc finger transcription factor from Arabidopsis, ZAT10, as a substrate of MPKs. Using in vitro and in vivo protein–protein interaction analyses, we demonstrated that ZAT10 directly interacted with MPK3 and MPK6. ZAT10 was phosphorylated by recombinant Arabidopsis MPK3 and MPK6 in a kinase assay. Furthermore, ZAT10 was also phosphorylated by native MPK3 and MPK6 prepared from Arabidopsis plants in an in-gel kinase assay. Mass spectrometry analysis of phosphopeptides was used to determine two MPK phosphorylation sites in ZAT10. These sites were verified by site-directed mutagenesis and in vitro kinase assays.
Access options
Buy single article
Instant access to the full article PDF.
USD 39.95
Price excludes VAT (USA)
Tax calculation will be finalised during checkout.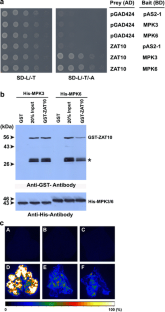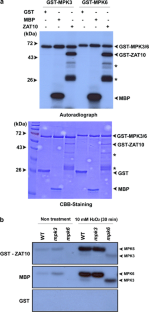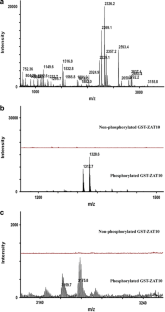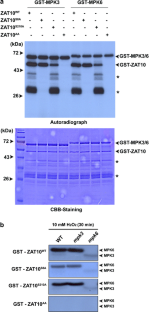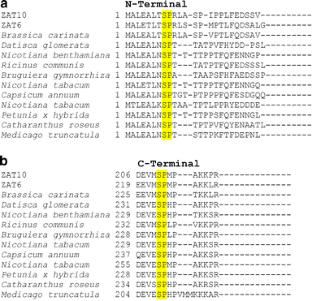 References
Andreasson E, Jenkins T, Brodersen P, Thorgrimsen S, Petersen NH, Zhu S, Qiu JL, Micheelsen P, Rocher A, Petersen M, Newman MA, Bjorn NH, Hirt H, Somssich I, Mattsson O, Mundy J (2005) The MAP kinase substrate MKS1 is a regulator of plant defense responses. EMBO J 24:2579–2589

Bethke G, Unthan T, Uhrig JF, Poschl Y, Gust AA, Scheel D, Lee J (2009) Flg22 regulates the release of an ethylene response factor substrate from MAP kinase 6 in Arabidopsis thaliana via ethylene signaling. Proc Natl Acad Sci USA 106:8067–8072

Caspersen MB, Qiu JL, Zhang X, Andreasson E, Naested H, Mundy J, Svensson B (2007) Phosphorylation sites of Arabidopsis MAP kinase substrate 1 (MKS1). Biochim Biophys Acta 1774:1156–1163

Chen H, Zou Y, Shang Y, Lin H, Wang Y, Cai R, Tang X, Zhou JM (2008) Firefly luciferase complementation imaging assay for protein–protein interactions in plants. Plant Physiol 146:368–376

Colcombet J, Hirt H (2008) Arabidopsis MAPKs: a complex signalling network involved in multiple biological processes. Biochem J 413:217–226

Droillard M, Boudsocq M, Barbier-Brygoo H, Lauriere C (2002) Different protein kinase families are activated by osmotic stresses in Arabidopsis thaliana cell suspensions. Involvement of the MAP kinases AtMPK3 and AtMPK6. FEBS Lett 527:43–50

Englbrecht CC, Schoof H, Bohm S (2004) Conservation, diversification and expansion of C2H2 zinc finger proteins in the Arabidopsis thaliana genome. BMC Genomics 5:39

Feilner T, Hultschig C, Lee J, Meyer S, Immink RG, Koenig A, Possling A, Seitz H, Beveridge A, Scheel D, Cahill DJ, Lehrach H, Kreutzberger J, Kersten B (2005) High throughput identification of potential Arabidopsis mitogen-activated protein kinases substrates. Mol Cell Proteomics 4:1558–1568

Ichimura K, Mizoguchi T, Yoshida R, Yuasa T, Shinozaki K (2000) Various abiotic stresses rapidly activate Arabidopsis MAP kinases ATMPK4 and ATMPK6. Plant J 24:655–665

Jonak C, Okresz L, Bogre L, Hirt H (2002) Complexity, cross talk and integration of plant MAP kinase signalling. Curr Opin Plant Biol 5:415–424

Joo S, Liu Y, Lueth A, Zhang S (2008) MAPK phosphorylation-induced stabilization of ACS6 protein is mediated by the non-catalytic C-terminal domain, which also contains the cis-determinant for rapid degradation by the 26S proteasome pathway. Plant J 54:129–140

Kersten B, Agrawal GK, Durek P, Neigenfind J, Schulze W, Walther D, Rakwal R (2009) Plant phosphoproteomics: an update. Proteomics 9:964–988

Kovtun Y, Chiu WL, Tena G, Sheen J (2000) Functional analysis of oxidative stress-activated mitogen-activated protein kinase cascade in plants. Proc Natl Acad Sci USA 14:2940–2945

Lee H, Guo Y, Ohta M, Xiong L, Stevenson B, Zhu JK (2002) LOS2, a genetic locus required for cold-responsive gene transcription encodes a bi-functional enolase. EMBO J 21:2692–2702

Liu Y, Zhang S (2004) Phosphorylation of 1-aminocyclopropane-1-carboxylic acid synthase by MPK6, a stress-responsive mitogen-activated protein kinase, induces ethylene biosynthesis in Arabidopsis. Plant Cell 16:3386–3399

Liu XM, Kim KE, Kim KC, Nguyen XC, Han HJ, Jung MS, Kim HS, Kim SH, Park HC, Yun DJ, Chung WS (2010) Cadmium activates Arabidopsis MPK3 and MPK6 via accumulation of reactive oxygen species. Phytochemistry 71:614–618

MAPK-Group (2002) Mitogen-activated protein kinase cascades in plants: a new nomenclature. Trends Plant Sci 7:8

Merkouropoulos G, Andreasson E, Hess D, Boller T, Peck SC (2008) An Arabidopsis protein phosphorylated in response to microbial elicitation, AtPHOS32, is a substrate of MAP kinases 3 and 6. J Biol Chem 283:10493–10499

Mishra NS, Tuteja R, Tuteja N (2006) Signaling through MAP kinase networks in plants. Arch Biochem Biophys 452:55–68

Mittler R, Kim Y, Song L, Coutu J, Coutu A, Ciftci-Yilmaz S, Lee H, Stevenson B, Zhu JK (2006) Gain- and loss-of-function mutations in Zat10 enhance the tolerance of plants to abiotic stress. FEBS Lett 580:6537–6542

Moon H, Lee B, Choi G, Shin D, Prasad DT, Lee O, Kwak SS, Kim DH, Nam J, Bahk J, Hong JC, Lee SY, Cho MJ, Lim CO, Yun DJ (2003) NDP kinase 2 interacts with two oxidative stress-activated MAPKs to regulate cellular redox state and enhances multiple stress tolerance in transgenic plants. Proc Natl Acad Sci USA 100:358–363

Nakagami H, Pitzschke A, Hirt H (2005) Emerging MAP kinase pathways in plant stress signalling. Trends Plant Sci 10:339–346

Paradela A, Albar JP (2008) Advances in the analysis of protein phosphorylation. J Proteome Res 7:1809–1818

Park HC, Song EH, Nguyen XC, Lee K, Kim KE, Kim HS, Lee SM, Kim SH, Bae DW, Yun D-Y, Chung WS (2011) Arabidopsis MAP kinase phosphatase 1 is phosphorylated and activated by its substrate AtMPK6. Plant Cell Rep 30:1523–1531

Popescu SC, Popescu GV, Bachan S, Zhang Z, Gerstein M, Snyder M, Dinesh-Kumar SP (2009) MAPK target networks in Arabidopsis thaliana revealed using functional protein microarrays. Genes Dev 23:80–92

Rodriguez MC, Petersen M, Mundy J (2010) Mitogen-activated protein kinase signaling in plants. Annu Rev Plant Biol 61:621–649

Rossel JB, Wilson PB, Hussain D, Woo NS, Gordon MJ, Mewett OP, Howell KA, Whelan J, Kazan K, Pogson BJ (2007) Systemic and intracellular responses to photooxidative stress in Arabidopsis. Plant Cell 19:4091–4110

Sakamoto H, Araki T, Meshi T, Iwabuchi M (2000) Expression of a subset of the Arabidopsis Cys(2)/His(2)-type zinc-finger protein gene family under water stress. Gene 248:23–32

Sakamoto H, Maruyama K, Sakuma Y, Meshi T, Iwabuchi M, Shinozaki K, Yamaguchi-Shinozaki K (2004) Arabidopsis Cys2/His2-type zinc-finger proteins function as transcription repressors under drought, cold, and high-salinity stress conditions. Plant Physiol 136:2734–2746

Samuel MA, Miles GP, Ellis BE (2000) Ozone treatment rapidly activates MAP kinase signalling in plants. Plant J 22:367–376

Tena G, Asai T, Chiu WL, Sheen J (2001) Plant mitogen-activated protein kinase signaling cascades. Curr Opin Plant Biol 4:392–400

Yoo SD, Cho YH, Tena G, Xiong Y, Sheen J (2008) Dual control of nuclear EIN3 by bifurcate MAPK cascades in C2H4 signalling. Nature 451:789–795

Yuasa T, Ichimura K, Mizoguchi T, Shinozaki K (2001) Oxidative stress activates ATMPK6, an Arabidopsis homologue of MAP kinase. Plant Cell Physiol 42:1012–1016
Acknowledgments
This work was supported by grants from the World Class University program (R32-10148) and the Basic Science Research Program (2010-0010607) of the National Research Foundation (NRF) funded by MOEST, and partly by a grant from the Next-Generation BioGreen 21 Program; (#PJ008173); and Agenda Project of RDA (No. PJ006681) funded by the Rural Development Administration, Republic of Korea. XCN, XML, KEK and HJH were supported by scholarships from the BK21 program funded by the MOEST in Korea.
Additional information
Communicated by J. R. Liu.
X. C. Nguyen and S. H. Kim contributed equally to the article.
Electronic supplementary material
Below is the link to the electronic supplementary material.
About this article
Cite this article
Nguyen, X.C., Kim, S.H., Lee, K. et al. Identification of a C2H2-type zinc finger transcription factor (ZAT10) from Arabidopsis as a substrate of MAP kinase. Plant Cell Rep 31, 737–745 (2012). https://doi.org/10.1007/s00299-011-1192-x
Received:

Accepted:

Published:

Issue Date:

DOI: https://doi.org/10.1007/s00299-011-1192-x
Keywords