Abstract
White clover widely cultivated in China is one of the most important perennial leguminous forages in temperate and subtropical regions. There is a large quantity of white clover seeds imported into China each year for demands of high-quality grass seeds. Seedborne diseases may cause significant economic losses. DNA sequencing technologies allow for the direct estimation of microbial community diversity, avoiding culture-based biases. Therefore, we used 16S rRNA gene sequencing to investigate the bacterial communities in white clover seeds collected from four different countries. The results showed that a total of 484,715 clean reads were obtained for further subsequent analysis. In total, 341, 340, 382, and 297 operational taxonomic units were obtained at 3% distance cutoff in DB, MB, TB, and XB samples, respectively. The richness indexes revealed that TB sample from Argentina had the highest bacterial richness in four samples. Our results demonstrated that Proteobacteria was the dominant phyla in MB, TB, and XB; however, Bacteroidetes was the dominant phyla in DB. The dominant genus of DB was Prevotella (11.9%), while Sphingomonas was the major genus of MB (46.9%), TB (55.08%), and XB (47.2%) samples. These results provide useful information for seedborne diseases and transmission of bacteria from seed to seedling.
This is a preview of subscription content, log in to check access.
Access options
Buy single article
Instant access to the full article PDF.
US$ 39.95
Price includes VAT for USA
Subscribe to journal
Immediate online access to all issues from 2019. Subscription will auto renew annually.
US$ 199
This is the net price. Taxes to be calculated in checkout.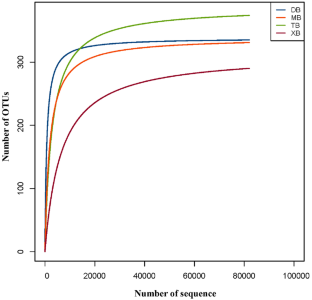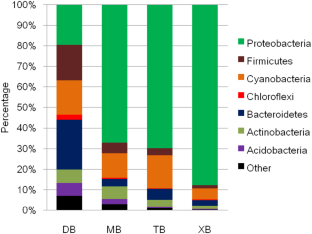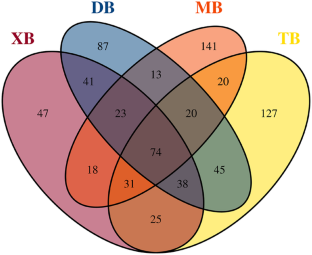 References
1.

Gitaitis R, Walcott R (2007) The epidemiology and management of seedborne bacterial diseases. Annu Rev Phytopathol 45:371–397

2.

Lodewyckx C, Vangronsveld J, Porteous F, Moore ER, Taghavi S, Mezgeay M, der Lelie DV (2002) Endophytic bacteria and their potential applications. Crit Rev Plant Sci 21:583–606

3.

Ryan RP, Germaine K, Franks A, Ryan DJ, Dowling DN (2008) Bacterial endophytes: recent developments and applications. FEMS Microbiol Lett 278:1–9

4.

Jacques M-A, Durand K, Orgeur G, Balidas S, Fricot C, Bonneau S, Quillévéré A, Audusseau C, Olivier V, Grimault V (2012) Phylogenetic analysis and polyphasic characterization of Clavibacter michiganensis strains isolated from tomato seeds reveal that nonpathogenic strains are distinct from C. michiganensis subsp. michiganensis. Appl Environ Microbiol 78:8388–8402

5.

Jung JY, Lee SH, Kim JM, Park MS, Bae J-W, Hahn Y, Madsen EL, Jeon CO (2011) Metagenomic analysis of kimchi, a traditional Korean fermented food. Appl Environ Microbiol 77:2264–2274

6.

Sanka LD, Sadaiappan B, Poosakkannu A, Muthuraman S (2016) Pyrosequencing-based seasonal observation of prokaryotic diversity in pneumatophore-associated soil of Avicennia marina. Curr Microbiol 72:68–74

7.

Kawasaki A, Watson ER, Kertesz MA (2012) Indirect effects of polycyclic aromatic hydrocarbon contamination on microbial communities in legume and grass rhizospheres. Plant Soil 358:169–182

8.

Lu XM, Lu PZ, Zhang H (2014) Bacterial communities in manures of piglets and adult pigs bred with different feeds revealed by 16S rDNA 454 pyrosequencing. Appl Microbiol Biotechnol 98:2657–2665

9.

Wei YM, Wang JQ, Liu TT, Kong WW, Chen N, He XQ, Jin Y (2015) Bacterial communities of Beijing surface waters as revealed by 454 pyrosequencing of the 16S rRNA gene. Environ Sci Pollut Res 22:12605–12614

10.

Lorenz P, Eck J (2005) Metagenomics and industrial applications. Nat Rev Microbiol 3:510–516

11.

Cao C, Lou I, Huang C, Lee M-Y (2014) Metagenomic sequencing of activated sludge filamentous bacteria community using the ion torrent platform. Desalin Water Treat 57:2175–2183

12.

Thoetkiattikul H, Mhuantong W, Laothanachareon T, Tangphatsornruang S, Pattarajinda V, Eurwilaichitr L, Champreda V (2013) Comparative analysis of microbial profiles in cow rumen fed with different dietary fiber by tagged 16S rRNA gene pyrosequencing. Curr Microbiol 67:130–137

13.

Qian X, Sun W, Gu J, Wang XJ, Sun JJ, Yin YN, Duan ML (2016) Variable effects of oxytetracycline on antibiotic resistance gene abundance and the bacterial community during aerobic composting of cow manure. J Hazard Mater 315:61–69

14.

Edgar RC (2013) UPARSE: highly accurate OTU sequences from microbial amplicon reads. Nat Methods 10:996–998

15.

Masella AP, Bartram AK, Truszkowski JM, Brown DG, Neufeld JD (2012) PANDAseq: paired-end assembler for illumina sequences. BMC Bioinform 13:31–31

16.

Edgar RC (2010) Search and clustering orders of magnitude faster than BLAST. Bioinformatics 26:2460–2461

17.

Cole JR, Wang Q, Cardenas E, Fish J, Chai B, Farris RJ, Kulam-Syed-Mohideen A, McGarrell DM, Marsh T, Garrity GM (2009) The ribosomal database project: improved alignments and new tools for rRNA analysis. Nucleic Acids Res 37:141–145

18.

Schloss PD, Westcott SL, Ryabin T, Hall JR, Hartmann M, Hollister EB, Lesniewski RA, Oakley BB, Parks DH, Robinson CJ (2009) Introducing mothur: open-source, platform-independent, community-supported software for describing and comparing microbial communities. Appl Environ Microbiol 75:7537–7541

19.

Kemp PF, Aller JY (2004) Bacterial diversity in aquatic and other environments: what 16S rDNA libraries can tell us. FEMS Microbiol Ecol 47:161–177

20.

Ferreira A, Quecine MC, Lacava PT, Oda S, Azevedo JL, Araújo WL (2008) Diversity of endophytic bacteria from Eucalyptus species seeds and colonization of seedlings by Pantoea agglomerans. FEMS Microbiol Lett 287:8–14

21.

Liu Y, Zuo S, Xu L, Zou Y, Song W (2012) Study on diversity of endophytic bacterial communities in seeds of hybrid maize and their parental lines. Arch Microbiol 194:1001–1012

22.

Marilley L, Aragno M (1999) Phylogenetic diversity of bacterial communities differing in degree of proximity of Lolium perenne and Trifolium repens roots. App Soil Ecol 13:127–136

23.

Burch G, Sarathchandra U (2006) Activities and survival of endophytic bacteria in white clover (Trifolium repens L.). Can J Microbiol 52:848

24.

Jiménez E, de Andrés J, Manrique M, Pareja-Tobes P, Tobes R, Martínez-Blanch JF, Codoñer FM, Ramón D, Fernández L, Rodríguez JM (2015) Metagenomic analysis of milk of healthy and mastitis-suffering women. J Hum Lact 31:406–415

25.

Ye L, Zhang T (2013) Bacterial communities in different sections of a municipal wastewater treatment plant revealed by 16S rDNA 454 pyrosequencing. Appl Microbiol Biotechnol 97:2681–2690

26.

Marilley L, Vogt G, Blanc M, Aragno M (1998) Bacterial diversity in the bulk soil and rhizosphere fractions of Lolium perenne and Trifolium repens as revealed by PCR restriction analysis of 16S rDNA. Plant Soil 198:219–224

27.

Ikeda S, Fuji S-i, Sato T, Ytow N, Ezura H, Minamisawa K, Fujimura T (2006) Community analysis of seed-associated microbes in forage crops using culture-independent methods. Microb Environ 21:112–121

28.

Da Silva DP, Castañeda-Ojeda MP, Moretti C, Buonaurio R, Ramos C, Venturi V (2014) Bacterial multispecies studies and microbiome analysis of a plant disease. Microbiology 160:556–566

29.

Jo Y, Cho JK, Choi H, Chu H, Lian S, Cho WK (2015) Bacterial communities in the phylloplane of Prunus species. J Basic Microb 55:504–508

30.

Videira SS, De Araujo JLS, Rodrigues LDS, Baldani VLD, Baldani JI (2009) Occurrence and diversity of nitrogen-fixing Sphingomonas bacteria associated with rice plants grown in Brazil. FEMS Microbiol Lett 293:11–19

31.

Omoniyi L, Jewell K, Isah O, Neumann A, Onwuka C, Onagbesan O, Suen G (2014) An analysis of the ruminal bacterial microbiota in West African Dwarf sheep fed grass-and tree-based diets. J Appl Microbiol 116:1094–1105

32.

Barak JD, Whitehand LC, Charkowski AO (2002) Differences in attachment of Salmonella enterica serovars and Escherichia coli O157: H7 to alfalfa sprouts. Appl Environ Microbiol 68:4758–4763

33.

Charkowski A, Barak J, Sarreal C, Mandrell R (2002) Differences in growth of Salmonella enterica and Escherichia coli O157: H7 on alfalfa sprouts. Appl Environ Microbiol 68:3114–3120

34.

Loria R, Coombs J, Yoshida M, Kers J, Bukhalid R (2003) A paucity of bacterial root diseases: Streptomyces succeeds where others fail. Physiol Mol Plant Pathol 62:65–72

35.

Zinniel DK, Lambrecht P, Harris NB, Feng Z, Kuczmarski D, Higley P, Ishimaru CA, Arunakumari A, Barletta RG, Vidaver AK (2002) Isolation and characterization of endophytic colonizing bacteria from agronomic crops and prairie plants. Appl Environ Microbiol 68:2198–2208

36.

Tegli S, Sereni A, Surico G (2002) PCR-based assay for the detection of Curtobacterium flaccumfaciens pv. flaccumfaciens in bean seeds. Lett Appl Microbiol 35:331–337

37.

Alippi AM, Lopez AC, Balatti PA (2010) First report of Agrobacterium rubi and A. rhizogenes causing crown and root gall and hairy root on blueberry in Argentina. Plant Dis 94:1064–1064

38.

Sarkar SF, Guttman DS (2004) Evolution of the core genome of Pseudomonas syringae, a highly clonal, endemic plant pathogen. Appl Environ Microbiol 70:1999–2012

39.

Ringelberg D, Foley K, Reynolds CM (2012) Bacterial endophyte communities of two wheatgrass varieties following propagation in different growing media. Can J Microbiol 58:67–80

40.

Lopez-Velasco G, Carder PA, Welbaum GE, Ponder MA (2013) Diversity of the spinach (Spinacia oleracea) spermosphere and phyllosphere bacterial communities. FEMS Microbiol Lett 346:146–154
Acknowledgements
This research was supported by grants from the Special Fund for the Foundation of the Educational Department in Jiangxi Province (No. GJJ170294) and the National Quality Supervision and Inspection Bureau of Science and Technology Planning Project (No. 2014IK005). We thank Dr. Boming Wu (China Agricultural University) for helping in proofreading and editing the English of the manuscript.
Ethics declarations
Conflict of interest
The authors declare that they have no conflict of interest.
Electronic supplementary material
Below is the link to the electronic supplementary material.
About this article
Cite this article
Gao, W., Zheng, C., Lei, Y. et al. Analysis of Bacterial Communities in White Clover Seeds via High-Throughput Sequencing of 16S rRNA Gene. Curr Microbiol 76, 187–193 (2019). https://doi.org/10.1007/s00284-018-1607-9
Received:

Accepted:

Published:

Issue Date: