Immunity to the model intestinal helminth parasite Heligmosomoides polygyrus
Abstract
Heligmosomoides polygyrus is a natural intestinal parasite of mice, which offers an excellent model of the immunology of gastrointestinal helminth infections of humans and livestock. It is able to establish long-term chronic infections in many strains of mice, exerting potent immunomodulatory effects that dampen both protective immunity and bystander reactions to allergens and autoantigens. Immunity to the parasite develops naturally in some mouse strains and can be induced in others through immunization; while the mechanisms of protective immunity are not yet fully defined, both antibodies and a host cellular component are required, with strongest evidence for a role of alternatively activated macrophages. We discuss the balance between resistance and susceptibility in this model system and highlight new themes in innate and adaptive immunity, immunomodulation, and regulation of responsiveness in helminth infection.
Keywords
Adult Worm 
Mesenteric Lymph Node 
Helminth Infection 
Mastocytosis 
Mesenteric Lymph Node Cell 
These keywords were added by machine and not by the authors. This process is experimental and the keywords may be updated as the learning algorithm improves.
Introduction
Heligmosomoides polygyrus: a model organism
Chronic helminth infections remain a huge global health problem, causing extensive morbidity in both humans and livestock. Many of the most prevalent helminth parasites are difficult to study in the laboratory, as they have co-evolved with, and are closely adapted to, their definitive host species. However, model organisms such as Heligmosomoides polygyrus, a natural mouse parasite, offer tractable and informative systems to explore the mechanisms of immunity and immune evasion in helminth infections [1, 2].
H. polygyrus (previously named Nematospiroides dubius) is an intestinal nematode parasite in wild mouse populations that has successfully been transferred to the laboratory. It is phylogenetically placed in the same Suborder, Trichostrongylina, as the ruminant parasites Haemonchus contortus and Teladorsagia circumcincta and within the same Order, Strongylida, as the human hookworm parasites Ancylostoma duodenale and Necator americanus [3]. H. polygyrus is an appropriate model of these chronic helminthiases, as primary infections can persist for many months in susceptible strains of mice.
In an experimental setting,
H. polygyrus
is introduced by orally gavaging mice with infective L3 larvae. Following ingestion, within 24 h, larvae have penetrated through into the submucosa of the small intestine. Here they undergo two developmental molts, before emerging back into the lumen as adult worms, which feed on host intestinal tissue [
4
]. The adult worms coil around the small intestine villi to secure themselves, mate, and produce eggs, which are excreted in the feces. In the external environment, the eggs hatch and undergo two molts to become infective L3s, and so the lifecycle continues (Fig. 
1
).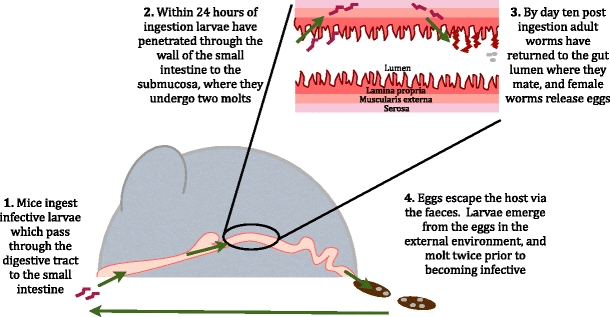 The persistence of H. polygyrus within the murine host can be measured by determining the number of eggs that are released in the feces, or by enumerating adult worms remaining in the small intestine. As described below, the wide range of reagents available for assaying and manipulating the murine immune system cells in mice are being effectively applied to investigate responsiveness and immunity. The mechanisms behind helminth expulsion in mice can therefore be studied in order to make predictions about similar interactions between helminths and the immune system in livestock and humans, with a view to developing much-needed vaccines for control of these infections.
A further advantage of H. polygyrus is that the mammalian stages can be cultivated in vitro, where its secretory products, H. polygyrus excretory–secretory antigens (HES), can be collected, and individual components can be purified and identified [5]. This provides a fruitful strategy to test defined parasite molecules in vitro and in vivo for immunomodulatory functions and as candidate vaccine antigens.
Genetics of susceptibility to H. polygyrus
In primary infections of different mouse strains, the length of time H. polygyrus can persist and the degree of response it provokes shows considerable variation, and some genotypes are also poor at rejecting challenge infections following immunisation.
Table 
1
shows a summary of "responsiveness" to
H. polygyrus
in different mouse strains, based on adult worm survival and fecundity after primary and secondary infection. The genetic factors controlling strain differences in resistance to infection include the major histocompatibility complex (MHC) H-2 loci, with weak responders among the H-2
k
and H-2
b
genotypes and the H-2
q
or H-2
s
genotypes associated with a rapid response [
6
,
7
].
Table 1
Strain-specific immunity to H. polygyrus
Responsiveness

Strain

Immune mechanisms investigated

Slow (>20 weeks to expel worms)

CBA

Primary response involves significantly lower cell numbers in the MLN than other strains [193, 194], very few mast cells in the gut [193], low levels of mMCP in serum and intestinal lavage [51, 53], and low eosinophilia [14]

C3H

SL

A/J

Have no, or very weak, protective response to re-challenge [6, 53, 195]

Intermediate (8–20 weeks)

C57BL/6

C57BL/10 mice show less rapid and lower eosinophilia levels in circulation, after both primary H. polygyrus infection or injection of parasite antigens, than NIH mice [196]

C57BL/10

129/J

Fast (6–8 weeks)

DBA/2

NIH mice produced a higher peak of lymphocytosis, neutrophilia and monocytosis in the circulation than C57BL/10 mice after primary infection [197]

BALB/c

NIH

Rapid (4–6 weeks)

SJL

SJL and SWR have quicker and stronger antibody responses than other strains, involving stronger recognition of a larger number of antigens on a Western blot of HES [198] and adult homogenate [193], and higher titers of parasite-specific antibody of different isotypes in serum [51, 193, 198]

SWR

Infected SWR MLN cells produced higher levels of IL-3, IL-4 and IL-9 after ConA stimulation than NIH and CBA [52]

Both strains show early peaks of serum tumor necrosis factor alpha, mMCP-1, intestinal mast cells and goblet cells, which precede the expulsion of the worms [51, 53]
Experiments in H-2 congenic C57BL/10 mouse strains show that although establishment of H. polygyrus larvae is equal between all strains (shown by worm counts 2 weeks postinfection), by week 9, egg and adult worm numbers differ strikingly. Those with H-2s and H-2q haplotypes expelled the parasites more rapidly [7, 8], while mice carrying H-2b or H-2k haplotypes backcrossed into the fast-responding BALB/c background were unable to expel worms quickly [7]. Resistance was shown to be conferred by more than one gene, as F1 hybrids of fast responders, SJL and SWR, display heightened abilities to expel worms, and is inherited in a dominant fashion as C57BL/10xSJL hybrids are as rapid in expulsion as the SJL parental strain [7, 9].
More recently, a study mapping quantitative trait loci in fast responding (SWR, H-2q) versus slow responding (CBA, H-2k) strains found significant effects on resistance to H. polygyrus trickle infection from positions on chromosomes 1, 2, 13, and 17 [10]. Several candidate resistance genes were identified, including as expected MHC (on chromosome 17), and also interleukin-9 (IL-9; on chromosome 13), both of which correlate with worm expulsion [10].
A notable gender bias in susceptibility is also observed, with female mice of all strains clearing primary infections faster than their male counterparts as also apparent to a lesser degree following secondary exposure [11, 12, 13]. The greater susceptibility of male mice correlates with higher fecundity of worms recovered from male hosts and a larger adult worm body size [14], indicating that the parasites are fitter than those from a female host.
Concurrent pregnancy and worm infection imposes increased physiological demands on the mother in terms of the energy required to fight infection and to nourish the fetus. This can lead to immunosuppression (diminished Th2 responses) [15] and adverse reproductive outcomes (small pup size) [15, 16]. The effects of pregnancy on maternal serum cytokines during H. polygyrus infection include increased levels of IL-1β and IL-6 at day 20 postinfection [15] and lower concentrations of IL-4, IL-5, IL-13, and mucosal mast cell protease (mMCP-1) [15]. Pregnant mice also show a small but significant increase in adult worm burdens [15].
Models of resistance
Immunity to H. polygyrus can be studied in three separate settings each with distinct implications for human infection, namely, genetically determined, drug-induced, and vaccine-elicited immunity. In each of these contexts, the availability of numerous gene-targeted mouse strains and immunological reagents are being used to define immune system components and parameters required for immunity to infection.
As stated above, the outcome of primary H. polygyrus infection is strongly influenced by the genetic background of mice, with strains differing in their susceptibility to chronic infection. Studying how the immune response differs between those strains that endure chronic infections and those that are able to clear a primary infection has been highly instructive in defining the immune mechanisms the host must promote in order to clear the parasite.
If primary infection with H. polygyrus is cleared using antihelmintic drugs such as pyrantel pamoate or ivermectin [17], most mouse strains display a highly effective memory response, which provides immunity to reinfection [18]. Genetic background also impacts on resistance to reinfection, as BALB/c mice display significantly lower worm numbers postchallenge compared to C57BL/6 [19, 20].
Finally, HES administered in alum adjuvant has been shown to induce sterilizing immunity to H. polygyrus infection [21], and studies are ongoing to identify the specific components of HES and the immune mechanisms critical for this immunity.
Challenge infection/Trickle infection
Although most laboratory studies employ a single bolus infection, doses used are far from physiological or representative of field conditions. Hence, some investigators have developed trickle infection regimes, for example, administering twice weekly low doses of infective larvae. Under these conditions, different mouse strains show a gradation of resistance patterns similar to those seen with single-bolus primary infection, in that NIH and SWR strains resolve infection (showing an initial increase in adult worm burden, a period of stability, and then finally expulsion) while CBA and C57BL/10 mice continue to accumulate increasing adult worm burdens over the course of repeated infections [22].
Variation and adaptation by H. polygyrus
The strain of H. polygyrus used in laboratories worldwide is thought to have been isolated from wild Californian mice in the 1940s [23] and was known for some years as Nematospiroides dubius. The vast majority of the literature describing experiments with this isolate refers to the parasite as H. polygyrus. It was, however, suggested that this laboratory strain should be referred to as H. polygyrus bakeri, to differentiate it from wild strains of the parasite, considered to be H. polygyrus polygyrus (found in the wood mouse Apodemus sylvaticus in Europe), H. polygyrus corsicus (from the house mouse Mus musculus in Corsica) and H. polygyrus americanus (from the vole Phenacomys intermedius in North America) [24]. More recently, there has been an additional proposal of a name change for the laboratory isolate to H. bakeri [23], based on sequence divergence between laboratory and European wood mouse isolates [25]. This proposal has not received widespread support due to the preliminary nature of the data, the sequence variation even within the laboratory strain, and the need to remain consistent with previous literature [26]. Here, we refer to the laboratory strain of the parasite as H. polygyrus.
In proteomic studies on H. polygyrus secreted antigens (see below), extensive sequence variation was observed in some gene families [5], indicating that despite many years of laboratory propagation, the parasite strain remains highly polymorphic. Moreover, there are indications that antigen expression by H. polygyrus may vary or adapt according to the host strain of mouse [27, 28], with proteomic differences in adult worms recovered 4 weeks postinfection in either C57BL/10 (slow responder) or SWR (fast responder) hosts [28]. Phosphatidylethanolamine-binding protein and several nematode globins are overexpressed in worms from C57BL/10 compared to worms from SWR mice, and myosin, troponin, actin, and several unidentified proteins are overexpressed in the worms from fast responder mice compared to slow [28]. Differential expression of worm products in different host strains may shed light on pathways targeted by the immune system that impact on worm survival or death.
Host immune responses
The critical requirement for the adaptive immune response in control of the parasite is illustrated when B- and T-cell responses are lacking. Severe combined immunodeficient (SCID; B- and T-cell deficient) and athymic mice show impaired expulsion of adult worms, maintaining high worm burdens several weeks post infection by which stage wild-type counterparts had expelled the majority of their worms [29, 30]. Treatment with anti-CD4 results in higher fecundity of female worms in a primary infection [31] and transfer of the effector T-cell subset from chronically infected animals significantly reduced worm burdens when transferred to naive mice before infection [32]. Although B-cell deficiency does not affect the outcome of primary H. polygyrus infection, B-cell or antibody deficiency significantly compromises the ability to expel a secondary challenge infection [33].
Immuno-regulatory cells in chronic infection
Regulatory T cells
Several categories of T cells exert suppressive or immunomodulatory effects, most prominently the subset of Tregs expressing the transcription factor Foxp3. Sustained expression of Foxp3 is required to maintain Treg suppressive function, as in its absence Tregs acquire effector T-cell functions [127], and conversely, the forced expression of Foxp3 confers suppressor function to CD4+CD25− T cells [128]. Tregs are essential during infection to protect against immune-mediated pathology while still allowing a sufficiently robust response to clear the pathogen [129]. Indeed, when Foxp3+ T cells are removed at early stages of an infection with H. polygyrus, pathology of the small intestine is significantly worse, with higher numbers of effector T cells, IL-4, and IL-13 [130].
Foxp3 is constitutively expressed in a subset of regulatory cells termed natural Tregs, but expression can also be induced in resting Foxp3– peripheral T cells. Natural Tregs develop in the thymus to limit autoreactive T cells, while inducible Tregs leave the thymus as conventional T cells and are converted through TGF-β, IL-10, and retinoic acid stimulation [129]. Treg induction is particularly favored in the intestine and gut-associated lymphoid tissues, where H. polygyrus resides and where TGF-β is highly enriched [32, 131]. Tregs, which express the integrin CD103 (CD4+CD25+CD103+), are more suppressive of CD4+ effector cells in vitro and release significantly more IL-10 into culture supernatants after stimulation with H. polygyrus primed dendritic cells than CD4+CD25+CD103− Tregs [32].
A strong Treg response develops in the MLN and spleen of H. polygyrus-infected mice, peaking at day 28 postinfection [35]. CD25+CD103+ cells are the subset in the CD4+ compartment that shows the greatest increase in cell number (compared to CD25−CD103− effector cells and CD25+CD103− cells) [32, 35]. Most significantly, Foxp3 can also be induced in naive T cells by HES in vitro, in a manner analogous to TGF-β, due to parasite-derived TGF-β-like activity [132] (discussed below). Inhibition of TGF-β signaling during H. polygyrus infection using the inhibitor SB431542 reduces adult worm burden and results in an increased Th2 response [132], while administration of anti-TGF-β neutralizing antibody has also been reported to result in lower worm numbers [93]. When TGF-β signaling is lost only on CD4+ T cells, in TGF-βRII DN mice [133], there was no reduction in adult H. polygyrus burden compared to wild-type mice; in fact, H. polygyrus is more fecund [134, 135]. This is likely due to excessive IFN-γ production in the absence of CD4+ TGF-β signaling, as when IFN-γ-deficient TGF-βRII DN mice were infected with H. polygyrus, fewer adult worms survived after 28 days than in IFN-γ-sufficient TGF-βRII DN mice [134], illustrating the importance of both TGF-β and IFN-γ in determining susceptibility to H. polygyrus.
H. polygyrus infection also induces CD8+ Tregs in the lamina propria of the small intestine, which can inhibit T-cell proliferation in vitro in an IL-10 and TGF-β independent manner [36, 136].
Regulatory B cells
In addition to Tregs, regulatory B cells (Bregs) have also been described that produce IL-10 and TGF-β, and can dampen potentially harmful immune responses [137]. Bregs induced during helminth infections can not only downregulate pathology elicited by schistosome eggs [138] but also ameliorate immunopathologies such as multiple sclerosis [139] and anaphylaxis [140] in humans and mice. While the role of Bregs in parasite persistence has not been directly investigated in H. polygyrus infection, suppressive B cells expand in the MLN of infected C57BL/6 mice, which on transfer to uninfected hosts, suppress airway allergy and inflammation in experimental autoimmune encephalomyelitis [56].
Proregulatory DCs
Different subsets of DCs have been identified, which are markedly altered during helminth infection. In the MLN of H. polygyrus-infected mice, the proportion of CD11chighCD8αintermediate DCs declines in infection, indicating a reduced migration of cells from the lamina propria [141]. Moreover, there is a sharp increase in the proportion of tolerogenic CD11clo DCs in the MLN; this cell type responds suboptimally to Toll-like receptor stimulation, is unable to prime a strong Th2 response from T cells, but induces much higher proportions of CD4+CD25− to express Foxp3 than the conventional CD11chi subset [142, 143].
This effect was mirrored in an in vitro setting when OVA-pulsed bone marrow-derived DCs (BMDCs) were cultured with HES and showed lower costimulatory molecule expression and cytokine output compared to untreated OVA-pulsed BMDCs [144]. These cells also induced IL-10-secreting CD4+CD25+Foxp3+ cell generation from CD4+ cocultures [144], indicating a potential regulatory pathway initiated by H. polygyrus products.
Vaccine-induced immunity
Irradiated H. polygyrus larvae given orally stimulate protection against subsequent challenge [62, 145, 146, 147, 148]. Notably, the efficacy of this irradiated larval vaccine is diminished by the coadministration of unirradiated larvae, indicating that the development of adult worms is able to inhibit development and/or expression of protective immunity against subsequent reinfection [146, 147]. The ability of adult worms to suppress protective immunity was further demonstrated by vaccine failure in mice given irradiated larvae before or after receiving adult parasites by intraintestinal laparatomy [146] or oral gavage [149].
As well as infective (L3) stage larvae, live L4 larvae isolated on days 4 or 6 postinfection from the intestinal wall of donor-infected animals given subcutaneously, elicit an ~95–100 % reduction in worms present 3 weeks after challenge compared to unimmunized controls [150]. When immunization was performed with late-stage L3 (isolated 2 days postinfection) or L5 larvae (isolated 8 days postinfection) a lower degree of protective immunity was induced (~60 and ~70 % reduction respectively compared to unimmunized controls) [150].
Recently, an effective nonliving vaccine against H. polygyrus has been developed, in the form of total HES administered with alum adjuvant, which induced sterile immunity against infection [21]. Earlier work had shown that mice immunized with a 60,000 mol wt HES-derived glycoprotein isolated from HES prior to infection had lower egg burdens than control mice, indicating an antifecundity effect of vaccination with this component [151].
Molecular basis of chronic infection
Role of the microbiota
H. polygyrus is localized in the anterior small intestine alongside a substantial microbial flora. The presence of specific species of bacteria within the gut is known to polarise naive T cells towards particular Th subset fates [188, 189, 190], and as the outcome of H. polygyrus infection is dependent on the immediate cytokine environment, it seems reasonable to imagine that commensal microbes may alter the ability of the murine immune system to cause worm expulsion.
Care must therefore be taken when performing experiments to compare the susceptibility to H. polygyrus in different mice, as the mice may initially differ in their microbial flora. Variation in microbial flora may be due to the source of mice, as mice of the same strain acquired from different vendors can harbor different gut microbes [188], perhaps due to diet or housing conditions. The genotype of mice can also control microbial populations, as has been shown to be the case for MyD88-deficient mice, which have an altered microbial flora compared to MyD88-sufficient mice as MyD88 controls the release of some antimicrobial peptides [191].
After a 14-day infection with H. polygyrus in C57BL/6 mice, the abundance of Lactobacillaceae family members was increased in the ileum compared to naive mice [186]. It has yet to be demonstrated whether this shift is a helminth-mediated mechanism that acts to promote the survival of H. polygyrus within the murine host, or if it is simply as a consequence of a changing immune environment, in which bacteria of the Lactobacillaceae family are better able to survive. To resolve this, further studies to investigate the interplay among parasitic helminths, the microbial flora, and the immune system are necessary.
Conclusions and implications for human infections and disease
Parasitic helminth infections in humans and livestock are still responsible for unacceptably high levels of morbidity and economic loss worldwide. Understanding the mechanisms necessary for expulsion of the model gastrointestinal parasite H. polygyrus is likely to define new pathways, which target the immune system to provide the best protection against other helminth infections. The increasing prevalence of autoimmune diseases in the Western world correlates with the increasing absence of such helminth infections [192]. Our immune systems have evolved to develop in the presence of helminth parasite antigens, and it is vital to understand whether the human immune system can function optimally without this presence. Studies to isolate and understand how immunomodulatory factors secreted by helminths such as H. polygyrus act to maintain gut homeostasis are ongoing and will be invaluable both in understanding the interactions between helminths and the immune system and in the development of new pharmaceutical therapies for autoimmune and allergic diseases worldwide.
Notes
Acknowledgments
We thank the Wellcome Trust for support through a studentship to LAR and programme grant funding to RMM and the Medical Research Council/UCB Celltech for CASE studentship funding to KJF.
Open Access
This article is distributed under the terms of the Creative Commons Attribution License which permits any use, distribution, and reproduction in any medium, provided the original author(s) and the source are credited.