Abstract
Sexual selection is by essence social selection: an individual's fitness is partly determined by the phenotype of its social partners (i.e., the social environment). Nevertheless, most behavioral studies on mating patterns and sexual selection are conducted in laboratory standardized conditions, and it is unclear how potential laboratory-induced social biases affect mating outcome. The social environment may actually dictate which of female mate choice or male-male competition is the primary determinant of mating outcome. This matters because we expect sexually selected traits to evolve differently if mating outcome is determined by female mate choice or by male-male competition. We address this issue by performing an in-depth quantitative synthesis testing the effects of common extrinsic (population density, sex ratio), intrinsic (age), and laboratory-induced (cage volume, experimental duration) biases of the social environment of adults on mating outcome. For this, we used the butterfly Bicyclus anynana, as it provides a reasonable sampling of mating experiments in diverse laboratory conditions (i.e., 31 publications from 7 different laboratories since 2001). We found that all tested social environmental variables displayed strong variation across B. anynana mating studies, and that most variables had significant effects usually in interaction with another variable and with opposite effects between sexes. Hence, mating outcome is affected by laboratory biases on the social environment. Our quantitative synthesis offers a first case example of the effects of a pervasive and recurrent issue in animal behavioral research on sexual selection, i.e., the need to root mating experiments in ecologically relevant laboratory environments, in order to produce meaningful results about the selective force(s) driving the evolution of sexually selected traits in nature.
Significance statement
Mating outcome is biased by the laboratory social environment in which experiments are conducted. Male and female age, density, ratio, as well as cage volume and experimental duration all affect mating proportions, and this blurs our understanding of how sexual selection shapes sexually selected traits in the wild. This first systematic review was conducted on 31 studies in a single butterfly species, but our results are likely relevant in any taxonomic group.
Access options
Buy single article
Instant access to the full article PDF.
USD 39.95
Price excludes VAT (USA)
Tax calculation will be finalised during checkout.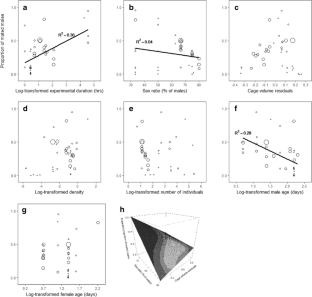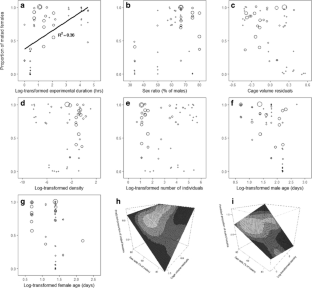 References
Atwell A, Wagner WE (2014) Female mate choice plasticity is affected by the interaction between male density and female age in a field cricket. Anim Behav 98:177–183

Bacquet PMB, Brattström O, Wang H-L, Allen CE, Löfstedt C, Brakefield PM, Nieberding CM (2015) Selection on male sex pheromone composition contributes to butterfly reproductive isolation Proc Royal Soc B Biol Sci 282

Bacquet PMB, de Jong MA, Brattström O, Wang H, Molleman F, Heuskin S, Lognay G, Löfstedt C, Brakefield PM, Vanderpoorten A, Nieberding CM (2016) Differentiation in putative male sex pheromone components across and within populations of the African butterfly Bicyclus anynana as a potential driver of reproductive isolation. Ecology and Evolution 6:6064–6084

Bates D, Maechler M, Bolker B, S. W (2014) lme4: Linear mixed-effects models using Eigen and S4. In, R package version 1.1–7 edn

Brakefield PM, Reitsma N (1991) Phenotypic plasticity, seasonal climate and the population biology of Bicyclus butterflies (Satyridae) in Malawi. Ecol Entomol 16:291–303

Brakefield PM, Beldade P, Zwaan BJ (2009) The African butterfly Bicyclus anynana: a model for evolutionary genetics and evolutionary developmental biology. In: Behringer RR, Johnson AD, Krumlauf RE (eds) Emerging model organisms: a laboratory manual. Cold Spring Harbor Laboratory, New York, pp 291–329

Casares P, Carracedo MC, Del Rio B, Piñeiro R, Garcia-Florez L, Barros AR (1998) Disentangling the effects of mating propensity and mating choice in Drosophila. Evolution 52:126–133

Costanzo K, Monteiro A (2007) The use of chemical and visual cues in female choice in the butterfly Bicyclus anynana. Proc R Soc B Biol Sci 274:845–851

Cotton S, Small J, Pomiankowski A (2006) Sexual selection and condition-dependent mate preferences. Curr Biol 16:R755–R765

de Jong K, Wacker S, Amundsen T, Forsgren E (2009) Do operational sex ratio and density affect mating behaviour? An experiment on the two-spotted goby. Anim Behav 78:1229–1238

de Jong MA, Kesbeke FMNH, Brakefield PM, Zwaan BJ (2010) Geographic variation in thermal plasticity of life history and wing pattern in Bicyclus anynana. Clim Res 43:91–102

Dick JTA, Elwood RW (1996) Effects of natural variation in sex ratio and habitat structure on mate-guarding decisions in amphipods (Crustacea). Behaviour 133:985–996

Dijkstra PD, Seehausen O, Gricar BLA, Maan ME, Groothuis TGG (2006) Can male-male competition stabilize speciation? A test in Lake Victoria haplochromine cichlid fish. Behav Ecol Sociobiol 59:704–713

Dougherty LR, Shuker DM (2015) The effect of experimental design on the measurement of mate choice: a meta-analysis. Behav Ecol 26:311–319

Drury JP, Grether GF (2014) Interspecific aggression, not interspecific mating, drives character displacement in the wing coloration of male rubyspot damselflies (Hetaerina). Proceedings of the Royal Society B: Biological sciences 281

Elston DA, Moss R, Boulinier T, Arrowsmith C, Lambin X (2001) Analysis of aggregation, a worked example: numbers of ticks on red grouse chicks. Parasitology 122:563–569

Emlen ST, Oring LW (1977) Ecology, sexual selection, and evolution of mating systems. Science 197:215–223

Fischer K, Perlick J, Galetz T (2008) Residual reproductive value and male mating success: older males do better. Proc R Soc B Biol Sci 275:1517–1524

Forstmeier W, Schielzeth H (2011) Cryptic multiple hypotheses testing in linear models: overestimated effect sizes and the winner's curse. Behav Ecol Sociobiol 65:47–55

Geister TL, Fischer K (2007) Testing the beneficial acclimation hypothesis: temperature effects on mating success in a butterfly. Behav Ecol 18:658–664

Grether GF, Anderson CN, Drury JP, Kirschel ANG, Losin N, Okamoto K, Peiman KS (2013) The evolutionary consequences of interspecific aggression. In: Ann N Y Acad Sci, pp 48–68

Griffith SC, Crino OL, Andrew SC, Nomano FY, Adkins-Regan E, Alonso-Alvarez C, Bailey IE, Bittner SS, Bolton PE, Boner W, Boogert N, Boucaud ICA, Briga M, Buchanan KL, Caspers BA, Cichoń M, Clayton DF, Derégnaucourt S, Forstmeier W, Guillette LM, Hartley IR, Healy SD, Hill DL, Holveck MJ, Hurley LL, Ihle M, Tobias Krause E, Mainwaring MC, Marasco V, Mariette MM, Martin-Wintle MS, McCowan LSC, McMahon M, Monaghan P, Nager RG, Naguib M, Nord A, Potvin DA, Prior NH, Riebel K, Romero-Haro AA, Royle NJ, Rutkowska J, Schuett W, Swaddle JP, Tobler M, Trompf L, Varian-Ramos CW, Vignal C, Villain AS, Williams TD (2017) Variation in reproductive success across captive populations: methodological differences, potential biases and opportunities. Ethology 123:1–29

Gröning J, Hochkirch A (2008) Reproductive interference between animal species. Q Rev Biol 83:257–282

Holveck MJ, Riebel K (2010) Low-quality females prefer low-quality males when choosing a mate. Proc Royal Soc B Biol Sci 277:153–160

Holveck MJ, Gauthier AL, Nieberding CM (2015) Dense, small and male-biased cages exacerbate male-male competition and reduce female choosiness in Bicyclus anynana. Anim Behav 104:229–245

Janowitz SA, Fischer K (2010) Costing reproduction: effects of mating opportunity on mating success in male Bicyclus anynana butterflies. Behav Ecol Sociobiol 64:1999–2006

Janowitz SA, Fischer K (2012) Polyandry in Bicyclus anynana butterflies results from sexual conflict over mating. Ethology

Jennions MD, Petrie M (1997) Variation in mate choice and mating preferences: a review of causes and consequences. Biol Rev Camb Philos Soc 72:283–327

Jirotkul M (1999a) Operational sex ratio influences female preference and male-male competition in guppies. Anim Behav 58:287–294

Jirotkul M (1999b) Population density influences male-male competition in guppies. Anim Behav 58:1169–1175

Joron M, Brakefield PM (2003) Captivity masks inbreeding effects on male mating success in butterflies. Nature 424:191–194

Kamiya T, O'Dwyer K, Westerdahl H, Senior A, Nakagawa S (2014) A quantitative review of MHC-based mating preference: the role of diversity and dissimilarity. Mol Ecol 23:5151–5163

Karl I, Heuskin S, Fischer K (2013) Dissecting the mechanisms underlying old male mating advantage in a butterfly. Behav Ecol Sociobiol 67:837–849

Keagy J, Lettieri L, Boughman JW (2016) Male competition fitness landscapes predict both forward and reverse speciation. Ecol Lett 19:71–80

Kehl T, Burmeister MFWT, Donke E, Köhn NAK, Metschke K, Pfender D, Karl I, Fischer K (2014) Pheromone blend does not explain old male mating advantage in a butterfly. Ethology

Kehl T, Bensch J, Böhm F, Kniepkamp BO, Leonhardt V, Schwieger S, Fischer K (2015a) Fat and sassy: factors underlying male mating success in a butterfly. Entomol Exp Appl 155:257–265

Kehl T, Dublon IAN, Fischer K (2015b) Young male mating success is associated with sperm number but not with male sex pheromone titres Front Zool 12

Knoppien P, Pot W, Van Delden W (1980) Effects of rearing conditions and age on the difference in mating success between alcohol dehydrogenase genotypes of Drosophila melanogaster. Genetica 51:197–202

Kokko H, Rankin DJ (2006) Lonely hearts or sex in the city? Density-dependent effects in mating systems. Philos Trans Royal Soc B Biol Sci 361:319–334

Kvarnemo C, Ahnesjö I (1996) The dynamics of operational sex ratios and competition for mates. Trends Ecol Evol 11:404–408

Maan ME, Seehausen O (2011) Ecology, sexual selection and speciation. Ecol Lett 14:591–602

Mariette MM, Cathaud C, Chambon R, Vignal C (2013) Juvenile social experience affects pairing success at adulthood: congruence with the loser effect? Proc R Soc B Biol Sci 280:8

McCullough EL, Miller CW, Emlen DJ (2016) Why sexually selected weapons are not ornaments. Trends Ecol Evol 31:742–751

Miller CW, Svensson EI (2014) Sexual selection in complex environments. In. Annual Review of Entomology, pp 427–445

Miyatake T, Haraguchi D (1996) Mating success in Bactrocera cucurbitae (Diptera: Tephritidae) under different rearing densities. Ann Entomol Soc Am 89:284–289

Moher D, Liberati A, Tetzlaff J, Altman DG, Altman D, Antes G, Atkins D, Barbour V, Barrowman N, Berlin JA, Clark J, Clarke M, Cook D, D'Amico R, Deeks JJ, Devereaux PJ, Dickersin K, Egger M, Ernst E, Gøtzsche PC, Grimshaw J, Guyatt G, Higgins J, Ioannidis JPA, Kleijnen J, Lang T, Magrini N, McNamee D, Moja L, Mulrow C, Napoli M, Oxman A, Pham B, Rennie D, Sampson M, Schulz KF, Shekelle PG, Tovey D, Tugwell P (2009) Preferred reporting items for systematic reviews and meta-analyses: the PRISMA statement. Ann Intern Med 151:264–269

Nakagawa S, Poulin R (2012) Meta-analytic insights into evolutionary ecology: an introduction and synthesis. Evol Ecol 26:1085–1099

Nieberding CM, Holveck MJ (2017) Commentary on Kehl et al (2015)'s study in Frontiers in Zoology: Experimental conditions inflate the importance of male courtship activity on mating success in a butterfly. Front Zool (in review)

Nieberding CM, de Vos H, Schneider MV, Lassance JM, Estramil N, Andersson J, Bang J, Hedenstrom E, Lofstedt C, Brakefield PM (2008) The male sex pheromone of the butterfly Bicyclus anynana: towards an evolutionary analysis. PLoS One 3

Nieberding CM, Fischer K, Saastamoinen M, Allen CE, Wallin EA, Hedenström E, Brakefield PM (2012) Cracking the olfactory code of a butterfly: the scent of ageing. Ecol Lett 15:415–424

Okamoto KW, Grether GF (2013) The evolution of species recognition in competitive and mating contexts: the relative efficacy of alternative mechanisms of character displacement. Ecol Lett 16:670–678

Oliver JC, Monteiro A (2011) On the origins of sexual dimorphism in butterflies. Proc R Soc B Biol Sci 278:1981–1988

Pfennig KS (2007) Facultative mate choice drives adaptive hybridization. Science 318:965–967

Prudic KL, Jeon C, Cao H, Monteiro A (2011) Developmental plasticity in sexual roles of butterfly species drives mutual sexual ornamentation. Science 331

Qvarnström A, Vallin N, Rudh A (2012) The role of male contest competition over mates in speciation. Curr Zool 58:493–509

R-Core-Team (2015) R: A language and environment for statistical computing. In. R Foundation for Statistical Computing, Vienna, Austria

Ritchie MG (1996) The shape of female mating preferences. Proc Natl Acad Sci U S A 93:14628–14631

Ruploh T, Bischof HJ, von Engelhardt N (2013) Adolescent social environment shapes sexual and aggressive behaviour of adult male zebra finches (Taeniopygia guttata). Behav Ecol Sociobiol 67:175–184

Santos M (1996) Apparent directional selection of body size in Drosophila buzzatii: larval crowding and male mating success. Evolution 50:2530–2535

Schaefer HM, Ruxton GD (2015) Signal diversity, sexual selection, and speciation. In: Ann Rev Ecol Evol Syst, pp 573–592

Scordato ESC, Symes LB, Mendelson TC, Safran RJ (2014) The role of ecology in speciation by sexual selection: a systematic empirical review. J Hered 105:782–794

Siegel RW, Hall JC (1979) Conditioned responses in courtship behavior of normal and mutant Drosophila. Proc Natl Acad Sci U S A 76:3430–3434

Stoffer B, Uetz GW (2015) The effects of social experience with varying male availability on female mate preferences in a wolf spider. Behav Ecol Sociobiol 69:927–937

Swanger E, Zuk M (2015) Cricket responses to sexual signals are influenced more by adult than juvenile experiences. J Insect Behav 28:328–337

Tinghitella RM (2014) Male and female crickets modulate their courtship behaviour depending on female experience with mate availability. Anim Behav 91:9–15

Tinghitella RM, Weigel EG, Head M, Boughman JW (2013) Flexible mate choice when mates are rare and time is short. Ecol Evol 3:2820–2831

Verzijden MN, ten Cate C, Servedio MR, Kozak GM, Boughman JW, Svensson E (2012) The impact of learning on sexual selection and speciation. Trends Ecol Evol 27:511–519

Wacker S, Mobley K, Forsgren E, Myhre LC, de Jong K, Amundsen T (2013) Operational sex ratio but not density affects sexual selection in a fish. Evolution 67:1937–1949

Wagner WE (1998) Measuring female mating preferences. Anim Behav 55:1029–1042

Wearing-Wilde J (1996) Mate choice and competition in the barklouse Lepinotus patruelis (Psocoptera: Trogiidae): the effect of diet quality and sex ratio. J Insect Behav 9:599–612

West-Eberhard MJ (2014) Darwin's forgotten idea: the social essence of sexual selection. Neurosci Biobehav Rev 46:501–508

Westerman EL, Monteiro A (2013) Odour influences whether females learn to prefer or to avoid wing patterns of male butterflies. Anim Behav 86:1139–1145

Westerman EL, Hodgins-Davis A, Dinwiddie A, Monteiro A (2012) Biased learning affects mate choice in a butterfly. Proc Natl Acad Sci U S A 109:10948–10953

Westerman EL, Chirathivat N, Schyling E, Monteiro A (2014) Mate preference for a phenotypically plastic trait is learned, and may facilitate preference-phenotype matching. Evolution 68:1661–1670

Widemo F, Saether SA (1999) Beauty is in the eye of the beholder: causes and consequences of variation in mating preferences. Trends Ecol Evol 14:26–31

Zuur AF, Ieno EN, Elphick CS (2010) A protocol for data exploration to avoid common statistical problems. Methods Ecol Evol 1:3–14
Acknowledgments
We thank two anonymous referees for their constructive comments. The project was supported by the Université Catholique de Louvain UCL (Grant ARC 10/15-031 Académie Louvain and FSR grant 372 605031 to C.M.N., and construction of the environmentally friendly insectarium for B. anynana) and by the FRS-FNRS Belgian national science foundation (FRFC grant 2.4560.11 and CDR grant J.0069.14 to C.M.N., operating credit 1.B.176.13F to M.J.H). M.J.H. was a FRS-FNRS postdoctoral fellow. This is publication BRC 339 of the Biodiversity Research Centre (UCL).
Ethics declarations
Conflict of interest
The authors declare that they have no conflict of interest.
Ethical approval
This article does not contain any studies with human participants or animals performed by any of the authors.
Additional information
Communicated by S. Sakaluk
Electronic supplementary material
About this article
Cite this article
Nieberding, C.M., Holveck, MJ. Laboratory social environment biases mating outcome: a first quantitative synthesis in a butterfly. Behav Ecol Sociobiol 71, 117 (2017). https://doi.org/10.1007/s00265-017-2346-9
Received:

Revised:

Accepted:

Published:

DOI: https://doi.org/10.1007/s00265-017-2346-9
Keywords
Laboratory biases

Mating success

Sexual selection

Population density and sex ratio

Age

Cage size and experimental duration