Abstract
Glucosylation cascade consisting of Leloir glycosyltransferase and sucrose synthase with in situ regeneration system of expensive and low available nucleotide sugars is a game-changing strategy for enzyme-based production of glycoconjugates of relevant natural products. We designed a stepwise approach including co-expression and one-step purification and co-immobilization on glass-based EziG resins of sucrose synthase from Glycine max (GmSuSy) with promiscuous glucosyltransferase YjiC from Bacillus licheniformis to produce efficient, robust, and versatile biocatalyst suited for preparative scale flavonoid glucosylation. The undertaken investigations identified optimal reaction conditions (30 °C, pH 7.5, and 10 mM Mg2+) and the best-suited carrier (EziG Opal). The prepared catalyst exhibited excellent reusability, retaining up to 96% of initial activity after 12 cycles of reactions. The semi-preparative glucosylation of poorly soluble isoflavone Biochanin A resulted in the production of 73 mg Sissotrin (Biochanin A 7-O-glucoside). Additionally, the evaluation of the designed double-controlled, monocistronic expression system with two independently induced promoters (rhaBAD and trc) brought beneficial information for dual-expression plasmid design.
Key points
• Simultaneous and titratable expression from two independent promoters is possible, although full control over the expression is limited.
• Designed catalyst managed to glucosylate poorly soluble isoflavone.
• The STY of Sissotrin using the designed catalyst reached 0.26 g/L∙h∙g of the resin.
Graphical Abstract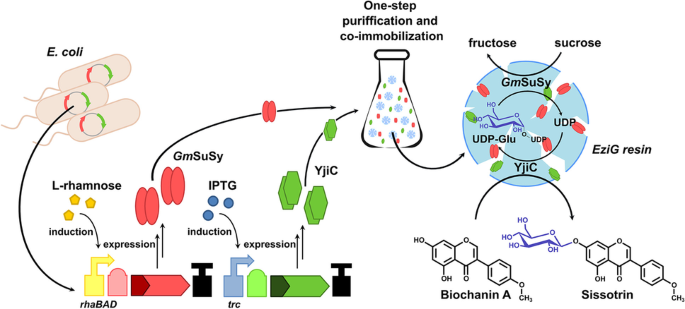 Data availability
The authors confirm that the data supporting the findings of this study are available within the article (and/or) its supplementary materials.
Acknowledgements
We would like to acknowledge EnginZyme AB for providing us free sample set of resins for immobilization experiments and we would like to thank Dr Matthew Thompson (EnginZyme AB) for helpful suggestions regarding the final manuscript preparation.
Funding
This work was supported by the European Union's Horizon 2020 Research and Innovation Programme under Grant Agreements no. 814650 (SynBio4Flav).
Ethics declarations
Ethics approval
This article did not involve any experiment on human participants or animals.
Conflict of interest
The authors declare no competing interests.
Additional information
Publisher's note
Springer Nature remains neutral with regard to jurisdictional claims in published maps and institutional affiliations.
Supplementary information
Below is the link to the electronic supplementary material.
Rights and permissions
Open Access This article is licensed under a Creative Commons Attribution 4.0 International License, which permits use, sharing, adaptation, distribution and reproduction in any medium or format, as long as you give appropriate credit to the original author(s) and the source, provide a link to the Creative Commons licence, and indicate if changes were made. The images or other third party material in this article are included in the article's Creative Commons licence, unless indicated otherwise in a credit line to the material. If material is not included in the article's Creative Commons licence and your intended use is not permitted by statutory regulation or exceeds the permitted use, you will need to obtain permission directly from the copyright holder. To view a copy of this licence, visit http://creativecommons.org/licenses/by/4.0/.
About this article
Cite this article
Matera, A., Dulak, K., Sordon, S. et al. Evaluation of double expression system for co-expression and co-immobilization of flavonoid glucosylation cascade. Appl Microbiol Biotechnol 106, 7763–7778 (2022). https://doi.org/10.1007/s00253-022-12259-5
Received:

Revised:

Accepted:

Published:

Issue Date:

DOI: https://doi.org/10.1007/s00253-022-12259-5
Keywords
Co-expression

Co-immobilization

Biochanin A

Cascade reaction

Glucosyltransferase

Sucrose synthase

Biocatalysis

Flavonoids

Isoflavone