Abstract
The aim of this study was to evaluate the effects of soy-based beverages manufactured with water-soluble soy extract, containing probiotic strains (Lactobacillus acidophilus LA-5 and Bifidobacterium longum BB-46) and/or acerola by-product (ABP) on pooled faecal microbiota obtained from lean and obese donors. Four fermented soy beverages (FSs) ("placebo" (FS-Pla), probiotic (FS-Pro), prebiotic (FS-Pre), and synbiotic (FS-Syn)) were subjected to in vitro digestion, followed by inoculation in the TIM-2 system, a dynamic in vitro model that mimics the conditions of the human colon. Short- and branched-chain fatty acids (SCFA and BCFA) and microbiota composition were determined. Upon colonic fermentation in the presence of the different FSs formulations, acetic and lactic acid production was higher than the control treatment for faecal microbiota from lean individuals (FMLI). Additionally, SCFA production by the FMLI was higher than for the faecal microbiota from obese individuals (FMOI). Bifidobacterium spp. and Lactobacillus spp. populations increased during simulated colonic fermentation in the presence of FS-Syn in the FMLI and FMOI. FS formulations also changed the composition of the FMOI, resulting in a profile more similar to the FMLI. The changes in the composition and the increase in SCFA production observed for the FMLI and FMOI during these in vitro fermentations suggest a potential modulation effect of these microbiotas by the consumption of functional FSs.
Graphical abstract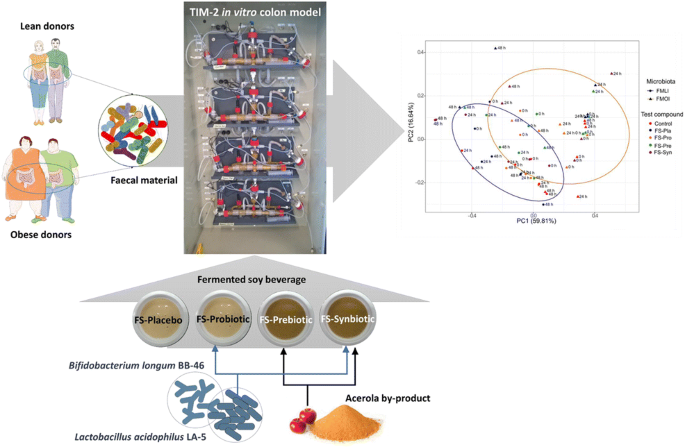 Key points
• Soy beverages increased Bifidobacterium abundance in microbiota from obese individuals.
• The synbiotic beverage increased Bifidobacterium abundance in microbiota from lean individuals.
• The synbiotic beverage changed the microbiota from obese individuals, approaching the lean profiles.
References
Aguirre M, Eck A, Koenen ME, Savelkoul PHM, Budding AE, Venema K (2015) Evaluation of an optimal preparation of human standardized fecal inocula for in vitro fermentation studies. J Microbiol Methods 177:78–84. https://doi.org/10.1016/j.mimet.2015.07.019

Aguirre M, Jonkers DMAE, Troost FJ, Roeselers G, Venema K (2014a) In vitro characterization of the impact of different substrates on metabolite production, energy extraction and composition of gut microbiota from lean and obese subjects. Plos One 26:e113864. https://doi.org/10.1371/journal.pone.0113864

Aguirre M, Ramiro-Garcia J, Koenen ME, Venema K (2014b) To pool or not to pool? Impact of the use of individual and pooled fecal samples for in vitro fermentation studies. J Microbiol Methods 107:1–7. https://doi.org/10.1016/j.mimet.2014.08.022

Aguirre M, Souza CB, Venema K (2016) The gut microbiota from lean and obese subjects contribute differently to the fermentation of arabionogalactan and inulin. Plos One 11(7):e0159236. https://doi.org/10.1371/journal.pone.0159236

Albuquerque MAC, Levit R, Beres C, Bedani R, LeBlanc AM, Saad SMI, LeBlanc JG (2019) Tropical fruit by-products water extracts as sources of soluble fibres and phenolic compounds with potential antioxidant, anti-inflammatory, and functional properties. J Funct Foods 52:724–733. https://doi.org/10.1016/j.jff.2018.12.002

Altermann E, Russell WM, Azacarate-Peril MA, Barrangou R, Buck BL, McAuliffe O, Sourther N, Dobson A, Duong T, Callanan M, Lick S, Hamrick A, Cano R, Klaenhammer TR (2005) Complete genome sequence of the probiotic lactic acid bacterium Lactobacillus acidophilus NCFM. PNAS 102(11):3906–3912. https://doi.org/10.1073/pnas.0409188102

Anderson MJ (2001) A new method for non-parametric multivariate analysis of variance. Austral Ecol 26:32–46.

Angelakis E, Armougom F, Million M, Raoult D (2012) The relationship between gut microbiota and weight gain in humans. Future Microbiol 7(1):91–109. https://doi.org/10.2217/fmb.11.142

Anzawa D, Mawatari T, Tanaka Y, Yamamoto M, Genda T, Takahashi S, Nishijima T, Kamasaka H, Suzuki S, Kuriki T (2019) Effects of synbiotic containing Bifidobacterium animalis subsp. lactis GCL2505 and inulin on intestinal bifidobacteria: A randomized, placebo-controlled, crossover study. Food Sci Nutr 7(5):1828–1837. https://doi.org/10.1002/fsn3.1033

Bedani R, Rossi EA, Cavallini DCU, Pinto RA, Vendramini RC, Augursto EM, Abdalla DSP, Saad SMI (2015) Influence of daily consumption of synbiotic soy-based product supplemented with okara soybean by-product on risk factors for cardiovascular diseases. Food Res Int 73:142–148. https://doi.org/10.1016/j.foodres.2014.11.006

Belwal T, Devkota HP, Hassan HA, Ahluwalia S, Ramadan MF, Mocan A, Atanasov AG (2018) Phytopharmacology of acerola (Malpighia spp.) and its potential as functional food. Trends Food Sci Tech 74:99–106. https://doi.org/10.1016/j.tifs.2018.01.014

Bianchi F, Lopes NP, Adorno MAT, Sakamoto IK, Genovese MI, Saad SMI, Sivieri K (2019) Impact of combining acerola by-product with a probiotic strain on a gut microbiome model. Int J Food Sci Nutr 70(2):182–194. https://doi.org/10.1080/09637486.2018.1498065

Buriti FCA, Castro IA, Saad SMI (2010) Viability of Lactobacillus acidophilus in synbiotic guava mousses and its survival under in vitro simulated gastrointestinal conditions. Int J Food Microbiol 137:121–129. https://doi.org/10.1016/j.ijfoodmicro.2009.11.030

Byrne CS, Chamber ES, Morrison DJ, Frost G (2015) The role of short chain fatty acids in appetite regulation and energy homeostasis. Int J Obes 39:1331–1338. https://doi.org/10.1038/ijo.2015.84

Canfora EE, Meex RCR, Venema K, Blaak EE (2019) Gut microbial metabolites in obesity NAFLD and T2DM. Nat Rev Endocrinol 15:261–273. https://doi.org/10.1038/s41574-019-0156-z

Cao S-Y, Zhao C-N, Xu X-Y, Tang G-Y, Corke H, Gan R-Y, Li H-B (2019) Dietary plants, gut microbiota, and obesity: effects and mechanisms. Trends Food Sci Tech 92:194–204. https://doi.org/10.1016/j.tifs.2019.08.004

Caporaso JG, Kuczynski J, Stombaugh J, Bittinger K, Bushman FD, Costello EK, Fierer N, Peña AG, Goodrich JK, Gordon JI, Huttley GA, Kelley ST, Kinghts D, Koenig JE, Ley RE, Lozupone CA, McDonald D, Muegge BD, Pirrung M, Reeder J, Sevinsky JR, Turnbaugh PJ, Walters WA, Widmann JR, Yatsunenko T, Zaneveld J, Knight R (2010) QIIME allows analysis of high-throughput community sequencing data. Nat Methods 7(5):335–336. https://doi.org/10.1038/nmeth.f.303

Chambers ES, Morrison DJ, Frost G (2015) Control of appetite and energy intake by SCFA: what are the potential underlying mechanisms? Proc Nutr Soc 74:328–336. https://doi.org/10.1017/S0029665114001657

Crovesy L, Masterson D, Rosado EL (2020) Profile of the gut microbiota of adult with obesity: a systematic review. Eur J Clin Nutr. 74:1251-1262. https://doi.org/10.1038/s41430-020-0607-6

Cuevas-Tena M, Alegria A, Lagarda MJ, Venema K (2019) Impact of plant sterols enrichment dose on gut microbiota from lean and obese subjects using TIM-2 in vitro fermentation model. J Funct Foods 54:164–174. https://doi.org/10.1016/j.jff.2019.01.005

Drissi F, Merhej V, Angelakis E, El Kaoutari A, Carrière F, Henrissat B, Raoult D (2014) Comparative genomics analysis of Lactobacillus species associated with weight gain or weight protection. Nutr Diab 4:e109. https://doi.org/10.1038/nutd.2014.6

Ejtahed HS, Mohtadi-Nia J, Homayouni-Rad A, Niafar M, Asghari-Jafarabadi M, Mofid V (2012) Probiotic yogurt improves antioxidant status in type 2 diabetic patients. Nutrition 28:539–543. https://doi.org/10.1016/j.nut.2011.08.013

Falentin H, Henaff N, Bivic PL, Deutsch S-M, Parayre S, Richoux R, Sohier D, Thierry A, Lortal S, Postollec F (2012) Reverse transcription quantitative PCR revealed persistency of thermophilic lactis acid bacteria, metabolic activity until the end of the ripening of Emmental cheese. Food Microbiol 29:132–140. https://doi.org/10.1016/j.fm.2011.09.009

Fujimoto J, Tanigawa K, Kudo Y, Makini H, Watanabe K (2011) Identification and quantification of viable Bifidobacterium breve strain Yakult in human faeces by using strain-specific primers and propridium monoazide. J Appl Microbiol 110:209–217. https://doi.org/10.1111/j.1365-2672.2010.04873.x

Furet J-P, Firmesse O, Gourmelon M, Bridonneau C, Tap J, Mondot S, Doré J, Corthier G (2009) Comparative assessment of human and farm animal faecal microbiota using real-time quantitative PCR. FEMS Microbiol Ecol 68:351-362. https://doi.org/10.1111/j.1574-6941.2009.00671.x

Gibson GR, Cummings JH, Macfarlane GT (1988) Use of a three-stage continuous culture system to study the effect of mucin on dissimilatory sulfate reduction and methanogenesis by mixed populations of human gut bacteria. Appl Environ Microbiol 54:2750–2755

Gibson GR, Hutkins R, Sanders ME, Prescott SL, Reimer RA, Salminen SJ, Scott K, Stanton C, Swanson KS, Cani PD, Verbeke K, Reid G (2017) The International Scientific Association for Probiotic and Prebiotics (ISAPP) consensus statement on the definition and scope of prebiotics. Nat Rev Gastroenterol Hepatol 14(8):491–502. https://doi.org/10.1038/nrgastro.2017.75

Gueimonde M, Debor L, Tölkkö S, Jokisalo E, Salminen S (2007) Quantitative assessment of faecal bifidobacteria populations by real-time PCR using lanthanide probes. J Appl Microbiol 102:1116–1122. https://doi.org/10.1111/j.1365-2672.2006.03145.x

Hill C, Guarner F, Reid G, Gibson GR, Merenstein DJ, Pot B, Morelli L, Canani RB, Flint HJ, Salminen S, Calder PC, Sanders ME (2014) The International Scientific Association for Probiotic and Prebiotics consensus statement on the scope and appropriate use of the term probiotic. Nat Rev Gastroenterol Hepatol 11:506–514. https://doi.org/10.1038/nrgastro.2014.66

Ishizuka A, Tomizuka K, Aoki R, Nishijima T, Saito Y, Inoune R, Ushida K, Mawatari T, Ikeda T (2012) Effect of administration of Bifidobacterium animalis subsp. lactis GCL2505 on defecation frequency and bifidobacterial microbiota composition in humans. J Biosci Bioeng 113(5):587–591. https://doi.org/10.1016/j.jbiosc.2011.12.016

Karimi G, Jamaluddin R, Mohtarrudin N, Ahmad Z, Khazaai H, Parvaneh M (2017) Single-species versus dual-species probiotic supplementation as an emerging therapeutic strategy for obesity. Nutr Metab Cardiovasc Dis 27:910–918. https://doi.org/10.1016/j.numecd.2017.06.020

Kettle H, Louis P, Holtrop G, Duncan SH, Flint H (2015) Modelling the emergent dynamics and major metabolites of the human colon microbiota. Environ Microbiol 17(5):1615–1630. https://doi.org/10.1111/1462-2920.12599

Klancic T, Reimer RA (2020) Gut microbiota and obesity: Impact of antibiotics and prebiotics and potential for musculoskeletal health. J Sport Health Sci 9:110–118. https://doi.org/10.1016/j.jshs.2019.04.004

Klinder A, Shen Q, Heppel S, Lovegrove JA, Rowland I, Tuohy KM (2016) Impact of increasing fruit and vegetables and flavonoid intake on the human gut microbiota. Food Funct 7(4):1788–1796. https://doi.org/10.1039/c5fo01096a

Kong LC, Holmes BA, Cotillard A, Habi-Rachedi F, Brazeilles R, Gougis S, Gausserès N, Cani PD, Fellahi S, Bastard J-P, Kennedy SP, Doré J, Ehilch SD, Zucker J-D, Rizkalla SW, Clément K (2014) Dietary patterns differently associate with inflammation and gut microbiota in overweight and obese subjects. Plos One 9(10):e109434. https://doi.org/10.1371/journal.pone.0109434

Kovatcheva-Datchary P, Nilsson A, Akrami R, Lee YS, De Vadder F, Arora T, Hallen A, Martens E, Björck I, Bäckhed F (2015) Dietary fiber-induced improvement in glucose metabolism is associated with increased abundance of Prevotella. Cell Metab 22(6):971–982. https://doi.org/10.1016/j.cmet.2015.10.001

Li Z, Jin H, Oh SY, Ji GE (2016) Anti-obese effects of two lactobacilli and two bifidobacteria on ICR mice fed on a high fat diet. Biochem Biophys Res Commun 480:222–227. https://doi.org/10.1016/j.bbrc.2016.10.031

Lin Q, Mathieu O, Buckley ND, Green-Johnson JM (2016) Modulation of the TNFα-induced gene expression profile of intestinal epithelial cells by soy fermented with lactic acid bacteria. J Funct Foods 23:400-411. https://doi.org/10.1016/j.jff.2016.02.047

Million M, Angelakis E, Maraninchi M, Henry M, Giorgi R, Valero R, Vialettes B, Raoult D (2013) Correlation between body mass index and gut concentration of Lactobacillus reuteri, Bifidobacterium animalis, Methanobrevibacter smithii and Escherichia coli. Int J Obes 37:1460–1466. https://doi.org/10.1038/ijo.2013.20

Minekus M, Smeets-Peeters M, Bernalier A, Marol-Bonnin S, Havenaar R, Marteau P, Alric M, Fonty G, Huis in't Veld JHJ (1999) A computer-controlled system to simulate conditions of the large intestine with peristaltic mixing, water absorption and absorption of fermentation products. Appl Microbiol Biotechnol, 53:108-114. https://doi.org/10.1007/s002530051622.

Morrison DJ, Preston T (2016) Formation of short chain fatty acids by the gut microbiota and their impact on human metabolism. Gut Microbes 7(3):189–200. https://doi.org/10.1080/19490976.2015.1134082

Murugesan S, Nirmalkar K, Hoyo-Vadillo C, García-Espitia M, Ramírez-Sánchez D, García-Mena J (2018) Gut microbiome production of short-chain fatty acids and obesity in children. Eur J Clin Microbiol Infect Dis 673 37:621-625. https://doi.org/10.1007/s10096-017-3143-0

Nakata T, Kyoui D, Takahashi H, Kimura B, Kuda T (2017) Inhibitory effects of soybean oligosaccharides and water-soluble soybean fibre on formation of putrefactive compound from soy protein by gut microbiota. Int J Biol Macromol 97:173–180. https://doi.org/10.1016/j.ijbiomac.2017.01.015

Oksanen J, Blanchet FG, Kindt R, Legedre P, Minchin PR, O'Hara RB, Simpson GL, Solymos P, Stevens MHH, Szoecs E, Wagner H (2013) Vegan: community ecology package. R package version 2.0-7. http://CRAN.Rproject.org/package=vegan.

O'Toole DK (2016) Soybean: soymilk, tofu, and okara. In: Wrigley C, Corke H, Seetharaman K, Faubion J (eds) Encyclopedia of food grains, 2nd edn. Academic Press, London, pp 134–143. https://doi.org/10.1016/B978-0-12-394437-5.00130-3

Padhi EMT, Hawke A, Liu R, Zhu H, Duncan AM, Tsao R, Ramdath DD (2016) Tracking isoflavones in whole soy flour, soy muffins and the plasma of hypercholesterolaemic adults. J Funct Foods 24:420–428. https://doi.org/10.1016/j.jff.2016.04.027

Precup G, Vodnar DC (2019) Gut Prevotella as a possible biomarker of diet and its eubiotic versus dysbiotic roles: a comprehensive literature review. Br J Nutr 112:131–140. https://doi.org/10.1017/S0007114519000680

Pruesse E, Quast C, Knittel K, Fuchs BM, Lugwing W, Peplies J, Glöckner FO (2007) SILVA: a comprehensive online resource for quality checked and aligned ribosomal RNA sequence data compatible with ARB. Nucleic Acids Res 35(21):7188–7196. https://doi.org/10.1093/nar/gkm864

Development Core Team R (2014) R: A language and environment for statistical computing. R Foundation for Statistial Computing, Vienna, Austria

Reid G, Abrahamsson T, Bailey M, Bindels LB, Budnov R, Ganguli K, Martoni C, O'Neill C, Savignac HM, Stanton C, Ship N, Surette M, Tuohy K, van Hemert S (2017) How do probiotics and prebiotics function at distant sites? Benef Microbes 8(4):521–533. https://doi.org/10.3920/BM2016.0222

Rezazadeh L, Gargari BP, Jafarabadi MJ, Alipour B (2019) Effects of probiotic yogurt on glycemic indexes and endothelial dysfunction markers in patients with metabolic syndrome. Nutrition 62:162–168. https://doi.org/10.1016/j.nut.2018.12.011

Rinttilä T, Kassinen A, Malinen E, Krogius L, Palva A (2004) Development of an extensive set of 16S rDNA-targeted primers for quantification of pathogenic and indigenous bacteria in faecal samples by real-time PCR. J Appl Microbiol 9:1166–1177. https://doi.org/10.1111/j.1365-2672.2004.02409.x

Rios-Covian D, González S, Nogacka AM, Arboleya S, Salazar N, Gueimonde M, de los Reyes-Gavilán CG (2020) An overview on fecal branched short-chain fatty acids along human life and as related with body mass index: associated dietary and anthropometric factors. Front Microbiol 11:973. https://doi.org/10.3389/fmicb.2020.00973

Sáyago-Ayerdi SG, Zamora-Gasga VM, Venema K (2020) Changes in gut microbiota in predigested Hibiscus sabdariffa L calyces and agave (Agave tequilana weber) fructans assessed in a dynamic in vitro model (TIM-2) of the human colon. Food Res Int 132:1090336. https://doi.org/10.1016/j.foodres.2020.109036

Sergeev IN, Aljutaily T, Walton G, Huarte E (2020) Effects of synbiotic supplement on human gut microbiota, body composition and weight loss in obesity. Nutrients 12:222. https://doi.org/10.3390/nu12010222

Slavin J (2013) Fiber and prebiotics: mechanisms and health benefits. Nutrients 5:1417–1435. https://doi.org/10.3390/nu5041417

Souza CB, Roeselers G, Troost F, Jonkers D, Koenen ME, Venema K (2014) Prebiotic effects of cassava bagasse in TNO's in vitro model of the colon in lean versus obese microbiota. J Funct Foods, 11:210-220. https://doi.org/10.1016/j.jff.2014.09.019

Tabasco R, Paarup T, Janer C, Peláez C, Requena T (2007) Selective enumeration and identification of mixed cultures of Streptococcus thermophilus, Lactobacillus delbrueckii subsp. bulgaricus, L. acidophilus, L. paracasei subsp. paracasei and Bifidobacterium lactis in fermented milk. Int Dairy J 17:1107-1114. https://doi.org/10.1016/j.idairyj.2007.01.010

Torres-Fuentes C, Shellekens H, Dinan TG, Cryan JF (2017) The microbiota–gut–brain axis in obesity. Lancet Gastroenterol Hepatol 2(10):747–756. https://doi.org/10.1016/S2468-1253(17)30147-4

Van Lingen HJ, Edwards JE, Vaidya JD, Van Gastelen S, Saccenti E, Van Den Bogert B, Bannink A, Smidt H, Plugge CM, Dijkstra J (2017) Diurnal dynamics of gaseous and dissolved metabolites and microbiota composition in the bovine rumen. Front Microbiol 8:a425. https://doi.org/10.3389/fmicb.2017.00425

Vieira ADS, Battistini C, Bedani R, Saad SMI (2021) Acerola by-product may improve the in vitro gastrointestinal resistance of probiotic strains in a plant-based fermented beverage. LWT Food Sci Technol 141:110858. https://doi.org/10.1016/j.lwt.2021.110858

Vieira ADS, Bedani R, AlbuquerqueMAC, Biscola V, Saad SMI (2017) The impact of fruit and soybean by-products and amaranth on the growth of probiotic and starter microorganisms. Food Res Int 97:356–363. https://doi.org/10.1016/j.foodres.2017.04.026

Vieira ADS, Biscola V, Albuquerque MAC, Bedani R, Saad SMI (2019) Impact of acerola (Malpirghia emarginata DC) by-product and probiotic strains on technological and sensory features of fermented soy beverages. J Food Sci 84(12):3726–3734. https://doi.org/10.1111/1750-3841.14939

Villarreal MLM, Padilha M, Vieira ADS, Franco BDGM, Martinez RCR, Saad SMI (2013) Advantageous direct quantification of viable closely related probiotic in petit-suisse cheeses under in vitro gastrointestinal conditions by propidium monoazide-qPCR. Plos One. 8(12):e82102. https://doi.org/10.1371/journal.pone.0082102

Vinderola G, Burns P, Reinheimer J (2017) Probiotics in nondairy products. In: Mariotti F (ed) Vegetarian and plant-based diets in health and disease prevention. Academic Press, London, pp 809–835

Wan MLY, Ling KH, El-Nezami H, Wang MF (2019) Influence of functional food components on gut health. Crit Rev Food Sci Nutr 59(12):1927–1936. https://doi.org/10.1080/10408398.2018.1433629

Wang Y, Ames NP, Tun HM, Tosh SM, Jones PJ, Khafipour E (2016) High molecular weight barley β-glucan alters gut microbiota toward reduced cardiovascular disease risk. Front Microbiol 7:129. https://doi.org/10.3389/fmicb.2016.00129

Wu GD, Chen J, Hoffmann C, Bittinger K, Chen Y-Y, Keilbaugh SA, Bewtra M, Knights D, Walters WA, Knight R, Sinha R, Gilroy E, Gupta K, Baldassano R, Nessel L, Li H, Bushman FD, Lewis JD (2011) Linking long-term dietary patterns with gut microbial enterotypes. Science 334(6052):105–108. https://doi.org/10.1126/science.1208344

Zarrati M, Shidfar F, Nourijelyani K, Mofid V, Zadeh-Attar MJV, Bidad K, Najafi F, Gheflati Z, Chamari M, Salehi E (2013) Lactobacillus acidophilus La5, Bifidobacterium BB12, and Lactobacillus casei DN001 modulate gene expression of subset specific transcription factors and cytokines in peripheral blood mononuclear cells of obese and overweight people. Biofactors 39(6):633–643. https://doi.org/10.1002/biof.1128

Zhang C, Yu Z, Zhao J, Zhang H, Zhai Q, Chen W (2019) Colonization and probiotic function of Bifidobacterium longum. J Funct Foods 53:157–165. https://doi.org/10.1016/j.jff.2018.12.022
Acknowledgements
The authors wish to thank Chr. Hansen Holding A/S, Sítio do Bello Frutas Nativas, AgarGel®, and Labonathus Biotecnologia Internacional Ltda, for the supply of ingredients and microorganisms used in the fermented soy beverages; Kátia Silva (University of São Paulo); Rob van Dinter (Maastricht University); Ineke Heikamp-de Jong and Steven Aalvink (Wageningen University) for their technical assistance. The authors wish to thank Prof. Dr. Christian Hoffman and the PhD student Luciano Queiroz (University of São Paulo), for their help in the bioinformatics and the PCoA plots of the microbiome data obtained in this study. The study is part of the "Bioactive components from by-products of food processing used in a synbiotic approach for improving human health and well-being (BioSyn)" project.
Funding
This work was financially supported by the Fundação de Amparo à Pesquisa do Estado de São Paulo—FAPESP (Projects #2013/50506-8 awarded to SMIS (research resources); #2016/07940-7 and #2013/19346-4 awarded to ADSV; and #2013/26435-3 awarded to MP—fellowships), and Conselho Nacional de Desenvolvimento Científico e Tecnológico—CNPq (Project #306330/2016-4 awarded to SMIS and 246027/2012-6 awarded to CBS—fellowships). The study was also partly funded by the Maastricht University campus Venlo Centre for Healthy Eating & Food Innovation (HEFI) and made possible due to the support of the Dutch Province of Limburg with a grant awarded to KV.
Ethics declarations
Ethics approval
Collection of faecal donations from healthy volunteers does not require Ethical Committee approval in The Netherlands since they are considered non-invasive. Nonetheless, before donating their faecal samples, volunteers were informed before initiating the study, and their participation was accepted after they signed an informed consent.
Conflict of interest
The authors declared no competing interests.
Additional information
Publisher's note
Springer Nature remains neutral with regard to jurisdictional claims in published maps and institutional affiliations.
Supplementary information
Rights and permissions
Open Access This article is licensed under a Creative Commons Attribution 4.0 International License, which permits use, sharing, adaptation, distribution and reproduction in any medium or format, as long as you give appropriate credit to the original author(s) and the source, provide a link to the Creative Commons licence, and indicate if changes were made. The images or other third party material in this article are included in the article's Creative Commons licence, unless indicated otherwise in a credit line to the material. If material is not included in the article's Creative Commons licence and your intended use is not permitted by statutory regulation or exceeds the permitted use, you will need to obtain permission directly from the copyright holder. To view a copy of this licence, visit http://creativecommons.org/licenses/by/4.0/.
About this article
Cite this article
Vieira, A.D.S., de Souza, C.B., Padilha, M. et al. Impact of a fermented soy beverage supplemented with acerola by-product on the gut microbiota from lean and obese subjects using an in vitro model of the human colon. Appl Microbiol Biotechnol 105, 3771–3785 (2021). https://doi.org/10.1007/s00253-021-11252-8
Received:

Revised:

Accepted:

Published:

Issue Date:

DOI: https://doi.org/10.1007/s00253-021-11252-8
Keywords
Probiotic

Fruit by-product

Gut microbiota

Obesity

In vitro model