Abstract
Vitamin D has anti-inflammatory properties, and deficiency is prevalent in children. There is a paucity of data regarding vitamin D status and its correlation with low-grade inflammation and vasculature. We prospectively enrolled 25 children, 9–11 years old (13 male); 21 obese. Eight atherosclerosis-promoting risk factors were scored as categorical variables with the following thresholds defining abnormality: body mass index Z score ≥1.5; systolic blood pressure ≥95th percentile (for age, sex, and height); triglyceride ≥100 mg/dL; low-density lipoprotein cholesterol (LDL-C) ≥110 mg/dL; high-density lipoprotein cholesterol ≤45 mg/dL; hemoglobin A1C (HBA1C) ≥5.5; 25-hydroxyvitamin D [25(OH) D] ≤30 ng/mL, and tobacco smoke exposure. High-sensitivity C-reactive protein (hsCRP) was measured to assess low-grade inflammation and classified as low- (<1 mg/L), average- (1–3 mg/L), and high-risk (>3 to <10 mg/L) groups. The proportion of children within each hsCRP group who had above threshold risk factors was calculated. Carotid artery ultrasound was performed to measure carotid artery intima-media  thickness (CIMT). Median (range) for 25(OH) D was 24 (17–45) ng/mL. Eighteen were either 25 (OH) D deficient (<20 ng/mL) or insufficient (20–30 ng/mL), and seven were sufficient (>30 ng/mL). hsCRP was 1.7 (0.2–9.1) mg/L, with 11 being <1.0 mg/L, 8 between 1.0–3.0 and 6 > 3.0 to < 10.0 mg/L. Risk factor score was 3.9 ± 1.7 out of eight. 25(OH) D levels did not correlate with hsCRP or CIMT. While vitamin D deficiency, inflammation, and risk factors coexist at a very young age, causative mechanisms remain unclear.
Access options
Buy single article
Instant access to the full article PDF.
USD 39.95
Price excludes VAT (USA)
Tax calculation will be finalised during checkout.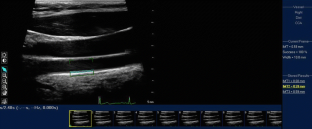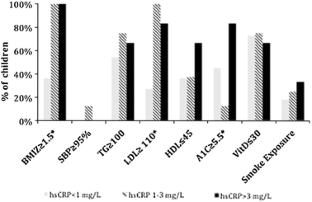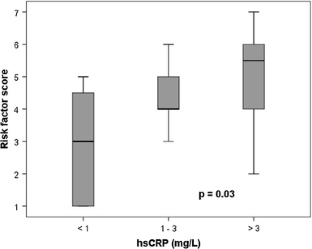 References
Arnson Y, Itzhaky D, Mosseri M et al (2013) Vitamin D inflammatory cytokines and coronary events: a comprehensive review. Clinic Rev Allergy Immunol 45:238–247

Berenson G, Srinivasan S, Bao W et al (1998) Association between multiple cardiovascular risk factors and atherosclerosis in children and young adults: the Bogalusa Heart study. New Engl J Med 338:1650–1656

Cheraghi N, Hongying D, Raghuveer G (2012) Vitamin D deficiency is associated with atherosclerosis promoting risk factor clustering but not vascular damage in children. Med Sci Monit 18:CR687–CR692

Davis P, Dawson J, Riley W, Lauer M (2001) Carotid intimal-medial thickness is related to cardiovascular risk factors measured from childhood through middle age. The Muscatine study. Circulation 104:2815–2819

Doyon A, Kracht D, Bayazit A et al (2013) Carotid artery intima-media thickness in children and adolescents: reference values and role of body dimensions. Hypertension 63:550–556

Freedman DS, Dietz WH, Tang R et al (2004) The relation of obesity throughout life to carotid intima-media thickness in adulthood: the Bogalusa Heart study. Int J Obes Relat Metab Disord 28:159–166

Freedman D, Patel D, Srinivasan S et al (2008) The contribution of childhood obesity to adult carotid intima-media thickness: the Bogalusa Heart study. Int J Obes 32:749–756

Garg U, Munar A, Frazee C, Scott D (2012) A simple, rapid atmospheric pressure chemical ionization liquid chromatography tandem mass spectrometry method for the determination of 25-hydroxyvitamin D2 and D3. J of Clin Lab Anal 26:349–357

Groner J, Joshi M, Bauer J (2006) Pediatric precursors of adult cardiovascular disease: noninvasive assessment of early vascular changes in children and adolescents. Pediatrics 118:1683–1691

Jarvisalo M, Harmoinen A, Hakanen M et al (2002) Elevated serum C-reactive protein levels and early arterial changes in healthy children. Arterioscler Thromb Vasc Biol 22:1323–1328

Juonala M, Jarvisalo M, Maki-Torkko N et al (2005) Risk factors identified in childhood and decreased carotid artery elasticity in adulthood: the cardiovascular risk in young finns study. Circulation 112:1486–1493

Kapiotis S, Jolzer G, Schaller G et al (2006) A proinfammatory state is detectable in obese children and is accompanied by functional and morphological vascular changes. Arterioscler Thromb Vasc Biol. 26:2541–2546

Kumar J, Muntner P, Kaskel F et al (2009) Prevalence and associations of 25-Hydroxyvitamin D deficiency in US children: NHANES 2001-2004. Pediatrics 124:e362–e370

Le J, Zhang D, Menees S, Chen J, Raghuveer G (2010) "Vascular age" is advanced in children with atherosclerosis-promoting risk factors. Circ Cardiovasc Imaging 3:8–14

Mao P, Zhang C, Tang L (2013) Effect of calcium or vitamin D supplementation on vascular outcomes: a meta-analysis of randomized controlled trials. Int J Cardiol 169:106–111

McGill H Jr, McMahan C, Herderick E et al (2002) Obesity accelerates the progression of coronary atherosclerosis in young men. Circulation 105:2712–2718

Menees S, Zhang D, Le J, Chen J, Raghuveer G (2010) Variations in carotid artery intima-media thickness during the cardiac cycle in children. J Am Soc Echocardiogr 23:58–63

National heart, lung, and blood institute. lipids and lipoproteins. In expert panel on integrated guidelines for cardiovascular health and risk reduction in children and adolescents. http://www.nhlbi.nih.gov/files/docs/guidelines/peds_guidelines_full.pdf. Accessed 24 Jan 2014

Osiniri I, Sitjar C, Soriano-Rodriguez P et al (2002) Carotid intima-media thickness at 7 years of age: relationship to C-reactive protein rather than adiposity. J Pediatr 160:276–280

Pacifico L, Anania C, Osborn J et al (2011) Low 25(OH) D3 levels are associated with total adiposity, metabolic syndrome, and hypertension in Caucasian children and adolescents. EurJ Endocrinol 165:603–611

Pathological Determinants of Atherosclerosis in Youth (PDAY) Research Group (1990) Relationship of atherosclerosis in young men to serum lipoprotein cholesterol concentrations and smoking: a preliminary report from the pathobiological determinants of atherosclerosis in youth (pday) research group. J Am Med Assoc 264:3018–3024

Pearson T, Mensah G, Alexander R et al (2003) Markers of inflammation and cardiovascular disease: application to clinical and public health practice: a statement for healthcare professionals from the centers for disease control and prevention and the American heart association. Circulation 107:499–511

Peterson C, Balechia A (2014) Vitamin D deficiency and obesity: a tale of two epidemics. Mo Med 111:49–53

Prietl B, Treiber G, Pieber TR, Amrein K (2013) Vitamin D and immune function. Nutrients 5:2502–2521

Reinehr T, Kiess W, de Sousa G, Stoffel-Wagner B, Wunsch R (2006) Intima media thickness in childhood obesity: relations to inflammatory marker, glucose metabolism, and blood pressure. Metabolism 55:113–118

Ross A, Taylor C, Yaktine L, Del Valle H (2010) Committee to review dietary reference intakes for vitamin d and calcium, institute of medicine. Dietary reference intakes for calcium and vitamin D. National Academies Press. http://www.ncbi.nlm.nih.gov/books/NBK56070. Accessed 12 Oct 2014

Thadhani R, Appelbaum E, Pritchett Y et al (2012) Vitamin D therapy and cardiac structure and function in patients with chronic kidney disease: the PRIMO randomized controlled trial. J Am Med Assoc 307:674–684

Theodoratou E, Tzoulaki I, Zgaga L, Ioannidis J (2014) Vitamin D and multiple health outcomes: umbrella review of systematic reviews and meta-analyses of observational studies and randomised trials. BMJ 348:g2035

Wagner C, Greer F, The Section on Breastfeeding and Committee on Nutrition (2008) Prevention of rickets and vitamin D deficiency in infants, children, and adolescents. Pediatrics 122:142–152

Wang L, Song Y, Manson J et al (2012) Circulating 25-hydroxy-vitamin D and risk of cardiovascular disease: a meta-analysis of prospective studies. Circ Cardiovasc Qual Outcomes 5:819–829

Woo K, Chook P, Yu C et al (2004) Effects of diet and exercise on obesity-related vascular dysfunction in children. Circulation 109:1981–1986

Worstman J, Matsuoka L, Chen T et al (2000) Decreased bioavailability of vitamin D in obesity. Am J Clinic Nutr 72:690–693
Acknowledgments
The study was funded by the Sarah Morrison Medical Student Research Fund awarded by the University of Missouri-Kansas City School of Medicine.
Conflict of interest
The authors declare that they have no conflict of interest.
About this article
Cite this article
Singh, J., Merrill, E.D., Sandesara, P.B. et al. Vitamin D, Low-Grade Inflammation and Cardiovascular Risk in Young Children: A Pilot Study. Pediatr Cardiol 36, 1338–1343 (2015). https://doi.org/10.1007/s00246-015-1162-0
Received:

Accepted:

Published:

Issue Date:

DOI: https://doi.org/10.1007/s00246-015-1162-0
Keywords
Pediatrics

Obesity

Vitamin D

hsCRP

CIMT

Risk factors