Abstract
The risk of necrotizing enterocolitis (NEC) in association with congenital heart disease is highest in patients with hypoplastic left heart syndrome (HLHS). Within the HLHS population, however, risk factors for NEC remain debated. We hypothesized that some infants with HLHS have vascular changes that contribute to gut hypoperfusion independent of diastolic runoff and low cardiac output. We analyzed the abdominal aorta pulsatility index and right-ventricular function on routine preoperative and postoperative echocardiograms for all infants who underwent stage I palliation for HLHS from January 2007 to January 2012. The echocardiography findings and clinical course were compared between those with and those without an episode of NEC. Of the 61 cases reviewed, 11 (18 %) developed NEC during a mean follow-up of 3.8 ± 1.3 years. Those with NEC had a lower abdominal aorta pulsatility index compared with those without NEC both on stage I preoperative (3.38 ± 0.15 vs. 3.89 ± 0.09, p < 0.05) and postoperative echocardiograms (2.21 ± 0.28 vs. 3.05 ± 0.78, p = 0.01) despite similar ventricular function and operative risk. Abdominal aorta Doppler pulsations are lower in patients with HLHS whose clinical course is complicated by NEC. This finding suggests that the systemic vasculature in a subset of neonates with HLHS may be inherently abnormal. Further investigation is warranted to determine if this is secondary to structural changes in the mesenteric and/or systemic vasculature.
Access options
Buy single article
Instant access to the full article PDF.
USD 39.95
Price excludes VAT (USA)
Tax calculation will be finalised during checkout.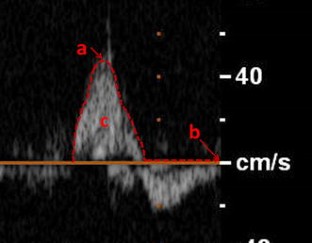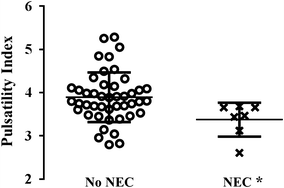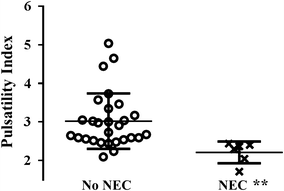 References
Akira M, Yoshiyuki S (2006) Placental circulation, fetal growth, and stiffness of the abdominal aorta in newborn infants. J Pediatr 148:49–53

Cozzi C, Stines J, Luce WA, Hayes J, Cheatham JP, Galantowicz M, Cua CL (2013) Diastolic flow parameters are not sensitive in predicting necrotizing enterocolitis in patients undergoing hybrid procedure. Congenit Heart Dis 8:234–239

Davis EF, Lazdam M, Lewandowski AJ, Worton SA, Kelly B, Kenworthy Y et al (2012) Cardiovascular risk factors in children and young adults born to preeclamptic pregnancies: a systematic review. Pediatrics 129:e1552–e1561

del Castillo SL, Moromisato DY, Dorey F, Ludwick J, Starnes VA, Wells WJ et al (2006) Mesenteric blood flow velocities in the newborn with single-ventricle physiology: modified Blalock-Taussig shunt versus right ventricle-pulmonary artery conduit. Pediatr Crit Care Med 7:132–137

Downard CD, Grant SN, Matheson PJ, Guillaume AW, Debski R, Fallat ME et al (2011) Altered intestinal microcirculation is the critical event in the development of necrotizing enterocolitis. J Pediatr Surg 46:1023–1028

Frommelt PC, Gerstenberger E, Baffa J, Border WL, Bradley TJ, Colan S et al (2013) Doppler flow patterns in the right ventricle-to-pulmonary artery shunt and neo-aorta in infants with single right ventricle anomalies: Impact on outcome after initial staged palliations. J Am Soc Echocardiogr 26:521–529

Golbus JR, Wojcik BM, Charpie JR, Hirsch JC (2011) Feeding complications in hypoplastic left heart syndrome after the Norwood procedure: a systematic review of the literature. Pediatr Cardiol 32:539–552

Harris PA, Taylor R, Thielke R, Payne J, Gonzalez N, Conde JG (2009) Research electronic data capture (REDCap)—a metadata-driven methodology and workflow process for providing translational research informatics support. J Biomed Inform 42:377–381

Iannucci GJ, Oster ME, Mahle WT (2013) Necrotising enterocolitis in infants with congenital heart disease: the role of enteral feeds. Cardiol Young 23:553–559

Jeffries HE, Wells WJ, Starnes VA, Wetzel RC, Moromisato DY (2006) Gastrointestinal morbidity after Norwood palliation for hypoplastic left heart syndrome. Ann Thorac Surg 81:982–987

Johnson JN, Ansong AK, Li JS, Xu M, Gorentz J, Hehir DA et al (2011) Celiac artery flow pattern in infants with single right ventricle following the Norwood procedure with a modified Blalock-Taussig or right ventricle to pulmonary artery shunt. Pediatr Cardiol 32:479–486

McElhinney DB, Hedrick HL, Bush DM, Pereira GR, Stafford PW, Gaynor JW et al (2000) Necrotizing enterocolitis in neonates with congenital heart disease: risk factors and outcomes. Pediatrics 106:1080–1087

McElhinney DB, Benson CB, Brown DW, Wilkins-Haug LE, Marshall AC, Zaccagnini L et al (2010) Cerebral blood flow characteristics and biometry in fetuses undergoing prenatal intervention for aortic stenosis with evolving hypoplastic left heart syndrome. Ultrasound Med Biol 36:29–37

Neu J (1996) Necrotizing enterocolitis: the search for a unifying pathogenic theory leading to prevention. Pediatr Clin North Am 43:409–432

Olsen IE, Groveman SA, Lawson ML, Clark RH, Zemel BS (2010) New intrauterine growth curves based on United States data. Pediatrics 125:e214–e224

Payne JA, Alexander BT, Khalil RA (2003) Reduced endothelial vascular relaxation in growth-restricted offspring of pregnant rats with reduced uterine perfusion. Hypertension 42:768–774

Silvilairat S, Cetta F, Biliciler-Denktas G, Ammash NM, Cabalka AK, Hagler DJ et al (2008) Abdominal aortic pulsed wave Doppler patterns reliably reflect clinical severity in patients with coarctation of the aorta. Congenit Heart Dis 3:422–430

Szwast A, Tian Z, McCann M, Soffer D, Rychik J (2012) Comparative analysis of cerebrovascular resistance in fetuses with single-ventricle congenital heart disease. Ultrasound Obstet Gynecol 40:62–67

Verburg BO, Jaddoe VW, Wladimiroff JW, Hofman A, Witteman JC, Steegers EA (2008) Fetal hemodynamic adaptive changes related to intrauterine growth: the Generation R Study. Circulation 117:649–659

Yamamoto Y, Khoo NS, Brooks PA, Savard W, Hirose A, Hornberger LK (2013) Severe left heart obstruction with retrograde arch flow importantly influences fetal cerebral and placental blood flow. Ultrasound Obstet Gynecol. doi:10.1002/uog.12448

Zani A, Eaton S, Leon FF, Malerba A, Hall NJ, De Coppi P et al (2008) Captopril reduces the severity of bowel damage in a neonatal rat model of necrotizing enterocolitis. J Pediatr Surg 43:308–314
Acknowledgments
The authors thank research coordinators Mason Heywood and Anna Jolley for their assistance with data collection and organization. Study data were collected and managed using REDCap [8] electronic data capture tools hosted at University of Utah Center for Clinical and Transitional Sciences. The Center is supported by National Institutes of Health (NIH) funding (Grant No. CTSA 5UL1RR025764-02). Dr. Miller is supported by NIH training grant NHLBI T32 5T32HL007576-27.
About this article
Cite this article
Miller, T.A., Minich, L.L., Lambert, L.M. et al. Abnormal Abdominal Aorta Hemodynamics Are Associated With Necrotizing Enterocolitis in Infants With Hypoplastic Left Heart Syndrome. Pediatr Cardiol 35, 616–621 (2014). https://doi.org/10.1007/s00246-013-0828-8
Received:

Accepted:

Published:

Issue Date:

DOI: https://doi.org/10.1007/s00246-013-0828-8
Keywords
Congenital heart disease

Hypoplastic left heart syndrome

Necrotizing enterocolitis