Abstract
We report hemodynamic findings in two patients with pulmonary atresia and intact ventricular septum (PAIVS) after "one-and-a-half ventricle repair" and placement of a bidirectional Glenn shunt using four-dimensional (4D) flow magnetic resonance imaging. Quantification of flow and analysis of flow patterns revealed the hemodynamic "battle" between the right ventricle (RV) and the Glenn shunt. Moreover, with a novel approach we calculated during Glenn anastomosis the flow distribution from the superior vena cava (SVC) to the pulmonary arteries. Our results showed a highly asymmetric flow distribution, with most of the flow from the SVC toward the RV and not to the lungs. The evidence provided by 4D flow demonstrates poor efficiency of this system and suggests that both patients might benefit from adding an artificial pulmonary valve to avoid right heart failure.
This is a preview of subscription content, log in to check access.
Access options
Buy single article
Instant access to the full article PDF.
US$ 39.95
Price includes VAT for USA
Subscribe to journal
Immediate online access to all issues from 2019. Subscription will auto renew annually.
US$ 99
This is the net price. Taxes to be calculated in checkout.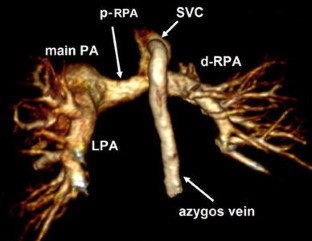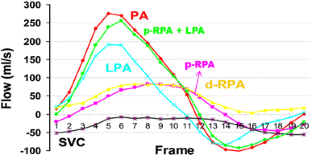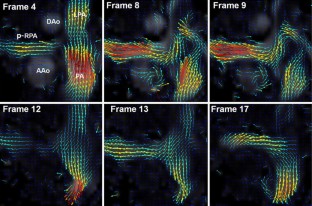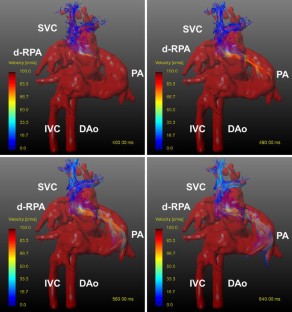 References
1.

Bull C, Kostelka M, Sorensen K, de Leval M (1994) Outcome measures for the neonatal management of pulmonary atresia with intact ventricular septum. J Thorac Cardiovasc Surg 107:359–366

2.

Nordmeyer S, Riesenkampff E, Crelier G, Khasheei A, Schnackenburg B, Berger F et al (2010) Flow-sensitive four-dimensional cine magnetic resonance imaging for offline blood flow quantification in multiple vessels: a validation study. J Magn Reson Imaging 32:677–683

3.

Romeih S, Groenink M, Roest AA, van der Plas MN, Hazekamp MG, Mulder BJ, Blom NA (2012) Exercise capacity and cardiac reserve in children and adolescents with corrected pulmonary atresia with intact ventricular septum after univentricular palliation and biventricular repair. J Thorac Cardiovasc Surg 143(3):569–575

4.

Sano S, Ishino K, Kawada M, Fujisawa E, Kamada M, Ohtsuki S (2000) Staged biventricular repair of pulmonary atresia or stenosis with intact ventricular septum. Ann Thorac Surg 70:1501–1506

5.

Sarikouch S, Peters B, Gutberlet M, Leismann B, Kelter-Kloepping A, Koerperich H et al (2009) Sex-specific pediatric percentiles for ventricular size and mass as reference values for cardiac MRI: assessment by steady-state free-precession and phase-contrast MRI flow. Circ Cardiovasc Imaging 3:65–76

6.

Stellin G, Vida VL, Milanesi O, Rubino M, Padalino MA, Secchieri S et al (2002) Surgical treatment of complex cardiac anomalies: the "one and one half ventricle repair". Eur J Cardiothorac Surg 22:1043–1049

7.

Uribe S, Beerbaum P, Sorensen TS, Rasmusson A, Razavi R, Schaeffter T (2009) Four-dimensional (4D) flow of the whole heart and great vessels using real-time respiratory self-gating. Magn Reson Med 62:984–992

8.

Valverde I, Simpson J, Schaeffter T, Beerbaum P (2010) 4D phase-contrast flow cardiovascular magnetic resonance: comprehensive quantification and visualization of flow dynamics in atrial septal defect and partial anomalous pulmonary venous return. Pediatr Cardiol 31:1244–1248
Acknowledgments
Funding Sources Fondecyt 11100427, ACT 079, Vicerrectoría de Investigación, Pontificia Universidad Católica de Chile.
Conflict of interest
None.
Electronic supplementary material
Below is the link to the electronic supplementary material.
Video 1. Particles emitted from the confluent RPA and LPA demonstrate strong retrograde flow in the pulmonary circulation. (MPG 5672 kb)
Video 2. Particles emitted from the SVC demonstrate that most of the SVC flow is mainly directed to the p-RPA and the main PA. (MPG 5138 kb)
About this article
Cite this article
Uribe, S., Bächler, P., Valverde, I. et al. Hemodynamic Assessment in Patients with One-and-a-Half Ventricle Repair Revealed by Four-Dimensional Flow Magnetic Resonance Imaging. Pediatr Cardiol 34, 447–451 (2013). https://doi.org/10.1007/s00246-012-0288-6
Received:

Accepted:

Published:

Issue Date:
Keywords
Four-dimensional flow

Magnetic resonance imaging

Pulmonary atresia

Congenital heart defects

Bidirectional Glenn shunt