Abstract
As a selective inhibitor of mitochondrial fission protein dynamin-related protein-1 (Drp1), mitochondrial division inhibitor 1 (mdivi-1) can cross the blood–brain barrier (BBB) and exert neuroprotection. However, it remains unclear whether mdivi-1 can attenuate intracerebral hemorrhage (ICH)-induced secondary brain injury. This study was undertaken to characterize the roles of mdivi-1 in short-term and long-term behavioral outcomes, along with synaptic plasticity changes in mice after ICH. The results indicated mdivi-1 reversed Drp1 translocation and the morphologic changes of mitochondria, as well as ameliorated short-term neurobehavioral deficits, the BBB disruption and brain edema remarkably. In addition, mdivi-1 could rescue ICH-induced motor and memory dysfunctions. Mdivi-1 could also prevent ICH-induced reductions in synaptic proteins (synapsin I, PSD95) and phosphorylated cAMP-response element binding (p-CREB). In vitro, mdivi-1 inhibited hemin-induced hippocampal neuron death and improved neurite outgrowth. In conclusion, we found that mdivi-1 can alleviate short-term and long-term neurological deficits, synaptic dysfunction. These findings demonstrate that mdivi-1 may be beneficial in the treatment of secondary brain injury, synaptic dysfunction and neurological outcomes caused by ICH.
Access options
Buy single article
Instant access to the full article PDF.
US$ 39.95
Tax calculation will be finalised during checkout.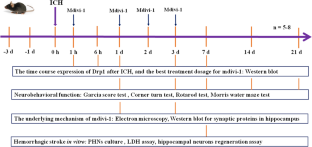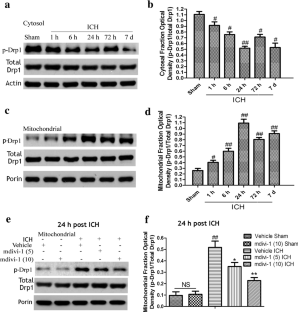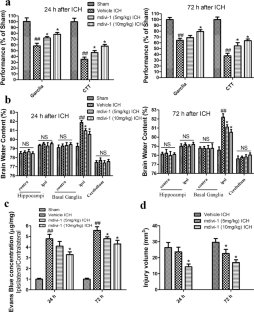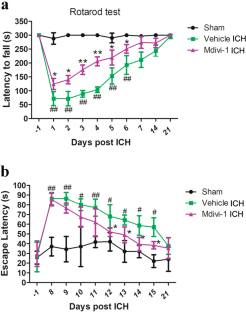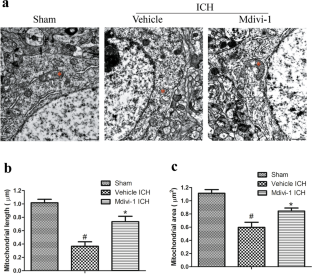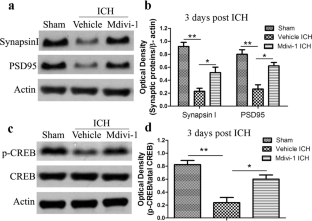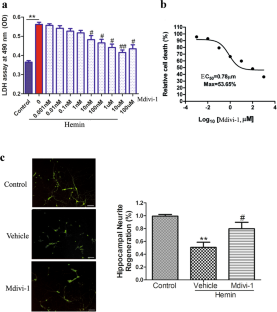 References
Benjamin EJ, Blaha MJ, Chiuve SE et al (2017) Heart disease and stroke statistics-2017 update: a report from the American heart association. Circulation 135:e146–e603

Bobinger T, Burkardt P, Huttner HB et al (2018) Programmed cell death after intracerebral hemorrhage. Curr Neuropharmacol 16:1267–1281

Cassidy-Stone A, Chipuk JE, Ingerman E et al (2008) Chemical inhibition of the mitochondrial division dynamin reveals its role in Bax/Bak-dependent mitochondrial outer membrane permeabilization. Dev Cell 14:193–204

Clark W, Gunion-Rinker L, Lessov N (1998) Citicoline treatment for experimental intracerebral hemorrhage in mice. Stroke 29:2136–2140

Cui M, Ding H, Chen F (2016) Mdivi-1 protects against ischemic brain injury via elevating extracellular adenosine in a cAMP/CREB-CD39-dependent manner. Mol Neurobiol 53:240–253

DuBoff B, Gotz J, Feany MB (2012) Tau promotes neurodegeneration via DRP1 mislocalization in vivo. Neuron 75:618–632

Featherby T, van den Buuse M, Lubman DI et al (2008) Persistent downregulation of hippocampal CREB mRNA parallels a Y-maze deficit in adolescent rats following semi-chronic amphetamine administration. Br J Pharmacol 154:417–428

Gao Y, Ma L, Luo CL, Wang T et al (2017) IL-33 exerts neuroprotective effect in mice intracerebral hemorrhage model through suppressing inflammation/apoptotic/autophagic pathway. Mol Neurobiol 54:3879–3892

Garcia JH, Wagner S, Liu KF (1995) Neurological deficit and extent of neuronal necrosis attributable to middle cerebral artery occlusion in rats. Stat Valid Stroke 26:627–634

Gebel JM, Broderick JP (2000) Intracerebral hemorrhage. Neurol Clin 18:419–438

Hua Y, Schallert T, Keep RF et al (2002) Behavioral tests after intracerebral hemorrhage in the rat. Stroke 33:2478–2484

Hwang BY, Appelboom G, Ayer A et al (2011) Advances in neuroprotective strategies: potential therapies for intracerebral hemorrhage. Cerebrovasc Dis 31:211–222

Karuppagounder SS, Alin L, Chen Y et al (2018) N-acetylcysteine targets 5 lipoxygenase-derived, toxic lipids and can synergize with prostaglandin E2 to inhibit ferroptosis and improve outcomes following hemorrhagic stroke in mice. Ann Neurol 84:854–872

Kassner A, Merali Z (2015) Assessment of blood–brain barrier disruption in stroke. Stroke 46:3310–3315

Keith D, El-Husseini A (2008) Excitation control: balancing PSD-95 function at the synapse. Front Mol Neurosci 1:4

Kim JE, Kang TC (2017) p47Phox/CDK5/DRP1-mediated mitochondrial fission evokes PV cell degeneration in the rat dentate gyrus following status epilepticus. Front Cell Neurosci 11:267

Lekic T, Hartman R, Rojas H et al (2010) Protective effect of melatonin upon neuropathology, striatal function, and memory ability after intracerebral hemorrhage in rats. J Neurotrauma 27:627–637

Li Q, Wu X, Yang Y et al (2019) Tachykinin NK1 receptor antagonist L-733,060 and substance P deletion exert neuroprotection through inhibiting oxidative stress and cell death after traumatic brain injury in mice. Int J Biochem Cell Biol 107:154–165

Luo CL, Li BX, Li QQ et al (2011) Autophagy is involved in traumatic brain injury-induced cell death and contributes to functional outcome deficits in mice. Neuroscience 184:54–63

Luo CL, Chen XP, Li LL et al (2013) Poloxamer 188 attenuates in vitro traumatic brain injury-induced mitochondrial and lysosomal membrane permeabilization damage in cultured primary neurons. J Neurotrauma 30:597–607

Maletic-Savatic M, Malinow R, Svoboda K et al (1999) Rapid dendritic morphogenesis in CA1 hippocampal dendrites induced by synaptic activity. Science 283:1923–1927

Niewalda T, Michels B, Jungnickel R et al (2015) Synapsin determines memory strength after punishment- and relief-learning. J Neurosci 35:7487–7502. https://doi.org/10.1523/JNEUROSCI.4454-14.2015

Reddy PH, Reddy TP, Manczak M et al (2011) Dynamin-related protein 1 and mitochondrial fragmentation in neurodegenerative diseases. Brain Res Rev 67:103–118

Shen X, Ma L, Dong W et al (2016) Autophagy regulates intracerebral hemorrhage induced neural damage via apoptosis and NF-κB pathway. Neurochem Int 96:100–112

Sherchan P, Lekic T, Suzuki H et al (2011) Minocycline improves functional outcomes, memory deficits, and histopathology after endovascular perforation-induced subarachnoid hemorrhage in rats. J Neurotrauma 28:2503–2512

Silva AJ, Kogan JH, Frankland PW et al (1998) CREB and memory. Annu Rev Neurosci 21:127–148

Sudhof TC (2004) The synaptic vesicle cycle. Annu Rev Neurosci 27:509–547

Urday S, Kimberly WT, Beslow LA et al (2015) Targeting secondary injury in intracerebral haemorrhage–perihaematomal oedema. Nat Rev Neurol 11:111–122

Wang T, Chen X, Wang Z et al (2015) Poloxamer-188 can attenuate blood-brain barrier damage to exert neuroprotective effect in mice intracerebral hemorrhage model. J Mol Neurosci 55:240–250

Wang Z, Chen Z, Yang J et al (2018) Treatment of secondary brain injury by perturbing postsynaptic density protein-95-NMDA receptor interaction after intracerebral hemorrhage in rats. J Cereb Blood Flow Metab 39:1588–1601

Wu Q, Xia SX, Li QQ et al (2016) Mitochondrial division inhibitor1 (Mdivi-1) offers neuroprotection through diminishing cell death and improving functional outcome in a mouse model of traumatic brain injury. Brain Res 1630:134–143

Wu Q, Gao C, Wang H et al (2018) Mdivi-1 alleviates blood–brain barrier disruption and cell death in experimental traumatic brain injury by mitigating autophagy dysfunction and mitophagy activation. Int J Biochem Cell Biol 94:44–55

Wu X, Luo J, Liu H et al (2020) Recombinant adiponectin peptide ameliorates brain injury following intracerebral hemorrhage by suppressing astrocyte-derived inflammation via the inhibition of Drp1-mediated mitochondrial fission. Transl Stroke Res 11:924-939

Yin JC, Tully T (1996) CREB and the formation of long-term memory. Curr Opin Neurobiol 6:264–268

Zai L, Ferrari C, Dice C et al (2011) Inosine augments the effects of a Nogo receptor blocker and of environmental enrichment to restore skilled forelimb use after stroke. J Neurosci 31:5977–5988

Zuo W, Yang PF, Chen J et al (2016) Drp-1, a potential therapeutic target for brain ischaemic stroke. Br J Pharmacol 173:1665–1677
Funding
This work was supported by the National Natural Science Foundation of China (81971163, 81400999), Suzhou Municipal Science and Technology Bureau (SYS2019027), and a Project Funded by the Priority Academic Program Development of Jiangsu Higher Education Institutions (PAPD).
Ethics declarations
Conflict of interest
The authors have no conflicts of interest regarding the publication of this article.
Ethics approval
This study has been approved by the Ethics Committee of Soochow University. All procedures performed in studies involving animals were in accordance with the ethical standards of all applicable laws, regulations, and standards in China and prevailing standards in the European Union.
Consent for publication
All authors read and approved the final manuscript.
Additional information
Publisher's Note
Springer Nature remains neutral with regard to jurisdictional claims in published maps and institutional affiliations.
Communicated by Sreedharan Sajikumar.
About this article
Cite this article
Zhang, Y., Rui, T., Luo, C. et al. Mdivi-1 alleviates brain damage and synaptic dysfunction after intracerebral hemorrhage in mice. Exp Brain Res 239, 1581–1593 (2021). https://doi.org/10.1007/s00221-021-06089-6
Received:

Accepted:

Published:

Issue Date:
Keywords
Mdivi-1

Dynamin-related protein-1 (Drp1)

Intracerebral hemorrhage (ICH)

Cognitive impairment

Synaptic dysfunction