Abstract
Ankle dorsiflexion force control is essential for performing daily living activities. However, the involvement of the corticospinal pathway during different ankle dorsiflexion tasks is not well understood. The objective of this study was to compare the corticospinal excitability during: (1) unilateral and bilateral; and (2) ballistic and tonic ankle dorsiflexion force control. Fifteen healthy young adults (age: 25.2 ± 2.8 years) participated in this study. Participants performed unilateral and bilateral isometric ankle dorsiflexion force-control tasks, which required matching a visual target (10% of maximal effort) as quickly and precisely as possible during ballistic and tonic contractions. Transcranial magnetic stimulation (TMS) was applied over the primary motor cortex to elicit motor-evoked potentials (MEPs) from the right tibialis anterior during: (i) pre-contraction phase; (ii) ascending contraction phase; (iii) plateau phase (tonic tasks only); and (iv) resting phase (control). Peak-to-peak MEP amplitude was computed to compare the corticospinal excitability during each experimental condition. MEP amplitudes significantly increased during unilateral contraction compared to bilateral contraction in the pre-contraction phase. There were no significant differences in the MEP amplitudes between the ballistic tasks and tonic tasks in any parts of the contraction phase. Although different strategies are required during ballistic and tonic contractions, the extent of corticospinal involvement appears to be similar. This could be because both tasks enhance the preparation for precise force control. Furthermore, our results suggest that unilateral muscle contractions may largely facilitate the central nervous system during movement preparation for unilateral force control compared to bilateral muscle contractions.
Access options
Buy single article
Instant access to the full article PDF.
US$ 39.95
Tax calculation will be finalised during checkout.
Subscribe to journal
Immediate online access to all issues from 2019. Subscription will auto renew annually.
US$ 119
Tax calculation will be finalised during checkout.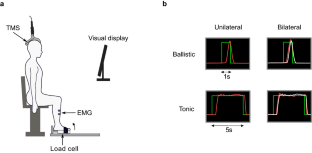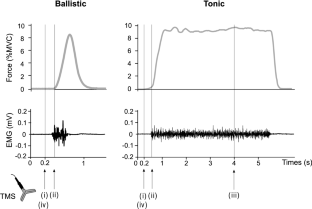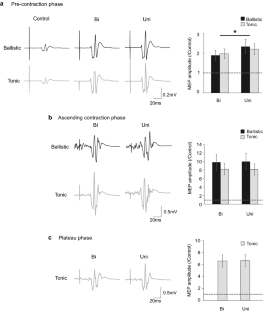 Acknowledgements
This project was supported by the Japan Society for the Promotion of Science (JSPS) Grants-in-Aid for Scientific Research (KAKENHI) [17F17733, 18H04082 and 18KK0272] and CREST, Japan Science and Technology Agency. We thank Dr. Hirofumi Sekiguchi and Dr. Tsuyoshi Nakajima and for providing help during the interpretations.
Ethics declarations
Conflict of interest
The authors declare that they have no conflict of interest.
Additional information
Publisher's Note
Springer Nature remains neutral with regard to jurisdictional claims in published maps and institutional affiliations.
Communicated by John C. Rothwell.
About this article
Cite this article
Yamaguchi, A., Sasaki, A., Masugi, Y. et al. Changes in corticospinal excitability during bilateral and unilateral lower-limb force control tasks. Exp Brain Res 238, 1977–1987 (2020). https://doi.org/10.1007/s00221-020-05857-0
Received:

Accepted:

Published:

Issue Date:
Keywords
Ankle dorsiflexion

Corticospinal excitability

Transcranial magnetic stimulation (TMS)

Force control

Unilateral

Bilateral