Dietary alkylresorcinols and cancer prevention: a systematic review
Open Access
Review Article
Abstract
The potential role of alkylresorcinol compound from whole grains for prevention and inhibition of human cancer cell lines has been reported in observational and in vitro studies. The objective of this study was to present an updated review on the association between alkylresorcinols and cancer risk and aspects of their bioactivity with implications for carcinogenesis. Relevant studies were identified by searching PubMed, Scopus, ProQuest, EBSCOhost, SpringerLink, ArticleFirst, Taylor & Francis, Wiley Online, and ScienceDirect electronic databases using these search terms and key words: alkylresorcinols, cancer, carcinoma, risk. Furthermore, references from retrieved articles were also reviewed. Four observational and 10 in vitro studies were included in the analysis of natural or synthetic alkylresorcinols for anticancer activities. Two prospective studies reported a 52–66% risk reduction of distal colon cancer at nanomolar alkylresorcinols concentration in plasma; the remaining studies found no reduction of endometrial cancer risk and an approximate 40% increase in prostate cancer risk. In vitro studies presented inhibition of human colon, breast, lung, central nervous system, adenocarcinoma, hepatocarcinoma, cervix squamous carcinoma, and ovarian cancer cell lines, at micromolar alkylresorcinols concentration. Evidence from prospective studies confirmed significant inverse associations between whole grains intake and distal colon cancer risk. Model studies suggest a high cytotoxicity of alkylresorcinols toward cancer cells. These findings maintain that alkylresorcinols as components of whole grains are likely to find application in cancer prevention; however, the need for intervention studies to confirm their preventive action is warranted.
Keywords
Alkylresorcinols 
Bioactivity 
Cancer 
Prevention 
Cytotoxicity 
Abbreviations
ARs

Alkylresorcinols

ROS

Reactive oxygen species

IGF

Insulin growth factor

LDL

Low-density lipoprotein

ROO·

Peroxyl radical

FFQ

Food frequency questionnaire

IC50

Inhibitory concentration–inhibit cellular proliferation by 50%

PSA

Prostate specific antigen

OR

Odds ratio

IRR

Incidence rate ratio

CI

Confidence interval

TGI

Concentration of drugs that totally inhibit cell growth

LC50

Concentration of drugs resulting in cell death to 50%

5-AR

5-Alkylresorcinol

DNA

Deoxyribonucleic acid

ATP

Adenosine triphosphate
Introduction
There are several environmental factors that influence cancer development. Studies demonstrate an independent effect of dietary patterns on cancer risk which are modifiable by diet. Evidence suggests that diet represents 30–35% of all risk factors contributing to the onset of cancer. Positive health effects have been reported for vegetables, fruits, and whole grains [
1
,
2
,
3
,
4
,
5
,
6
]. Whole grain foods, rich in dietary fiber, minerals, vitamins, and phytochemicals, are recognized as agents exerting health protective effects [
7
]. Much of the research on relationships between diet and cancer risk is based on the hypothesis that high intake of these nutrients rich in antioxidants (e.g., polyphenolic compounds, lignans, vitamins) may affect a number of physiological and pathological processes, like signaling mediated by MAP-kinases, insulin growth factor (IGF-1), nuclear transcription factor (NF-κβ), cytochrome P450, and reactive oxygen species (ROS) [
8
,
9
]. Transformation of healthy cells and tumorigenesis can be linked to increased DNA mutagenesis, decreased apoptosis, increased cell proliferation, inflammation, and several other processes controlled by antioxidants, thus antioxidants can prevent DNA damage and potentially protect against cancer [
10
,
11
,
12
,
13
]. Nonetheless, the scientific evidence on diet–cancer risk interactions is not conclusive [
5
,
14
]. Over the last two decades, research interest in medicine and functional food production in the application of whole grains and dietary phytoestrogens has increased significantly [
1
,
15
]. Of particular interest in relation to tumorigenesis is the class of natural compounds, like phenolic lipids also known as alkylresorcinols (ARs) (Fig. 
1
).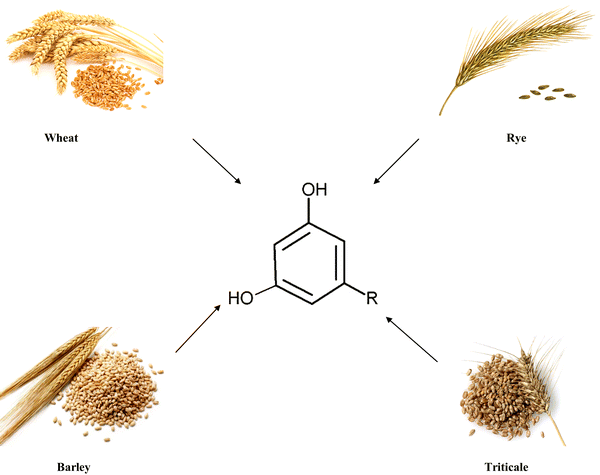 A wide range of biological properties of ARs, including antimicrobial [16], antimutagenic [17], and antioxidant potency have been reported [7, 18]. Epidemiologic evidence demonstrates that consumption of whole grain cereals is associated with positive health benefits such as decreased risk of overweight and obesity, coronary heart disease, diabetes, and some types of cancer [19, 20, 21, 22, 23, 24]. There is insufficient evidence to support the association of ARs with decreased risk of cancer because whole grains beside phenolic lipids contain a high number of primary metabolites (e.g., fiber, sulfur amino acids, lignin, oligosaccharides, minerals, vitamins), polyphenols (e.g., phenolic acids, flavonoids, lignans), phytosterols, melatonin, and other bioactive compounds [7, 15, 21, 25]. In addition, each of these compounds exhibits biological actions which are frequently reported in the literature as health protective mechanisms. In view of these facts, the main objective of this review article is to evaluate and present the current evidence related to ARs and cancer risk and some aspects of the AR's biological activities related to carcinogenesis. Occurrence, pharmacokinetics, extraction, and analysis of ARs will be also presented briefly.
Methods
An integrative review of the literature was carried out prior to January 2017. Relevant articles were identified by applying search strategies to nine academic electronic databases: PubMed, Scopus, ProQuest, EBSCOhost, SpringerLink, ArticleFirst, Taylor & Francis, Wiley Online, and ScienceDirect. Search terms and key words included: Alkylresorcinols; cancer; carcinoma; risk. These databases were chosen due to their extensive coverage of biomedical and cross-disciplinary research objectives and scope. All retrieved titles, abstracts, and full-text publications were reviewed and screened for relevance to the topic. Furthermore, references from retrieved articles were reviewed to identify additional applicable publications.
Inclusion/exclusion criteria
Inclusion criteria for refereed study samples included observational and in vitro studies. Other article types such as conference abstracts, communications, commentaries, editorials, brief reports, position, and hypothesis-generating statements were excluded. Gray literature and non-refereed publications were also excluded. No language restrictions were imposed. A flowchart of the study screening and selection is presented in Fig. 
2
.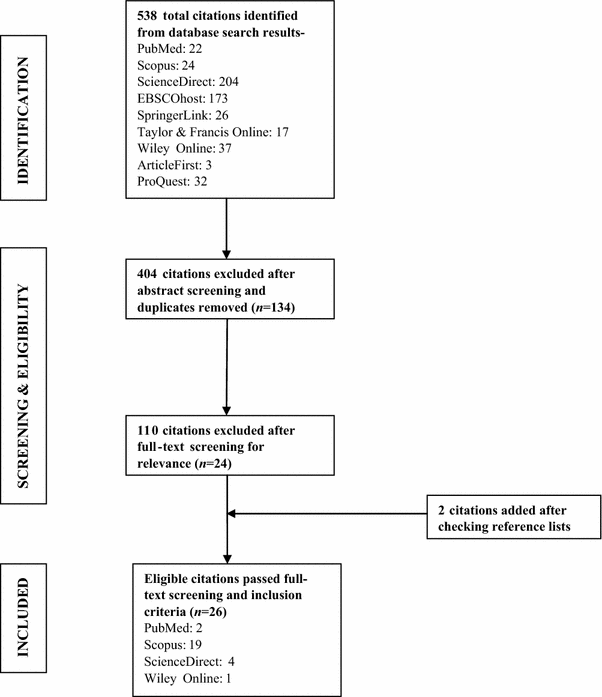 Discussion
This review article focuses on a relatively new research area because AR benefits have attracted significant interest in the last two decades. Evidence from different model studies show ARs are phenolic lipids abundant in several plant families, some bacteria, fungi, algae, and marine sponge, mainly as homologues with alkyl chains (C15:0–C25:0), though many studies examined derivatives having unsaturated and oxygenated side chains. Dietary ARs are easily absorbed by humans and several studies focused on their detection in blood plasma, adipose tissue, erythrocytes, and their metabolites in urine. Evidence has demonstrated that AR content or their metabolites in humans is proportional to intake of food products containing whole grains. Thus, there is rich evidence on usefulness of plasma and urine AR metabolite measurements as biomarkers of whole grain food, mainly whole grain wheat and rye consumption [37, 38, 42, 46, 47, 49, 62, 65, 67]. Studies which analyzed AR occurrence, absorption, metabolism, and excretion reported their presence at micromolar concentration in plasma being the highest after cereal grain intake and at nanomolar concentrations at fasting conditions. All studies confirmed that a refining process leaves only trace amounts of ARs in food products. Phenolic compounds like ARs can potentially affect a number of physiological and pathological processes related to metabolism and immune system functions [71, 72, 104, 105, 106, 107, 108, 109, 110, 111].
Results of model studies indicated that ARs which can affect all cellular processes regulated by enzymes, affect genotoxicity, suppress an adipocyte lipolisis, have a high affinity to erythrocyte membranes, exert indirect antioxidant activity, and have cytotoxic effects on cancer cell lines [58, 80, 82, 96, 97, 98, 99, 103, 105, 112, 113]. Evidence for AR bioactivity in vivo is limited to a few dietary clinical intervention trials which examined the effect of whole grains intake [88, 89, 90, 114]. The majority of studies highlight cereal grains as an important source of many other bioactive compounds, such as benzoxazinoids, lingnans, phenolic acids, tocols, and phytosterols that are known to reduce cancer in humans, as recently reviewed [1, 15, 19, 37, 73, 74, 114, 115, 116].
Results based on two case-control studies of lower distal colon cancer risk with high plasma AR concentrations (Table 1) are consistent with a meta-analysis of six prospective and nested case-control studies which reported the reduced summary relative risk of colorectal cancer after three servings daily of whole grains (RR = 0.83) [5]. Also noteworthy, the latest systematic review of 12 studies on cancer mortality with 34,797 deaths related to whole grain intake (3 studies) or whole grains product intake (9 studies) found a dose-dependent reduced risk of cancer mortality (RR = 0.82) [107]. Analysis showed that men with high concentrations of AR metabolites in plasma had increased prostate cancer risk. In turn, a lack of risk reduction was observed in case of endometrial cancer. These findings are consistent with evidence from in vitro studies with regard to colon cancer but not prostate cancer (Table 2). In vitro evidence showed inhibition of colon, breast, lung, and central nervous system human cancer cell growth, and the ARs cytotoxicity against the prostate adenocarcinoma, hepatocarcinoma, cervix adenocarcinoma, cervix squamous carcinoma, and ovarian cancer cell lines. We noticed that the chain length of ARs was important for the ARs ability to inhibit cancer growth, with shorter chains like C13:0, C15:0, and C17:0 appearing to have the highest potency of cancer inhibition which is in line with previous findings [105]. Long chain ARs may be absorbed to a lesser extent compared to the shorter-chain homologs. The listed IC50 values in Table 2 allow us to suggest high levels of ARs appeared to be toxic to cancer cells. These findings are consistent with evidence from the model studies which reported a lack toxicity of ARs of moderate concentration, i.e., of 5–20 µM toward to healthy HepG2 or 3T3-L1 cells [42, 107, 113].
The observed differences between findings reported in Tables 1 and 2 may be explained by a relative short half-life time (~4–5 h) limiting the precision of plasma AR concentration detection, especially in populations in which food rich in rye and whole grain components is not consumed daily [93], although Landberg et al. reported a high correlation coefficient between plasma AR concentration and whole grain wheat and rye intake during a 6-week intervention study [35]. There are several hypothesized mechanisms by which ARs can exert inhibition of cancer risk, although the mechanisms do not consider the possible interaction and synergy between the functional components of a diet, like phenolic compounds, fiber, lignans, phytosterols, and vitamins, which are reported to exhibit beneficial effects on human health including cancer prevention [15, 23, 37, 46]. These potential interactions need to be verified with further research.
In vitro studies revealed the dose–response cytotoxicity of ARs toward many cancer cell lines is due to their strong effect on cellular morphology, such as DNA fragmentation and nuclear condensation, among others; this action can lead to apoptosis [84]. Increase in p53 concentration plays a key role in the expression of pro-apoptotic proteins [104]. The apoptotic pathway has been confirmed by Barbini et al. who observed an induction of apoptosis by 5AR in HepG2 and Hep3B cells [84]. The group further underlined an important feature of 5-AR for hepatocellular carcinoma therapy, i.e., its ability to trigger apoptosis independently on p53 or Fas phenotypic profile as they observed in Hep3B cells. Also, other research groups have maintained the anticancer effects of ARs are explained by enhancing apoptosis in genotoxically damaged lymphocytes [72]. Some studies provide insight to the ARs structure-dependent relationship finding an important role of free hydroxyl, methoxyl, acetyl, or methyl groups on benzene rings for observed cytotoxicity [98, 102, 103]. For example, the comparable IC50 values observed in cytotoxicity of 14 pure 5-ARs by Chuang and Wu [98] were partially explained by their antioxidant properties due to scavenging reactive oxygen species and/or inhibition of enzymes involved in the formation of free radicals under physiological conditions [70]. Alkylresorcinols contain two hydroxyl groups placed in meta-position of the phenolic ring, thus they have a week direct antioxidant potency. However, under alkaline conditions and in the presence of transition metal ions, e.g., Cu and Fe, ARs may be converted to trihydroxy-alkylbenzenes—the compounds of a high antioxidant activity able to produce superoxide anion radicals and further hydrogen peroxide and hydroxyl radicals which can damage DNA, proteins, and lipids [72, 106, 108]. Moreover, the next important reported property of ARs that may also be clinically significant is a slower metabolism of these compounds under pathological conditions [67].
Results from this study agree with findings of RCTs which demonstrated that participants receiving whole grain interventions had reduced fasting concentrations of insulin and glucose and reduced levels of total and LDL cholesterols, among other potential benefits which can be important for reduction of inflammation and certain cancers protection, as reviewed by Ye et al. [78]. The evidence for the potential role of whole grain food intake for general health benefits and mortality prevention [107] recommends increased consumption of whole grain cereal food products in most countries [117, 118, 119]. According to an expert panel report on dietary recommendations [120], at least 8 g of whole grains per about 30 g, without a fiber, (or at least 51% of total weight as whole grain content) is required as a minimum content of whole grains food. The recommended quantities of daily whole grain cereal product consumption vary considerably between countries [7, 120]. For example, at least three servings per day, i.e., approximately 48 g per day of whole grain cereals, are recommended in USA; three to eight servings per day of grain products at least one-half of them contain whole grains in Canada, at least 50 g per day of coarse grains including whole grains in China [120]. In the Scandinavian countries, at least 75 g of whole grain cereals intake per 10 MJ of total energy intake is recommended [40]. Of note, the reported dietary whole grains guidelines are much higher than their average daily consumption (e.g., 42 g per day in Sweden, 36 g per day in Denmark). A study by Piironen et al. reported the beneficial influence of whole grains may result from the combined action of fiber, vitamins, phenolic acid, ARs, micronutrients, and other phytochemicals [121]. This suggestion originates from observations that no single antioxidant can replace natural phytochemicals in preventing disease [122]. According to Fardet, there is agreement that the protective effect of whole grain cereals results from the synergistic action of phytochemicals and micronutrients occurring mainly in the bran and germ fractions [7]. To our knowledge, the synergy between phytochemicals present in whole grain cereal products is still not confirmed, due to their huge number and numerous biological functions. However, the evidence on an association of the whole grains consumption and decreased cancer risk is still inconclusive.
Limitations of the study
When assessing the relationship between AR concentrations and cancer risk, several methodological issues need to be considered. Two of the four analyzed observational studies used semi-reported food frequency questionnaires to assess whole grains intake which is prone to measurement errors in evaluation of associations between dietary intake and risk of civilization diseases [35, 117, 119, 123]. The errors originate from a positive difference between studies in distinct definition of whole grains, a lack of full food composition, large differences of AR concentrations in whole grain products, variation in AR concentration with time or a dependence of a half-time on the chain length, and variability across studies of serving size. Next, not all observational studies included a list of potential confounders, such as physical activity, fruits, vegetables or red meat intake, ethnicity, and family history of cancer. These variables, which are lacking in the statistical models, might lead to under- or over-estimation of the AR intake/cancer relationship [4, 6, 112, 124, 125, 126, 127, 128, 129]. For example, physical activity is considered as an important lifestyle component, of which the association with colorectal cancer risk has been established as conclusive, and with the postmenopausal breast cancer as probable [127, 130]. Moreover, a higher intake of whole grains is usually reported by individuals of healthier lifestyle behaviors, thus all components of lifestyle should be included in statistical analyses as important confounders. Also, some limitations should be acknowledged when interpreting the findings from in vitro studies. The assessment of AR cytotoxicity toward human cancer cell lines may be underestimated because phenolic lipid content and antioxidant activity of plant extracts largely depend on extraction conditions and solvent polarity [56]. Due to fermentation processes, the release of ARs in vivo may be more effective than under in vitro conditions. Furthermore, bioactivity of isolated or synthesized ARs can decline during isolation and storage undergoing oxidation. Also, different methods of processing influence AR concentration in a food. Plasma concentrations of ARs are also influenced by differences in individual absorption and/or metabolism rates. Next, the association of ARs with cancer may by dependent on embryologic origins, on kinds of cancer or subtypes, as seen in observational findings with colorectal cancer (Table 1). Moreover, different sensitivity levels for detection of ARs in biological samples might introduce measurement errors which could explain relatively low AR concentrations in plasma. Finally, misclassification of an outcome when FFQs are used is also probable because ARs are considered in the literature as biomarkers of whole grain wheat and rye intake, only [92]. A correction for measurement errors can enhance the reported associations and weaken the discrepancy between the findings of observational and in vitro studies.
Conclusions
This systematic review demonstrated a renewed interest in the beneficial effect of ARs on human health. Evidence indicates that ARs exhibit a variety of bioactivities; they can affect many physiological and pathological processes related to the immune system, being involved in cell signaling and gene regulation. These findings originate mainly from model and epidemiological studies where assessment of the AR bioactivity in vivo is limited to a few dietary clinical intervention trials. ARs characteristic feature is their potential as biomarkers of whole grain wheat and rye product consumption. There is evidence that individuals with high plasma AR concentrations had above 52% reduced risk of distal colon cancer with linear dependence originating from biomarker concentration and indirectly from whole grain intake. These findings show that the accuracy of epidemiological studies of whole grain intake and cancer risk based on FFQs may by increased by detection of AR concentration in plasma. In vitro studies show that high-concentration ARs are considered highly cytotoxic agents for certain types of cancer, reporting inhibition of human colon, breast, lung, central nervous, ovarian, cervical, and prostate tumors, and hepatocarcinoma cancer cell lines. Furthermore, the phenolic ring and alkyl chain are important for inhibition of human cancer cells proliferation. This is no common consensus or clarity on the toxicity mechanism toward cancer cells due to multiple AR targets and the complexity of interrelations between various biochemical actions. Observational studies help to evaluate relationships between AR intake and beneficial health effects yet cannot be used to establish causality when compared to intervention studies. The research literature has generated several hypothesized molecular mechanisms of action for ARs in the prevention of cancer and their cytotoxic activities which include the ability to affect all cellular processes regulated by enzymes, suppress an adipocyte lipolysis, affect genotoxicity, have a high affinity to erythrocyte membranes, and exert indirect antioxidant capacity.
Our findings provide further support for public health recommendations emphasizing diets rich in whole grains as potentially preventive against some types of cancer. The updated evidence suggests future studies should focus on identification of a fraction from grain cereals containing concentrations of ARs exerting the strongest cytotoxic effect on cancer cells; this may offer new clues to prevent cancer.
Notes
Compliance with ethical standards
Conflict of interest
The authors declare no conflict of interest.
Compliance with ethics requirements
This article does not contain any studies with human or animal subjects.
Copyright information
© The Author(s) 2017
Open AccessThis article is distributed under the terms of the Creative Commons Attribution 4.0 International License (http://creativecommons.org/licenses/by/4.0/), which permits unrestricted use, distribution, and reproduction in any medium, provided you give appropriate credit to the original author(s) and the source, provide a link to the Creative Commons license, and indicate if changes were made.