Abstract
The emerging role of extracellular vesicles (EVs) as biomarkers and their envisioned therapeutic use require advanced techniques for their detailed characterization. In this context, we investigated gas-phase electrophoresis on a nano electrospray gas-phase electrophoretic mobility molecular analyzer (nES GEMMA, aka nES differential mobility analyzer, nES DMA) as an alternative to standard analytical techniques. In gas-phase electrophoresis, single-charged, surface-dry, native, polydisperse, and aerosolized analytes, e.g., proteins or bio-nanoparticles, are separated according to their electrophoretic mobility diameter, i.e., globular size. Subsequently, monodisperse particles are counted after a nucleation step in a supersaturated atmosphere as they pass a focused laser beam. Hence, particle number concentrations are obtained in accordance with recommendations of the European Commission for nanoparticle characterization (2011/696/EU from October 18th, 2011). Smaller sample constituents (e.g., co-purified proteins) can be detected next to larger ones (e.g., vesicles). Focusing on platelet-derived EVs, we compared different vesicle isolation techniques. In all cases, nanoparticle tracking analysis (NTA) confirmed the presence of vesicles. However, nES GEMMA often revealed a significant co-purification of proteins from the sample matrix, precluding gas-phase electrophoresis of less-diluted samples containing higher vesicle concentrations. Therefore, mainly peaks in the protein size range were detected. Mass spectrometry revealed that these main contaminants belonged to the group of globulins and coagulation-related components. An additional size exclusion chromatography (SEC) step enabled the depletion of co-purified, proteinaceous matrix components, while a label-free quantitative proteomics approach revealed no significant differences in the detected EV core proteome. Hence, the future in-depth analysis of EVs via gas-phase electrophoresis appears feasible.
Graphical abstract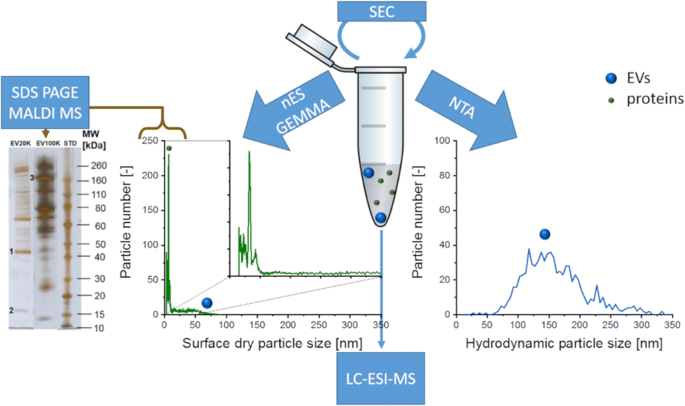 References
Colombo M, Raposo G, Thery C. Biogenesis, secretion, and intercellular interactions of exosomes and other extracellular vesicles. Annu Rev Cell Dev Biol. 2014;30:255–89.

Johnstone RM, Adam M, Hammond JR, Orr L, Turbide C. Vesicle formation during reticulocyte maturation - association of plasma-membrane activities with released vesicles (exosomes). J Biol Chem. 1987;262:9412–20.

Raposo G, Stoorvogel W. Extracellular vesicles: exosomes, microvesicles, and friends. J Cell Biol. 2013;200:373–83.

Fevrier B, Raposo G. Exosomes: endosomal-derived vesicles shipping extracellular messages. Curr Opin Cell Biol. 2004;16:415–21.

van der Pol E, Boing AN, Harrison P, Sturk A, Nieuwland R. Classification, functions, and clinical relevance of extracellular vesicles. Pharmacol Rev. 2012;64:676–705.

Bobrie A, Colombo M, Raposo G, Thery C. Exosome secretion: molecular mechanisms and roles in immune responses. Traffic. 2011;12:1659–68.

Becker A, Thakur BK, Weiss JM, Kim HS, Peinado H, Lyden D. Extracellular vesicles in cancer: cell-to-cell mediators of metastasis. Cancer Cell. 2016;30:836–48.

Colombo M, Moita C, van Niel G, Kowal J, Vigneron J, Benaroch P, Manel N, Moita LF, Thery C, Raposo G. Analysis of ESCRT functions in exosome biogenesis, composition and secretion highlights the heterogeneity of extracellular vesicles. J Cell Sci. 2013;126:5553–65.

van Niel G, D'Angelo G, Raposo G. Shedding light on the cell biology of extracellular vesicles. Nat Rev Mol Cell Bio. 2018;19:213–28.

Kowal J, Arras G, Colombo M, Jouve M, Morath JP, Primdal-Bengtson B, Dingli F, Loew D, Tkach M, Thery C. Proteomic comparison defines novel markers to characterize heterogeneous populations of extracellular vesicle subtypes. P Natl Acad Sci USA. 2016;113:E968–77. https://doi.org/10.1073/pnas.1521230113.

Gyorgy B, Szabo TG, Pasztoi M, Pal Z, Misjak P, Aradi B, Laszlo V, Pallinger E, Pap E, Kittel A, Nagy G, Falus A, Buzas EI. Membrane vesicles, current state-of-the-art: emerging role of extracellular vesicles. Cell Mol Life Sci. 2011;68:2667–88.

EL Andaloussi S, Maeger I, Breakefield XO, Wood MJA. Extracellular vesicles: biology and emerging therapeutic opportunities. Nat Rev Drug Discov. 2013;12:348–58.

Lee Y, El Andaloussi S, Wood MJA. Exosomes and microvesicles: extracellular vesicles for genetic information transfer and gene therapy. Hum Mol Genet. 2012;21:R125–34.

Colombo E, Borgiani B, Verderio C, Furlan R. Microvesicles: novel biomarkers for neurological disorders. Front Physiol. 2012;3:63. https://doi.org/10.3389/fphys.2012.00063.

Campoy I, Lanau L, Altadill T, Sequeiros T, Cabrera S, Cubo-Abert M, Perez-Benavente A, Garcia A, Borros S, Santamaria A, Ponce J, Matias-Guiu X, Reventos J, Gil-Moreno A, Rigau M, Colas E. Exosome-like vesicles in uterine aspirates: a comparison of ultracentrifugation-based isolation protocols. J Transl Med. 2016;14:180. https://doi.org/10.1186/s12967-016-0935-4.

Thery C, Amigorena S, Raposo G, Clayton A. Isolation and characterization of exosomes from cell culture supernatants and biological fluids. In: Current Protocols in Cell Biology. Wiley; 2006. chapter 3, unit 3.22.

Baranyai T, Herczeg K, Onodi Z, Voszka I, Modos K, Marton N, Nagy G, Mager I, Wood MJ, El Andaloussi S, Palinkas Z, Kumar V, Nagy P, Kittel A, Buzas EI, Ferdinandy P, Giricz Z. Isolation of exosomes from blood plasma: qualitative and quantitative comparison of ultracentrifugation and size exclusion chromatography methods. PLoS One 2015;10(12):e0145686. https://doi.org/https://doi.org/10.1371/journal.pone.0145686.

Davies RT, Kim J, Jang SC, Choi EJ, Gho YS, Park J. Microfluidic filtration system to isolate extracellular vesicles from blood. Lab Chip. 2012;12:5202–10.

Zlotogorski-Hurvitz A, Dayan D, Chaushu G, Korvala J, Salo T, Sormunen R, Vered M. Human saliva-derived exosomes: comparing methods of isolation. J Histochem Cytochem. 2015;63:181–9.

Enderle D, Spiel A, Coticchia CM, Berghoff E, Mueller R, Schlumpberger M, Sprenger-Haussels M, Shaffer JM, Lader E, Skog J, Noerholm M. Characterization of RNA from exosomes and other extracellular vesicles isolated by a novel spin column-based method. PLoS One 2015;10(8): e0136133. https://doi.org/10.1371/journal.pone.0136133.

Helwa I, Cai JW, Drewry MD, Zimmerman A, Dinkins MB, Khaled ML, Seremwe M, Dismuke WM, Bieberich E, Stamer WD, Hamrick MW, Liu YT. A comparative study of serum exosome isolation using differential ultracentrifugation and three commercial reagents. PLoS One 2017;12(1):e0170628. https://doi.org/10.1371/journal.pone.0170628.

Stranska R, Gysbrechts L, Wouters J, Vermeersch P, Bloch K, Dierickx D, Andrei G, Snoeck R. Comparison of membrane affinity-based method with size-exclusion chromatography for isolation of exosome-like vesicles from human plasma. J Transl Med. 2018;16(1):1. https://doi.org/10.1186/s12967-017-1374-6.

Royo F, Zuniga-Garcia P, Sanchez-Mosquera P, Egia A, Perez A, Loizaga A, Arceo R, Lacasa I, Rabade A, Arrieta E, Bilbao R, Unda M, Carracedo A, Falcon-Perez JM. Different EV enrichment methods suitable for clinical settings yield different subpopulations of urinary extracellular vesicles from human samples. J Extracell Vesicles. 2016;5:29497. https://doi.org/10.3402/jev.v5.29497.

van der Pol E, Coumans F, Varga Z, Krumrey M, Nieuwland R. Innovation in detection of microparticles and exosomes. J Thromb Haemost. 2013;11:36–45.

van der Pol E, Coumans FA, Grootemaat AE, Gardiner C, Sargent IL, Harrison P, Sturk A, van Leeuwen TG, Nieuwland R. Particle size distribution of exosomes and microvesicles determined by transmission electron microscopy, flow cytometry, nanoparticle tracking analysis, and resistive pulse sensing. J Thromb Haemost. 2014;12:1182–92.

Buzas EI, Toth EA, Sodar BW, Szabo-Taylor KE. Molecular interactions at the surface of extracellular vesicles. Semin Immunopathol. 2018;40:453–64.

Pietrowska M, Funk S, Gawin M, Marczak L, Abramowicz A, Widlak P, Whiteside T. Isolation of exosomes for the purpose of protein cargo analysis with the use of mass spectrometry. Methods Mol Biol. 1654;2017:291–307.

van der Pol E, Hoekstra AG, Sturk A, Otto C, van Leeuwen TG, Nieuwland R. Optical and non-optical methods for detection and characterization of microparticles and exosomes. J Thromb Haemost. 2010;8:2596–607.

Havlik M, Marchetti-Deschmann M, Friedbacher G, Messner P, Winkler W, Perez-Burgos L, Tauer C, Allmaier G. Development of a bio-analytical strategy for characterization of vaccine particles combining SEC and nanoES GEMMA. Analyst. 2014;139:1412–9.

Engel NY, Weiss VU, Marchetti-Deschmann M, Allmaier G. nES GEMMA analysis of lectins and their interactions with glycoproteins - separation, detection, and sampling of noncovalent biospecific complexes. J Am Soc Mass Spectr. 2017;28:77–86.

Palviainen M, Saari H, Karkkainen O, Pekkinen J, Auriola S, Yliperttula M, Puhka M, Hanhineva K, Siljander PRM. Metabolic signature of extracellular vesicles depends on the cell culture conditions. J Extracell Vesicles. 2019;8(1):1596669. https://doi.org/10.1080/20013078.2019.1596669.

Bacher G, Szymanski WW, Kaufman SL, Zollner P, Blaas D, Allmaier G. Charge-reduced nano electrospray ionization combined with differential mobility analysis of peptides, proteins, glycoproteins, noncovalent protein complexes and viruses. J Mass Spectrom. 2001;36:1038–52.

Kaufman SL, Skogen JW, Dorman FD, Zarrin F, Lewis KC. Macromolecule analysis based on electrophoretic mobility in air: globular proteins. Anal Chem. 1996;68:1895–904.

Kallinger P, Szymanski WW. Experimental determination of the steady-state charging probabilities and particle size conservation in non-radioactive and radioactive bipolar aerosol chargers in the size range of 5-40 nm. J Nanopart Res. 2015;17(4):171. https://doi.org/10.1007/s11051-015-2981-x.

Allmaier G, Weiss VU, Engel NY, Marchetti-Deschmann M, Szymanski WW. Soft X-ray radiation applied in the analysis of intact viruses and antibodies by means of nano electrospray differential mobility analysis. In: Banoub J, Caprioli R, editors: Molecular technologies for detection of chemical and biological agents. NATO Science for Peace and Security Series A: Chemistry and Biology. Dordrecht: Springer; 2017 pp. 149–157.

Weiss VU, Frank J, Piplits K, Szymanski WW, Allmaier G. Bipolar corona discharge-based charge equilibration for nano electrospray gas-phase electrophoretic mobility molecular analysis of bio- and polymer nanoparticles. Anal Chem. 2020;92:8665–9.

Chen DR, Pui DYH, Hummes D, Fissan H, Quant FR, Sem GJ. Design and evaluation of a nanometer aerosol differential mobility analyzer (Nano-DMA). J Aerosol Sci. 1998;29:497–509.

Flagan RC. History of electrical aerosol measurements. Aerosol Sci Technol. 1998;28:301–80.

Elzey S, Tsai DH, Yu LL, Winchester MR, Kelley ME, Hackley VA. Real-time size discrimination and elemental analysis of gold nanoparticles using ES-DMA coupled to ICP-MS. Anal Bioanal Chem. 2013;405:2279–88.

Carazzone C, Raml R, Pergantis SA. Nanoelectrospray ion mobility spectrometry online with inductively coupled plasma-mass spectrometry for sizing large proteins, DNA, and nanoparticles. Anal Chem. 2008;80:5812–8.

Shah VB, Orf GS, Reisch S, Harrington LB, Prado M, Blankenship RE, Biswas P. Characterization and deposition of various light-harvesting antenna complexes by electrospray atomization. Anal Bioanal Chem. 2012;404:2329–38.

Weiss VU, Urey C, Gondikas A, Golesne M, Friedbacher G, von der Kammer F, Hofmann T, Andersson R, Marko-Varga G, Marchetti-Deschmann M, Allmaier G. Nano electrospray gas-phase electrophoretic mobility molecular analysis (nES GEMMA) of liposomes: applicability of the technique for nano vesicle batch control. Analyst. 2016;141:6042–50.

Chernyshev VS, Rachamadugu R, Tseng YH, Belnap DM, Jia Y, Branch KJ, Butterfield AE, Pease LF 3rd, Bernard PS, Skliar M. Size and shape characterization of hydrated and desiccated exosomes. Anal Bioanal Chem. 2015;407:3285–301.

Allmaier G, Laschober C, Szymanski WW. Nano ES GEMMA and PDMA, new tools for the analysis of nanobioparticles - protein complexes, lipoparticles, and viruses. J Am Soc Mass Spectr. 2008;19:1062–8.

Weiss VU, Balantic K, Pittenauer E, Tripisciano C, Friedbacher G, Weber V, Marchetti-Deschmann M, Allmaier G. Nano electrospray differential mobility analysis based size-selection of liposomes and very-low density lipoprotein particles for offline hyphenation to MALDI mass spectrometry. J Pharmaceut Biomed. 2020;179:112998.

Tripisciano C, Weiss R, Eichhorn T, Spittler A, Heuser T, Fischer MB, Weber V. Different potential of extracellular vesicles to support thrombin generation: contributions of phosphatidylserine, tissue factor, and cellular origin. Sci Rep-UK. 2017;7(1):6522. https://doi.org/10.1038/s41598-017-03262-2.

Weiss R, Groger M, Rauscher S, Fendl B, Eichhorn T, Fischer MB, Spittler A, Weber V. Differential interaction of platelet-derived extracellular vesicles with leukocyte subsets in human whole blood. Sci Rep-UK. 2018;8(1):6598. https://doi.org/10.1038/s41598-018-25047-x.

George SK, Lauková L, Weiss R, Semak V, Fendl B, Weiss VU, Steinberger S, Allmaier G, Tripisciano C, Weber V. Comparative analysis of platelet-derived extracellular vesicles using flow cytometry and nanoparticle tracking analysis. Int J Mol Sci. 2021;22(8):3839–48.

Tycova A, Prikryl J, Foret F. Reproducible preparation of nanospray tips for capillary electrophoresis coupled to mass spectrometry using 3D printed grinding device. Electrophor. 2016;37:924–30.

Shevchenko A, Wilm M, Vorm O, Mann M. Mass spectrometric sequencing of proteins silver-stained polyacrylamide gels. Anal Chem. 1996;68(5):850–8.

Shevchenko A, Tomas H, Havlis J, Olsen JV, Mann M. In-gel digestion for mass spectrometric characterization of proteins and proteomes. Nat Protoc. 2006;1:2856–60.

Cox J, Mann M. MaxQuant enables high peptide identification rates, individualized p.p.b.-range mass accuracies and proteome-wide protein quantification. Nat Biotechnol. 2008;26:1367–72.

Cox J, Neuhauser N, Michalski A, Scheltema RA, Olsen JV, Mann M. Andromeda: a peptide search engine integrated into the MaxQuant environment. J Proteome Res. 2011;10:1794–805.

Tyanova S, Temu T, Cox J. The MaxQuant computational platform for mass spectrometry-based shotgun proteomics. Nat Protoc. 2016;11:2301–19.

Tyanova S, Temu T, Sinitcyn P, Carlson A, Hein MY, Geiger T, Mann M, Cox J. The Perseus computational platform for comprehensive analysis of (prote)omics data. Nat Methods. 2016;13:731–40.

Perez-Riverol Y, Csordas A, Bai JW, Bernal-Llinares M, Hewapathirana S, Kundu DJ, Inuganti A, Griss J, Mayer G, Eisenacher M, Perez E, Uszkoreit J, Pfeuffer J, Sachsenberg T, Yilmaz S, Tiwary S, Cox J, Audain E, Walzer M, et al. The PRIDE database and related tools and resources in 2019: improving support for quantification data. Nucleic Acids Res. 2019;47:D442–50.

Urey C, Weiss VU, Gondikas A, von der Kammer F, Hofmann T, Marchetti-Deschmann M, Allmaier G, Marko-Varga G, Andersson R. Combining gas-phase electrophoretic mobility molecular analysis (GEMMA), light scattering, field flow fractionation and cryo electron microscopy in a multidimensional approach to characterize liposomal carrier vesicles. Int J Pharm. 2016;513:309–18.

Weiss VU, Wieland K, Schwaighofer A, Lendl B, Allmaier G. Native nano-electrospray differential mobility analyzer (nES GEMMA) enables size selection of liposomal nanocarriers combined with subsequent direct spectroscopic analysis. Anal Chem. 2019;91:3860–8.

Wieland K, Ramer G, Weiss VU, Allmaier G, Lendl B, Centrone A. Nanoscale chemical imaging of individual chemotherapeutic cytarabine-loaded liposomal nanocarriers. Nano Res. 2019;12:197–203.

Palviainen M, Saraswat MK, Varga Z, Kitka D, Neuvonen M, Puhka M, Joenvaara S, Renkonen R, Nieuwland R, Takatalo M, Siljander PRM. Extracellular vesicles from human plasma and serum are carriers of extravesicular cargo-implications for biomarker discovery. PLoS One 2020;15(8): e0236439. https://doi.org/10.1371/journal.pone.0236439.

Tutanov O, Proskura K, Kamyshinsky R, Shtam T, Tsentalovich Y, Tamkovich S. Proteomic profiling of plasma and total blood exosomes in breast cancer: a potential role in tumor progression, diagnosis, and prognosis. Front Oncol. 2020;10:2173. https://doi.org/10.3389/fonc.2020.580891.
Availability of data and material
The data that support the findings of this study are available from the corresponding author upon reasonable request.
Funding
Open access funding provided by TU Wien (TUW). This work was supported by the NÖ Forschungs- und Bildungsges.m.b.H (NFB) (project LSC16-018). This work also received financial support from TU Wien Bibliothek through its Open Access Funding programme.
Ethics declarations
Ethics approval
EV-containing samples were obtained from the Clinic for Blood Group Serology and Transfusion Medicine (Medical University Vienna, Vienna, Austria) as approved by the Ethics committee of Danube University Krems (Krems, Austria) (ethics votum number ECS2177/2015).
Consent to participate
Written informed consent was obtained from all EV donors in our study.
Consent for publication
All authors consented to the manuscript.
Conflict of interest
The authors declare no competing interests.
Additional information
Publisher's note
Springer Nature remains neutral with regard to jurisdictional claims in published maps and institutional affiliations.
Rights and permissions
Open Access This article is licensed under a Creative Commons Attribution 4.0 International License, which permits use, sharing, adaptation, distribution and reproduction in any medium or format, as long as you give appropriate credit to the original author(s) and the source, provide a link to the Creative Commons licence, and indicate if changes were made. The images or other third party material in this article are included in the article's Creative Commons licence, unless indicated otherwise in a credit line to the material. If material is not included in the article's Creative Commons licence and your intended use is not permitted by statutory regulation or exceeds the permitted use, you will need to obtain permission directly from the copyright holder. To view a copy of this licence, visit http://creativecommons.org/licenses/by/4.0/.
About this article
Cite this article
Steinberger, S., Karuthedom George, S., Lauková, L. et al. A possible role of gas-phase electrophoretic mobility molecular analysis (nES GEMMA) in extracellular vesicle research. Anal Bioanal Chem 413, 7341–7352 (2021). https://doi.org/10.1007/s00216-021-03692-y
Received:

Revised:

Accepted:

Published:

Issue Date:

DOI: https://doi.org/10.1007/s00216-021-03692-y
Keywords
Gas-phase electrophoresis

Extracellular vesicle

Exosome

nES GEMMA

nES DMA

Mass spectrometry