Abstract
Glycosaminoglycans (GAGs) are a physio- and pharmacologically highly relevant class of complex saccharides, possessing a linear sequence and strongly acidic character. Their repetitive linear core makes them seem structurally simple at first glance, yet differences in sulfation and epimerization lead to an enormous structural diversity with only a few GAGs having been successfully characterized to date. Recent infrared action spectroscopic experiments on sulfated mono- and disaccharide ions show great promise. Here, we assess the potential of two types of gas-phase action spectroscopy approaches in the range from 1000 to 1800 cm−1 for the structural analysis of complex GAG oligosaccharides. Synthetic tetra- and pentasaccharides were chosen as model compounds for this benchmark study. Utilizing infrared multiple photon dissociation action spectroscopy at room temperature, diagnostic bands are largely unresolved. In contrast, cryogenic infrared action spectroscopy of ions trapped in helium nanodroplets yields resolved infrared spectra with diagnostic features for monosaccharide composition and sulfation pattern. The analysis of GAGs could therefore significantly benefit from expanding the conventional MS-based toolkit with gas-phase cryogenic IR spectroscopy.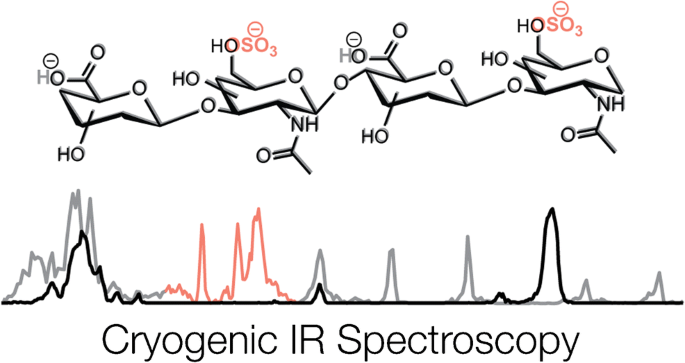 References
Gray CJ, Migas LG, Barran PE, Pagel K, Seeberger PH, Eyers CE et al. Advancing solutions to the carbohydrate sequencing challenge. J Am Chem Soc. 2019.

Mucha E, Stuckmann A, Marianski M, Struwe WB, Meijer G, Pagel K. In-depth structural analysis of glycans in the gas phase. Chem Sci. 2019.

Gandhi NS, Mancera RL. The structure of Glycosaminoglycans and their interactions with proteins. Chem Biol Drug Des. 2008;72(6):455–82.

Lindahl U, Couchman J, Kimata K, Esko JD. Proteoglycans and sulfated glycosaminoglycans. In: Varki A, Cummings RD, Esko JD, Stanley P, Hart GW, Aebi M et al., editors. Essentials of glycobiology 3ed.: Cold Spring Harbor (NY): Cold Spring Harbor Laboratory Press; 2017.

Kamhi E, Joo EJ, Dordick JS, Linhardt RJ. Glycosaminoglycans in infectious disease. Biol Rev. 2013;88(4):928–43.

Sasisekharan R, Shriver Z, Venkataraman G, Narayanasami U. Roles of heparan-sulphate glycosaminoglycans in cancer. Nat Rev Cancer. 2002;2(7):521–8.

Capila I, Linhardt RJ. Heparin–protein interactions. Angew Chem Int Ed. 2002;41(3):390–412.

Jones CJ, Beni S, Limtiaco JFK, Langeslay DJ, Larive CK. Heparin characterization: challenges and solutions. Ann Rev Anal Chem. 2011;4(1):439–65.

Ly M, Leach FE, Laremore TN, Toida T, Amster IJ, Linhardt RJ. The proteoglycan bikunin has a defined sequence. Nat Chem Biol. 2011;7(11):827–33.

Wolff JJ, Amster IJ, Chi L, Linhardt RJ. Electron detachment dissociation of glycosaminoglycan tetrasaccharides. J Am Soc Mass Spectrom. 2007;18(2):234–44.

Wolff JJ, Laremore TN, Aslam H, Linhardt RJ, Amster IJ. Electron-induced dissociation of glycosaminoglycan tetrasaccharides. J Am Soc Mass Spectrom. 2008;19(10):1449–58.

Leach FE, Riley NM, Westphall MS, Coon JJ, Amster IJ. Negative electron transfer dissociation sequencing of increasingly sulfated glycosaminoglycan oligosaccharides on an Orbitrap mass spectrometer. J Am Soc Mass Spectrom. 2017;28(9):1844–54.

Klein DR, Leach FE, Amster IJ, Brodbelt JS. Structural characterization of glycosaminoglycan carbohydrates using ultraviolet photodissociation. Anal Chem. 2019;91(9):6019–26.

Wei J, Wu J, Tang Y, Ridgeway ME, Park MA, Costello CE, et al. Characterization and quantification of highly sulfated glycosaminoglycan isomers by gated-trapped ion mobility spectrometry negative electron transfer dissociation MS/MS. Anal Chem. 2019;91(4):2994–3001.

Seo Y, Andaya A, Leary JA. Preparation, separation, and conformational analysis of differentially sulfated heparin octasaccharide isomers using ion mobility mass spectrometry. Anal Chem. 2012;84(5):2416–23.

Brézillon S, Untereiner V, Lovergne L, Tadeo I, Noguera R, Maquart F-X, et al. Glycosaminoglycan profiling in different cell types using infrared spectroscopy and imaging. Anal Bioanal Chem. 2014;406(24):5795–803.

Mohamed HT, Untereiner V, Sockalingum GD, Brézillon S. Implementation of infrared and Raman modalities for glycosaminoglycan characterization in complex systems. Glycoconj J. 2017;34(3):309–23.

Schindler B, Barnes L, Gray CJ, Chambert S, Flitsch SL, Oomens J, et al. IRMPD spectroscopy sheds new (infrared) light on the sulfate pattern of carbohydrates. J Phys Chem A. 2017;121(10):2114–20.

Renois-Predelus G, Schindler B, Compagnon I. Analysis of sulfate patterns in glycosaminoglycan oligosaccharides by MSn coupled to infrared ion spectroscopy: the case of GalNAc4S and GalNAc6S. J Am Soc Mass Spectrom. 2018;29(6):1242–9.

Khanal N, Masellis C, Kamrath MZ, Clemmer DE, Rizzo TR. Glycosaminoglycan analysis by cryogenic messenger-tagging IR spectroscopy combined with IMS-MS. Anal Chem. 2017;89(14):7601–6.

Gama CI, Tully SE, Sotogaku N, Clark PM, Rawat M, Vaidehi N, et al. Sulfation patterns of glycosaminoglycans encode molecular recognition and activity. Nat Chem Biol. 2006;2(9):467–73.

Kailemia MJ, Li L, Ly M, Linhardt RJ, Amster IJ. Complete mass spectral characterization of a synthetic ultralow-molecular-weight heparin using collision-induced dissociation. Anal Chem. 2012;84(13):5475–8.

Mucha E, Gonzalez Florez AI, Marianski M, Thomas DA, Hoffmann W, Struwe WB, et al. Glycan fingerprinting via cold-ion infrared spectroscopy. Angew Chem Int Ed. 2017;56(37):11248–51.

Mucha E, Lettow M, Marianski M, Thomas DA, Struwe WB, Harvey DJ, et al. Fucose migration in intact protonated glycan ions: a universal phenomenon in mass spectrometry. Angew Chem Int Ed. 2018;57(25):7440–3.

Köhling S, Blaszkiewicz J, Ruiz-Gómez G, Fernández-Bachiller MI, Lemmnitzer K, Panitz N, et al. Syntheses of defined sulfated oligohyaluronans reveal structural effects, diversity and thermodynamics of GAG–protein binding. Chem Sci. 2019;10(3):866–78.

Struwe WB, Baldauf C, Hofmann J, Rudd PM, Pagel K. Ion mobility separation of deprotonated oligosaccharide isomers - evidence for gas-phase charge migration. Chem Commun. 2016;52(83):12353–6.

Hogan JD, Klein JA, Wu J, Chopra P, Boons G-J, Carvalho L, et al. Software for peak finding and elemental composition assignment for glycosaminoglycan tandem mass spectra. Mol Cell Proteomics. 2018;17(7):1448–56.
Acknowledgements
Open access funding provided by Max Planck Society. The authors gratefully acknowledge generous funding by the Freie Universität Berlin, the Max Planck Society and the great expertise of Sandy Gewinner and Dr. Wieland Schöllkopf of the FHI free electron laser. DAT acknowledges support from the Alexander von Humboldt Foundation.
Funding
This research is funded by the Deutsche Forschungsgemeinschaft (DFG, German Research Foundation) - Projektnummer 372486779 - SFB 1340.
Ethics declarations
Conflict of interest
The authors declare that they have no competing interests.
Additional information
Publisher's note
Springer Nature remains neutral with regard to jurisdictional claims in published maps and institutional affiliations.
Electronic supplementary material
Rights and permissions
Open Access This article is licensed under a Creative Commons Attribution 4.0 International License, which permits use, sharing, adaptation, distribution and reproduction in any medium or format, as long as you give appropriate credit to the original author(s) and the source, provide a link to the Creative Commons licence, and indicate if changes were made. The images or other third party material in this article are included in the article's Creative Commons licence, unless indicated otherwise in a credit line to the material. If material is not included in the article's Creative Commons licence and your intended use is not permitted by statutory regulation or exceeds the permitted use, you will need to obtain permission directly from the copyright holder. To view a copy of this licence, visit http://creativecommons.org/licenses/by/4.0/.
About this article
Cite this article
Lettow, M., Grabarics, M., Mucha, E. et al. IR action spectroscopy of glycosaminoglycan oligosaccharides. Anal Bioanal Chem 412, 533–537 (2020). https://doi.org/10.1007/s00216-019-02327-7
Received:

Revised:

Accepted:

Published:

Issue Date:

DOI: https://doi.org/10.1007/s00216-019-02327-7
Keywords
Glycosaminoglycans

Fondaparinux

Mass spectrometry

Action spectroscopy

Cryogenic infrared spectroscopy