Abstract
Synthetic amorphous silica is widely used in food processing as a food additive (E551) due to its properties as a flavour carrier and anti-caking agent. The direct measurement of E551 suspended or embedded in complex matrices is difficult without prior removal of the matrix components. The isolation of nanoparticles from the matrix is hence the first step towards their comprehensive characterization. Due to its complexity, matrix removal is frequently not trivial and may cause modification of the number-size distribution of the silica particles. The isolation of engineered silica nanoparticles by removal of the matrix with microwave-assisted acidic digestion is demonstrated methodologically using both monodisperse (size standards) and polydisperse (E551) particles spiked into ultrapure water and tomato sauce. For the characterization of the isolated nanoparticles, asymmetric field flow fractionation (AF4) coupled to multi-angle laser light scattering (MALS) and inductively coupled plasma mass spectrometry (ICP-MS) were chosen. The combination of ICP-MS and ultracentrifugation allowed for the rapid and reliable measurement of the dissolved fraction of SiO2. The results show that microwave-assisted acidic digestion partially dissolves silica nanoparticles. Moreover, the digestion conditions, in particular the low pH value, lead to strong agglomeration of the particles. A complete deagglomeration is not achieved, even when exposing the suspension to elevated sonication doses. The consequence of these two findings is a size distribution of particles after acidic digestion that is different from the original distribution before digestion. This result may have an impact on the evaluation of whether the material is a nanomaterial according to the recommended definition of the European Commission.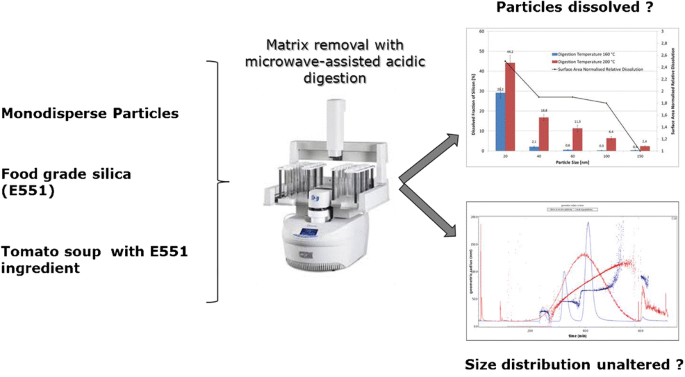 References
Barahona F, Geiss O, Urban P, Ojea-Jimenez I, Gilliland D, Barrero-Moreno J. Simultaneous determination of size and quantification of silica nanoparticles by asymmetric flow field-flow fractionation coupled to ICPMS using silica nanoparticles standards. Anal Chem. 2015;87(5):3039–47. https://doi.org/10.1021/ac504698j.

Mattarozzi M, Suman M, Cascio C, Calestani D, Weigel S, Undas A, et al. Analytical approaches for the characterization and quantification of nanoparticles in food and beverages. Anal Bioanal Chem. 2016;1–18. https://doi.org/10.1007/s00216-016-9946-5.

Barahona F, Ojea-Jimenez I, Geiss O, Gilliland D, Barrero-Moreno J. Multimethod approach for the detection and characterisation of food-grade synthetic amorphous silica nanoparticles. J Chromatogr A. 2016;1432:92–100. https://doi.org/10.1016/j.chroma.2015.12.058.

Peters R, Kramer E, Oomen AG, Herrera Rivera ZE, Oegema G, Tromp PC, et al. Presence of nano-sized silica during in vitro digestion of foods containing silica as a food additive. ACS Nano. 2012;6(3):2441–51. https://doi.org/10.1021/nn204728k.

Athinarayanan J, Periasamy VS, Alsaif MA, Al-Warthan AA, Alshatwi AA. Presence of nanosilica (E551) in commercial food products: TNF-mediated oxidative stress and altered cell cycle progression in human lung fibroblast cells. Cell Biol Toxicol. 2014;30(2):89–100. https://doi.org/10.1007/s10565-014-9271-8.

Regulation (EU) No 1169/2011 on the provision of food information to consumers (2011) Official Journal of the European Union, L3014/18.

Picó Y. Challenges in the determination of engineered nanomaterials in foods. Trends Anal Chem. 2016;84:149–59. https://doi.org/10.1016/j.trac.2016.06.004.

Grombe R, Charoud-Got J, Emteborg H, Linsinger TPJ, Seghers J, Wagner S, et al. Production of reference materials for the detection and size determination of silica nanoparticles in tomato soup. Anal Bioanal Chem. 2014;406(16):3895–907. https://doi.org/10.1007/s00216-013-7554-1.

Deng Y, Petersen EJ, Challis KE, Rabb SA, Holbrook RD, Ranville JF, et al. Multiple method analysis of TiO2 nanoparticle uptake in rice (Oryza sativa L.) plants. Environ Sci Technol. 2017;51(18):10615–23. https://doi.org/10.1021/acs.est.7b01364.

Gray EP, Coleman JG, Bednar AJ, Kennedy AJ, Ranville JF, Higgins CP. Extraction and analysis of silver and gold nanoparticles from biological tissues using single particle inductively coupled plasma mass spectrometry. Environ Sci Technol. 2013;47(24):14315–23. https://doi.org/10.1021/es403558c.

Gong C, Jiang J, Li D. Ultrasound coupled with Fenton oxidation pre-treatment of sludge to release organic carbon, nitrogen and phosphorus. Sci Total Environ. 2015;532:495–500. https://doi.org/10.1016/j.scitotenv.2015.05.131.

Huang YF, Huang YH. Identification of produced powerful radicals involved in the mineralization of bisphenol A using a novel UV-Na(2)S(2)O(8)/H(2)O(2)-Fe (II,III) two-stage oxidation process. J Hazard Mater. 2009;162(2–3):1211–6. https://doi.org/10.1016/j.jhazmat.2008.06.008.

Loeschner K, Navratilova J, Kobler C, Molhave K, Wagner S, von der Kammer F, et al. Detection and characterization of silver nanoparticles in chicken meat by asymmetric flow field flow fractionation with detection by conventional or single particle ICP-MS. Anal Bioanal Chem. 2013;405(25):8185–95. https://doi.org/10.1007/s00216-013-7228-z.

Feichtmeier NS, Ruchter N, Zimmermann S, Sures B, Leopold K. A direct solid sampling analysis method for the detection of silver nanoparticles in biological matrices. Anal Bioanal Chem. 2016;408(1):295–305. https://doi.org/10.1007/s00216-015-9108-1.

Klemens P, Heumann KG. Development of an ICP–HRIDMS method for accurate determination of traces of silicon in biological and clinical samples. Fresenius J Anal Chem. 2001;371(6):758–63. https://doi.org/10.1007/s002160100996.

Takaku Y, Masuda K, Takahashi T, Shimamura T. Determination of trace silicon in ultra-high-purity water by inductively coupled plasma mass spectrometry. J Anal At Spectrom. 1994;9(12):1385–7. https://doi.org/10.1039/ja9940901385.

Aureli F, D'Amato M, De Berardis B, Raggi A, Turco AC, Cubadda F. Investigating agglomeration and dissolution of silica nanoparticles in aqueous suspensions by dynamic reaction cell inductively coupled plasma-mass spectrometry in time resolved mode. J Anal At Spectrom. 2012;27(9):1540–8. https://doi.org/10.1039/c2ja30133d.

H-t L, Jiang S-J. Dynamic reaction cell inductively coupled plasma mass spectrometry for determination of silicon in steel. Spectrochim Acta Part B. 2003;58(1):153–7. https://doi.org/10.1016/S0584-8547(02)00214-8.

Erickson HP. Size and shape of protein molecules at the nanometer level determined by sedimentation, gel filtration, and electron microscopy. Biol Proced Online. 2009;11(1):32. https://doi.org/10.1007/s12575-009-9008-x.

Taurozzi JS, Hackley VA, Wiesner MR. Ultrasonic dispersion of nanoparticles for environmental, health and safety assessment--issues and recommendations. Nanotoxicology. 2011;5(4):711–29. https://doi.org/10.3109/17435390.2010.528846.

Borm P, Klaessig FC, Landry TD, Moudgil B, Pauluhn J, Thomas K, et al. Research strategies for safety evaluation of nanomaterials, part V: role of dissolution in biological fate and effects of nanoscale particles. Toxicol Sci. 2006;90(1):23–32. https://doi.org/10.1093/toxsci/kfj084.

Zhang H, Chen B, Banfield JF. Particle size and pH effects on nanoparticle dissolution. J Phys Chem C. 2010;114(35):14876–84. https://doi.org/10.1021/jp1060842.

Axson JL, Stark DI, Bondy AL, Capracotta SS, Maynard AD, Philbert MA, et al. Rapid kinetics of size and pH-dependent dissolution and aggregation of silver nanoparticles in simulated gastric fluid. J Phys Chem C. 2015;119(35):20632–41. https://doi.org/10.1021/acs.jpcc.5b03634.

Peretyazhko TS, Zhang Q, Colvin VL. Size-controlled dissolution of silver nanoparticles at neutral and acidic pH conditions: kinetics and size changes. Environ Sci Technol. 2014;48(20):11954–61. https://doi.org/10.1021/es5023202.

Roelofs F, Vogelsberger W. Dissolution kinetics of synthetic amorphous silica in biological-like media and its theoretical description. J Phys Chem B. 2004;108(31):11308–16. https://doi.org/10.1021/jp048767r.

Giovaninni G, Moore CJ, Hall AJ, Byrne HJ, Gubala V. pH-dependent silica nanoparticle dissolution and cargo release. Colloids Surf B. 2018;169:242–8. https://doi.org/10.1016/j.colsurfb.2018.04.064.

Braun K, Pochert A, Beck M, Fiedler R, Gruber J, Linden M. Dissolution kinetics of mesoporous silica nanoparticles in different simulated body fluids. J Sol-Gel Sci Technol. 2016;79:319.

Metin CO, Lake LW, Miranda CR, Nguyen QP. Stability of aqueous silica nanoparticle dispersions. J Nanopart Res. 2011;13(2):839–50. https://doi.org/10.1007/s11051-010-0085-1.

Zhuravlev LT. Concentration of hydroxyl groups on the surface of amorphous silicas. Langmuir. 1987;3(3):316–8. https://doi.org/10.1021/la00075a004.

Tadjiki S, Assemi S, Deering CE, Veranth JM, Miller JD. Detection, separation, and quantification of unlabeled silica nanoparticles in biological media using sedimentation field-flow fractionation. J Nanopart Res. 2009;11(4):981–8. https://doi.org/10.1007/s11051-008-9560-3.

Wagner S, Legros S, Loeschner K, Liu J, Navratilova J, Grombe R, et al. First steps towards a generic sample preparation scheme for inorganic engineered nanoparticles in a complex matrix for detection, characterization, and quantification by asymmetric flow-field flow fractionation coupled to multi-angle light scattering and ICP-MS. J Anal At Spectrom. 2015;30(6):1286–96. https://doi.org/10.1039/c4ja00471j.

European Commission (2011) EC recommendation of 18 October 2011 on the definition of nanomaterial. (2011/696/EU). Off J Eur Union L275/38.
Ethics declarations
Conflict of interest
The authors declare that they have no conflict of interest.
Disclaimer
The information and views set out in this study are those of the author(s) and do not necessarily reflect the official opinion of the European Commission. The European Commission does not guarantee the accuracy of the data included in this study. Neither the European Commission nor any person acting on the European Commission's behalf may be held responsible for the use that may be made of the information contained therein.
Additional information
Publisher's note
Springer Nature remains neutral with regard to jurisdictional claims in published maps and institutional affiliations.
Electronic supplementary material
Rights and permissions
Open Access This article is distributed under the terms of the Creative Commons Attribution 4.0 International License (http://creativecommons.org/licenses/by/4.0/), which permits unrestricted use, distribution, and reproduction in any medium, provided you give appropriate credit to the original author(s) and the source, provide a link to the Creative Commons license, and indicate if changes were made.
About this article
Cite this article
Geiss, O., Bianchi, I., Senaldi, C. et al. Challenges in isolating silica particles from organic food matrices with microwave-assisted acidic digestion. Anal Bioanal Chem 411, 5817–5831 (2019). https://doi.org/10.1007/s00216-019-01964-2
Received:

Revised:

Accepted:

Published:

Issue Date:

DOI: https://doi.org/10.1007/s00216-019-01964-2
Keywords
Silica nanoparticles

E551

Matrix removal

AF4

ICP-MS

DLS

Microwave digestion