Intact lipid imaging of mouse brain samples: MALDI, nanoparticle-laser desorption ionization, and 40 keV argon cluster secondary ion mass spectrometry
Open Access
Research Paper
Abstract
We have investigated the capability of nanoparticle-assisted laser desorption ionization mass spectrometry (NP-LDI MS), matrix-assisted laser desorption ionization (MALDI) MS, and gas cluster ion beam secondary ion mass spectrometry (GCIB SIMS) to provide maximum information available in lipid analysis and imaging of mouse brain tissue. The use of Au nanoparticles deposited as a matrix for NP-LDI MS is compared to MALDI and SIMS analysis of mouse brain tissue and allows selective detection and imaging of groups of lipid molecular ion species localizing in the white matter differently from those observed using conventional MALDI with improved imaging potential. We demonstrate that high-energy (40 keV) GCIB SIMS can act as a semi-soft ionization method to extend the useful mass range of SIMS imaging to analyze and image intact lipids in biological samples, closing the gap between conventional SIMS and MALDI techniques. The GCIB SIMS allowed the detection of more intact lipid compounds in the mouse brain compared to MALDI with regular organic matrices. The 40 keV GCIB SIMS also produced peaks observed in the NP-LDI analysis, and these peaks were strongly enhanced in intensity by exposure of the sample to trifluororacetic acid (TFA) vapor prior to analysis. These MS techniques for imaging of different types of lipids create a potential overlap and cross point that can enhance the information for imaging lipids in biological tissue sections.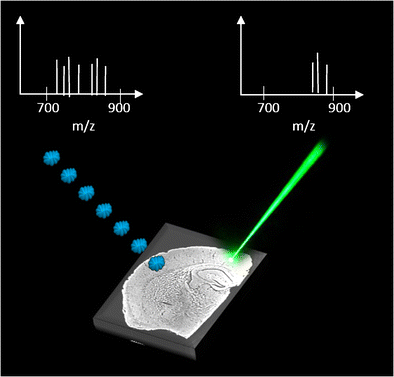 Keywords
Mass spectrometry imaging 
Gas cluster SIMS 
MALDI 
Nanoparticle-LDI 
Lipids 
Introduction
Lipids are one of the most abundant biomolecules in the brain with almost 60 % of the brain's dry weight consisting of lipids. Lipids have a variety of biological functions and are the main constituents of cell membranes. In addition, they function as secondary messengers for cellular signal transduction across biological membranes, and they are involved in anchoring proteins within the plasma membrane. Cholesterol, sphingolipids (sphingomyelin, cerebrosides, sulfatides, gangliosides), and glycerophospholipids (phosphatidycholine, phosphatidylethanolamine, phosphatidylinositols) are three major categories of lipid compounds in the brain. The significant role of lipids in cell signaling and tissue physiology has been revealed by several studies on neurological disorders such as Alzheimer's, Parkinson's, Niemann-Pick, and multiple sclerosis which all show associated lipid alteration in the central nervous system [1, 2, 3].
Matrix-assisted laser desorption ionization (MALDI) and secondary ion mass spectrometry (SIMS) are two of the most widely used mass spectrometric imaging (MSI) techniques allowing direct probing of the distribution and composition of various lipid compounds in biological samples in a non-targeted and label-free manner [4, 5]. For instance, biochemical images of lipid distributions in single cells have been obtained using SIMS [6, 7], and both SIMS and MALDI are capable of showing the distribution of lipids in tissue [8, 9, 10].
MALDI has been primarily applied for analyzing intact lipids and higher mass compounds including proteins in biological samples [11, 12]. In MALDI, the sample is coated with a layer of organic matrix, which directly absorbs the laser energy and is ejected carrying the analyte molecules. The matrix removes energy from the analyte, reducing fragmentation. Predominantly intact analyte compounds are therefore produced by this soft ionization. Several methods of matrix deposition for MALDI imaging are commonly used including automated spraying (wet matrix deposition provides good extraction) and sublimation (produces small matrix crystals) [9, 13, 14]. These methods provide good ionization of the analyte while avoiding large crystal formation that can limit the spatial resolution with some wet matrix deposition techniques [15]. In addition, many organic matrices are only suitable for detection of larger molecules often with m/z >400 due to the interfering mass peaks derived from the organic matrix below this mass range [16]. Hence, detection of low mass ions by MALDI can be difficult. Low mass specific matrices such as carbon nanotubes [17], graphite, ionic liquids [18], and some high mass molecules [19] or use of matrix additives are capable of reducing background peaks in the low m/z region [20, 21].
Laser desorption ionization (LDI) [16] has recently enjoyed a resurgence by using nanostructured surfaces such as porous silicon as a support for chemical detection. Ionization and desorption of the sample are induced by UV laser irradiation of the surface called desorption-ionization on silicon (DIOS) mass spectrometry [22]. Nanoparticle-assisted LDI (NP-LDI) has been used as an alternative to the organic matrix for analyzing and imaging biomolecules such as fatty acids in tissue improving the ability to detect low mass species and produce less complex mass spectra compared with the standard organic matrices [23, 24, 25].
SIMS has been used to identify and localize different lipid species [26, 27]. The SIMS method has the ability to map chemical compounds with higher lateral resolution compared to the other MSI techniques. An advantage of SIMS imaging is that there is no specific sample pretreatment needed. However, extensive fragmentation of molecular species is a disadvantage that makes SIMS best suited for detection of low mass species m/z <1000. Gas cluster ion beams (GCIBs) are a relatively new primary ion source for SIMS [28] and have emerged as a potential tool to improve the detection limit of SIMS for analyzing intact lipids compared to the conventional cluster (Bi3 +) and even polyatomic primary ion beams (C60 +) [29, 30, 31]. There are benefits suggested for argon cluster SIMS of organic samples such as high sputter yield, higher yield for high mass secondary ions, and less subsurface chemical damage compared to conventional primary ion sources. It has been recognized that Ar cluster primary ions may lead to a softer ejection process so that higher mass molecular ions can be desorbed intact from the surface [29]. Recently, a continuous high-energy Ar cluster ion beam (40 keV Ar4000 +) has been used to investigate the potential benefits for lipid analysis and imaging in fly and mouse brains [32, 33].
Conventional SIMS is a hard ionization technique making it difficult to image the intact molecular ions of lipids. In contrast, MALDI and NP-LDI have been used to identify and image lipid molecular ions in biological tissues. Gold nanoparticles have been used in lipid molecular ion imaging and compared with the 2,5-dihydroxybenzoic acid (DHB) matrix using MALDI-ion mobility in which gold nanoparticles allowed detection of different peaks compared to DHB MALDI [34]. This motivates us to investigate and compare conventional MALDI and NP-LDI to the newly developed high-energy gas cluster primary ion SIMS to image intact lipids.
In this paper, we examine and compare the newly developed high-energy Ar cluster SIMS to both NP-LDI and MALDI for the detection of intact lipids and imaging in mouse brain sections. In order to demonstrate the complementary analysis in the MSI, lipid molecular ions detected by our optimized gold NP-LDI [35] and conventional MALDI have been assigned and compared to those from the 40 keV gas cluster ion beam secondary ion mass spectrometry (GCIB SIMS). The combined approach extends the number of lipid species detected by mass spectrometry imaging techniques in mouse brain samples. Moreover, we demonstrated the possibility of Ar GCIB in focusing to sub-5 μm providing the ability to detect the extended number of molecular lipid species and maximize the information obtained from lipids with higher spatial resolution than conventional MALDI and nanoparticle-assisted laser desorption ionization mass spectrometry (NP-LDI MS). We show that the 40 keV GCIB helps to maximize the information obtained from lipid imaging and is beneficial for high spatial resolution imaging of lipid pseudo-molecular ions in mouse brain.
Experimental section
Tissue preparation
Frozen mouse brain tissue was cryo-sectioned (Cryostat Leica CM1520) at −20 °C and sagittal brain slices with 12 μm thickness were thaw mounted on indium tin oxide (ITO)-coated glass microscope slides. Slides were placed on a cooled (approximately −20 °C) stainless steel holder in a vacuum desiccator and gradually brought to the room temperature under vacuum for approximately 1 h. Tissue sections were modified with Au nanoparticles using an airbrush for NP-LDI analysis. The 10-nm citrate-capped gold nanoparticles (prepared using the citrate reduction method described by Kimling et al. [
36
]) suspended in ethanol at 0.6 mg/mL concentration were sprayed at a distance of 15 cm from the tissue to avoid wetting the sample [
35
]. The same Au NP-modified section was analyzed sequentially by GCIB SIMS and NP-LDI (Fig. 
1
). Different tissues were used for positive and negative ion modes. For MALDI experiments, serial tissue sections from the same brain were collected and DHB (Sigma-Aldrich, Stockholm, Sweden) matrix was applied by sublimation according to the procedure described in our previous study [
37
]. Briefly, DHB was sublimed at temperature 145 °C under pressure set to 0.8 mbar for total time 10 min.

Mass spectrometric imaging and data analysis
SIMS imaging was carried out using the J105—3D Chemical Imager (Ionoptika Ltd, Southampton, UK) equipped with a 40 keV gas cluster ion beam producing Ar4000 + (8 % CO2 in Ar). The continuous stream of secondary ions that are generated are pulsed into a quadratic field reflectron time-of-flight analyzer using a linear buncher decoupling the MS from the ion generation process [38, 39]. A sample of 1200 × 1200 μm2 area was analyzed in positive ion mode with a 20-μm beam step (pixel size) and a primary ion fluence of 1.05 × 1012 ions/cm2.
An Ultraflextreme MALDI ToF/ToF mass spectrometer (Bruker Daltonics, Bremen, Germany) instrument was used for NP-LDI and MALDI analysis. Imaging data were acquired by summing 500 shots per array position (pixel) at the laser repetition rate of 1000 Hz. Both NP-LDI and MALDI imaging were performed in positive ion mode with 20-μm laser step intervals (pixel size). Profiling of Au NP-modified brain tissue using NP-LDI was carried out in negative ion mode and also for investigation of trifluororacetic acid (TFA) sample modification with NP-LDI. Mass spectra for profiling were obtained by summing up 1000 shots at a laser repetition rate of 1000 Hz per spot.
TFA modification of the sample was carried as previously described [40]. Briefly, the tissue slide was placed at 1-cm distance from a glass petri dish containing 300 μL of TFA solution 99 % in a sealed desiccator. The tissue was exposed for 30 min at room temperature.
Results and discussion
We compare NP-LDI, MALDI, and GCIB SIMS to investigate some of the diverse lipid classes present in regions of mouse brain tissue. Studying lipids with these MSI techniques provides complementary spectral and distributional information of intact lipids in the mouse brain, which can maximize the available information when tackling biological questions.
Conclusions
GCIB SIMS has been compared to both NP-LDI and MALDI mass spectrometric imaging techniques in terms of their ability to analyze and image intact lipids in mouse brain tissue. NP-LDI gives high signals in the mass range m/z >800 and groups of intact lipids localized in the white matter are selectively detected, whereas MALDI shows high sensitivity for phosphatidylcholine lipids in the mass range m/z <800. NP-LDI exhibits superior potential for ion imaging of the lipid species specifically localized in the white matter compared to MALDI with conventional organic matrix deposition. In MALDI, there is a need for data normalization to obtain more distinctive ion images. However, SIMS with a 40 keV Ar4000 + GCIB is capable of detecting intact lipid compounds present in both the white and gray matter areas of the mouse brain sample in both positive and negative ion modes similar to the lipid analysis by MALDI, and furthermore in positive ion mode it is possible to detect more lipid species in the m/z 700–900 range. In addition, the peaks detected by NP-LDI were significantly enhanced in the GCIB SIMS spectrum following TFA exposure. Ar GCIB SIMS provides the ability to detect a wide range of molecular lipids including those detected by MALDI and NP-LDI with a beam that is readily focusable to sub-5 μm which makes it an encouraging technique in biochemical imaging and lipidomics.
Notes
Acknowledgments
The authors greatly acknowledge the Bioanalytical Center, the Swedish research council (VR), ERC, Wallenberg Foundation, and the USA National Institute of health (NIH) for the support. We thank Tina B. Angerer for acquiring the SIMS data and Masoumeh Dowlatshahi Pour for DHB sublimation sample preparation.
Compliance with ethical standards
The authors claim that there are no conflicts of interest. The brain samples used in this study were from excess tissue of mouse brains that were used in a separate study, and no animals were sacrificed for this work. The original brain samples were supplied by Oxford University, and all institutional agreements for this original work were obtained.
Copyright information
© The Author(s) 2016
Open Access This article is distributed under the terms of the Creative Commons Attribution 4.0 International License (http://creativecommons.org/licenses/by/4.0/), which permits unrestricted use, distribution, and reproduction in any medium, provided you give appropriate credit to the original author(s) and the source, provide a link to the Creative Commons license, and indicate if changes were made.