Abstract
Metaproteomic analysis of air particulate matter provides information about the abundance and properties of bioaerosols in the atmosphere and their influence on climate and public health. We developed and applied efficient methods for the extraction and analysis of proteins from glass fiber filter samples of total, coarse, and fine particulate matter. Size exclusion chromatography was applied to remove matrix components, and sodium dodecyl sulfate polyacrylamide gel electrophoresis (SDS-PAGE) was applied for protein fractionation according to molecular size, followed by in-gel digestion and LC-MS/MS analysis of peptides using a hybrid Quadrupole-Orbitrap MS. Maxquant software and the Swiss-Prot database were used for protein identification. In samples collected at a suburban location in central Europe, we found proteins that originated mainly from plants, fungi, and bacteria, which constitute a major fraction of primary biological aerosol particles (PBAP) in the atmosphere. Allergenic proteins were found in coarse and fine particle samples, and indications for atmospheric degradation of proteins were observed.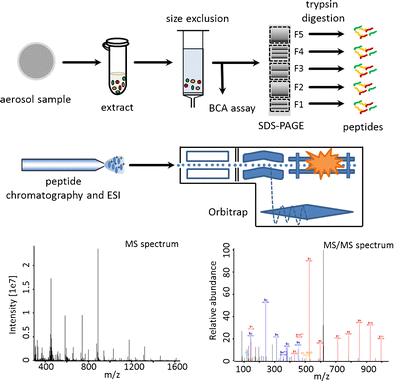 References
Després VR, Huffman JA, Burrows SM, Hoose C, Safatov AS, Buryak G et al. Primary biological aerosol particles in the atmosphere: a review. Tellus B. 2012; 64.

Matthias-Maser S, Jaenicke R. The size distribution of primary biological aerosol particles with radii >0.2 μm in an urban/rural influenced region. Atmos Res. 1995;39:279–86.

Carslaw K, Boucher O, Spracklen D, Mann G, Rae J, Woodward S, et al. A review of natural aerosol interactions and feedbacks within the Earth system. Atmos Chem Phys. 2010;10:1701–37.

Pöschl U, Martin S, Sinha B, Chen Q, Gunthe S, Huffman J, et al. Rainforest aerosols as biogenic nuclei of clouds and precipitation in the Amazon. Science. 2010;329:1513–6.

Huffman JA, Prenni A, DeMott P, Pöhlker C, Mason R, Robinson N, et al. High concentrations of biological aerosol particles and ice nuclei during and after rain. Atmos Chem Phys. 2013;13:6151–64.

Żukiewicz-Sobczak W. The role of fungi in allergic diseases. Postep Derm Alergol. 2013;30:42–5.

Douwes J, Thorne P, Pearce N, Heederik D. Bioaerosol health effects and exposure assessment: progress and prospects. Ann Occup Hyg. 2003;47:187–200.

Singh A. Pollen and fungal aeroallergens associated with allergy and asthma in India. Glob J Immunol Allerg Dis. 2014;2:19–28.

Lang-Yona N, Shuster-Meiseles T, Mazar Y, Yarden O, Rudich Y. Impact of urban air pollution on the allergenicity of Aspergillus fumigatus conidia: outdoor exposure study supported by laboratory experiments. Sci Total Environ. 2016;541:365–71.

D'Amato G, Cecchi L, Bonini S, Nunes C, Annesi-Maesano I, Behrendt H, et al. Allergenic pollen and pollen allergy in Europe. Allergy. 2007;62:976–90.

Pummer B, Budke C, Augustin-Bauditz S, Niedermeier D, Felgitsch L, Kampf C, et al. Ice nucleation by water-soluble macromolecules. Atmos Chem Phys. 2015;15:4077–91.

Riediker M, Koller T, Monn C. Differences in size selective aerosol sampling for pollen allergen detection using high-volume cascade impactors. Clin Exp Allergy. 2000;30:867–73.

Tong Y, Lighthart B. The annual bacterial particle concentration and size distribution in the ambient atmosphere in a rural area of the Willamette Valley. Oregon Aerosol Sci Technol. 2000;32:393–403.

Wang CC, Fang GC, Lee L. Bioaerosols study in central Taiwan during summer season. Toxicol Ind Health. 2007;23:133–9.

Fröhlich-Nowoisky J, Pickersgill DA, Després VR, Pöschl U. High diversity of fungi in air particulate matter. Proc Natl Acad Sci U S A. 2009;106:12814–9.

Elbert W, Taylor P, Andreae M, Pöschl U. Contribution of fungi to primary biogenic aerosols in the atmosphere: wet and dry discharged spores, carbohydrates, and inorganic ions. Atmos Chem Phys. 2007;7:4569–88.

Taylor P, Flagan R, Miguel A, Valenta R, Glovsky M. Birch pollen rupture and the release of aerosols of respirable allergens. Clin Exp Allergy. 2004;34:1591–6.

Visez N, Chassard G, Azarkan N, Naas O, Sénéchal H, Sutra J-P, et al. Wind-induced mechanical rupture of birch pollen: potential implications for allergen dispersal. J Aerosol Sci. 2015;89:77–84.

Guarnieri M, Balmes JR. Outdoor air pollution and asthma. Lancet. 2014;383:1581–92.

Staton SJ, Woodward A, Castillo JA, Swing K, Hayes MA. Ground level environmental protein concentrations in various Ecuadorian environments: potential uses of aerosolized protein for ecological research. Ecol Indic. 2015;48:389–95.

Miguel AG, Cass GR, Glovsky MM, Weiss J. Allergens in paved road dust and airborne particles. Environ Sci Technol. 1999;33:4159–68.

Franze T, Weller MG, Niessner R, Pöschl U. Protein nitration by polluted air. Environ Sci Technol. 2005;39:1673–8.

Menetrez M, Foarde K, Dean T, Betancourt D, Moore S. An evaluation of the protein mass of particulate matter. Atmos Environ. 2007;41:8264–74.

Buters J, Thibaudon M, Smith M, Kennedy R, Rantio-Lehtimäki A, Albertini R, et al. Release of Bet v 1 from birch pollen from 5 European countries. Results from the HIALINE study. Atmos Environ. 2012;55:496–505.

Miyajima K, Suzuki Y, Miki D, Arai M, Arakawa T, Shimomura H, et al. Direct analysis of airborne mite allergen (Der f 1) in the residential atmosphere by chemifluorescent immunoassay using bioaerosol sampler. Talanta. 2014;123:241–6.

Rodriguez-Valera F. Environmental genomics, the big picture? FEMS Microbiol Lett. 2004;231:153–8.

Wilmes P, Bond PL. The application of two-dimensional polyacrylamide gel electrophoresis and downstream analyses to a mixed community of prokaryotic microorganisms. Environ Microbiol. 2004;6:911–20.

Williams MA, Taylor EB, Mula HP. Metaproteomic characterization of a soil microbial community following carbon amendment. Soil Biol Biochem. 2010;42:1148–56.

Wang DZ, Xie ZX, Zhang SF. Marine metaproteomics: current status and future directions. J Proteomics. 2014;97:27–35.

Barnett JP, Scanlan DJ, Blindauer CA. Protein fractionation and detection for metalloproteomics: challenges and approaches. Anal Bioanal Chem. 2012;402:3311–22.

Thompson EL, Taylor DA, Nair SV, Birch G, Hose GC, Raftos DA. Proteomic analysis of Sydney Rock oysters (Saccostrea glomerata) exposed to metal contamination in the field. Environ Pollut. 2012;170:102–12.

Shah HN, Gharbia S, editors. Mass spectrometry for microbial proteomics. Chichester: Wiley; 2010.

Tobias HJ, Schafer MP, Pitesky M, Fergenson DP, Horn J, Frank M, et al. Bioaerosol mass spectrometry for rapid detection of individual airborne Mycobacterium tuberculosis H37Ra particles. Appl Environ Microbiol. 2005;71:6086–95.

Sekhon SS, Ahn JY, Min J, Kim YH. Toxicoproteomic approaches for analysis of microbial community inhabiting Asian dust particles. Mol Cell Toxicol. 2015;11:287–94.

Sekhon SS, Kim M, Um HJ, Kobayashi F, Iwasaka Y, Shi G, et al. Proteomic analysis of microbial community inhabiting asian dust source region. Clean-Soil Air Water. 2016;44:25–8.

Solomon PA, Moyers JL, Fletcher RA. High-volume dichotomous virtual impactor for the fractionation and collection of particles according to aerodynamic size. Aerosol Sci Technol. 1983;2:455–64.

Kang H, Xie Z, Hu Q. Ambient protein concentration in PM10 in Hefei, central China. Atmos Environ. 2012;54:73–9.

Poulain L, Spindler G, Birmili W, Plass-Dülmer C, Wiedensohler A, Herrmann H. Seasonal and diurnal variations of particulate nitrate and organic matter at the IfT research station Melpitz. Atmos Chem Phys. 2011;11:12579–99.

Shevchenko A, Henrik Tomas JH, Olsen JV, Mann M. In-gel digestion for mass spectrometric characterization of proteins and proteomes. Nat Protoc. 2007;1:2856–60.

Wilm M, Mann M. Analytical properties of the nanoelectrospray ion source. Anal Chem. 1996;68:1–8.

Watanabe Y, Aburatani K, Mizumura T, Sakai M, Muraoka S, Mamegosi S, et al. Novel ELISA for the detection of raw and processed egg using extraction buffer containing a surfactant and a reducing agent. J Immunol Methods. 2005;300:115–23.

Mandalakis M, Apostolaki M, Tziaras T, Polymenakou P, Stephanou EG. Free and combined amino acids in marine background atmospheric aerosols over the Eastern Mediterranean. Atmos Environ. 2011;45:1003–9.

Weiss W, Weiland F, Görg A. Protein detection and quantitation technologies for gel-based proteome analysis. Proteomics. 2009;564:59–82.

Qiu C, Khalizov AF, Zhang R. Soot aging from OH-initiated oxidation of toluene. Environ Sci Technol. 2012;46:9464–72.

Gattiker A, Michoud K, Rivoire C, Auchincloss AH, Coudert E, Lima T, et al. Automated annotation of microbial proteomes in SWISS-PROT. Comput Biol Chem. 2003;27:49–58.

Galagan JE, Calvo SE, Borkovich KA, Selker EU, Read ND, Jaffe D, et al. The genome sequence of the filamentous fungus Neurospora crassa. Nature. 2003;422:859–68.

Dinamarca MA, Orellana L, Aguirre J, Baeza P, Espinoza G, Canales C, et al. Biodesulfurization of dibenzothiophene and gas oil using a bioreactor containing a catalytic bed with Rhodococcus rhodochrous immobilized on silica. Biotechnol Lett. 2014;36:1649–52.

Gómez‐Ollés S, Cruz M, Bogdanovic J, Wouters I, Doekes G, Sander I, et al. Assessment of soy aeroallergen levels in different work environments. Clin Exp Allergy. 2007;37:1863–72.

Riediker M, Koller T, Monn C. Determination of birch pollen allergens in different aerosol sizes. Aerobiologia. 2000;16:251–4.

Taylor PE, Flagan RC, Valenta R, Glovsky MM. Release of allergens as respirable aerosols: a link between grass pollen and asthma. J Allergy Clin Immunol. 2002;109:51–6.

Stadtman ER. Protein oxidation and aging. Free Rad Res. 2006;40:1250–8.

Oliyai C, Borchardt RT. Chemical pathways of peptide degradation. IV. Pathways, kinetics, and mechanism of degradation of an aspartyl residue in a model hexapeptide. Pharm Res. 1993;10:95–102.

Zhang N, Chen R, Young N, Wishart D, Winter P, Weiner JH, et al. Comparison of SDS- and methanol-assisted protein solubilization and digestion methods for Escherichia coli membrane proteome analysis by 2-D LC-MS/MS. Proteomics. 2007;7:484–93.

Crutzen PJ. Geology of mankind. Nature. 2002;415:23.

Pöschl U, Shiraiwa M. Multiphase chemistry at the atmosphere–biosphere interface influencing climate and public health in the anthropocene. Chem Rev. 2015;115:4440–75.

Zhang Q, Anastasio C. Free and combined amino compounds in atmospheric fine particles (PM2.5) and fog waters from Northern California. Atmos Environ. 2003;37:2247–58.

Nguyen TB, Crounse JD, Teng AP, Clair JMS, Paulot F, Wolfe GM, et al. Rapid deposition of oxidized biogenic compounds to a temperate forest. Proc Natl Acad Sci U S A. 2015;112:E392–401.

Gruijthuijsen Y, Grieshuber I, Stöcklinger A, Tischler U, Fehrenbach T, Weller M, et al. Nitration enhances the allergenic potential of proteins. Int Arch Allergy Immunol. 2006;141:265–75.

Karle AC, Oostingh GJ, Mutschlechner S, Ferreira F, Lackner P, Bohle B, et al. Nitration of the pollen allergen bet v 1.0101 enhances the presentation of bet v 1-derived peptides by HLA-DR on human dendritic cells. PLoS One. 2012;7:e31483.

Ackaert C, Kofler S, Horejs-Hoeck J, Zulehner N, Asam C, von Grafenstein S, et al. The impact of nitration on the structure and immunogenicity of the major birch pollen allergen Bet v 1.0101. PloS one. 2014;9:e104520.

Reinmuth-Selzle K, Ackaert C, Kampf CJ, Samonig M, Shiraiwa M, Kofler S, et al. Nitration of the birch pollen allergen Bet v 1.0101: efficiency and site-selectivity of liquid and gaseous nitrating agents. J Proteome Res. 2014;13:1570–7.
Acknowledgments
Open access funding provided by Max Planck Society. F.L. and S.L. acknowledge financial support from China Scholarship council (CSC), C.J.K. acknowledges financial support by the German Research Foundation (DFG; grant no. KA4008/1-1). Support in nano-LC-MS/MS analysis by the Institute of Molecular Biology (IMB; Mainz) Proteomic Core Facility is gratefully acknowledged. The authors thank Jörn Wehking and Daniel Pickersgill for technical support.
Ethics declarations
Conflict of interest
The authors declare that they have no competing interests.
Ethical approval
This article does not contain any research with human participants or animals. All authors of this manuscript were informed and agreed for submission.
Electronic supplementary material
Below is the link to the electronic supplementary material.
This file contains one table and three figures. Table S1 contains sampling information of the air filter samples. Figure S1 illustrates the development of the extraction method schematically, Fig. S2 shows protein concentrations in air filter samples determined by BCA assay, Fig. S3 provides MS/MS spectra of tryptic peptides of the beta-conglycinin, alpha chain protein identified in the TSP sample. (PDF 1323 kb)
A complete list of accepted identification of proteins/protein groups in ambient aerosol filter samples. The file shows relevant parameters, such as number of peptides (N), sum of razor and unique peptides (O), number of unique peptides (P), number of peptides in respective SDS-PAGE fractions (Q-U), molecular weight (V), sequence coverage (W), and intensity (Y) of the identified protein, PEP score of protein (X, a PEP of 0 is <4.9E−324). Also kingdom (F), phylum (G), class (H), order (I), family (J), genus (K), and species (M) of proteins are summarized in this file. (PDF 330 kb)
Rights and permissions
Open Access This article is distributed under the terms of the Creative Commons Attribution 4.0 International License (http://creativecommons.org/licenses/by/4.0/), which permits unrestricted use, distribution, and reproduction in any medium, provided you give appropriate credit to the original author(s) and the source, provide a link to the Creative Commons license, and indicate if changes were made.
About this article
Cite this article
Liu, F., Lai, S., Reinmuth-Selzle, K. et al. Metaproteomic analysis of atmospheric aerosol samples. Anal Bioanal Chem 408, 6337–6348 (2016). https://doi.org/10.1007/s00216-016-9747-x
Received:

Revised:

Accepted:

Published:

Issue Date:

DOI: https://doi.org/10.1007/s00216-016-9747-x
Keywords
Metaproteomics

Atmospheric aerosols

Bioanalytical methods

HPLC

Mass spectrometry