Abstract
Parabens are used as preservatives in personal care and consumer products, food and pharmaceuticals. Their use is controversial because of possible endocrine disrupting properties. In this study, we investigated metabolism and urinary excretion of methyl paraben (MeP), iso-butyl paraben (iso-BuP) and n-butyl paraben (n-BuP) after oral dosage of deuterium-labeled analogs (10 mg). Each volunteer received one dosage per investigated paraben separately and at least 2 weeks apart. Consecutive urine samples were collected over 48 h. In addition to the parent parabens (free and conjugated) which are already used as biomarkers of internal exposure and the known but non-specific metabolites, p-hydroxybenzoic acid (PHBA) and p-hydroxyhippuric acid (PHHA), we identified new, oxidized metabolites with hydroxy groups on the alkyl side chain (3OH-n-BuP and 2OH-iso-BuP) and species with oxidative modifications on the aromatic ring. MeP represented 17.4 % of the dose excreted in urine, while iso-BuP represented only 6.8 % and n-BuP 5.6 %. Additionally, for iso-BuP, about 16 % was excreted as 2OH-iso-BuP and for n-BuP about 6 % as 3OH-n-BuP. Less than 1 % was excreted as ring-hydroxylated metabolites. In all cases, PHHA was identified as the major but non-specific metabolite (57.2–63.8 %). PHBA represented 3.0–7.2 %. For all parabens, the majority of the oral dose captured by the above metabolites was excreted in the first 24 h (80.5–85.3 %). Complementary to the parent parabens excreted in urine, alkyl-chain-oxidized metabolites of the butyl parabens are introduced as valuable and contamination-free biomarkers of exposure.
Access options
Buy single article
Instant access to the full article PDF.
US$ 39.95
Tax calculation will be finalised during checkout.
Subscribe to journal
Immediate online access to all issues from 2019. Subscription will auto renew annually.
US$ 119
Tax calculation will be finalised during checkout.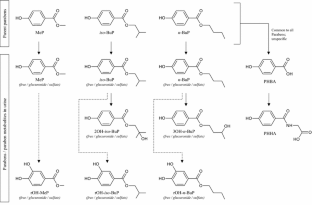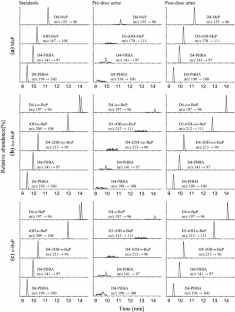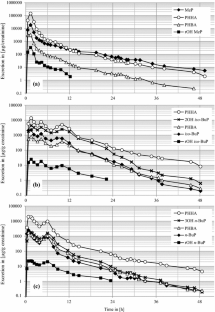 References
Abbas S, Greige-Gerges H, Karam N, Piet MH, Netter P, Magdalou J (2010) Metabolism of parabens (4-hydroxybenzoic acid esters) by hepatic esterases and UDP-glucuronosyltransferases in man. Drug Metab Pharmacokinet 25(6):568–577

Asimakopoulos AG, Thomaidis NS, Kannan K (2014) Widespread occurrence of bisphenol A diglycidyl ethers, p-hydroxybenzoic acid esters (parabens), benzophenone type-UV filters, triclosan, and triclocarbanin human urine from Athens, Greece. Sci Total Environ 470–471:1243–1249

Aubert N, Ameller T, Legrand JJ (2012) Systemic exposure to parabens: pharmacokinetics, tissue distribution, excretion balance and plasma metabolites of [14C]-methyl-, propyl- and butylparaben in rats after oral, topical or subcutaneous administration. Food Chem Toxicol 50(3–4):445–454

Baderschneider B, Winterhalter P (2001) Isolation and characterization of novel benzoates, cinnamates, flavonoids, and lignans from Riesling wine and screening for antioxidant activity. J Agric Food Chem 49(6):2788–2798

Barr DB, Silva MJ, Kato K, Reidy JA, Malek NA, Hurtz D, Sadowski M, Needham LL, Calafat AM (2003) Assessing human exposure to phthalates using monoesters and their oxidized metabolites as biomarkers. Environ Health Perspect 111(9):1148–1151

Blair RM, Fang H, Branham WS, Hass BS, Dial SL, Moland CL, Tong W, Shi L, Perkins R, Sheehan DM (2000) The estrogen receptor relative binding affinities of 188 natural and xenochemicals: structural diversity of ligands. Toxicol Sci 54:138–153

Błędzka D, Gromadzińska J, Wąsowicz W (2014) Parabens. From environmental studies to human health. Environ Int 67:27–42

Boberg J, Taxvig C, Christiansen S, Hass U (2010) Possible endocrine disrupting effects of parabens and their metabolites. Reprod Toxicol 30:301–312

Byford JR, Shaw LE, Drew MGB, Pope GS, Sauer MJ, Darbre PD (2002) Oestrogenic activity of parabens in MCF7 human breast cancer cells. J Steroid Biochem Mol Biol 80:49–60

Calafat AM, Ye X, Wong LY, Bishop AM, Needham LL (2010) Urinary concentrations of four parabens in the U.S. population: 2005–2006. Environ Health Perspect 118:679–685

Casas L, Fernandez MF, Llop S, Guxens M, Ballester F, Olea N, Irurzun MB, Rodriguez LS, Riano I, Tardon A, Vrijheid M, Calafat AM, Sunyer J (2011) Urinary concentrations of phthalates and phenols in a population of Spanish pregnant women and children. Environ Int 37:858–866

CDC (2015) Fourth National report on human exposure to environmental chemicals, updated tables. Centers for Disease Control and Prevention, Atlanta, GA. http://www.cdc.gov/biomonitoring/pdf/FourthReport_UpdatedTables_Feb2015.pdf. Accessed 25 July 2015

Chen J, Ahn KC, Gee NA, Gee SJ, Hammock BD, Lasley BL (2007) Antiandrogenic properties of parabens and other phenolic containing small molecules in personal care products. Toxicol Appl Pharmacol 221:278–284

Darbre PD, Aljarrah A, Miller WR, Coldham NG, Sauer MJ, Pope GS (2004) Concentrations of parabens in human breast tumours. J Appl Toxicol 24(1):5–13

Dewalque L, Pirard C, Charlier C (2014) Measurement of urinary biomarkers of parabens, benzophenone-3, and phthalates in a Belgian population. Biomed Res Int. doi:10.1155/2014/649314 (Article ID 649314, Epub 2014 Feb 25)

European Parliament (2014a) Regulation (EC) No 1004/2014 of the European Parliament and of the Council. Official Journal of the European Union L282/5-8. http://eur-lex.europa.eu/legal-content/DE/TXT/PDF/?uri=CELEX:32014R1004&qid=721&from=DE. Accessed 25 July 2015

European Parliament (2014b) Regulation (EC) No 358/2014 of the European Parliament and of the Council. Official Journal of the European Union L107/5-8. http://eur-lex.europa.eu/legal-content/DE/TXT/PDF/?uri=CELEX:32014R0358&qid=1427264491721&from=DE. Accessed 25 July 2015

Frederiksen H, Jørgensen N, Andersson AM (2010) Parabens in urine, serum and seminal plasma from healthy Danish men determined by liquid chromatography–tandem mass spectrometry (LC–MS/MS). J Expo Sci Environ Epidemiol 21(3):262–271

Frederiksen H, Nielsen JK, Mørck TA, Hansen PW, Jensen JF, Nielsen O, Andersson AM, Knudsen LE (2013) Urinary excretion of phthalate metabolites, phenols and parabens in rural and urban Danish mother–child pairs. Int J Hyg Environ Health 216(6):772–783

Frederiksen H, Jensen TK, Jørgensen N, Boye Kyhl H, Husby S, Skakkebaek NE, Main KM, Juul A, Andersson AM (2014) Human urinary excretion of non-persistent environmental chemicals: an overview of Danish data collected 2006–2012. Reproduction 147:555–565

Guidry VT, Longnecker MP, Aase H, Eggesbø M, Zeiner P, Reichborn-Kjennerud T, Knudsen GP, Bertelsen RJ, Ye X, Calafat AM, Engel SM (2015) Measurement of total and free urinary phenol and paraben concentrations over the course of pregnancy: assessing reliability and contamination of specimens in the Norwegian mother and child cohort study. Environ Health Perspect 123(7):705–711

Guo Y, Kannan K (2013) A survey of phthalates and parabens in personal care products from the United States and its implications for human exposure. Environ Sci Technol 47:14442–14449

Hoberman AM, Schreur DK, Leazer T, Daston GP, Carthew P, Re T, Loretz L, Mann F (2008) Lack of effect of butylparaben and methylparaben on the reproductive system in male rats. Birth Defects Res B Dev Reprod Toxicol 83:123–133

Huang SC, Yen GC, Chang LW, Yen WJ, Duh PD (2003) Identification of an antioxidant, ethyl protocatechuate, in peanut seed testa. J Agric Food Chem 51:2380–2383

Janjua NR, Frederiksen H, Skakkebaek NE, Wulf HC, Andersson AM (2008) Urinary excretion of phthalates and paraben after repeated whole-body topical application in humans. Int J Androl 31(2):118–130

Kang S, Kim S, Park J, Kim HJ, Lee J, Choi G, Choi S, Kim S, Kim SY, Moon HB, Kim S, Kho YL, Choi K (2013) Urinary paraben concentrations among pregnant women and their matching newborn infants of Korea, and the association with oxidative stress biomarkers. Sci Total Environ 461–462:214–221

Kjærstad MB, Taxvig C, Andersen HR, Nellemann C (2010) Mixture effects of endocrine disrupting compounds in vitro. Int J Androl 33:425–433

Koch HM, Calafat AM (2009) Human body burdens of chemicals used in plastic manufacture. Philos Trans R Soc Lond B Biol Sci 364(1526):2063–2078

Koch HM, Rossbach B, Drexler H, Angerer J (2003) Internal exposure of the general population to DEHP and other phthalates–determination of secondary and primary phthalate monoester metabolites in urine. Environ Res 93(2):177–185

Koch HM, Christensen KL, Harth V, Lorber M, Brüning T (2012) Di-n-butyl phthalate (DnBP) and diisobutyl phthalate (DiBP) metabolism in a human volunteer after single oral doses. Arch Toxicol 86(12):1829–1839

Koch HM, Aylward LL, Hays SM, Smolders R, Moos RK, Cocker J, Jones K, Warren N, Levy L, Bevan R (2014) Inter- and intra-individual variation in urinary biomarker concentrations over a 6-day sampling period. Part 2: personal care product ingredients. Toxicol Lett 231(2):261–269

Lemini C, Jaimez R, Avila ME, Franco Y, Larrea F, Lemus AE (2003) In vivo and in vitro estrogen bioactivities of alkyl parabens. Toxicol Ind Health 19(2–6):69–79

Longnecker MP, Harbak K, Kissling GE, Hoppin JA, Eggesbo M, Jusko TA, Eide J, Koch HM (2013) The concentration of bisphenol A in urine is affected by specimen collection, a preservative, and handling. Environ Res 126:211–214

Ma WL, Wang L, Guo Y, Liu LY, Qi H, Zhu NZ, Gao CJ, Li YF, Kannan K (2013) Urinary concentrations of parabens in Chinese young adults: implications for human exposure. Arch Environ Contam Toxicol 65(3):611–618

Meeker JD, Cantonwine DE, Rivera-González LO, Ferguson KK, Mukherjee B, Calafat AM, Ye X, Anzalota Del Toro LV, Crespo-Hernández N, Jiménez-Vélez B, Alshawabkeh AN, Cordero JF (2013) Distribution, variability, and predictors of urinary concentrations of phenols and parabens among pregnant women in Puerto Rico. Environ Sci Technol 47(7):3439–3447

Moos RK, Angerer J, Wittsiepe J, Wilhelm M, Brüning T, Koch HM (2014) Rapid determination of nine parabens and seven other environmental phenols in urine samples of German children and adults. Int J Hyg Environ Health 217(8):845–853

Moos RK, Koch HM, Angerer J, Apel P, Schröter-Kermani C, Brüning T, Kolossa-Gehring M (2015) Parabens in 24 h urine samples of the German Environmental Specimen Bank from 1995 to 2012. Int J Hyg Environ Health. doi:10.1016/j.ijheh.2015.07.005 (Epub ahead of print)

Oishi S (2001) Effects of butylparaben on the male reproductive system in rats. Toxicol Ind Health 17(1):31–39

Oishi S (2002a) Effects of butyl paraben on the male reproductive system in mice. Arch Toxicol 76(7):423–429

Oishi S (2002b) Effects of propyl paraben on the male reproductive system. Food Chem Toxicol 40(12):1807–1813

Okubo T, Yokoyama Y, Kano K, Kano I (2001) ER-dependent estrogenic activity of parabens assessed by proliferation of human breast cancer MCF-7 cells and expression of ERα and PR. Food Chem Toxicol 39(12):1225–1232

Philippat C, Mortamais M, Chevrier C, Petit C, Calafat AM, Ye X, Silva MJ, Brambilla C, Pin I, Charles MA, Cordier S, Slama R (2012) Exposure to phthalates and phenols during pregnancy and offspring size at birth. Environ Health Perspect 120:464–470

Routledge EJ, Parker J, Odum J, Ashby J, Sumpter JP (1998) Some alkyl hydroxy benzoate preservatives (parabens) are estrogenic. Toxicol Appl Pharmacol 153:12–19

Satoh K, Nonaka R, Ohyama K, Nagai K (2005) Androgenic and antiandrogenic effects of alkylphenols and parabens assessed using the reporter gene assay with stably transfected CHO-K1 cells (AR-Eco-Screen system). J Health Sci 51:557–568

Shirai S, Suzuki Y, Yoshinaga J, Shiraishi H, Mizumoto Y (2013) Urinary excretion of parabens in pregnant Japanese women. Reprod Toxicol 35:96–101

Soni MG, Carabin IG, Burdock GA (2005) Safety assessment of esters of p-hydroxybenzoic acid (parabens). Food Chem Toxicol 43:985–1015

Wang L, Kannan K (2013) Alkyl protocatechuates as novel urinary biomarkers of exposure to p-hydroxybenzoic acid esters (parabens). Environ Int 59:27–32

Wang L, Wu Y, Zhang W, Kannan K (2013) Characteristic profiles of urinary p-hydroxybenzoic acid and its esters (parabens) in children and adults from the U.S. and China. Environ Sci Technol 47:2069–2076

Ye X, Kuklenyik Z, Needham LL, Calafat AM (2005) Automated on-line column-switching HPLC-MS/MS method with peak focusing for the determination of nine environmental phenols in urine. Anal Chem 77:5407–5413

Ye X, Bishop AM, Reidy JA, Needham LL, Calafat AM (2006) Parabens as urinary biomarkers of exposure in humans. Environ Health Perspect 114(12):1843–1846

Ye X, Zhou X, Hennings R, Kramer J, Calafat AM (2013) Potential external contamination with bisphenol A and other ubiquitous organic environmental chemicals during biomonitoring analysis: an elusive laboratory challenge. Environ Health Perspect 121(3):283–286
Electronic supplementary material
Below is the link to the electronic supplementary material.
About this article
Cite this article
Moos, R.K., Angerer, J., Dierkes, G. et al. Metabolism and elimination of methyl, iso- and n-butyl paraben in human urine after single oral dosage. Arch Toxicol 90, 2699–2709 (2016). https://doi.org/10.1007/s00204-015-1636-0
Received:

Accepted:

Published:

Issue Date:
Keywords
Parabens

Human metabolism

Urinary metabolites

Human biomonitoring