Abstract
Seed-borne Streptomyces can transmit vertically from generation to generation and be a mutualism between the endosymbionts and hosts. The aim of this study was to isolate and characterize endophytic Streptomyces strains from wheat sprouts, and to investigate their protection against wheat seed pathogenic fungi Penicillium. Endophytic Streptomyces sp. F6 and Streptomyces sp. F39 were isolated from wheat sprouts germinated under sterile conditions. Both Streptomyces strains could produce siderophores, and showed antagonistic activities against the seed pathogenic fungi Penicillium sp. Z17. The inoculation of Streptomyces sp. F39 and F6 could protect wheat seed germination and promote seedling growth under Penicillium sp. Z17 infection. However, the protection efficiency was impacted by the Streptomyces spore concentrations, the concentration ratios of Streptomyces spores to pathogen spores, and inoculation methods. The results suggested that wheat sprouts harbored diverse endophytic Streptomyces species which derived from wheat seeds, these strains should be more likely transmitted to the next generation, and confer competitive ability to pathogens on the offspring. Owing to the more intimate correlation between sprout endophytic flora with host plants, these strains are more suitable for mature plant interiors compared with those from rhizosphere soils and root interiors.
Access options
Buy single article
Instant access to the full article PDF.
USD 39.95
Price includes VAT (USA)
Tax calculation will be finalised during checkout.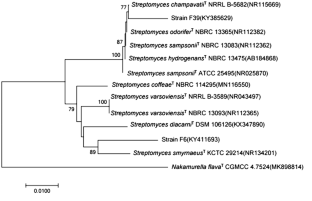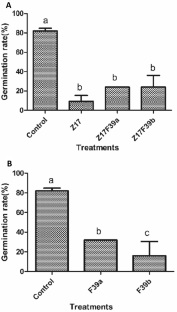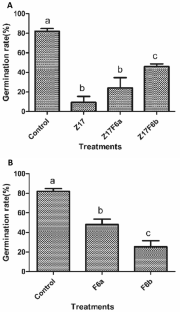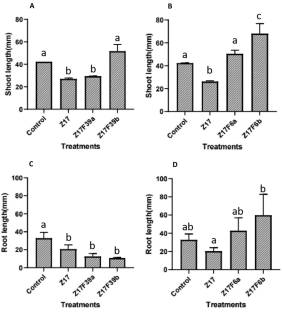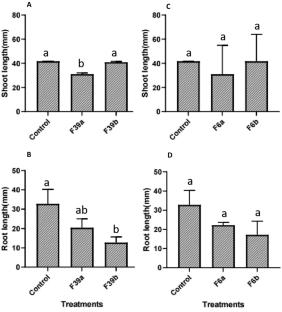 Availability of data and material
All data generated or analysed during this study are included in this published article.
References
Aly AH, Debbab A, Proksch P (2011) Fungal endophytes: unique plant inhabitants with great promises. Appl Microbiol Biothchnol 90:1829–1845

Belkacem-Hanfi N, Fhoula I, Semmar N, Guesmi A, Perraud-Gaime I, Ouzari H-I, Boudabous A, Roussos S (2014) Lactic acid bacteria against post-harvest moulds and ochratoxin A isolated from stored wheat. Biol Control 76:52–59

Bressan W (2003) Biological control of maize seed pathogenic fungi by use of actinomycetes. Biocontrol 48:233–240

Cao L, Qiu Z, You J, Tan H, Zhou S (2005) Isolation and characterization of endophytic streptomycete antagonists of fusarium wilt pathogen from surface-sterilized banana roots. FEMS Microbiol Lett 247:147–152

de Jesus SJA, Olivares FL (2016) Plant growth promotion by streptomycetes: ecophysiology, mechanisms and applications. Chem Biol Technol Agric 3:24. https://doi.org/10.1186/s40538-016-0073-5

Du X, Zhai Y, Deng Q, Tan H, Cao L (2017) Illumina-based sequencing analysis directed selection for actinobacterial probiotic candidates for banana plants. Probio Antimicrob Prot. https://doi.org/10.1007/s12602-017-9293-7

EI-Tarabily KA (2008) Promotion of tomato (Lycopersicon esculentum Mill.) plant growth by rhizosphere competent 1-aminocyclopropane-1-carboxylic acid deaminase-producing streptomycete actinomycets. Plant Soil 308:161–174

Ferreira A, Quecine MC, Lacava PT, Oda S, Azevedo JL, Araújo WL (2008) Diversity of endophytic bacteria from Eucalyptus species seeds and colonization of seedlings by Pantoea agglomerans. FEMS Microbiol Lett 287:8–14

Gangwar M, Khushboo SP (2014) Diversity of endophytic actinomycetes in Musa acuminate and their plant growth promoting activity. Int J Biol Chem Sci 1:13–23

Glickmann E, Dessaux Y (1995) A critical examination of the specificity of the Salkowski reagent for indolic compounds produced by phytopathogenic bacteria. Appl Environ Microbiol 61:793–796

Goudjal Y, Toumatia O, Sabaou N, Barakate M, Mathieu F, Zitouni A (2013) Endophytic actinomycetes from spontaneous plants of Algerian Sahara: indole-3-acetic acid production and tomato plants growth promoting activity. World J Microbiol Biotechnol 29:1821–1829

Goudjal Y, Toumatia O, Yekkour A, Sabaou N, Mathieu F, Zitouni A (2014) Biocontrol of Rhizoctonia solani damping-off and promotion of tomato plant growth by endophytic actinomycetes isolated from native plants of Algerian Sahara. Microbiol Res 169:59–65

Hirsch PR, Mauchline TH (2012) Who's who in the plant root microbiome? Nat Biotechnol 30:961–962

Huang Y, Kuang Z, Wang W, Cao L (2016) Exploring potential bacterial and fungal biocontrol agents transmitted from seeds to sprouts of wheat. Biol Control 98:27–33

Kurth F, Mailander S, Bonn M, Feldhahn L, Herrmann S, Große I, Buscot F, Schrey SD, Tarkka MT (2014) Streptomyces-induced resistance against oak powdery mildew involves host plant responses in defense, photosynthesis, and secondary metabolism pathways. Mol Plant-Microbe Interact 27:891–900

Johnston-Monje D, Mousa WK, Lazarovits G, Raizada MN (2014) Impact of swapping soils on the endophytic bacterial communities of pre-domesticated, ancient and modern maize. BMC Plant Biol 14:233

Lundberg DS, Lebeis SL, Paredes SH, Yourstone S, Gehring J, Malfatti S, Tremblay J, Engelbrektson A, Kunin V, del Rio TG, Edgar RC, Eickhorst T, Ley RE, Hugenholtz P, Tringe SG, Dangl JL (2012) Defining the core Arabidopsis thaliana root microbiome. Nature 488:86–90

Links MG, Demeke T, Gräfenhan T, Hill JE, Hemmingsen SM, Dumonceaux TJ (2014) Simultaneous profiling of seed-associated bacteria and fungi reveals antagonistic interactions between microorganisms within a shared epiphytic microbiome on Triticum and Brassica seeds. New Phytol 202:542–553

Nicolaisen M, Justesen AF, Knorr K, Wang J, Pinnschmidt HO (2014) Fungal communities in wheat grain show significant co-existence patterns among species. Fungal Ecol 11:145–153

Nassar AH, EI-Tarabily KA, Sivasithamparam K (2005) Promotion of plant growth by an auxin-producing isolate of the yeast Williopsis saturnus endophytic in maize (Zea mays L.) roots. Biol Fertil Soils 42:97–108

Nelson EB (2018) The seed microbiome: origins, interactions, and impacts. Plant Soil 422:1–28

Ofek M, Hadar Y, Minz D (2011) Colonization of cucumber seeds by bacteria during germination. Environ Microbiol 13:2794–2807

Palaniyandi SA, Yang SH, Zhang L, Suh J-W (2013) Effects of actinobacteria on plant disease suppression and growth promotion. Appl Microbiol Biotechnol 97:9621–9636

Passari AK, Mishra VK, Gupta VK, Yadav MK, Saikia R, Singh BP (2015) In vitro and in vivo plant growth promoting activities and DNA fingerprinting of antagonistic endophytic actinomycetes associates with medicinal plants. PLoS ONE. https://doi.org/10.1371/journal.pone.0139468

Prange A, Modrow H, Hormes J, Kramer J, Kohler P (2005) Influence of mycotoxin producing fungi (Fusarium, Aspergillus, Penicillium) on gluten proteins during suboptimal storage of wheat after harvest and competitive interactions between field and storage fungi. J Agric Food Chem 53:6930–6938

Rey T, Dumas B (2017) Plenty is no plague: Streptomyces symbiosis with crops. Trends Plant Sci 22:30–37

Rungin S, Indananda C, Suttiviriya P, Kruasuwan W, Jaemsaeng R, Thamchaipenet A (2012) Plant growth enhancing effects by a siderophore-producing endophytic streptomycete isolated from a Thai jasmine rice plant (Oryza sativa L. CV. Kdml105). Ant Van Leeuw 102:463–472

Sapkota R, Knorr K, Jørgensen LN, O'Hanlon KA, Nicolaisen M (2015) Host genotype is an important determinant of the cereal phyllosphere mycobiome. New Phytol 207:1134–1144

Sankaranarayanan R, Alagumaruthanayagam A, Sankaran K (2015) A new fluorimetric method for the detection and quantification of siderophores using Calcein Blue, with potential as a bacterial detection tool. Appl Microbiol Biotechnol 99:2339–2349

Trujillo ME, Riesco R, Benito P, Carro L (2015) Endophytic actinobacteria and the interaction of Micromonospora and nitrogen fixing plants. Front Microbial 6:1341

Turner TR, James EK, Poole PS (2013) The plant microbiome. Gen Biol 14:209

Ventura M, Canchaya C, Tauch A, Chantra G, Fitzgerald GF, Chater KF, van Sinderen D (2007) Genomics of actinobacteria: tracing the evolutionary history of an ancient phylum. Microbiol Mol Biol Rev 71:495–548

Viaene T, Langendries S, Beirinckx S, Maes M, Goormachtig S (2016) Streptomyces as a plant's best friend? FEMS Microbiol Ecol 92(8):fiw119

Vujanovic V, Mavragani D, Hamel C (2012) Fungal communities associated with durum wheat production system: a characterization by growth stage, plant organ and preceding crop. Crop Prot 37:26–34

Vivas M, Kemler M, Slippers B (2015) Maternal effects on tree phenotyoes: considering the microbiome. Trends Plant Sci 20:541–544

Wang W, Zhai Y, Cao L, Tan H, Zhang R (2016) Illumina-based analysis of core actinobacteriome in roots, stems, and grains of rice. Microbiol Res 190:12–18

Xin G, Glawe D, Doty SL (2009) Characterization of three endophytic, indole-3-acetic acid-producing yeasts occurring in Populus trees. Microbiol Res 113:973–980

Yandigeri MS, Meena KK, Singh D, Malviya N, Singh DP, Solanki MK, Yadav AK, Arora DK (2012) Drought-tolerant endophytic actinobacteria promote growth of wheat (Triticum aestivum) under water stress conditions. Plant Growth Reg 68:411–420
Funding
This work was supported by grants from Chinese National Natural Science Foundation (Grant No.: 31700288), Chinese National Natural Science Foundation (Grant No.: 31971384) and Youth Elite Project of Guangzhou University of Chinese Medicine (Grant No.: QNYC20170103).
Ethics declarations
Conflicts of interest
The authors declare that they have no conflict of interests.
Ethics approval
This article does not contain any studies with human participants performed by any of the authors.
Consent to participate
Not applicable.
Consent for publication
All authors have seen the manuscript and approved to submit Archives of Microbiology.
Additional information
Publisher's Note
Springer Nature remains neutral with regard to jurisdictional claims in published maps and institutional affiliations.
Communicated by Erko Stackebrandt.
Supplementary Information
Below is the link to the electronic supplementary material.
About this article
Cite this article
Deng, S., Liu, Y., Deng, Z. et al. Isolation of actinobacterial endophytes from wheat sprouts as biocontrol agents to control seed pathogenic fungi. Arch Microbiol 203, 6163–6171 (2021). https://doi.org/10.1007/s00203-021-02581-3
Received:

Revised:

Accepted:

Published:

Issue Date:
Keywords
Endophyte

Sprout

Streptomyces

Biocontrol agents

Wheat