Abstract
Summary
This study is the first meta-analysis investigating the pooled incidence rates of fractures among patients with RA. Our results demonstrated that this population is at high risk of overall and fragility fractures. Consideration of vertebral imaging and RA-specific risk factor assessment may aid in fracture prevention for this vulnerable group.
Introduction
This systematic review and meta-analysis aims to estimate the incidence of fractures (overall and fragility) in patients with rheumatoid arthritis (RA).
Methods
MEDLINE, EMBASE, and CENTRAL were searched for cohort studies reporting incidence of fractures among patients with RA. Two reviewers independently assessed all studies for inclusion and extracted data. Pooled analyses of incidence rates and relative risk of fractures were conducted using a random-effects model. Subgroup analyses investigated potential sources of heterogeneity, and predictors of fractures were summarized.
Results
Twenty-five studies were included in total. The pooled incidence rates of overall and fragility fractures were 33.00 (95% CI 18.39–59.21) and 15.31 (95% CI 10.43–22.47) per 1000 person-years, respectively. Patients with RA had a higher risk of overall (RR 1.52, 95% CI 1.07–2.14) and fragility (RR 1.61, 95% CI 1.44–1.79) fractures. Subgroup analyses suggested a higher risk of fragility fractures among female patients (31.03 vs. 23.75 per 1000 person-years). The pooled site-specific incidence rates of vertebral, hip, forearm, and proximal humeral fractures were 7.51 (95% CI 3.27–17.23), 4.33 (95% CI 2.26–8.27), 3.40 (95% CI 2.27–5.10), and 1.86 (95% CI 1.36–2.53) per 1000 person-years, respectively. Clinical vertebral fractures were underestimated compared with radiographic screening (4.29 vs. 42.40 per 1000 person-years). Predictors of fractures included both traditional OP risk factors and RA-specific factors.
Conclusions
Patients with RA are at high risk of incident overall and fragility fractures. Consideration of vertebral imaging for patients with additional OP risk factors, including RA-specific risk factors, may help with early OP diagnosis and timely intervention.
Access options
Buy single article
Instant access to the full article PDF.
US$ 39.95
Tax calculation will be finalised during checkout.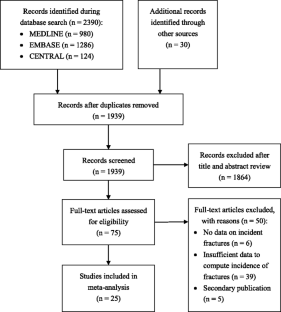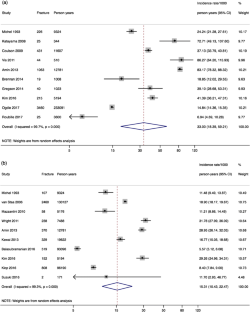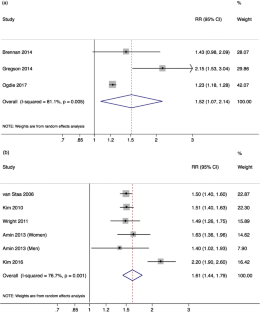 References
1.

Heinlen L, Humphrey MB (2017) Skeletal complications of rheumatoid arthritis. Osteoporosis international : a journal established as result of cooperation between the European Foundation for Osteoporosis and the National Osteoporosis Foundation of the USA 28:2801–2812

2.

Chen B, Cheng G, Wang H, Feng Y (2016) Increased risk of vertebral fracture in patients with rheumatoid arthritis: a meta-analysis. Medicine 95:e5262

3.

Briot K, Geusens P, Em Bultink I, Lems WF, Roux C (2017) Inflammatory diseases and bone fragility. Osteoporos Int 28:3301–3314

4.

Kanis JA, Johnell O, Oden A, Johansson H, McCloskey E (2008) FRAX and the assessment of fracture probability in men and women from the UK. Osteoporos Int 19:385–397

5.

Bliuc D, Nguyen ND, Milch VE, Nguyen TV, Eisman JA, Center JR (2009) Mortality risk associated with low-trauma osteoporotic fracture and subsequent fracture in men and women. JAMA 301:513–521

6.

Bultink IEM, Vis M, Van Der Horst-Bruinsma IE, Lems WF (2012) Inflammatory rheumatic disorders and bone. Curr Rheumatol Rep 14:224–230

7.

Tucci JR (2006) Importance of early diagnosis and treatment of osteoporosis to prevent fractures. Am J Manag Care 12:S181–S190

8.

van Staa TP, Geusens P, Bijlsma JW, Leufkens HG, Cooper C (2006) Clinical assessment of the long-term risk of fracture in patients with rheumatoid arthritis. Arthritis Rheum 54:3104–3112

9.

Ochi K, Inoue E, Furuya T, Ikari K, Toyama Y, Taniguchi A, Yamanaka H, Momohara S (2015) Ten-year incidences of self-reported non-vertebral fractures in Japanese patients with rheumatoid arthritis: discrepancy between disease activity control and the incidence of non-vertebral fracture. Osteoporos Int 26:961–968

10.

Roubille C, Rincheval N, Dougados M, Flipo RM, Daures JP, Combe B (2017) Seven-year tolerability profile of glucocorticoids use in early rheumatoid arthritis: data from the ESPOIR cohort. Ann Rheum Dis

11.

Lin YC, Li YH, Chang CH, Hu CC, Chen DW, Hsieh PH, Lee MS, Ueng SW, Chang Y (2015) Rheumatoid arthritis patients with hip fracture: a nationwide study. Osteoporos Int 26:811–817

12.

Xue AL, Wu SY, Jiang L, Feng AM, Guo HF, Zhao P (2017) Bone fracture risk in patients with rheumatoid arthritis. Medicine (United States) 96

13.

Moher D, Liberati A, Tetzlaff J, Altman DG (2009) Preferred reporting items for systematic reviews and meta-analyses: the PRISMA statement. PLoS Med 6:e1000097

14.

Higgins JP, Thompson SG, Deeks JJ, Altman DG (2003) Measuring inconsistency in meta-analyses. BMJ 327:557–560

15.

Goto A, Goto M, Noda M, Tsugane S (2013) Incidence of type 2 diabetes in Japan: a systematic review and meta-analysis. PLoS One 8:e74699

16.

Ochi K, Furuya T, Ishibashi M, Watanabe M, Ikari K, Taniguchi A, Yamanaka H, Momohara S (2016) Risk factors associated with the occurrence of proximal humerus fractures in patients with rheumatoid arthritis: a custom strategy for preventing proximal humerus fractures. Rheumatol Int 36:213–219

17.

Ishida O, Furuya T, Inoue E, Ochi K, Ikari K, Taniguchi A, Yamanaka H, Momohara S (2015) Risk factors for established vertebral fractures in Japanese patients with rheumatoid arthritis: results from a large prospective observational cohort study. Mod Rheumatol 25:373–378

18.

Michel BA, Bloch DA, Wolfe F, Fries JF (1993) Fractures in rheumatoid arthritis: an evaluation of associated risk factors. J Rheumatol 20:1666–1669

19.

Orstavik RE, Haugeberg G, Uhlig T, Mowinckel P, Falch JA, Halse JI, Kvien TK (2004) Self reported non-vertebral fractures in rheumatoid arthritis and population based controls: incidence and relationship with bone mineral density and clinical variables. Ann Rheum Dis 63:177–182

20.

Arai K, Hanyu T, Sugitani H, Murai T, Fujisawa J, Nakazono K, Kondo N, Endo N (2006) Risk factors for vertebral fracture in menopausal or postmenopausal Japanese women with rheumatoid arthritis: a cross-sectional and longitudinal study. J Bone Miner Metab 24:118–124

21.

Katayama K, Matsuno T (2008) Effects of bisphosphonates on fracture incidence and bone metabolism in rheumatoid arthritis patients in general practice taking long-term corticosteroid therapy: a retrospective study. Clin Drug Investig 28:149–158

22.

Coulson KA, Reed G, Gilliam BE, Kremer JM, Pepmueller PH (2009) Factors influencing fracture risk, T score, and management of osteoporosis in patients with rheumatoid arthritis in the Consortium of Rheumatology Researchers of North America (CORRONA) registry. J Clin Rheumatol 15:155–160

23.

Kim SY, Schneeweiss S, Liu J, Daniel GW, Chang C, Garneau K, Solomon DH (2010) Risk of osteoporotic fracture in a large population-based cohort of patients with rheumatoid arthritis. Arthritis Res Ther 12:R154

24.

Mazzantini M, Talarico R, Doveri M, Consensi A, Cazzato M, Bazzichi L, Bombardieri S (2010) Incident comorbidity among patients with rheumatoid arthritis treated or not with low-dose glucocorticoids: a retrospective study. J Rheumatol 37:2232–2236

25.

Wright NC, Lisse JR, Walitt BT et al (2011) Arthritis increases the risk for fractures—results from the women's health initiative. J Rheumatol 38:1680–1688

26.

Vis M, Haavardsholm EA, Boyesen P, Haugeberg G, Uhlig T, Hoff M, Woolf A, Dijkmans B, Lems W, Kvien TK (2011) High incidence of vertebral and non-vertebral fractures in the OSTRA cohort study: a 5-year follow-up study in postmenopausal women with rheumatoid arthritis. Osteoporos Int 22:2413–2419

27.

Amin S, Gabriel SE, Achenbach SJ, Atkinson EJ, Melton LJ 3rd (2013) Are young women and men with rheumatoid arthritis at risk for fragility fractures? A population-based study. J Rheumatol 40:1669–1676

28.

Kawai VK, Grijalva CG, Arbogast PG, Curtis JR, Solomon DH, Delzell E, Chen L, Ouellet-Hellstrom R, Herrinton L, Liu L, Mitchell EF Jr, Stein CM, Griffin MR (2013) Initiation of tumor necrosis factor alpha antagonists and risk of fractures in patients with selected rheumatic and autoimmune diseases. Arthritis care & research 65:1085–1094

29.

Brennan SL, Toomey L, Kotowicz MA, Henry MJ, Griffiths H, Pasco JA (2014) Rheumatoid arthritis and incident fracture in women: a case-control study. BMC Musculoskelet Disord 15:13

30.

Gregson CL, Dennison EM, Compston JE et al (2014) Disease-specific perception of fracture risk and incident fracture rates: GLOW cohort study. Osteoporos Int 25:85–95

31.

Yamamoto Y, Turkiewicz A, Wingstrand H, Englund M (2015) Fragility fractures in patients with rheumatoid arthritis and osteoarthritis compared with the general population. J Rheumatol 42:2055–2058

32.

Balasubramanian A, Wade SW, Adler RA, Lin CJF, Maricic M, O'Malley CD, Saag K, Curtis JR (2016) Glucocorticoid exposure and fracture risk in patients with new-onset rheumatoid arthritis. Osteoporos Int 27:3239–3249

33.

Kim D, Cho SK, Choi CB, Jun JB, Kim TH, Lee HS, Lee J, Lee SS, Yoo DH, Yoo WH, Sung YK, Bae SC (2016) Incidence and risk factors of fractures in patients with rheumatoid arthritis: an Asian prospective cohort study. Rheumatol Int 36:1205–1214

34.

Klop C, De Vries F, Bijlsma JWJ, Leufkens HGM, Welsing PMJ (2016) Predicting the 10-year risk of hip and major osteoporotic fracture in rheumatoid arthritis and in the general population: an independent validation and update of UK FRAX without bone mineral density. Ann Rheum Dis 75:2095–2100

35.

Ogdie A, Harter L, Shin D, Baker J, Takeshita J, Choi HK, Love TJ, Gelfand JM (2017) The risk of fracture among patients with psoriatic arthritis and psoriasis: a population-based study. Ann Rheum Dis 76:882–885

36.

Suzuki T, Nakamura Y, Kamimura M, Ikegami S, Uchiyama S, Kato H (2017) Compliance and discontinuation of denosumab treatment in postmenopausal Japanese women with primary osteoporosis or rheumatoid arthritis and osteoporosis. Osteoporos Sarcopenia 3:108–111

37.

Johnell O, Kanis JA (2006) An estimate of the worldwide prevalence and disability associated with osteoporotic fractures. Osteoporos Int 17:1726–1733

38.

Chen Z, Kooperberg C, Pettinger MB, Bassford T, Cauley JA, LaCroix AZ, Lewis CE, Kipersztok S, Borne C, Jackson RD (2004) Validity of self-report for fractures among a multiethnic cohort of postmenopausal women: results from the Women's Health Initiative observational study and clinical trials. Menopause 11:264–274

39.

Fink HA, Milavetz DL, Palermo L, Nevitt MC, Cauley JA, Genant HK, Black DM, Ensrud KE (2005) What proportion of incident radiographic vertebral deformities is clinically diagnosed and vice versa? J Bone Miner Res 20:1216–1222

40.

Cosman F, de Beur SJ, LeBoff MS, Lewiecki EM, Tanner B, Randall S, Lindsay R (2014) Clinician's guide to prevention and treatment of osteoporosis. Osteoporos Int 25:2359–2381

41.

Kendler DL, Bauer DC, Davison KS, et al (2016) Vertebral fractures: clinical importance and management. Am J Med 129:221. e221–221.e210

42.

Maricic M (2014) Use of DXA-based technology for detection and assessment of risk of vertebral fracture in rheumatology practice. Curr Rheumatol Rep 16:436

43.

Buckley L, Guyatt G, Fink HA, Cannon M, Grossman J, Hansen KE, Humphrey MB, Lane NE, Magrey M, Miller M, Morrison L, Rao M, Byun Robinson A, Saha S, Wolver S, Bannuru RR, Vaysbrot E, Osani M, Turgunbaev M, Miller AS, McAlindon T (2017) 2017 American College of Rheumatology Guideline for the prevention and treatment of glucocorticoid-induced osteoporosis. Arthritis Care Res 69:1095–1110

44.

Mullen MB, Saag KG (2015) Evaluating and mitigating fracture risk in established rheumatoid arthritis. Best Pract Res Clin Rheumatol 29:614–627

45.

Kanis JA, Johansson H, Oden A, McCloskey EV (2011) Guidance for the adjustment of FRAX according to the dose of glucocorticoids. Osteoporos Int 22:809–816
Funding
This study was supported by the Chinese National Key Technology R&D Program (2017YFC0907601, 2017YFC0907604).
Ethics declarations
Conflicts of interest
None.
About this article
Cite this article
Jin, S., Hsieh, E., Peng, L. et al. Incidence of fractures among patients with rheumatoid arthritis: a systematic review and meta-analysis. Osteoporos Int 29, 1263–1275 (2018). https://doi.org/10.1007/s00198-018-4473-1
Received:

Accepted:

Published:

Issue Date:
Keywords
Fracture incidence

Fragility fracture

Meta-analysis

Osteoporosis

Rheumatoid arthritis