Abstract
Elections define representative democracies but also produce spikes in physical mobility if voters need to travel to polling places. In this paper, we examine whether large-scale, in-person elections propagate the spread of COVID-19. We exploit a natural experiment from the Czech Republic, which biannually renews mandates in one-third of Senate constituencies that rotate according to the 1995 election law. We show that in the second and third weeks after the 2020 elections (held on October 9–10), new COVID-19 infections grew significantly faster in voting compared to non-voting constituencies. A temporarily related peak in hospital admissions and essentially no changes in test positivity rates suggest that the acceleration was not merely due to increased testing. The acceleration did not occur in the population above 65, consistently with strategic risk-avoidance by older voters. Our results have implications for postal voting reforms or postponing of large-scale, in-person (electoral) events during viral outbreaks.
Data availability
The datasets used to produce the main results are available at public repositories, as specified in Table 8 in the Appendix.
Code availability
All replication files will be made publicly available upon acceptance.
Notes
Similar concerns apply to other political events, such as electoral rallies. Empirical evidence in this context is however also inconclusive. For example, Dave et al. (2020a) use synthetic control methods to find little evidence that a highly publicized Trump campaign rally at Tulsa, Oklahoma led to an increase in new COVID-19 cases or deaths. In contrast, Bernheim et al. (2020) aggregate 18 Trump campaign events and find sizable effects, estimating 30,000 additional cases and 700 deaths as a result of these rallies. In their additional analysis, the authors find that COVID-19 outcomes at the examined events are highly variable, which helps to explain why a single event like at Tulsa might not be representative.

There is practically no relation between the regional elections and the first round of the Senate elections, apart from the fact that they are held on the same days in the same voting rooms. Voters cast ballots for separate and independent candidates (and candidate lists) into separate ballot boxes. The main motivation for the joint organization of elections is to save on the remuneration of electoral committees and to increase voter turnout.

Table 8 in the Appendix describes the observation level, periodicity, time span and sources for all data sets used in our analysis.

In response to the pandemic, the Czech Republic constructed two temporary field hospitals in Fall 2020 in Prague and Brno (the two largest cities). Nevertheless, neither of these hospitals had been ever occupied by patients. The hospital in Prague was deconstructed amid the temporary drop in cases in January 2021. The hospital in Brno likewise remained vacant, but was later used as a vaccination center.

Given that the three largest Czech cities are split into several constituencies (Prague (10), Brno (4), Ostrava (3), see Fig. 1), for which we do not observe pandemic and population data separately, we define 3 new aggregate constituencies, considered all as treated, which cover the full areas of these cities. For two cases in which a constituency is not contained within city limits and includes also other multiple adjacent municipalities, we keep the original constituency numbers assigned to these municipalities. This leaves us with 69 constituencies (69 = 81 − 10 − 4 − 3 + 3 + 2) examined in our analysis.

The t-test cannot be performed for outcomes observed at the commune level, as communes cannot be exactly classified into voting and non-voting units.

We set n to 14 days so that the inspected growth rates capture (i) the incubation period, with a median time of 5 days from exposure to symptoms according to Lauer et al. (2020), but which can last up to 12 days, (ii) likely delays associated with seeking testing and acquiring lab results, and (iii) likely delays until a potential hospital admission. For robustness purposes, we define also 7-day growth rates, which similarly as the 14-day growth rates can account for weekly cycles in the pandemic incidence.

In our study, we do not estimate the impact of elections on mortality growth rates. It is not feasible in our setting, given that even during the peak of the second pandemic wave in November 2020, the highest count of COVID-related deaths reached around 250 cases per day, i.e. around 0–2 in each of 206 communes. This precludes calculating mortality growth rates, especially in the pre-treatment period.

For the three largest cities, the entire city populations are treated as residing in voting constituencies. Our estimates are robust to approximating their population residing in voting constituencies by the share of eligible voters living in voting constituencies.

An F-test after the event study regression in Eq. (1) for the joint significance of the interaction terms in the third week after elections yields an F statistic of 2.64 (p = 0.0178).

According to the data from the Czech Ministry of Health, approximately 1.6% of all detected cases in Czechia resulted in an eventual death. If we applied a simple direct proportionality, our estimates would thus imply that the elections-related acceleration in the pandemic growth resulted in at least additional 139 COVID-19 deaths, but more realistically in around 172 deaths, if we count also the election impact in part of the three largest cities. This calculation omits deaths undetected by the national tracing and testing system. Figure 9 in the Appendix provides evidence suggestive of the failure of the Czech health system to detect all COVID-19 cases from the second wave of the 2020 pandemic. The figure shows that even after subtracting all official COVID-19 deaths from all-cause mortality in the second half of 2020, there still remains significant unexplained excess mortality in weeks 42–47, exactly during the peak of the second pandemic wave.

We use the 2016 regional elections for comparison, because these were the last elections in comparable population. The 2018 Senate elections were held in a different rotation of constituencies, while the turnout in 2018 municipal elections might be dictated by the different nature of the elected office.

In Fig. 13 in the Appendix, we provide evidence that the pandemic acceleration is higher in municipalities which had below-median turnout in the earlier regional elections compared to municipalities above the median. We test that the difference is statistically significant at the 1% level 5–10 days after elections. This seemingly counter-intuitive evidence likely reflects that lower voter turnout correlates with various socio-economic characteristics that are key for faster pandemic spread. The evidence suggests that using turnout as an explanatory variable to estimate the impact of elections on pandemic development requires advanced econometric methods that can address the likely bias due to the confounding factors that affect participation in elections and simultaneously drive faster pandemic progress.
References
Adda J (2016) Economic activity and the spread of viral diseases: Evidence from high frequency data. Q J Econ 131(2):891–941

Amuedo-Dorantes C, Kaushal N, Muchow AN (2021) Timing of social distancing policies and COVID-19 mortality: county-level evidence from the U.S.. J Popul Econ, forthcoming

an der Heiden M, Hamouda O (2020) Schätzung der aktuellen Entwicklung der SARS-cov-2-epidemie in Deutschland–Nowcasting. Epidemiologisches Bulletin 17:10–15

Ashworth S (2012) Electoral accountability: Recent theoretical and empirical work. Annu Rev Political Sci 15(1):183–201

Baccini L, Brodeur A, Weymouth S (2021) The COVID-19 pandemic and the 2020 U.S. presidential election. J Popul Econ 34:739–767

Bach L, Guillouzouic A, Malgouyres C (2021) Does holding elections during a Covid-19 pandemic put the lives of politicians at risk? J Health Econ 78:102462

Barmby T, Larguem M (2009) Coughs and sneezes spread diseases: an empirical study of absenteeism and infectious illness. J Health Econ 28(5):1012–1017

Bernheim BD, Buchmann N, Freitas-Groff Z, Otero S (2020) The effects of large group meetings on the spread of COVID-19: The case of Trump rallies. Working Paper 20-043, Stanford Institute for Economic Policy Research

Berry AC, Mulekar MS, Berry BB (2020) Increase in daily new COVID-19 cases not seen following the Wisconsin primary election April 2020. J Infect Dis Epidemiol 6:148

Bertoli S, Guichard L, Marchetta F (2020) Turnout in the municipal elections of march 2020 and excess mortality during the COVID-19 epidemic in France. IZA Discussion Paper No 13335

Blais A (2006) What affects voter turnout? Annu Rev Political Sci 9(1):111–125

Brauner JM, Mindermann S, Sharma M, Johnston D, Salvatier J, Gavenčiak T, Stephenson AB, Leech G, Altman G, Mikulik V, Norman AJ, Monrad JT, Besiroglu T, Ge H, Hartwick MA, Teh YW, Chindelevitch L, Gal Y, Kulveit J (2021) Inferring the effectiveness of government interventions against COVID-19. Science 371(6531)

Cassan G, Sangnier M (2020) Liberté, egalité, fraternité… contaminé? Estimating the impact of French municipal elections on COVID-19 spread in France. medRxiv. https://doi.org/10.1101/2020.06.24.20138990

CDC (2021) Scientific brief: SARS-CoV-2 transmission. Centers for Disease Control and Prevention. https://www.cdc.gov/coronavirus/2019-ncov/science/science-briefs/sars-cov-2-transmission.html. Accessed 15 July 2021

Cotti C, Engelhardt B, Foster J, Nesson E, Niekamp P (2021) The relationship between in-person voting and COVID-19: Evidence from the Wisconsin primary. Contemporary Economic Policy, forthcoming

CZSO (2020) Elections to the Senate of the Parliament of the Czech Republic held on 2.10. - 3.10.2020. Czech Statistical Office. https://www.volby.cz/pls/senat/se31?xjazyk=EN&xdatum=20201002&xv=2. Accessed 15 July 2021

Dave DM, Friedson AI, Matsuzawa K, McNichols D, Redpath C, Sabia JJ (2020a) Risk aversion, offsetting community effects, and COVID-19: Evidence from an indoor political rally. Working Paper 27522, National Bureau of Economic Research

Dave DM, Friedson AI, Matsuzawa K, Sabia JJ, Safford S (2020b) Black Lives Matter protests, social distancing, and COVID-19. Working Paper 27408, National Bureau of Economic Research

Dave DM, McNichols D, Sabia JJ (2021) The contagion externality of a superspreading event: The Sturgis Motorcycle Rally and COVID-19. South Econ J 87(3):769–807

Duchemin L, Veber P, Boussau B (2020) Bayesian investigation of SARS-CoV-2-related mortality in France. medRxiv. https://doi.org/10.1101/2020.06.09.20126862

Fang H, Wang L, Yang Y (2020) Human mobility restrictions and the spread of the Novel Coronavirus (2019-nCoV) in China. J Public Econ 191:104272

Feltham EM, Forastiere L, Alexander M, Christakis NA (2020) No increase in COVID-19 mortality after the 2020 primary elections in the USA. arXiv:201002896

Geys B (2006) Explaining voter turnout: a review of aggregate-level research. Elect Stud 25(4):637–663

Gupta S, Nguyen TD, Rojas FL, Raman S, Lee B, Bento A, Simon KI, Wing C (2020) Tracking public and private responses to the COVID-19 epidemic: Evidence from state and local government actions. Working Paper 27027, National Bureau of Economic Research

Harris JE (2020) The subways seeded the massive coronavirus epidemic in New York City. Working Paper 27021, National Bureau of Economic Research

IFES (2020) Featured elections held and mitigating measures taken during COVID-19. International foundation for electoral systems. https://www.ifes.org/publications/ifes-covid-19-briefing-series-safeguarding-health-and-elections. Accessed 15 July 2021

Lauer SA, Grantz KH, Bi Q, Jones FK, Zheng Q, Meredith HR, Azman AS, Reich NG, Lessler J (2020) The incubation period of coronavirus disease 2019 (COVID-19) from publicly reported confirmed cases: Estimation and application. Ann Intern Med 172(9):577–582

Leung K, Wu JT, Xu K, Wein LM (2020) No detectable surge in SARS-cov-2 transmission attributable to the April 7, 2020 Wisconsin election. Am J Public Health 110(8):1169–1170

Litvinova M, Liu QH, Kulikov ES, Ajelli M (2019) Reactive school closure weakens the network of social interactions and reduces the spread of influenza. Proc Natl Acad Sci USA 116(27):13174–13181

Lockhart M, Hill SJ, Merolla J, Romero M, Kousser T (2020) America's electorate is increasingly polarized along partisan lines about voting by mail during the COVID-19 crisis. Proc Natl Acad Sci USA 117(40):24640–24642

Mangrum D, Niekamp P (2021) Jue insight: College student travel contributed to local COVID-19 spread. J Urban Econ, forthcoming

Markowitz S, Nesson E, Robinson JJ (2019) The effects of employment on influenza rates. Econ Hum Biol 34:286–295

McCloskey B, Zumla A, Ippolito G, Blumberg L, Arbon P, Cicero A, Endericks T, Lim PL, Borodina M, Group WNCMGE (2020) Mass gathering events and reducing further global spread of COVID-19: a political and public health dilemma. Lancet 395(10230):1096–1099

Pichler S, Ziebarth NR (2017) The pros and cons of sick pay schemes: Testing for contagious presenteeism and noncontagious absenteeism behavior. J Public Econ 156:14–33

Pulejo M, Querubín P (2021) Electoral concerns reduce restrictive measures during the COVID-19 pandemic. J Public Econ 198:104387

Qiu Y, Chen X, Shi W (2020) Impacts of social and economic factors on the transmission of coronavirus disease 2019 (COVID-19) in China. J Popul Econ 33:1127–1172

Roser M, Ritchie H, Ortiz-Ospina E, Hasell J (2020) Coronavirus pandemic (COVID-19). Our World in Data. https://ourworldindata.org/coronavirus. Accessed 15 July 2021

Thompson DM, Wu JA, Yoder J, Hall AB (2020) Universal vote-by-mail has no impact on partisan turnout or vote share. Proc Natl Acad Sci USA 117(25):14052–14056

Warshaw C, Vavreck L, Baxter-King R (2020) Fatalities from COVID-19 are reducing Americans support for Republicans at every level of federal office. Sci Adv 6(44)

Williamson EJ, Walker AJ, Bhaskaran K, Bacon S, Bates C, Morton CE, Curtis HJ, Mehrka r A, Evans D, Inglesby P, Cockburn J, McDonald HI, MacKenna B, Tomlinson L, Douglas IJ, Rentsch CT, Mathur R, Wong AYS, Grieve R, Harrison D, Forbes H, Schultze A, Croker R, Parry J, Hester F, Harper S, Perera R, Evans SJW, Smeeth L, Goldacre B (2020) Factors associated with COVID-19-related death using openSAFELY. Nature 584:430–436

Wright AL, Sonin K, Driscoll J, Wilson J (2020) Poverty and economic dislocation reduce compliance with COVID-19 shelter-in-place protocols. J Econ Behav Organ 180:544–554

Zeitoun JD, Faron M, Manternach S, Fourquet J, Lavielle M, Lefèvre JH (2020) Reciprocal association between participation to a national election and the epidemic spread of COVID-19 in France: nationwide observational and dynamic modeling study. medRxiv . https://doi.org/10.1101/2020.05.14.20090100
Acknowledgements
We would like to thank editor Klaus F. Zimmermann and four anonymous referees for excellent comments and advice. We also thank Radim Boháček, Jaroslav Borovička, Filip Pertold, Daniel Prokop and seminar participants at UC3M for useful suggestions. We would like to thank PAQ Research agency for sharing data from the "Life during the Pandemic" panel survey with us. Palguta gratefully acknowledges financial support from the Community of Madrid via grants 2017/T2-SOC-5363 and EPUC3M11 (V PRICIT). Levínsky was supported by the Ministry of Education, Youth and Sports of the Czech Republic through the project SHARE–CZ+ (CZ.02.1.01/0.0/0.0/16_013/0001740). All opinions expressed are those of the authors and have not been endorsed by UC3M, CERGE-EI, BISOP, UZH or any of the granting institutions. Any remaining errors are our own.
Funding
Open Access funding provided thanks to the CRUE-CSIC agreement with Springer Nature. Palguta received financial support from the Community of Madrid via grants 2017/T2-SOC-5363 and EPUC3M11 (V PRICIT). Levínsky received financial support from the Ministry of Education, Youth and Sports of the Czech Republic through the project SHARE–CZ+ (CZ.02.1.01/0.0/0.0/16_013/0001740).
Ethics declarations
Conflict of interest
The authors declare no competing interests.
Additional information
Responsible editor: Klaus F. Zimmermann
Publisher's note
Springer Nature remains neutral with regard to jurisdictional claims in published maps and institutional affiliations.
Appendix
Appendix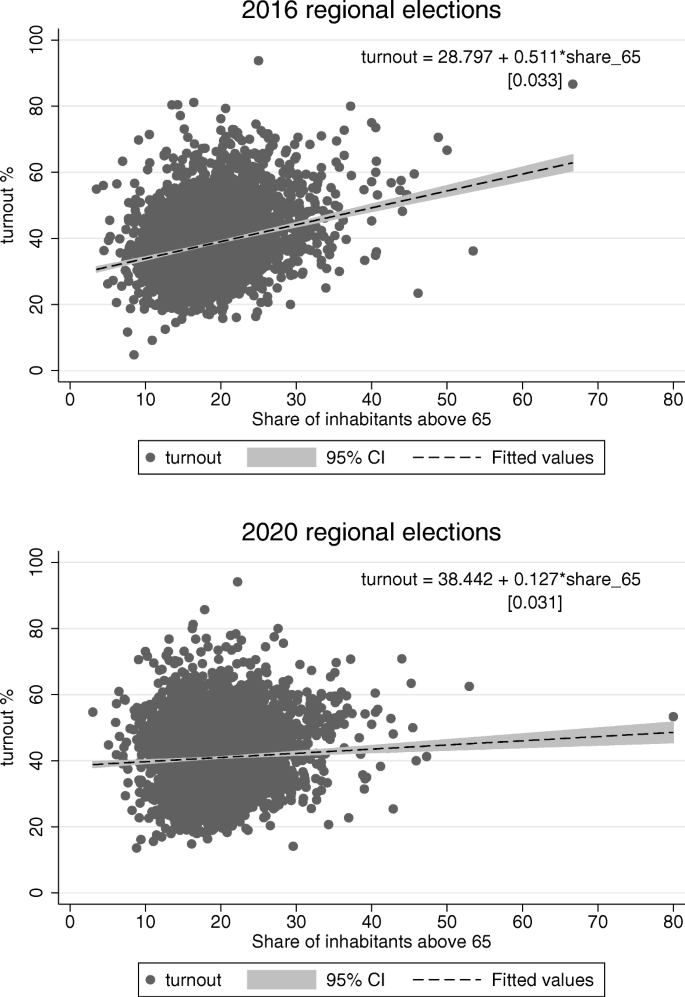 Rights and permissions
Open Access This article is licensed under a Creative Commons Attribution 4.0 International License, which permits use, sharing, adaptation, distribution and reproduction in any medium or format, as long as you give appropriate credit to the original author(s) and the source, provide a link to the Creative Commons licence, and indicate if changes were made. The images or other third party material in this article are included in the article's Creative Commons licence, unless indicated otherwise in a credit line to the material. If material is not included in the article's Creative Commons licence and your intended use is not permitted by statutory regulation or exceeds the permitted use, you will need to obtain permission directly from the copyright holder. To view a copy of this licence, visit http://creativecommons.org/licenses/by/4.0/.
About this article
Cite this article
Palguta, J., Levínský, R. & Škoda, S. Do elections accelerate the COVID-19 pandemic?. J Popul Econ 35, 197–240 (2022). https://doi.org/10.1007/s00148-021-00870-1
Received:

Accepted:

Published:

Issue Date:

DOI: https://doi.org/10.1007/s00148-021-00870-1
Keywords
Election

COVID-19

Natural experiment

Event study
JEL Classification