Zusammenfassung
Am Fallbeispiel eines 12-jährigen Mädchens wird die Diagnose und Therapie einer idiopathischen Chondrolyse der Hüftgelenke beschrieben. Die Patientin stellte sich mit intermittierenden Schmerzen und hochgradigen Funktionsstörungen beider Hüften vor. Nach klinischer Untersuchung und Beckenübersichtsröntgenaufnahme zeigte die MRT die typischen Veränderungen einer idiopathischen Chondrolyse. Die rein konservative Therapie mit einer konsequenten physiotherapeutischen Behandlung und regelmäßigen Einnahme eines nichtsteroidalen Antirheumatikums hat ein gutes klinisches Ergebnis erbracht.
Abstract
The diagnosis and treatment of idiopathic chondrolysis of the hips are described in the case of a 12-year-old girl. The patient presented with intermittent pain and extreme dysfunction of both hips. After clinical examination and pelvic X‑ray, MRI showed the typical changes of idiopathic chondrolysis. Purely conservative treatment with systematic physiotherapy and regular application of a non-steroidal anti-inflammatory drug produced a good clinical result.
This is a preview of subscription content, log in to check access.
Access options
Buy single article
Instant access to the full article PDF.
US$ 39.95
Price includes VAT for USA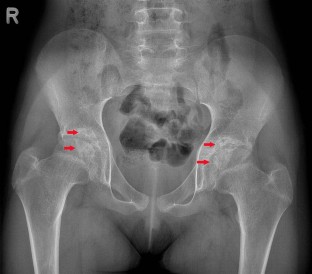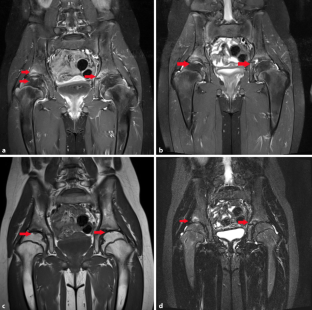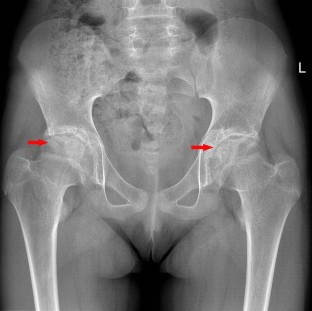 Abbreviations
ICH:

Idiopathische Chondrolyse

TIRM:

Turbo-Inversion Recovery-Magnitude
Literatur
1.

Jyoti Sureka J, Jakkani RK, Inbaraj A, Panwar S (2011) Idiopathic chondrolysis of hip. Jpn J Radiol 29:283–285

2.

Laor T, Crawford AH (2009) Idiopathic chondrolysis of the hip in children: early MRI findings. Ajr Am J Roentgenol 192:526–531

3.

Mounach A, Nouijai A, Ghozlani I, Ghazi M, Bezza A, Achemlal L, El Maghraoui A (2007) Idiopathic chondrolysis of the hip. Joint Bone Spine 74:656–658

4.

Appleyard DV, Schiller JR, Eberson CP, Ehrlich MG (2009) Idiopathic chondrolysis treated with etanercept. Orthopedics 32:214

5.

Khoshhal KI, Awaad Y, Abbak AA (2014) Botulinum neurotoxin‑A in idiopathic chondrolysis: a report of two cases. J Pediatr Orthop B 23:441–446

6.

Yapp LZ, McClymont L, Beggs I, Gaston P, Salter DM (2017) Adult-onset idiopathic chondrolysis of the hip. Skeletal Radiol 46:687–691

7.

Moon KH, Shin EH, Kang JS (2016) Bilateral idiopathic chondrolysis of the hip in an adult: a case report and review of the literature. Hip Pelvis 28:243–248

8.

Johnson K, Haigh SF, Ehtisham S, Ryder C, Gardner-Medwin J (2003) Childhood idiopathic chondrolysis of the hip: MRI features. Pediatr Radiol 33:194–199

9.

Amarnath C, Muthaiyan P, Mary TH, Mohanan S, Gopinathan K (2018) Idiopathic chondrolysis of the hip in children: new prosposal and implication for radiological staging. Indian J Radiol Imaging 28:205–213

10.

Jones BS (1971) Adolescent chondrolysis of the hip joint. S Afr Med J 45:196–202
Ethics declarations
Interessenkonflikt
E. Schumann, F. Kübler, C. Roth, C.-E. Heyde und A. Roth geben an, dass kein Interessenkonflikt besteht.
Für diesen Beitrag wurden von den Autoren keine Studien an Menschen oder Tieren durchgeführt. Für die aufgeführten Studien gelten die jeweils dort angegebenen ethischen Richtlinien. Für Bildmaterial oder anderweitige Angaben innerhalb des Manuskripts, über die Patienten zu identifizieren sind, liegt von ihnen und/oder ihren gesetzlichen Vertretern eine schriftliche Einwilligung vor.
About this article
Cite this article
Schumann, E., Kübler, F.B., Roth, C. et al. Idiopathische Chondrolyse beider Hüftgelenke – Fallbericht bei einer adoleszenten Patientin. Orthopäde (2020). https://doi.org/10.1007/s00132-020-03885-w
Schlüsselwörter
Entzündungshemmer

Knorpelerkrankung

Konservative Therapie

Coxa magna

Schmerzen
Keywords
Antiinflammatory agents

Cartilage diseases

Conservative treatment

Coxa magna

Pain