Abstract
We investigated whether the proximity to the Gabès-Ghannouche factory complex of phosphate treatment, in south-eastern Tunisia, was associated with notable changes in the condition and health of Rufous bush robin (Cercotrichas galactotes) nestlings hatched in the neighbouring oasis habitat. Results demonstrated that excrements of nestlings hatched in one oasis close to the factory complex contained higher concentrations of lead and zinc than the excrements of nestlings from one oasis situated 20 km away. Furthermore, when effects of age and nestling number in the nest were controlled, nestlings hatched near the factory complex showed reduced tarsus length, rectrix length, haematocrit level and haemoglobin concentration, but higher levels of fluctuating asymmetry compared to those from the more distant oasis. Overall, results suggest that the proximity to the factory complex was associated with increased exposure to metals and deterioration in nestling condition and development.
Access options
Buy single article
Instant access to the full article PDF.
US$ 39.95
Tax calculation will be finalised during checkout.
Subscribe to journal
Immediate online access to all issues from 2019. Subscription will auto renew annually.
US$ 119
Tax calculation will be finalised during checkout.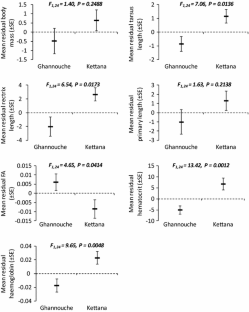 References
Alaya-Ltifi L, Selmi S (2014) Passerine abundance and diversity in a polluted oasis habitat in south-eastern Tunisia. Eur J Wildlife Res 60:535–541

Alaya-Ltifi L, Chokri MA, Selmi S (2012) Breeding performance of passerines in a polluted oasis habitat in southern Tunisia. Ecotoxicol Environ Saf 79:170–175

Azri C, Maalej A, Tlili A, Medhioub K (2002a) Caractérisation du niveau de pollution atmosphérique dans la ville de Sfax (Tunisie): influence des sources et des facteurs météorologique. J Assoc Inf Sci Technol 1:78–92

Azri C, Tlili A, Serbaji MM, Medhioub K (2002b) Étude des résidus de combustion des fuels liquide et solide et de traitement chimique du phosphate brut dans la ville de Sfax (Tunisie). Pollut Atmos 174:297–308

Belskii E, Grebennikov M (2014) Snail consumption and breeding performance of pied flycatchers (Ficedula hypoleuca) along a pollution gradient in the Middle Urals, Russia. Sci Total Environ 490:114–120

Belskii EA, Lugas'kova NV, Karfidova AA (2005) Reproductive parameters of adult birds and morphophysiological characteristics of chicks in the pied flycatcher (Ficedula hypoleuca Pall.) in technogenically polluted habitats. Russ J Ecol 36:329–335

Blust R, van der Linden A, Verheyen E, Decleir W (1988) Evaluation of microwave heating digestion and graphite furnace atomic absorption spectrometry with continuum source background correction for the determination of Fe, Cu and Cd in brine shrimp. J Anal Atom Spectrom 3:387–393

Boukhriss J, Selmi S (2010) Risk-taking by incubating Rufous bush robins (Cercotrichas galactotes): season-dependent incubation stage effect. J Ethol 28:331–337

Dauwe T, Janssens E, Eens M (2006) Effects of heavy metal exposure on the condition and health of adult great tits (Parus major). Environ Pollut 140:71–78

Drabkin DL, Austin JH (1935) Spectrophotometric studies II: preparations from washed blood cells; nitric oxide hemoglobin and sulfhemoglobin. J Biol Chem 112:51–65

Eeva T, Lehikoinen E (1996) Growth and mortality of nestling great tits (Parus major) and pied flycatchers (Ficedula hypoleuca) in a heavy metal pollution gradient. Oecologia 108:631–639

Eeva T, Tanhuanpää S, Råbergh C, Airaksinen S, Nikinmaa M, Lehikoinen E (2000) Biomarkers and fluctuating asymmetry as indicators of pollution-induced stress in two hole nesting passerines. Funct Ecol 14:235–243

Fair JM, Ricklefs RE (2002) Physiological, growth, and immune responses of Japanese quail chicks to the multiple stressors of immunological challenge and lead shot. Arch Environ Contam Toxicol 42:77–87

Grasman KA, Scanlon PF (1995) Effects of acute lead ingestion and diet on antibody and T-cell-mediated immunity in Japanese quail. Arch Environ Contam Toxicol 28:161–167

Guillaumont B, Ben Mustapha S, Ben Moussa H, Zaouali J, Soussi N, Ben Mammou A, Cariou C (1995) Pollution impact study in Gabès gulf (Tunisia) using remote sensing data. Mar Technol Soc J 29:46–58

Henny CJ, Blus LJ, Hoffman DJ, Sileo L, Audet DJ, Snyder MR (2000) Field evaluation of lead effects on Canada geese and mallards in the Coeur d'Alene river basin, Idaho. Arch Environ Contam Toxicol 39:97–112

Hoffman DJ, Franson JC, Pattee OH, Bunck CM, Murray HC (1985) Biochemical and hematological effects of lead ingestion in nestling American kestrels. Comp Biochem Physiol C 80:431–439

Janssens E, Dauwe T, Bervoets L, Eens M (2001) Heavy metals and selenium in feathers of great tits (Parus major) along a pollution gradient. Environ Toxicol Chem 20:2815–2820

Janssens E, Dauwe T, Pinxten R, Bervoets L, Blust R, Eens M (2003) Effects of heavy metal exposure on the condition and health of nestlings of the great tit (Parus major), a small song bird species. Environ Pollut 126:267–274

Lessells CM, Boag PT (1987) Unrepeatable repeatabilities: a common mistake. Auk 104:116–121

Llacuna S, Gorriz A, Riera M, Nadal J (1996) Effects of air pollution on haematological parameters in passerine birds. Arch Environ Contam Toxicol 31:148–152

Merila J, Svensson E (1995) Fat reserves and health state in migrant goldcrest Regulus regulus. Funct Ecol 9:842–848

Miroslava V (2007) Measures of the developmental stability, body size and body condition in the black-striped mouse (Apodemus agrarius) as indicators of a disturbed environment in northern Serbia. Belgian J Zool 137:147–156

Nyholm NEI (1998) Influence of heavy metal exposure during different phases of the ontogeny on the development of pied flycatchers, Ficedula hypoleuca, in natural populations. Arch Environ Contam Toxicol 35:632–637

Ots I, Murumägi A, Hõrak P (1998) Haematological health state indices of reproducing Great Tits: methodology and sources of natural variation. Funct Ecol 12:700–707

Palmer AR (1994) Fluctuating asymmetry analyses: A primer. In: Markow TA (ed) Developmental instability: its origins and evolutionary implications. Kluwer Academic Publishers, Dordrecht, pp 335–364

SAS Statistical Institute (1998) SAS/STAT User's Guide, version 8. SAS Statistical Institute, Cary

Scheuhammer AM (1987) The chronic toxicity of aluminum, cadmium, mercury and lead in birds: a review. Environ Pollut 46:263–295

Scheuhammer AM (1996) Influence of reduced dietary calcium on the accumulation and effects of lead, cadmium, and aluminum in birds. Environ Pollut 94:337–343

Selmi S (2000) Données nouvelles sur les avifaunes des oasis du sud tunisien. Alauda 68:25–36

UNEP/MAP (2012) State of the Mediterranean marine and coastal environment. UNEP/MAP–Barcelona Convention, Athens

UNEP/WHO (1999) Identification of Priority Pollution Hot Spots and Sensitive Areas in the Mediterranean. MAP technical reports series No.124. UNEP, Athens
Acknowledgments
We are grateful to M. Ltifi who helped in data collection and to A. Hammouda for laboratory assistance.
Conflict of interest
The authors declare that they have no conflict of interest.
Ethical approval
This study complied with the Tunisian laws regarding wild animal sampling. Authorizations were obtained from the forest service in the Tunisian Ministry of Agriculture (Permit No. 1047-DGF/DGP). All applicable international and national guidelines for the care and use of animals were followed.
About this article
Cite this article
Alaya-Ltifi, L., Hayder-Benyahya, N. & Selmi, S. Condition and Health of Rufous Bush Robin (Cercotrichas galactotes) Nestlings in a Polluted Oasis Habitat in Southern Tunisia. Bull Environ Contam Toxicol 94, 732–737 (2015). https://doi.org/10.1007/s00128-015-1512-x
Received:

Accepted:

Published:

Issue Date:
Keywords
Cadmium

Biomarkers

North Africa

Passerines

Lead

Zinc