Abstract
Fluorescence spectroscopy was used to study the quenching mechanism, the type of force and the binding sites of perfluorooctane sulfonate (PFOS) on wheat germ acid phosphatase (ACPase). The results showed that the quenching effect of PFOS on ACPase was mainly due to a static quenching mechanism that occurred via the formation of hydrogen bonds and van der Waals forces. The results from synchronous fluorescence spectroscopy demonstrated that PFOS interacts with ACPase close to the tryptophan residues. In addition, synchronous fluorescence spectroscopy also showed that PFOS increases the hydrophobicity of the microenvironment of the tyrosine residues, hence decreasing the local polarity.
Access options
Buy single article
Instant access to the full article PDF.
USD 39.95
Price includes VAT (USA)
Tax calculation will be finalised during checkout.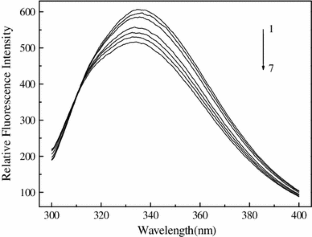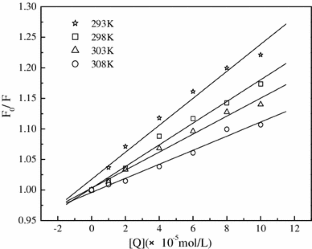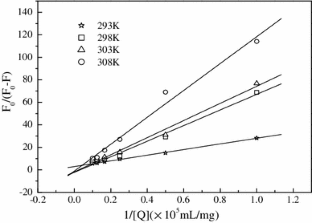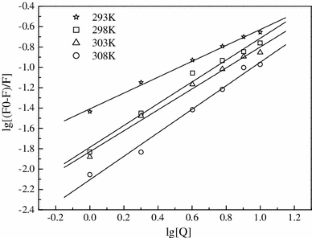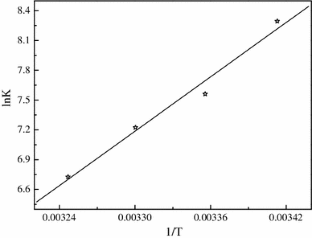 References
Andersen ME, Butenhoff J, Chang SC, Farrar DG, Kennedy GL Jr, Lau C, Olsen GW, Seed J, Wallace KB (2008) Review: Perfluoroalkyl acids and related chemistries-toxicokinetics and modes of action. Toxicol Sci 102:3–14

Dong GH, Zhang YH, Zheng L, Liu W, Jin YH, He QC (2009) Chronic effects of perfluorooctanesulfonate exposure on immunotoxicity in adult male C57BL/6 mice. Arch Toxicol 83:805–815

Eftink MR, Ghiron CA (1981) Fluorescence quenching studies with proteins. Anal Biochem 144:199–227

Ehrenstein OSV, Fenton SE, Kato K, Kuklenyik Z, Calafat AM, Hines EP (2009) Polyfluoroalkyl chemicals in the serum and milk of breastfeeding women. Reprod Toxicol 27:239–245

Grasty RC, Bjork JA, Wallace KB, Lau CS, Rogers JM (2005) Effects of prenatal perfluorooctane sulfonate (PFOS) exposure on lung maturation in the perinatal rat. Birth Defects Res B Dev Reprod Toxicol 74:405–416

Harada KH, Hashida S, Kaneko T, Takenaka K, Minata M, Inoue K, Saito N, Koizumi A (2007) Biliary excretion and cerebrospinal fluid partition of perfluorooctanoate and perfluorooctane sulfonate in humans. Environ Toxicol Pharmacol 24:134–139

Hu YJ, Liu Y, Shen XS, Fang XY, Qu SS (2005) Studies on the interaction between 1-hexylcarbamoyl-5-fluorouracil and bovine serum albumin. J Mol Struct 738:143–147

Jessica CD, Andre JS, Rajeev K, Andrew JB, Scott AM (2010) Determining the molecular interactions of perfluorinated carboxylic acids with human sera and isolated human serum albumin using nuclear magnetic resonance spectroscopy. Environ Toxicol Chem 29:1678–1688

Kannan K, Franson JC, Bowerman WW, Hansen KJ, Jones PD, Giesy JP (2001) Perfluorooctane sulfonate in fish-eating water birds including bald eagles and albatrosses. Environ Sci Technol 35:3065–3070

Lakowicz JR, Weber G (1973) Quenching of fluorescence by oxygen: a probe for structural fluctuations in micromolecules. Biochemistry 12:4161–4170

Lechner M, Knapp H (2011) Carryover of perfluorooctanoic acid (PFOA) and perfluorooctane sulfonate (PFOS) from soil to plant and distribution to the different plant compartments studied in cultures of carrots (Daucus carota ssp. Stativus), potatoes (Solanum tuberosum), and cucumbers (Cucumis sativus). J Agric Food Chem 59:11011–11018

Luebker DJ, Hansen KJ (2002) Interactions of fluorochemicals with rat liver fatty acid-binding protein. Toxicology 176:175–185

Luebker DJ, York RG, Hansen KJ, Moore JA, Butenhoff JL (2005) Neonatal mortality from in utero exposure to perfluorooctanesulfonate in Sprague–Dawley rats: dose–response, and biochemical and pharamacokinetic parameters. Toxicology 215:149–169

Mestel R (1996) Putting prions to the test. Science 273:184–189

Petchanikow C, Saborio GP, Anderes L, Frossard MJ, Olmedo MI, Soto C (2001) Biochemical and structural studies of the prion protein polymorphism. FEBS Lett 509:451–456

Powley CR, George SW, Russell MH, Hoke RA, Buck RC (2008) Polyfluorinated chemicals in a spatially and temporally integrated food web in the Western Arctic. Chemosphere 70:664–672

Prazeres JND, Ferreira CV, Aoyama H (2004) Acid phosphatase activities during the germination of Glycine max seeds. Plant Physiol Biochem 42:15–20

Price NC (2000) Conformational issues in the characterization of proteins. Biotechnol Appl Biochem 31:29–40

Ross PD, Subramanian S (1981) Thermodynamics of protein association reactions: forces contributing to stability. Biochemistry 20:3096–3102

Seacat AM, Thomford PJ, Hansen KJ, Olsen GW, Case MT, Butenhoff JL (2002) Subchronic toxicity studies on per fluorooctanesulfonate potassium salt in cynomolgus monkeys. Toxicol Sci 68:249–264

Sinclair E, Kannan K (2006) Mass loading and fate of perfluoroalkyl surfactants in wastewater treatment plants. Environ Sci Technol 40:1408–1414

Xiang GH, Tong CL, Lin HZ (2007) Nitroaniline isomers interaction with bovine serum albumin and toxicological implications. J Fluoresc 17:512–521

Xie XC, Wang XR, Zhang YK, Wu YX, Xue YG (2010) Interaction of perfluorooctanoic acid (PFOA) with bovine serum albumin (BSA) by fluorescence spectroscopy. China Environ Sci 30:1496–1500

Yeung LWY, So MK, Jiang GB, Taniyasu S, Yamashita N, Song MY, Wu YN, Li JG, Giesy JP, Guruge KS, Lam PKS (2006) Perfluorooctanesulfonate and related fluorochemicals in human blood samples from China. Environ Sci Technol 40:715–720

Zhou QX, Hu XG (2007) Researching progresses in environmental pollution behavior, toxic effects and mechanisms of PFOS/PFOA. Environ Sci 28:2153–2162 (in Chinese)
Acknowledgments
This study was supported by the National Natural Science Foundation of China (No. 20907046) and the Undergraduate Scientific and Technological Innovation Project of Zhejiang Province (No. 2010R420014, No. 2012R420012).
About this article
Cite this article
Xu, D., Jin, J., Shen, T. et al. Effect of Perfluorooctane Sulfonate on the Conformation of Wheat Germ Acid Phosphatase. Bull Environ Contam Toxicol 91, 577–582 (2013). https://doi.org/10.1007/s00128-013-1111-7
Received:

Accepted:

Published:

Issue Date:
Keywords
PFOS

Acid phosphatase

Fluorescence spectroscopy

Conformation