Abstract
The aim of this study was to determine the concentrations and degree of metals contamination (Chromium, Cadmium, Nickel and Lead) and Arsenic in the soils of the three Industrial Estates in Arak city, Iran. The average concentrations of Arsenic, Chromium, Cadmium, Nickel and Lead were 5.06, 1.26, 37.13, 67.84 and 60.22 mg kg−1, respectively. Pearson correlation indicated that Arsenic, Cadmium and Lead were mainly derived from anthropogenic inputs, and Chromium and Nickel were controlled by natural source, whereas Nickel appeared to be affected by both anthropogenic and natural sources. The geo-accumulation Index (Igeo) calculated in three industrial estates gave values indicating unpolluted to strongly polluted.
Access options
Buy single article
Instant access to the full article PDF.
USD 39.95
Price includes VAT (USA)
Tax calculation will be finalised during checkout.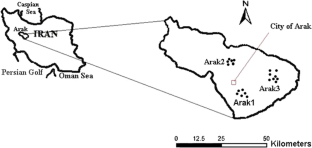 References
Ahsan DA, DelValls TA, Blasco J (2009) Distribution of arsenic and trace metals in the flood plain agricultural soil of Bangladesh. Bull Environ Contam Toxicol 82:11–15

Al-Khashman OA (2004) Heavy metal distribution in dust, street dust and soils from the work place in Karak Industrial Estate, Jordan. Atmos Environ 38:6803–6812

Al-Khashman OA, Shawabkeh RA (2006) Metals distribution in soils around the cement factory in southern Jordan. Environ Pollut 140(3):387–394

Chen TB, Zheng YM, Lei M, Huang ZCh, Wu HT, Chen H, Fan KK, Yu K, Wu X, Tian QZ (2005) Assessment of heavy metal pollution in surface soils of urban parks in Beijing, China. Chemosphere 60:542–551

Chen T, Liu X, Zhu MZ (2008) Identification of trace element sources and associated risk assessment in vegetable soils of the urban–rural transitional area of Hangzhou, China. Environ Pollut 151:67–78

De Temmerman L, Vanongeval L, Boon W, Hoenig M (2003) Heavy metal content of arable soil in northern Belgium. Water Air Soil Pollut 148:61–76

Facchinelli A, Sacchi E, Mallen L (2001) Multivariate statistical and GIS based approach to identify heavy metal sources in soils. Environ Pollut 114:313–324

Fakayode SO, Onianwa PC (2002) Heavy metal contamination of soil, and bioaccumulation in Guinea grass (Panicum maximum) around Ikeja Industrial Estate, Lagos, Nigeria. Environ Geol 43:145–150

Gong M, Wu L, Bi XY, Ren LM, Wang L, Ma Z, Bao Z, Li Z (2010) Assessing heavy-metal contamination and sources by GIS-based approach and multivariate analysis of urban–rural topsoils in Wuhan, central China. Environ Geochem Health 32:59–72

Govil PK, Sorlie JE, Murthy NN, Sujatha D, Reddy GLN, Rudolph-Lund K, Krishna AK, Rama Mohan K (2008) Soil contamination of heavy metals in the Katedan Industrial Development Area, Hyderabad, India. Environ Monit Assess 140:313–323

Krishna AK, Govil PK (2005) Heavy metal distribution and contamination in soils of Thane-Belapur industrial development area, western Indian. Environ Geol 47:1054–1061

Li FY, Fan ZP, Xiao PF, Oh K, Ma XP, Hou W (2009) Contamination, chemical speciation and vertical distribution of heavy metals in soils of an old and large industrial zone in Northeast China. Environ Geol 54:1815–1823

Loska K, Wiechula D, Korus I (2004) Metal contamination of farming soils affected by industry. Environ Int 30:159–165

Malik RN, Jadoon WA, Husain SZ (2010) Metal contamination of surface soils of industrial city Sialkot, Pakistan: a multivariate and GIS approach. Environ Geochem Health 32:179–191

Manta DS, Angelone M, Bellanca A, Neri R, Sprovieri M (2002) Heavy metals in urban soils: a case study from the city of Palermo (Sicily) Italy. Sci Total Environ 300(1–3):229–243

Matini L, Ongoka PR, Tathy JP (2011) Heavy metals in soil on spoil heap of an abandoned lead ore treatment plant, SE Congo Brazzaville. Afr J Environ Sci Technol 5(2):89–97

Sun Y, Zhou Q, Xie X, Liu R (2010) Spatial, sources and risk assessment of heavy metal contamination of urban soils in typical regions of Shenyang, China. J Hazard Mater 174:455–462

Takeda A, Kimura K, Yamasaki S (2004) Analysis of 57 elements in Japanese soils, with special reference to soil group and agricultural use. Geoderma 119:291–307

Taylor SR, McLennan SM (1995) The geochemical evolution of the continental crust. Rev Geophys 33:165–241

Yaylalı-Abanuz G (2011) Heavy metal contamination of surface soil around Gebze industrial area, Turkey. Microchem J 99:82–92
Acknowledgments
The authors gratefully acknowledge the financial support for this work that was provided by Tarbiat Modares University of Iran.
About this article
Cite this article
Solgi, E., Esmaili-Sari, A., Riyahi-Bakhtiari, A. et al. Soil Contamination of Metals in the Three Industrial Estates, Arak, Iran. Bull Environ Contam Toxicol 88, 634–638 (2012). https://doi.org/10.1007/s00128-012-0553-7
Received:

Accepted:

Published:

Issue Date:
Keywords
Soil Contamination

Metals

Industrial estates

Arak city