Abstract
An artificial neural network (ANN) model was developed to predict the biosorption efficiency of Bacillus sp. for the removal of total chromium from aqueous solution based on 360 data sets obtained in a laboratory batch study. Experimental parameters affecting the biosorption process such as pH, contact time and initial concentration of chromium were studied. A contact time of 2 h was generally sufficient to achieve equilibrium. At optimal conditions, metal ion uptake increased with increasing initial metal ion concentration. The Freundlich model was applied to describe the biosorption isotherm. Chromium biosorption was most significantly influenced by pH, followed by the initial metal concentration of the solution. The findings indicated that the ANN model provided reasonable predictive performance (R2 = 0.971) of chromium biosorption.
Access options
Buy single article
Instant access to the full article PDF.
USD 39.95
Price includes VAT (USA)
Tax calculation will be finalised during checkout.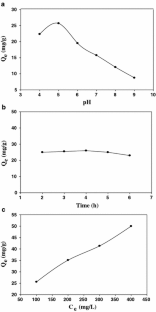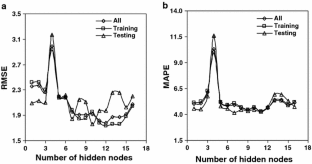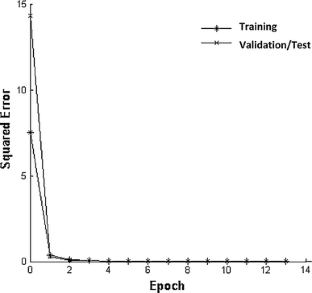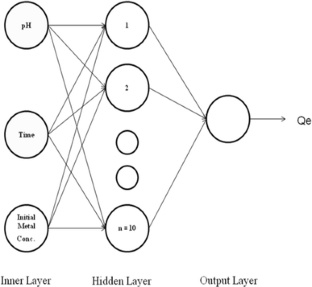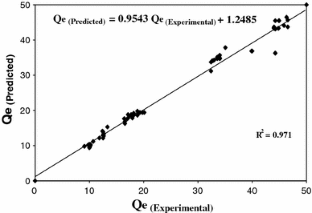 References
Abu Al-Rub FA, El-Naas MH, Ashour I, Al-Marzouqi M (2006) Biosorption of copper on Chlorella vulgaris from single binary and ternary metal aqueous solutions. Process Biochem 41:457–464

Ahluwalai SS, Goyal D (2007) Microbial and plant derived biomass for removal of heavy metals from wastewater. Biores Technol 98:2243–2257

Aleem A, Isar J, Malik A (2003) Impact of long term application of industrial waste water on the emergence of resistance traits in Azotobacter chroococcum isolated from rhizospheric soil. Biores Technol 86:7–13

Alloway BJ, Ayres DC (1996) Chemical principles of environmental pollution. Springer, Netherlands

Ansari MI, Malik A (2007) Biosorption of nickel and cadmium by metal resistant bacterial isolates from agricultural soil irrigated with wastewater. Biores Technol 98:3149–3153

Ansari MI, Grohmann E, Malik A (2008) Conjugative plasmids in multi-resistant bacterial isolates from Indian soil. J Appl Microbiol 104:1774–1781

APHA (American Public Health Association); American Water Works Association (AWWA); Water Environment Federation (WEF) (1995) Standard methods for the examination of water and wastewater, 19th edn. Washington, DC

Bueno BYM, Torem ML, Molina F, de Mesquita LMS (2008) Biosorption of lead(II), chromium(III) and copper(II) by R. opacus: equilibrium and kinetic studies. Minerals Eng 21:65–75

Du X, Yuan Q, Zhao J, Li Y (2007) Comparison of general rate model with a new model-artificial neural network model in describing chromatographic kinetics of solanesol adsorption in packed column by macro porous resins. J Chromatogr A 23:165–174

Elangovan R, Philip L, Chandraraj K (2008) Biosorption of chromium species by aquatic weeds: kinetics and mechanism studies. J Hazard Mater 152:100–112

Freundlich HMF (1906) Over the adsorption in solution. J Phy Chem 57:385–470

Gao W, Engell S (2005) Estimation of general nonlinear adsorption isotherms from chromatograms. Comput Chem Eng 29:2242–2255

Green-Ruiz C, Rodriguez-Tirado V, Gomez-Gil B (2008) Cadmium and zinc removal from aqueous solutions by Bacillus jeotgali: pH, salinity and temperature effects. Biores Technol 99:3864–3870

Han RP, Li HK, Li YH, Zhang JH, Xiao HJ, Shi J (2006) Biosorption of copper and lead ions by waste beer yeast. J Hazard Mater 137:1569–1576

Holt JG, Krieg NR, Sneath PHA, Staley JT, Williams ST (1994) Bergey's manual of determinative bacteriology. Williams and Wilkins, Baltimore

Hornik K (1991) Approximation capabilities of multilayer feed forward networks. Neural Netw 4:251–257

Hu J, Chen G, Lo-Irene MC (2005) Removal and recovery of Cr(VI) from wastewater by maghemite nanoparticles. Water Res 39:4528–4536

Hussein H, Ibrahim SF, Kandeel K, Moawad H (2004) Biosorption of heavy metals from waste water using Pseudomonas sp. Electron J Biotechnol 7:38–46

Imandi SB, Karanam SK, Garapati HR (2008) Optimization of fermentation medium for the production of lipopeptide using artificial neural network and genetic algorithms. IJNES 2:105–109

Khwaja ARK, Singh R, Tandon SR (2001) Monitoring of Ganga water and sediments vis-a-vis tannery pollution at Kanpur (India): a case study. Environ Monit Assess 68:19–35

Kumar PA, Ray M, Chakraborty S (2007) Hexavalent chromium removal from wastewater using aniline formaldehyde condensate coated silica gel. J Hazard Mater 143:24–32

Lee DS, Jeon CO, Park JM, Chang KS (2002) Hybrid neural network modeling of a full-scale industrial wastewater treatment process. Biotechnol Bioeng 78:670–682

Malkoc E, Nuhoglu Y (2007) Potential of tea factory waste for chromium(VI) removal from aqueous solutions: thermodynamic and kinetic studies. Sep Purif Technol 54:291–298

Mergeay M, Nies D, Schlegel HG, Gerits J, Charles P, van Gijsegem F (1985) Alcaligenes eutrophus CH34 is a facultative chemolithotroph with plasmid-bound resistance to heavy metals. J Bacteriol 3:691–698

Mishra S, Doble M (2008) Novel chromium tolerant microorganisms: isolation, characterization and their biosorption capacity. Ecotoxicol Environ Saf 71:874–879

Nasernejad B, Esslam Zadeh T, Bonakdar Pour B, Esmaail Bygi M, Zamani A (2005) Camparison for biosorption modeling of heavy metals (Cr(III), Cu (II), Zn (II)) adsorption from wastewater by carrot residues. Process Biochem 40:1319–1322

Nourbakhsh MN, Kilicarslan S, Ilhan S, Ozdag H (2002) Biosorption of Cr+6, Pd+2 and Cu+2 ions in industrial waste water on Bacillus sp. Chem Eng J 85:351–355

Ozdemir G, Baysal SH (2004) Chromium and aluminum biosorption on Chryseomonas luteola TEMO5. Appl Microbiol Biotechnol 64:599–603

Öztürk A (2007) Removal of nickel from aqueous solution by the bacterium Bacillus thuringiensis. J Hazard Mater 147:518–523

Öztürk A, Artan T, Ayar A (2004) Biosorption of nickel(II) and copper(II) ions from aqueous solution by Streptomyces coelicolor A3. Coll Surf B 34:105–111

Pal MP, Vaidya BK, Desai KM, Joshi RM, Nene SN, Kulkarni BD (2009) Medium optimization for biosurfactant production by Rhodococcus erythropolis MTCC 2794: artificial intelligence versus a statistical approach. J Ind Microbiol Biotechnol 36:747–756

Pan J, Ge X, Liu R, Tang GH (2006) Characteristic features of Bacillus cereus cell surfaces with biosorption of Pb(II) ions by AFM and FT-IR. Colloids Surf B Biointerfaces 52:89–95

Pramanik K (2004) Use of ANN for predication of cell mass and ethanol concentration in batch fermentation using Sacchromyces cerevisiae yeast, IE (I) J-CH 85:31–35

Quintelas C, Zélia Rocha Z, Silva B, Fonseca B, Figueiredo H, Tavares T (2009) Removal of Cd(II), Cr(VI), Fe(III) and Ni(II) from aqueous solutions by an E. coli biofilm supported on kaolin. Chem Eng J 149:319–324

Sethunathan N, Megharaj M, Smith L, Kamaludeen SPB, Avudainayagam S, Naidu R (2005) Microbial role in the failure of natural attenuation of chromium(VI) in long-term tannery waste contaminated soil. Agric Eco Environ 105(4):657

Singh S, Rai BN, Rai LC (2001) Ni(II) and Cr(VI) sorption kinetics by Microcystis in single and multimetallic systems. Process Biochem 36:1205–1213

Singh KP, Mohan D, Sinha S, Dalwani R (2004) Impact assessment of treated/untreated waste water toxicants discharged by sewage treatment plants on health, agricultural and environmental quality in the waste water disposal area. Chemosphere 55:227–255

Uzel A, Ozdemir G (2009) Metal biosorption capacity of the organic solvent tolerant Pseudomonas fluorescens TEM08. Biores Technol 100:542–548

Yun YS, Park D, Park JM, Volesky B (2001) Biosorption of trivalent chromium on the brown seaweed biomass. Environ Sci Technol 35:4353

Zamil S, Ahmad SS, Choi MH, Park JY, Yoon SC (2009) Correlating metal ionic characteristics with biosorption capacity of Staphylococcus saprophyticus BMSZ711 using QICAR model. Biores Technol 100:1895–1902

Zhao H, Hao OJ, McAvoy TJ, Chang CH (1997) Modeling nutrient dynamics in sequencing batch reactor. J Environ Eng 123:311–319

Zhou M, Liu Y, Zeng G, Li X, Xu W, Fan T (2007) Kinetic and equilibrium studies of Cr(VI) biosorption by dead Bacillus licheniformis biomass. World J Microbiol Biotechnol 23:43–48

Ziagova M, Dimitriadis G, Aslanidou D, Papaioannou X, Tzannetaki EL, Liakopoulou-Kyriakides M (2007) Comparative study of Cd(II) and Cr(VI) biosorption on Staphylococcus xylosus and Pseudomonas sp. in single and binary mixtures. Biores Technol 98:2859–2865
Acknowledgments
Financial support from the Council of Scientific and Industrial Research (File no.: 24(0271)/04/EMR-II) Government of India, is gratefully acknowledged.
About this article
Cite this article
Masood, F., Ahmad, M., Ansari, M.A. et al. Prediction of Biosorption of Total Chromium by Bacillus sp. Using Artificial Neural Network. Bull Environ Contam Toxicol 88, 563–570 (2012). https://doi.org/10.1007/s00128-011-0517-3
Received:

Accepted:

Published:

Issue Date:
Keywords
Artificial neural network

Biosorption

Total chromium