Abstract
With the aim of knowing seasonal variability of lead in fish and bivalve species from Coatzacoalcos estuary, biota collected during three seasons was examined. In muscle tissue of fish, the highest level (5.4 μg g−1) was found in the longnose gar Lepisosteus osseus from San Francisco stream (a highly impacted site); the lowest value (0.2 μg g−1) was registered in yellowfin mojarra Gerres cinereus from Ostión lagoon (control site). In bivalves, concentrations in soft tissue ranged from 1.5 μg g−1 in Polymesoda caroliniana from Calzadas river, to 0.1 μg g−1 in Corbicula fluminea from Hidalgotitlán (control site).
We're sorry, something doesn't seem to be working properly.
Please try refreshing the page. If that doesn't work, please contact support so we can address the problem.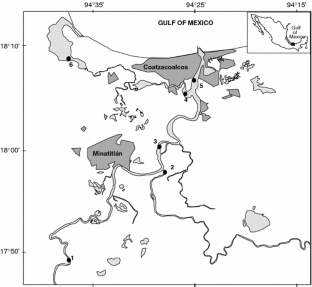 References
Bahena-Manjarrez JL, Rosales-Hoz L, Carranza-Edwards A (2002) Spatial and temporal variation of heavy metals in a tropical estuary. Environ Geol 42:575–582

Báez AP, Rosas I, Nulman R, Gálvez L (1975) Movimiento de mercurio residual en el estuario del río Coatzacoalcos. Anal Inst Geof 18–19:131–147

Botello AV, Páez-Osuna F (1987) El problema crucial:la contaminación. In: Botello AV (ed) Serie Medio Ambiente en Coatzacoalcos, vol 1. Centro de Ecodesarrollo, Mexico, p 180

Croudace IW, Cundy AB (1995) Heavy metal and hydrocarbon pollution in recent sediments from Southampton water, southern England:a geochemical and isotopic study. Environ Sci Tech 29:1288–1296

Fischer W, Krupp F, Schneider W, Sommer C, Carpenter KE, Niem VH (1995a) Guía FAO para la identificación de especies para los fines de la pesca. Pacífico centro-oriental. Volumen II. Vertebrados-Parte 1. Roma 647–1200

Fischer W, Krupp F, Schneider W, Sommer C, Carpenter KE, Niem VH (1995b) Guía FAO para la identificación de especies para los fines de la pesca. Pacífico centro-oriental. Volumen III. Vertebrados-Parte 2. Roma 1201–1813

Forstner V, Wittmann GTW (1979) Metal pollution in the aquatic environment. Springer, New York

IAEA (International Atomic Energy Agency) (1987) Intercalibration of analytical methods on marine environmental samples. Trace element measurements on fish homogenate. Results of the worldwide intercomparison run MA-B-3/TM. Report No. 36, Monaco

INEGI (2005) II Conteo General de Población y Vivienda 2005. INEGI, Mexico

Maiti P, Banerjee S (2005) Depuration of metals in a sewage-fed fish during post harvest conditioning in uncontaminated water. Pollut Res 24(4):753–761

MESL (1997) International atomic energy agency, inorganic laboratory. Standard Operating Procedures, Monaco

Moody JR, Lindstrom RN (1977) Selection and cleaning of plastic containers for storage of trace element samples. Anal Chem 49:2264–2267

Nriagu JO, Pacyna JM (1988) Quantitative assessment of worldwide contamination of air, water and soils by trace metals. Nature 333:134–139

Pérez-Zapata AJ, Deleón-Rodríguez I, Gil-Rodríguez AM (1984) Determinación cuantitativa de plomo en peces del estuario del río Coatzacoalcos. An Esc Nac Cienc Biol 28:193–197

Ponce VMG (1988) Evaluación de metales pesados en sedimentos recientes y tejidos de ostión Crassostrea virginica (Gmelin, 1791) de la laguna de Términos, Campeche, México. Tesis Profesional, Facultad de Ciencias, UNAM, Mexico

Rainbow PS, Phillips DJH (1991) Cosmopolitan biomonitors of trace metals. Mar Pollut Bull 26(11):593–601

Rosales-Hoz L, Carranza-Edwards A, Carvajal-Romero P, Méndez-Jaime C, Ruiz-Santoyo ME (2003a) Physico-chemical seasonal variability of a tropical estuary:major and minor elements in water and air. Environ Geol 44:790–798

Rosales-Hoz L, Cundy AB, Bahena-Manjarrez JL (2003b) Heavy metals in sediment cores from a tropical estuary affected by anthropogenic discharges:Coatzacoalcos estuary, Mexico. Est Coast Shelf Sci 58:117–126

Rosas PI, Báez A, Belmont R (1983) Oyster (Crassostrea virginica) as indicator of heavy metal pollution in some lagoons of the Gulf of Mexico. Water Air Soil Pollut 20:127–135

Rothery E (1988) Analytical methods for graphite furnace tube atomizers. Varian Australia Ltd, Australia

Varanasi U, Markey D (1978) Uptake and release of lead and cadmium in skin and mucus of coho salmon (Oncorhynchus kisutch). Comp Biochem Physiol 60 C (2):187–191

Vázquez FG, Aguilera GL, Delgado HD, Márquez GA (1990) Trace and heavy metals in the oyster Crassostrea virginica, San Andrés lagoon, Tamaulipas, Mexico. Bull Environ Contam Toxicol 45:907–914

Vázquez FG, Sharma VK, Mendoza QA, Hernández R (2001) Metals in fish and shrimp of the Campeche Sound, Gulf of Mexico. Bull Environ Contam Toxicol 67:756–762
Acknowledgments
To F. Amezcua-Martínez, for fish identification; Z. Castillo-Rodríguez, for mollusc identification; C. Ramírez-Jáuregui and P. Allende-Rosales for bibliographic support; H. Bojórquez-Leyva for laboratory help; G. Ramírez-Reséndiz for the computing work. Thanks are due to CONACYT for financial support through project SEMARNAT-CONACYT-2004-C01-32.
About this article
Cite this article
Ruelas-Inzunza, J., Gárate-Viera, Y. & Páez-Osuna, F. Lead in clams and fish of dietary importance from Coatzacoalcos estuary (Gulf of Mexico), an industrialized tropical region. Bull Environ Contam Toxicol 79, 508–513 (2007). https://doi.org/10.1007/s00128-007-9285-5
Received:

Accepted:

Published:

Issue Date:
Keywords
Lead

Fish

Clams

Coatzacoalcos estuary