Abstract
Background
For ICD-11, the WHO emphasized the clinical utility of communication and the need to involve service users and carers in the revision process.
Aims
The objective was to assess whether medical vocabulary was accessible, which kinds of feelings it activated, whether and how users and carers would like to rephrase terms, and whether they used diagnosis to talk about mental health experiences.
Method
An innovative protocol focused on two diagnoses (depressive episode and schizophrenia) was implemented in 15 different countries. The same issues were discussed with users and carers: understanding, feelings, rephrasing, and communication.
Results
Most participants reported understanding the diagnoses, but associated them with negative feelings. While the negativity of "depressive episode" mostly came from the concept itself, that of "schizophrenia" was largely based on its social impact and stigmatization associated with "mental illness".
When rephrasing "depressive episode", a majority kept the root "depress*", and suppressed the temporal dimension or renamed it. Almost no one suggested a reformulation based on "schizophrenia". Finally, when communicating, no one used the phrase "depressive episode". Some participants used words based on "depress", but no one mentioned "episode". Very few used "schizophrenia".
Conclusion
Data revealed a gap between concepts and emotional and cognitive experiences. Both professional and experiential language and knowledge have to be considered as complementary. Consequently, the ICD should be co-constructed by professionals, service users, and carers. It should take the emotional component of language, and the diversity of linguistic and cultural contexts, into account.
Data availability
Data are available upon reasonable request to the EPSM Lille–Métropole.
References
Reed GM, First MB, Kogan CS, Hyman SE, Gureje O, Gaebel W et al (2019) Innovations and changes in the ICD-11 classification of mental, behavioural and neurodevelopmental disorders. World Psychiatry 18(1):3–19

Parnas J (2005) Clinical detection of schizophrenia-prone individuals. Br J Psychiatry 187(S48):s111–s112

World Health Organization (2008) Policies and practices for mental health in Europe. https://www.euro.who.int/pubrequest. Accessed 10 Feb 2020

World Health Organization (2010) User empowerment in mental health—a statement by WHO Regional Office for Europe. WHO Regional Office for Europe. https://www.euro.who.int/pubrequest. Accessed 10 Feb 2020

Perkins A, Ridler J, Browes D, Peryer G, Notley C, Hackmann C (2018) Experiencing mental health diagnosis: a systematic review of service user, clinician, and carer perspectives across clinical settings. Lancet Psychiatry 5(9):747–764

Herbay A, Bacon E (2006) Spécificité de la représentation de leur pathologie chez des patients schizophrènes ayant été informés du diagnostic. In: Le diagnostic en psychiatrie : questions éthiques. Masson, pp 45–59. https://www.cra-rhone-alpes.org/cid/opac_css/index.php?lvl=notice_display&id=7403. Accessed 10 Feb 2020

Oaks D (2012) Let's find language more inclusive than the phrase "Mentally ill"!. https://mindfreedom.org/kb/not-mentally-ill/. Accessed 10 Feb 2020

Pomey MP, Flora L, Karazivan P, Dumez V, Lebel P, Vanier MC et al (2015) The Montreal model: the challenges of a partnership relationship between patients and healthcare professionals. Sante Publique 27(1 Suppl):S41–S50

Roelandt JL, Daumerie N, Defromont L, Caria A, Bastow P, Kishore J (2014) Community mental health services: an experience from France. J Ment Heal Hum Behav 19(1):10–18

Reed GM (2011) Vers la CIM-11: créer un espace pour une diversité de perspectives. Inf Psychiatr 87(3):169

Roelandt J-L, Caria A, Defromont L, Vandeborre A, Daumerie N (2010) Représentations sociales du « fou », du « malade mental » et du « dépressif » en population générale en France. Encephale 36(3):7–13

Thornicroft G (2008) Stigma and discrimination limit access to mental health care. Epidemiol Psichiatr Soc 17(1):14–19

Whiteford HA, Ferrari AJ, Degenhardt L, Feigin V, Vos T (2015) The global burden of mental, neurological and substance use disorders: an analysis from the global burden of disease study 2010. Forloni G, editor. PLoS One 10(2):e0116820

Thornicroft G, Chatterji S, Evans-Lacko S, Gruber M, Sampson N, Aguilar-Gaxiola S et al (2017) Undertreatment of people with major depressive disorder in 21 countries. Br J Psychiatry 210(02):119–124

Beck F, Guignard R (2012) La dépression en France (2005–2010): prévalence, recours au soin et sentiment d'information de la population. Sante Homme 421:43–45

Thornicroft G, Brohan E, Rose D, Sartorius N, Leese M (2009) Global pattern of experienced and anticipated discrimination against people with schizophrenia: a cross-sectional survey. Lancet 373(9661):408–415

Guillemain H (2018) Schizophrènes au XXe siècle : des effets secondaires de l'histoire. Alma 328. https://www.alma-editeur.fr/schizophrene_au_xxe_siecle.html. Accessed 10 Feb 2020

McDonell MG, Short RA, Berry CM, Dyck DG (2003) Burden in schizophrenia caregivers: impact of family psychoeducation and awareness of patient suicidality. Fam Process 42(1):91–103

Palazzolo J (2003) Informer le patient en psychiatrie : rôle de chaque intervenant: entre légitimité et obligation. Masson

Uçok A, Polat A, Sartorius N, Erkoc S, Atakli C (2004) Attitudes of psychiatrists toward patients with schizophrenia. Psychiatry Clin Neurosci 58(1):89–91

Sato M (2006) Renaming schizophrenia: a Japanese perspective. World Psychiatry 5(1):53–55

Bergsholm P (2016) Is schizophrenia disappearing? The rise and fall of the diagnosis of functional psychoses: an essay. BMC Psychiatry 16(1):387

Takahashi H, Ideno T, Okubo S, Matsui H, Takemura K, Matsuura M et al (2009) Impact of changing the Japanese term for "schizophrenia" for reasons of stereotypical beliefs of schizophrenia in Japanese youth. Schizophr Res 112(1–3):149–152

Guloksuz S, van Os J (2018) The slow death of the concept of schizophrenia and the painful birth of the psychosis spectrum. Psychol Med 48(02):229–244

Roelandt J-L, Askevis-Leherpeux F, Baleige A, Fontaine A, Guernut M (2018) Participation of users and carers in a reading of the international classification of diseases for mental and behavioural disorders (ICD 11)—princeps research on two disorders: depressive episode and schizophrenia. https://www.ccomssantementalelillefrance.org/sites/ccoms.org/files/pdf/190225_RapportEtape.pdf. Accessed 10 Feb 2020

Pelletier J (2017) Contribution of service users to the revision of WHO International Classification of Diseases: should recovery also apply to general practice? https://www.semanticscholar.org/paper/Contribution-of-Service-Users-to-the-Revision-of-of-Pelletier/47625f28126e7482a1ce0939aa2b7f29976e1ecf. Accessed 10 Feb 2020

Reinert M (1990) Alceste une méthodologie d'analyse des données textuelles et une application: Aurelia De Gerard De Nerval. Bull Sociol Methodol Méthodologie Sociol 26(1):24–54

Roelandt J-L, Caria A, Defromont L, Vandeborre A, Daumerie N (2010) Représentations sociales du « fou », du « malade mental » et du « dépressif » en population générale en France. Encephale 36(3):7–13

Borkman T (1976) Experiential Knowledge: a new concept for the analysis of self-help groups. Soc Serv Rev 50(3):445–456

Hackmann C, Balhara YPS, Clayman K, Nemec PB, Notley C, Pike K et al (2019) Perspectives on ICD-11 to understand and improve mental health diagnosis using expertise by experience (INCLUDE Study): an international qualitative study. Lancet Psychiatry 6(9):778–785
Acknowledgements
The authors are grateful to users and carers who agreed to participate in the study and to Brian Hofer for proofreading.
They also would like to thank the Steering Committee members (Benradia, I., Soussan F., Bousser A., Bretel, J., Brun, P., Julien, J., Larchanche, S., Letailleur, C., Lovell, A., Loubier, D., Marchal, C., Marsili, M., Sebanne, D., Staedel, B., Vasseur-Bacle, S. & Van Remoortel, J.) and the following colleagues who participated in protocol implementation, data collection, and encoding:
Algeria: Belkacem- Djeffel, M., Boukhatem, I., Boutaleb, D., Mertani, L., Souhlal, Z.
Canada: Morin, F.
France: Alexopoulos, C., Beye, A., Brun, P. Caloone, C., Defromont, L., Demazière, G, Depoorter, C., Desruelle, C., Dumesnil, C., De Fos, E., Lebouteiller, V., Lemarie, N., Mastrangelo, C., Monnier, D., Piquet, T., Saraiva, G., Schmidt, B., Storm, S., Vermeersch, V.
Greece: Iatraki, G., Katimertzi, M.
Hungary: Barkász, H., Karácsonyi, A, Meixne, J., Menkó, G., Nyulászi, A., Pálmai, A.
India: Kukreti, P., Rastogi, R, Rathore, K.S., Salodja, U.P., Sethi, S., Singh, S.K., Sood, A., A. Tiwari, Yadav, A.
Italy: Celona, D., d'Oca, S., Farci, V., Garino, D., Marenda, F., Tassi, F., Vitucci, C.M.
Lebanon: Abisaleh, R., Chammai, R. Choueifati, D., Yara, C., Zarzour, M.
Lithunia: Petraškaitė, K., Jurkštaitė-Pačėsienė, L.
Madagascar: Fanomezantsoa, A., Manambisoa, V., Manovosoa, R., Milasoa, L.R., Rabenarivo T. Rahanitrandrasana O., Ramarozatovo, R.V. Razanakolona, Rambolamamy, A., Randriamahefa, M.L., Randriamanantena, M., Rasoamanarivo, T., Ratobimanankasina H.H., Rehedinosy, P.
Mauritania: Abeidak, M., Birame, A. El Ghadi, M., Lemine, M., Mahmoud, M., Sid'Ahmed, M., Yahouvdhou, E.
Mexico: Domínguez, T., Fresán, A., González, A., Hernández, O., Madrigal, P.S., Martínez, N., Medina-Mora, M.E., Muñoz, C., Rascón, M.L., Real, T., Vázquez, A.
Morocco: Abouelfaraj, H., Aitelhaj, M., Cherif Mghari, D., Deroui, K., Fadili, A., Falah, K., Malki, Z., Rachidi, S., Reda, A., Sentoufi, Z.
Spain: García, A.R., Iglesias, S.D., Rodriguez, G.B., Colvee, C.B., Luque, L.A., Montero, J.M.T., Morejon, A.V., Pérez, D.M.
Morocco: Abouelfaraj, H., Aitelhaj, M., Cherif Mghari, D., Deroui, K., Fadili, A., Falah, K., Malki, Z., Rachidi, S., Reda, A., Sentoufi, Z.
Funding
The study received financial support from the French Ministry of Health for all the necessary on-site travels and international coordination, and the participation of the WHO's Offices in Madagascar and in Mauritania.
Ethics declarations
Conflict of interest
The authors declare that there are no conflicts of interest.
Appendix 1
Appendix 1
Quotations from verbatim for depressive episode and schizophrenia: motivations of negative feelings, rephrasing, and communication.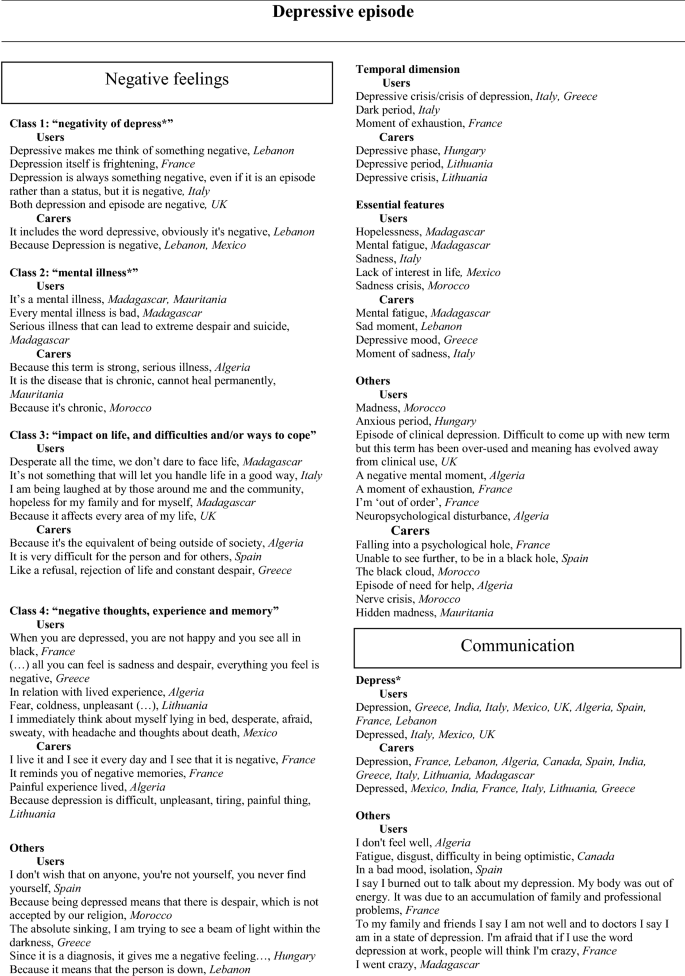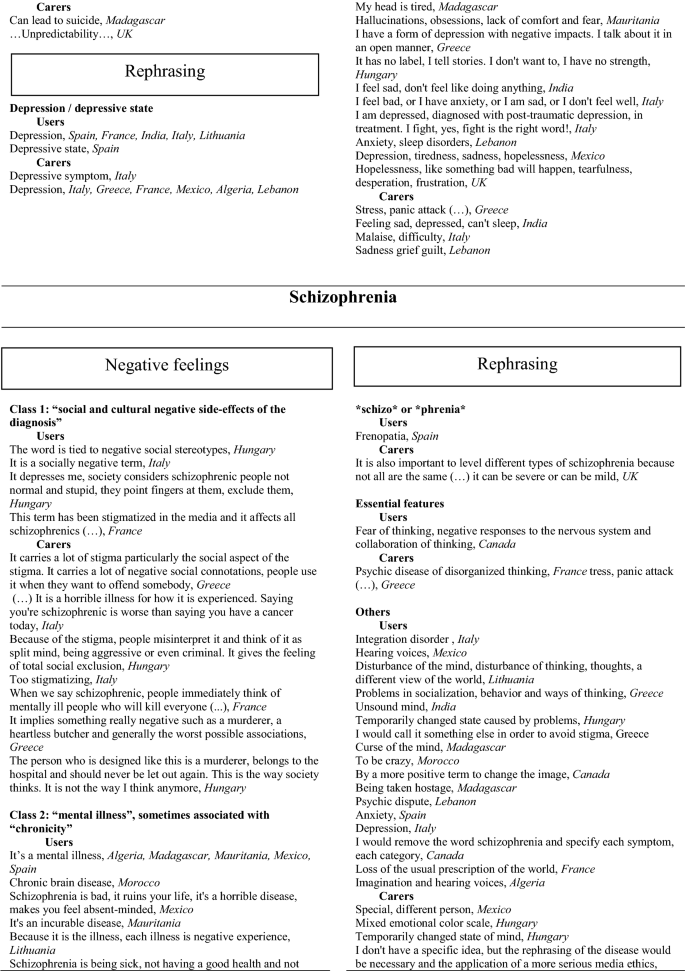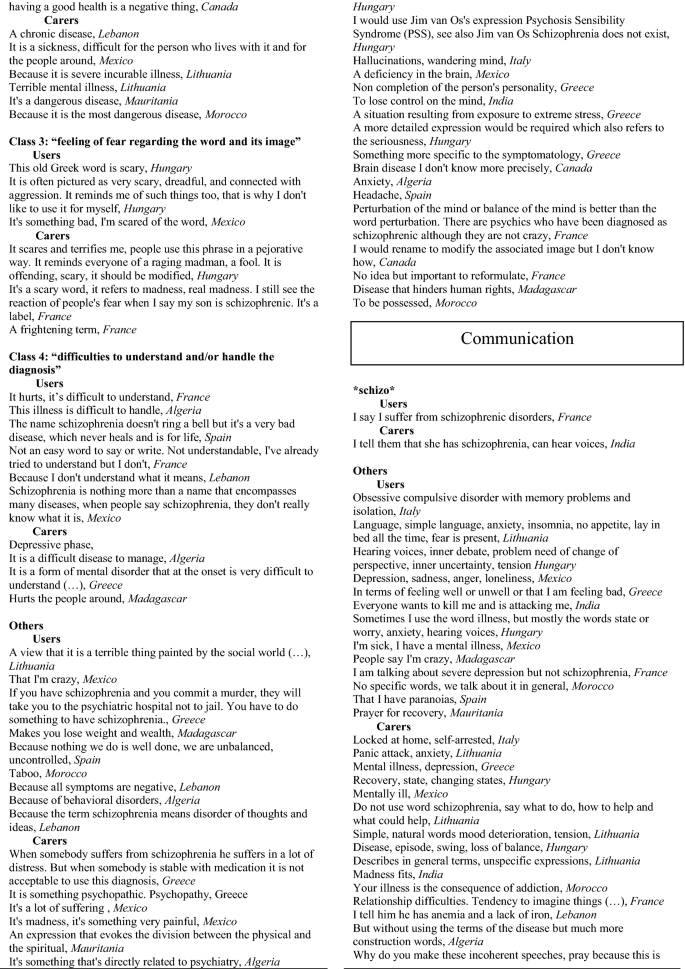 Rights and permissions
Open Access This article is licensed under a Creative Commons Attribution 4.0 International License, which permits use, sharing, adaptation, distribution and reproduction in any medium or format, as long as you give appropriate credit to the original author(s) and the source, provide a link to the Creative Commons licence, and indicate if changes were made. The images or other third party material in this article are included in the article's Creative Commons licence, unless indicated otherwise in a credit line to the material. If material is not included in the article's Creative Commons licence and your intended use is not permitted by statutory regulation or exceeds the permitted use, you will need to obtain permission directly from the copyright holder. To view a copy of this licence, visit http://creativecommons.org/licenses/by/4.0/.
About this article
Cite this article
Roelandt, JL., Baleige, A., Koenig, M. et al. How service users and carers understand, perceive, rephrase, and communicate about "depressive episode" and "schizophrenia" diagnoses: an international participatory research. Soc Psychiatry Psychiatr Epidemiol 55, 1201–1213 (2020). https://doi.org/10.1007/s00127-020-01836-6
Received:

Accepted:

Published:

Issue Date:

DOI: https://doi.org/10.1007/s00127-020-01836-6
Keywords
International Classification of Diseases

Clinical utility

Communication

Participatory research

Service users

Carers