Abstract
Aims/hypothesis
There is increasing evidence for the existence of shared genetic predictors of metabolic traits and neurodegenerative disease. We previously observed a U-shaped association between fasting insulin in middle-aged women and dementia up to 34 years later. In the present study, we performed genome-wide association (GWA) analyses for fasting serum insulin in European children with a focus on variants associated with the tails of the insulin distribution.
Methods
Genotyping was successful in 2825 children aged 2–14 years at the time of insulin measurement. Because insulin levels vary during childhood, GWA analyses were based on age- and sex-specific z scores. Five percentile ranks of z-insulin were selected and modelled using logistic regression, i.e. the 15th, 25th, 50th, 75th and 85th percentile ranks (P15–P85). Additive genetic models were adjusted for age, sex, BMI, survey year, survey country and principal components derived from genetic data to account for ethnic heterogeneity. Quantile regression was used to determine whether associations with variants identified by GWA analyses differed across quantiles of log-insulin.
Results
A variant in the SLC28A1 gene (rs2122859) was associated with the 85th percentile rank of the insulin z score (P85, p value=3×10−8). Two variants associated with low z-insulin (P15, p value <5×10−6) were located on the RBFOX1 and SH3RF3 genes. These genes have previously been associated with both metabolic traits and dementia phenotypes. While variants associated with P50 showed stable associations across the insulin spectrum, we found that associations with variants identified through GWA analyses of P15 and P85 varied across quantiles of log-insulin.
Conclusions/interpretation
The above results support the notion of a shared genetic architecture for dementia and metabolic traits. Our approach identified genetic variants that were associated with the tails of the insulin spectrum only. Because traditional heritability estimates assume that genetic effects are constant throughout the phenotype distribution, the new findings may have implications for understanding the discrepancy in heritability estimates from GWA and family studies and for the study of U-shaped biomarker–disease associations.
Graphical Abstract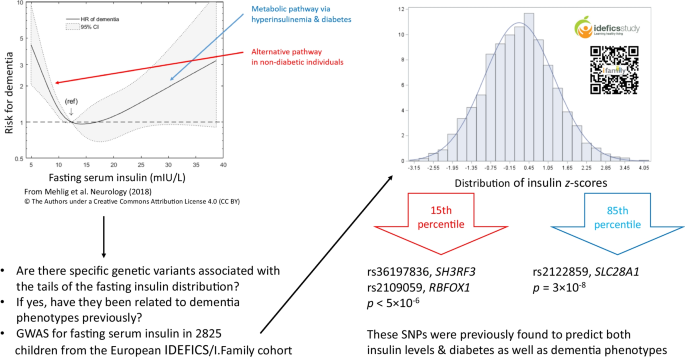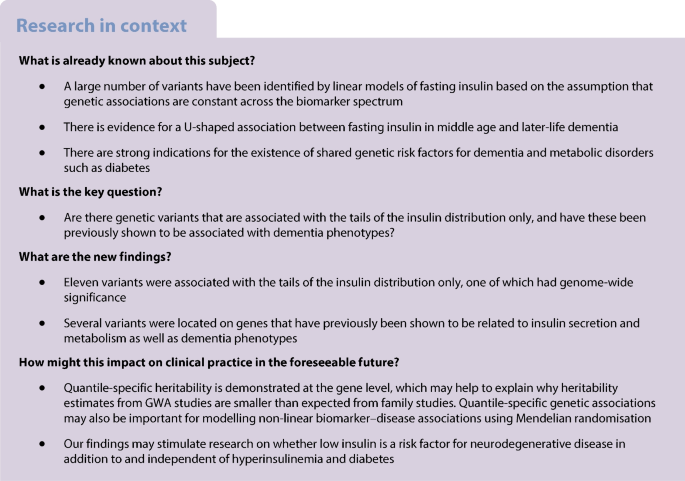 Abbreviations
GWA:

Genome-wide association

IDEFICS:

Identification and prevention of Dietary- and lifestyle-induced health EFfects In Children and infantS
Ethics declarations
Data availability
Due to the fact that the dataset comprises highly sensitive data collected in children, ethical restrictions prohibit the authors from making the dataset publicly available. However, data are available from the authors upon reasonable request and with permission of the steering committee on a case-by-case basis.
Funding
Open access funding provided by University of Gothenburg. We gratefully acknowledge the financial support of the European Commission within the Sixth and Seventh Framework Programmes for Research and Technological Development (01681, 266044). Additional support was provided by the Swedish Research Councils Forte (2007–1506) and Formas (2012–00038), as well as the ALF agreement in western Sweden (30411). KM gratefully acknowledges the hospitality extended to her during a one-week visit to Bremen to initiate the project, as well as financial support by the Erasmus+ programme (E2017/395). The study funders were not involved in the design of the study, the collection, analysis or interpretation of data, or writing the report, and did not impose any restrictions regarding publication of the report.
Authors' relationships and activities
The authors declare that there are no relationships or activities that might bias, or be perceived to bias, their work.
Contribution statement
All authors made substantial contributions to the conception and design of the study (KM, RF, MW, JK, IP), acquisition of data (RF, SDH, DM, LAM, PR, MT, TV, LL, IP), or analysis and interpretation of data (KM, RF, RN, MW, JK, IP). KM drafted the manuscript, and all authors revised it critically for important intellectual content. All authors approved the final version to be published. KM is responsible for the integrity of the work as a whole.
Additional information
Publisher's note
Springer Nature remains neutral with regard to jurisdictional claims in published maps and institutional affiliations.
Supplementary Information
Below is the link to the electronic supplementary material.
Rights and permissions
Open Access This article is licensed under a Creative Commons Attribution 4.0 International License, which permits use, sharing, adaptation, distribution and reproduction in any medium or format, as long as you give appropriate credit to the original author(s) and the source, provide a link to the Creative Commons licence, and indicate if changes were made. The images or other third party material in this article are included in the article's Creative Commons licence, unless indicated otherwise in a credit line to the material. If material is not included in the article's Creative Commons licence and your intended use is not permitted by statutory regulation or exceeds the permitted use, you will need to obtain permission directly from the copyright holder. To view a copy of this licence, visit http://creativecommons.org/licenses/by/4.0/.
About this article
Cite this article
Mehlig, K., Foraita, R., Nagrani, R. et al. Genetic associations vary across the spectrum of fasting serum insulin: results from the European IDEFICS/I.Family children's cohort. Diabetologia 66, 1914–1924 (2023). https://doi.org/10.1007/s00125-023-05957-w
Received:

Accepted:

Published:

Issue Date:

DOI: https://doi.org/10.1007/s00125-023-05957-w
Keywords