Abstract
Aim/hypothesis
This study aimed to investigate the safety and efficacy of treatment with allogeneic Wharton's jelly-derived mesenchymal stromal cells (MSCs) in recent-onset type 1 diabetes.
Methods
A combined Phase I/II trial, composed of a dose escalation followed by a randomised double-blind placebo-controlled study in parallel design, was performed in which treatment with allogeneic MSCs produced as an advanced therapy medicinal product (ProTrans) was compared with placebo in adults with newly diagnosed type 1 diabetes. Inclusion criteria were a diagnosis of type 1 diabetes <2 years before enrolment, age 18–40 years and a fasting plasma C-peptide concentration >0.12 nmol/l. Randomisation was performed with a web-based randomisation system, with a randomisation code created prior to the start of the study. The randomisation was made in blocks, with participants randomised to ProTrans or placebo treatment. Randomisation envelopes were kept at the clinic in a locked room, with study staff opening the envelopes at the baseline visits. All participants and study personnel were blinded to group assignment. The study was conducted at Karolinska University Hospital, Stockholm, Sweden.
Results
Three participants were included in each dose cohort during the first part of the study. Fifteen participants were randomised in the second part of the study, with ten participants assigned to ProTrans treatment and five to placebo. All participants were analysed for the primary and secondary outcomes. No serious adverse events related to treatment were observed and, overall, few adverse events (mainly mild upper respiratory tract infections) were reported in the active treatment and placebo arms. The primary efficacy endpoint was defined as Δ-change in C-peptide AUC for a mixed meal tolerance test at 1 year following ProTrans/placebo infusion compared with baseline performance prior to treatment. C-peptide levels in placebo-treated individuals declined by 47%, whereas those in ProTrans-treated individuals declined by only 10% (p<0.05). Similarly, insulin requirements increased in placebo-treated individuals by a median of 10 U/day, whereas insulin needs of ProTrans-treated individuals did not change over the follow-up period of 12 months (p<0.05).
Conclusions/interpretation
This study suggests that allogeneic Wharton's jelly-derived MSCs (ProTrans) is a safe treatment for recent-onset type 1 diabetes, with the potential to preserve beta cell function.
Trial registration
ClinicalTrials.gov NCT03406585
Funding
The sponsor of the clinical trial is NextCell Pharma AB, Stockholm, Sweden.
Graphical Abstract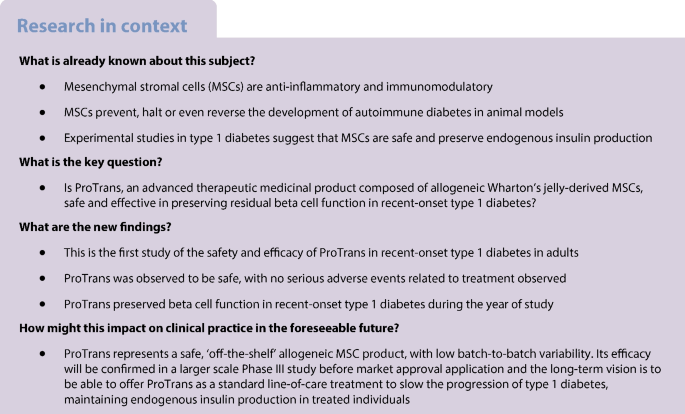 Abbreviations
AE:

Adverse event

ATMP:

Advanced therapy medicinal product

CGM:

Continuous glucose monitoring

MMTT:

Mixed meal tolerance test

MSC:

Mesenchymal stromal cell

SAE:

Serious adverse event

SLE:

Systemic lupus erythematosus

WJMSC:

Wharton's jelly mesenchymal stromal cell
Ethics declarations
Acknowledgements
The Data and Safety Monitoring Board consisted of the following individuals: U. Smith, Sahlgrenska Academy and Sahlgrenska University Hospital, Gothenburg, Sweden; A. Fasth, Sahlgrenska Academy, University of Gothenburg, Gothenburg, Sweden; and Å. Lernmark, Lund University CRC, Skåne University Hospital, Malmö, Sweden. The product was manufactured by Polski Bank Komórek Macierzystych S.A. (PBKM) Famicord Group, Warsaw, Poland. Parts of this study were presented in abstract and poster form at the ISCT 2020, 28–29 May, Paris Virtual Annual Meeting and ISCT 2021, 26–28 May, New Orleans Virtual Annual Meeting.
Data availability
The datasets generated and/or analysed during the study are available from the corresponding author on reasonable request.
Funding
Open access funding provided by Uppsala University. The sponsor of the clinical trial is NextCell Pharma AB, Stockholm, Sweden. The company has funded the project in full.
Authors' relationships and activities
MGS, LCD, SS and CIES are employed by the sponsoring company NextCell Pharma AB and MGS and CIES are shareholders. All other authors declare that there are no relationships or activities that might bias, or be perceived to bias, their work.
Contribution statement
All authors contributed to the conception or design of the work in this study and the drafting and/or revision of the manuscript. All authors approved the final version to be published. MGS is the guarantor of this work and, as such, had full access to all the data in the study and takes responsibility for the integrity of the data and the accuracy of the data analysis.
Additional information
Publisher's note
Springer Nature remains neutral with regard to jurisdictional claims in published maps and institutional affiliations.
Supplementary Information
Below is the link to the electronic supplementary material.
Rights and permissions
Open Access This article is licensed under a Creative Commons Attribution 4.0 International License, which permits use, sharing, adaptation, distribution and reproduction in any medium or format, as long as you give appropriate credit to the original author(s) and the source, provide a link to the Creative Commons licence, and indicate if changes were made. The images or other third party material in this article are included in the article's Creative Commons licence, unless indicated otherwise in a credit line to the material. If material is not included in the article's Creative Commons licence and your intended use is not permitted by statutory regulation or exceeds the permitted use, you will need to obtain permission directly from the copyright holder. To view a copy of this licence, visit http://creativecommons.org/licenses/by/4.0/.
About this article
Cite this article
Carlsson, PO., Espes, D., Sisay, S. et al. Umbilical cord-derived mesenchymal stromal cells preserve endogenous insulin production in type 1 diabetes: a Phase I/II randomised double-blind placebo-controlled trial. Diabetologia (2023). https://doi.org/10.1007/s00125-023-05934-3
Received:

Accepted:

Published:

DOI: https://doi.org/10.1007/s00125-023-05934-3
Keywords
Advanced therapy medicinal product

Cell therapy

Clinical trial

Intervention

Mesenchymal stromal cells

Stem cells

Type 1 diabetes

Umbilical cord