Abstract
Aims/hypothesis
The objective was to investigate if metformin pharmacokinetics is modulated by time-of-day in humans using empirical and mechanistic pharmacokinetic modelling techniques on a large clinical dataset. This study also aimed to generate and test hypotheses on the underlying mechanisms, including evidence for chronotype-dependent interindividual differences in metformin plasma and efficacy-related tissue concentrations.
Methods
A large clinical dataset consisting of individual metformin plasma and urine measurements was analysed using a newly developed empirical pharmacokinetic model. Causes of daily variation of metformin pharmacokinetics and interindividual variability were further investigated by a literature-informed mechanistic modelling analysis.
Results
A significant effect of time-of-day on metformin pharmacokinetics was found. Daily rhythms of gastrointestinal, hepatic and renal processes are described in the literature, possibly affecting drug pharmacokinetics. Observed metformin plasma levels were best described by a combination of a rhythm in GFR, renal plasma flow (RPF) and organic cation transporter (OCT) 2 activity. Furthermore, the large interindividual differences in measured metformin concentrations were best explained by individual chronotypes affecting metformin clearance, with impact on plasma and tissue concentrations that may have implications for metformin efficacy.
Conclusions/interpretation
Metformin's pharmacology significantly depends on time-of-day in humans, determined with the help of empirical and mechanistic pharmacokinetic modelling, and rhythmic GFR, RPF and OCT2 were found to govern intraday variation. Interindividual variation was found to be partly dependent on individual chronotype, suggesting diurnal preference as an interesting, but so-far underappreciated, topic with regard to future personalised chronomodulated therapy in people with type 2 diabetes.
Graphical abstract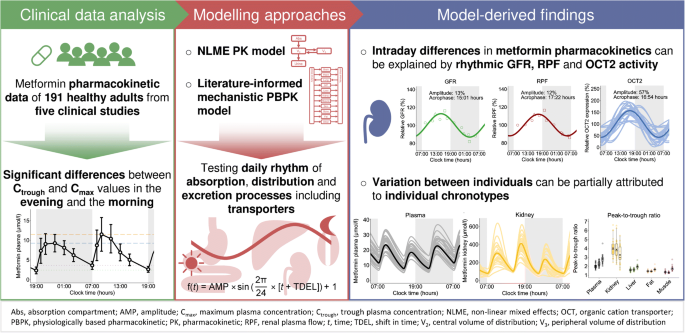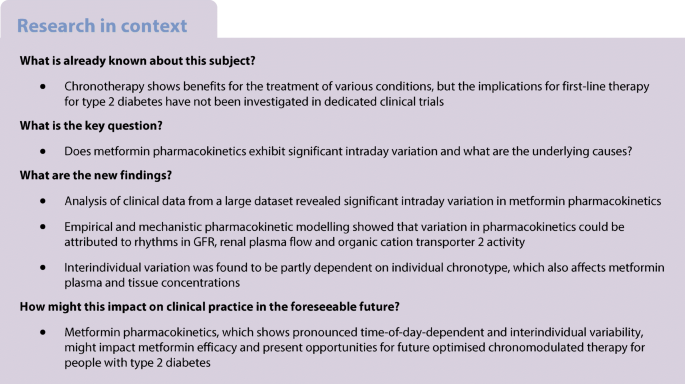 Data availability
The datasets analysed during the current study from Bristol Myers Squibb (study I) and Boehringer Ingelheim (studies II—V) are not publicly available. Data from Bristol Myers Squibb are however available from the authors upon reasonable request and with the permission of Bristol Myers Squibb. Regarding the data from Boehringer Ingelheim, interested researchers are invited to consult the external research platform Vivli (https://vivli.org/) to request access to anonymised data.
Abbreviations
Cmax :

Maximum plasma concentration

Ctrough :

Trough plasma concentration

ER:

Extended-release

GMFE:

Geometric mean fold error

IR:

Immediate-release

k cat :

Transport rate constant

MATE:

Multidrug and toxin extrusion protein

MRD:

Mean relative deviation

NLME:

Non-linear mixed effects

OCT:

Organic cation transporter

PBPK:

Physiologically based pharmacokinetic

PMAT:

Plasma membrane monoamine transporter

RPF:

Renal plasma flow
References
American Diabetes Association (2020) 9. Pharmacologic approaches to glycemic treatment: Standards of medical care in diabetes—2020. Diabetes Care 43(Supplement 1):S98–S110. https://doi.org/10.2337/dc20-S009

McCreight LJ, Bailey CJ, Pearson ER (2016) Metformin and the gastrointestinal tract. Diabetologia 59(3):426–435. https://doi.org/10.1007/s00125-015-3844-9

Rena G, Hardie DG, Pearson ER (2017) The mechanisms of action of metformin. Diabetologia 60(9):1577–1585. https://doi.org/10.1007/s00125-017-4342-z

Galuska D, Nolte LA, Zierath JR, Wallberg-Henriksson H (1994) Effect of metformin on insulin-stimulated glucose transport in isolated skeletal muscle obtained from patients with NIDDM. Diabetologia 37(8):826–832. https://doi.org/10.1007/BF00404340

Coyle C, Cafferty FH, Vale C, Langley RE (2016) Metformin as an adjuvant treatment for cancer: a systematic review and meta-analysis. Ann Oncol 27(12):2184–2195. https://doi.org/10.1093/annonc/mdw410

Graham GG, Punt J, Arora M et al (2011) Clinical pharmacokinetics of metformin. Clin Pharmacokinet 50(2):81–98. https://doi.org/10.2165/11534750-000000000-00000

Timmins P, Donahue S, Meeker J, Marathe P (2005) Steady-state pharmacokinetics of a novel extended-release metformin formulation. Clin Pharmacokinet 44(7):721–729. https://doi.org/10.2165/00003088-200544070-00004

Dallmann R, Brown SA, Gachon F (2014) Chronopharmacology: new insights and therapeutic implications. Annu Rev Pharmacol Toxicol 54(1):339–361. https://doi.org/10.1146/annurev-pharmtox-011613-135923

Roenneberg T, Kuehnle T, Juda M et al (2007) Epidemiology of the human circadian clock. Sleep Med Rev 11(6):429–438. https://doi.org/10.1016/j.smrv.2007.07.005

Sancar A, Van Gelder RN (2021) Clocks, cancer, and chronochemotherapy. Science 371(6524):eabb0738. https://doi.org/10.1126/science.abb0738

Buttgereit F, Smolen JS, Coogan AN, Cajochen C (2015) Clocking in: chronobiology in rheumatoid arthritis. Nat Rev Rheumatol 11(6):349–356. https://doi.org/10.1038/nrrheum.2015.31

Wallace A, Chinn D, Rubin G (2003) Taking simvastatin in the morning compared with in the evening: randomised controlled trial. BMJ 327(7418):788. https://doi.org/10.1136/bmj.327.7418.788

Zhou J, Wang J, Zhang X, Tang Q (2021) New insights into cancer chronotherapies. Front Pharmacol 12(December):741295. https://doi.org/10.3389/fphar.2021.741295

Hanke N, Türk D, Selzer D et al (2020) A comprehensive whole-body physiologically based pharmacokinetic drug–drug–gene interaction model of metformin and cimetidine in healthy adults and renally impaired individuals. Clin Pharmacokinet 59(11):1419–1431. https://doi.org/10.1007/s40262-020-00896-w

Henriksson E, Huber A-L, Soto EK et al (2017) The liver circadian clock modulates biochemical and physiological responses to metformin. J Biol Rhythms 32(4):345–358. https://doi.org/10.1177/0748730417710348

Zhang R, Lahens NF, Ballance HI, Hughes ME, Hogenesch JB (2014) A circadian gene expression atlas in mammals: implications for biology and medicine. Proc Natl Acad Sci U S A 111(45):16219–16224. https://doi.org/10.1073/pnas.1408886111

Oda M, Koyanagi S, Tsurudome Y, Kanemitsu T, Matsunaga N, Ohdo S (2014) Renal circadian clock regulates the dosing-time dependency of cisplatin-induced nephrotoxicity in mice. Mol Pharmacol 85(5):715–722. https://doi.org/10.1124/mol.113.089805

Wesson LG (1964) Electrolyte excretion in relation to diurnal cycles of renal function. Medicine (Baltimore) 43(5):547–592. https://doi.org/10.1097/00005792-196409000-00002

van Acker BAC, Koomen GCM, Koopman MG, Krediet RT, Arisz L (1992) Discrepancy between circadian rhythms of inulin and creatinine clearance. J Lab Clin Med 120(3):400–410

Koopman MG, Koomen GCM, Krediet RT, de Moor EA, Hoek FJ, Arisz L (1989) Circadian rhythm of glomerular filtration rate in normal individuals. Clin Sci 77(1):105–111. https://doi.org/10.1042/cs0770105

Merck (2022) Glucophage® 500 mg/- 850 mg/- 1000 mg Filmtabletten. Fachinformation. https://www.fachinfo.de/pdf/000959. Accessed 30 May 2022

van Rongen A, Kervezee L, Brill M et al (2015) Population pharmacokinetic model characterizing 24-hour variation in the pharmacokinetics of oral and intravenous midazolam in healthy volunteers. CPT Pharmacometrics Syst Pharmacol 4(8):454–464. https://doi.org/10.1002/psp4.12007

Peng HT, Bouak F, Vartanian O, Cheung B (2013) A physiologically based pharmacokinetics model for melatonin - effects of light and routes of administration. Int J Pharm 458(1):156–168. https://doi.org/10.1016/j.ijpharm.2013.09.033

Lott D, Lehr T, Dingemanse J, Krause A (2018) Modeling tolerance development for the effect on heart rate of the selective S1P 1 receptor modulator ponesimod. Clin Pharmacol Ther 103(6):1083–1092. https://doi.org/10.1002/cpt.877

Ansermet C, Centeno G, Nikolaeva S, Maillard MP, Pradervand S, Firsov D (2019) The intrinsic circadian clock in podocytes controls glomerular filtration rate. Sci Rep 9(1):1–9. https://doi.org/10.1038/s41598-019-52682-9

Wuerzner G, Firsov D, Bonny O (2014) Circadian glomerular function: from physiology to molecular and therapeutical aspects. Nephrol Dial Transplant 29(8):1475–1480. https://doi.org/10.1093/ndt/gft525

Mure LS, Le HD, Benegiamo G et al (2018) Diurnal transcriptome atlas of a primate across major neural and peripheral tissues. Science 359(6381):eaao0318. https://doi.org/10.1126/science.aao0318

Sambol NC, Brookes LG, Chiang J et al (1996) Food intake and dosage level, but not tablet vs solution dosage form, affect the absorption of metformin HCl in man. Br J Clin Pharmacol 42(4):510–512. https://doi.org/10.1111/j.1365-2125.1996.tb00017.x

Desai D, Wong B, Huang Y et al (2014) Surfactant-mediated dissolution of metformin hydrochloride tablets: wetting effects versus ion pairs diffusivity. J Pharm Sci 103(3):920–926. https://doi.org/10.1002/jps.23852

Vidon N, Chaussade S, Noel M, Franchisseur C, Huchet B, Bernier JJ (1988) Metformin in the digestive tract. Diabetes Res Clin Pract 4(3):223–229. https://doi.org/10.1016/s0168-8227(88)80022-6

Mohandas R, Douma LG, Scindia Y, Gumz ML (2022) Circadian rhythms and renal pathophysiology. J Clin Invest 132(3):e148277. https://doi.org/10.1172/JCI148277

Stage TB, Wellhagen G, Christensen MMH, Guiastrennec B, Brøsen K, Kjellsson MC (2019) Using a semi-mechanistic model to identify the main sources of variability of metformin pharmacokinetics. Basic Clin Pharmacol Toxicol 124(1):105–114. https://doi.org/10.1111/bcpt.13139

Duong JK, Kumar SS, Kirkpatrick CM et al (2013) Population pharmacokinetics of metformin in healthy subjects and patients with type 2 diabetes mellitus: simulation of doses according to renal function. Clin Pharmacokinet 52(5):373–384. https://doi.org/10.1007/s40262-013-0046-9

Kervezee L, Kosmadopoulos A, Boivin DB (2020) Metabolic and cardiovascular consequences of shift work: the role of circadian disruption and sleep disturbances. Eur J Neurosci 51(1):396–412. https://doi.org/10.1111/ejn.14216

Vetter C, Devore EE, Ramin CA, Speizer FE, Willett WC, Schernhammer ES (2015) Mismatch of sleep and work timing and risk of type 2 diabetes. Diabetes Care 38(9):1707–1713. https://doi.org/10.2337/dc15-0302

Mason IC, Qian J, Adler GK, Scheer FAJL (2020) Impact of circadian disruption on glucose metabolism: implications for type 2 diabetes. Diabetologia 63(3):462–472. https://doi.org/10.1007/s00125-019-05059-6

Peng X, Fan R, Xie L et al (2022) A growing link between circadian rhythms, type 2 diabetes mellitus and alzheimer's disease. Int J Mol Sci 23(1):504. https://doi.org/10.3390/ijms23010504

Thomas AP, Hoang J, Vongbunyong K, Nguyen A, Rakshit K, Matveyenko AV (2016) Administration of melatonin and metformin prevents deleterious effects of circadian disruption and obesity in male rats. Endocrinology 157(12):4720–4731. https://doi.org/10.1210/en.2016-1309

Boehringer Ingelheim Pharma GmbH & Co. KG (2014) Bioavailability of BI 1356 BS and metformin after co-administration compared to the bioavailability of BI 1356 BS alone and metformin alone in healthy male volunteers. ClinicalTrials.gov Identifier: NCT02183506. National Library of Medicine, Bethesda MD; https://clinicaltrials.gov/ct2/show/NCT02183506. Accessed 13 Sep 2022
Acknowledgements
We thank Bristol Myers Squibb and Boehringer Ingelheim for provision of individual pharmacokinetic data.
Authors' relationships and activities
NH is now an employee of Boehringer Ingelheim Pharma GmbH & Co. KG. VN is an employee of Boehringer Ingelheim Pharma GmbH & Co. KG. DT, NS, DS, CD, RD, MS, PT and TL declare that there are no relationships or activities that might bias, or be perceived to bias, their work.
Contribution statement
DT, NS and TL contributed to conception and design. PT and VN procured individual metformin data. DT, NS and TL analysed the data. DT, NS, DS and TL wrote the manuscript. All the authors contributed to interpretation of the results, critically revised the article and gave final approval of the version to be published. TL is the guarantor of this work.
Funding
Open Access funding enabled and organized by Projekt DEAL. MS was supported in part by the Robert Bosch Stiftung, Stuttgart, Germany, and the Deutsche Forschungsgemeinschaft (DFG, German Research Foundation) under Germany's Excellence Strategy - EXC 2180 – 390900677. TL received funding from Boehringer Ingelheim Pharma GmbH & Co. KG for personnel costs of NS, CD and NH.
Additional information
Publisher's note
Springer Nature remains neutral with regard to jurisdictional claims in published maps and institutional affiliations.
Supplementary Information
Rights and permissions
Open Access This article is licensed under a Creative Commons Attribution 4.0 International License, which permits use, sharing, adaptation, distribution and reproduction in any medium or format, as long as you give appropriate credit to the original author(s) and the source, provide a link to the Creative Commons licence, and indicate if changes were made. The images or other third party material in this article are included in the article's Creative Commons licence, unless indicated otherwise in a credit line to the material. If material is not included in the article's Creative Commons licence and your intended use is not permitted by statutory regulation or exceeds the permitted use, you will need to obtain permission directly from the copyright holder. To view a copy of this licence, visit http://creativecommons.org/licenses/by/4.0/.
About this article
Cite this article
Türk, D., Scherer, N., Selzer, D. et al. Significant impact of time-of-day variation on metformin pharmacokinetics. Diabetologia (2023). https://doi.org/10.1007/s00125-023-05898-4
Received:

Accepted:

Published:

DOI: https://doi.org/10.1007/s00125-023-05898-4
Keywords
Chronopharmacology

Empirical modelling

Mechanistic modelling

Metformin

Pharmacokinetics

Renal excretion

Transporter