Abstract
Aims/hypothesis
We investigated whether the impacts of childhood adiposity on adult-onset diabetes differ across proposed diabetes subtypes using a Mendelian randomisation (MR) design.
Methods
We performed MR analysis using data from European genome-wide association studies of childhood adiposity, latent autoimmune diabetes in adults (LADA, proxy for severe autoimmune diabetes), severe insulin-deficient diabetes (SIDD), severe insulin-resistant diabetes (SIRD), mild obesity-related diabetes (MOD) and mild age-related diabetes (MARD).
Results
Higher levels of childhood adiposity had positive genetically predicted effects on LADA (OR 1.62, 95% CI 1.05, 2.52), SIDD (OR 2.11, 95% CI 1.18, 3.80), SIRD (OR 2.76, 95% CI 1.60, 4.75) and MOD (OR 7.30, 95% CI 4.17, 12.78), but not MARD (OR 1.06, 95% CI 0.70, 1.60).
Conclusions/interpretation
Childhood adiposity is a risk factor not only for adult-onset diabetes primarily characterised by obesity or insulin resistance, but also for subtypes primarily characterised by insulin deficiency or autoimmunity. These findings emphasise the importance of preventing childhood obesity.
Graphical abstract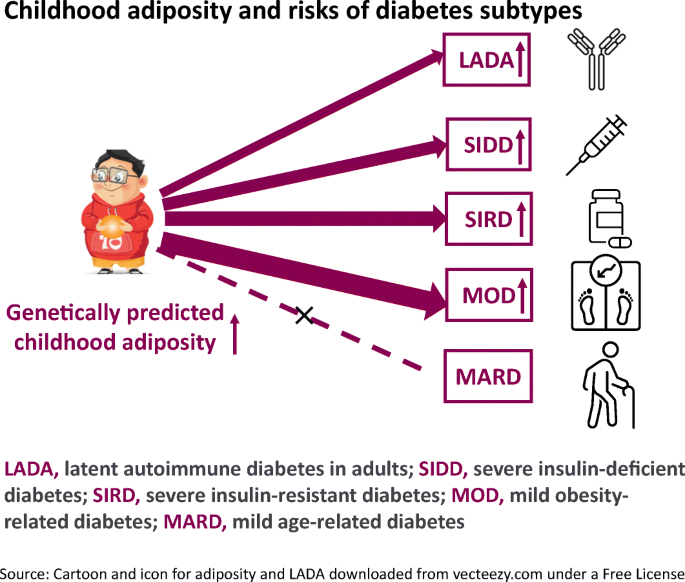 Abbreviations
GWAS:

Genome-wide association studies

IVs:

Instrumental variables

IVW:

Inverse-variance weighted

LADA:

Latent autoimmune diabetes in adults

LD:

Linkage disequilibrium

LDSC:

Linkage disequilibrium score regression

MARD:

Mild age-related diabetes

MOD:

Mild obesity-related diabetes

MR:

Mendelian randomisation

MR-PRESSO:

Mendelian randomisation pleiotropy residual sum and outlier

SAID:

Severe autoimmune diabetes

SIDD:

Severe insulin-deficient diabetes

SIRD:

Severe insulin-resistant diabetes
Authors' relationships and activities
TGR is an employee of GlaxoSmithKline outside this research. All other authors declare that there are no relationships or activities that might bias, or be perceived to bias, their work.
Contribution statement
YW and SC conceived and designed the study. YW collected the summary data, analysed the data and drafted the manuscript. TGR generated the full GWAS dataset for childhood body size. YZ dealt with methodological issues in the data analysis. All authors made substantial contributions to the interpretation of data and critically revised the manuscript for important intellectual content. All authors reviewed and approved the final manuscript. YW and SC are guarantors of this study.
Funding
Open access funding provided by Karolinska Institute. This study was supported by the Swedish Research Council (2018–03035), Research Council for Health, Working Life and Welfare (FORTE, 2018–00337) and Novo Nordisk Foundation (NNF19OC0057274). YW received a scholarship from the China Scholarship Council (student number 202006010041). The sponsors had no role in the study design, data collection, data analysis and interpretation, writing of the report or decision to submit the article for publication.
Additional information
Publisher's note
Springer Nature remains neutral with regard to jurisdictional claims in published maps and institutional affiliations.
Supplementary information
Rights and permissions
Open Access This article is licensed under a Creative Commons Attribution 4.0 International License, which permits use, sharing, adaptation, distribution and reproduction in any medium or format, as long as you give appropriate credit to the original author(s) and the source, provide a link to the Creative Commons licence, and indicate if changes were made. The images or other third party material in this article are included in the article's Creative Commons licence, unless indicated otherwise in a credit line to the material. If material is not included in the article's Creative Commons licence and your intended use is not permitted by statutory regulation or exceeds the permitted use, you will need to obtain permission directly from the copyright holder. To view a copy of this licence, visit http://creativecommons.org/licenses/by/4.0/.
About this article
Cite this article
Wei, Y., Richardson, T.G., Zhan, Y. et al. Childhood adiposity and novel subtypes of adult-onset diabetes: a Mendelian randomisation and genome-wide genetic correlation study. Diabetologia (2023). https://doi.org/10.1007/s00125-023-05883-x
Received:

Accepted:

Published:

DOI: https://doi.org/10.1007/s00125-023-05883-x
Keywords
Epidemiology

Obesity

Prediction, Prevention, Type 2 diabetes

Weight regulation