Abstract
Aims/hypothesis
Sodium–glucose cotransporter 2 (SGLT2) inhibitors are widely used in the treatment of type 2 diabetes, heart failure and chronic kidney disease. Their role in the prevention of diet-induced metabolic deteriorations, such as obesity, insulin resistance and fatty liver disease, has not been defined yet. In this study we set out to test whether empagliflozin prevents weight gain and metabolic dysfunction in a mouse model of diet-induced obesity and insulin resistance.
Methods
C57Bl/6 mice were fed a western-type diet supplemented with empagliflozin (WDE) or without empagliflozin (WD) for 10 weeks. A standard control diet (CD) without or with empagliflozin (CDE) was used to control for diet-specific effects. Metabolic phenotyping included assessment of body weight, food and water intake, body composition, hepatic energy metabolism, skeletal muscle mitochondria and measurement of insulin sensitivity using hyperinsulinaemic–euglycaemic clamps.
Results
Mice fed the WD were overweight, hyperglycaemic, hyperinsulinaemic and insulin resistant after 10 weeks. Supplementation of the WD with empagliflozin prevented these metabolic alterations. While water intake was significantly increased by empagliflozin supplementation, food intake was similar in WDE- and WD-fed mice. Adipose tissue depots measured by MRI were significantly smaller in WDE-fed mice than in WD-fed mice. Additionally, empagliflozin supplementation prevented significant steatosis found in WD-fed mice. Accordingly, hepatic insulin signalling was deteriorated in WD-fed mice but not in WDE-fed mice. Empagliflozin supplementation positively affected size and morphology of mitochondria in skeletal muscle in both CD- and WD-fed mice.
Conclusions/interpretation
Empagliflozin protects mice from diet-induced weight gain, insulin resistance and hepatic steatosis in a preventative setting and improves muscle mitochondrial morphology independent of the type of diet.
Graphical abstract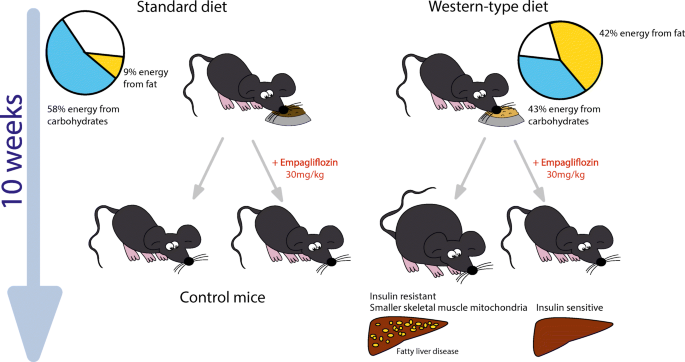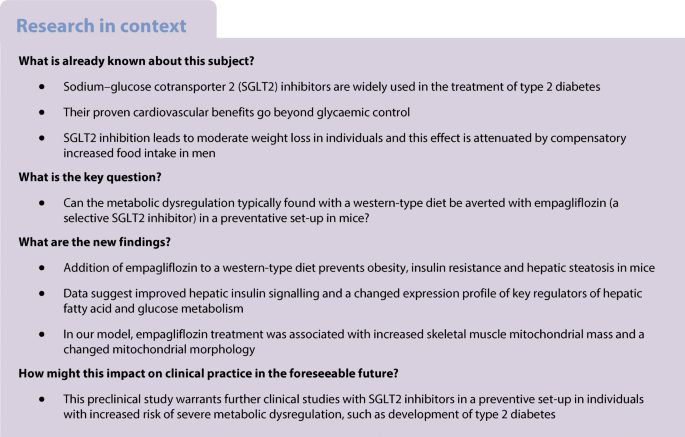 Data availability
Original data are available upon reasonable request from the corresponding author.
Abbreviations
CD:

Standard control diet

CDE:

CD + empagliflozin

GIR:

Glucose infusion rate

NAFLD:

Non-alcoholic fatty liver disease

PDK4:

Pyruvate dehydrogenase kinase 4

PGC1α:

Peroxisome proliferator-activated receptor γ coactivator 1-α

SGLT2:

Sodium–glucose cotransporter 2

T2:

Transverse relaxation time

TEM:

Transmission electron microscopy

WD:

Western-type diet

WDE:

WD + empagliflozin
Acknowledgements
Parts of this study were presented as a short oral discussion at the 58th annual meeting of the EASD 2022.
Authors' relationships and activities
The authors declare that there are no relationships or activities that might bias, or be perceived to bias, their work.
Contribution statement
BR, CR, SF, AL, BW, GS, KS, MG, JaH and JoH performed all experiments. WS and BR performed TEM sample preparation, image acquisition and data analysis. TJ contributed technical expertise for performing clamps in mice. CK and BR designed and performed MRI scans and subsequent image analysis. PM prepared H&E staining from tissue samples. BR, CR, MR and SK drafted an early version of the manuscript. All authors contributed to analysis and discussion of the data. All authors revised and approved the manuscript in its final form. SK is the guarantor of this work.
Funding
Open access funding provided by University of Innsbruck and Medical University of Innsbruck. The financial support by the Federal Ministry for Digital and Economic Affairs and the National Foundation for Research, Technology and Development is gratefully acknowledged. We would like to thank Boehringer Ingelheim for providing financial support for these studies (to SK).
Additional information
Publisher's note
Springer Nature remains neutral with regard to jurisdictional claims in published maps and institutional affiliations.
Supplementary Information
Rights and permissions
Open Access This article is licensed under a Creative Commons Attribution 4.0 International License, which permits use, sharing, adaptation, distribution and reproduction in any medium or format, as long as you give appropriate credit to the original author(s) and the source, provide a link to the Creative Commons licence, and indicate if changes were made. The images or other third party material in this article are included in the article's Creative Commons licence, unless indicated otherwise in a credit line to the material. If material is not included in the article's Creative Commons licence and your intended use is not permitted by statutory regulation or exceeds the permitted use, you will need to obtain permission directly from the copyright holder. To view a copy of this licence, visit http://creativecommons.org/licenses/by/4.0/.
About this article
Cite this article
Radlinger, B., Ress, C., Folie, S. et al. Empagliflozin protects mice against diet-induced obesity, insulin resistance and hepatic steatosis. Diabetologia 66, 754–767 (2023). https://doi.org/10.1007/s00125-022-05851-x
Received:

Accepted:

Published:

Issue Date:

DOI: https://doi.org/10.1007/s00125-022-05851-x
Keywords